It may seem strange to see a topic like 10 tips for driving in Italy in this space, but read on.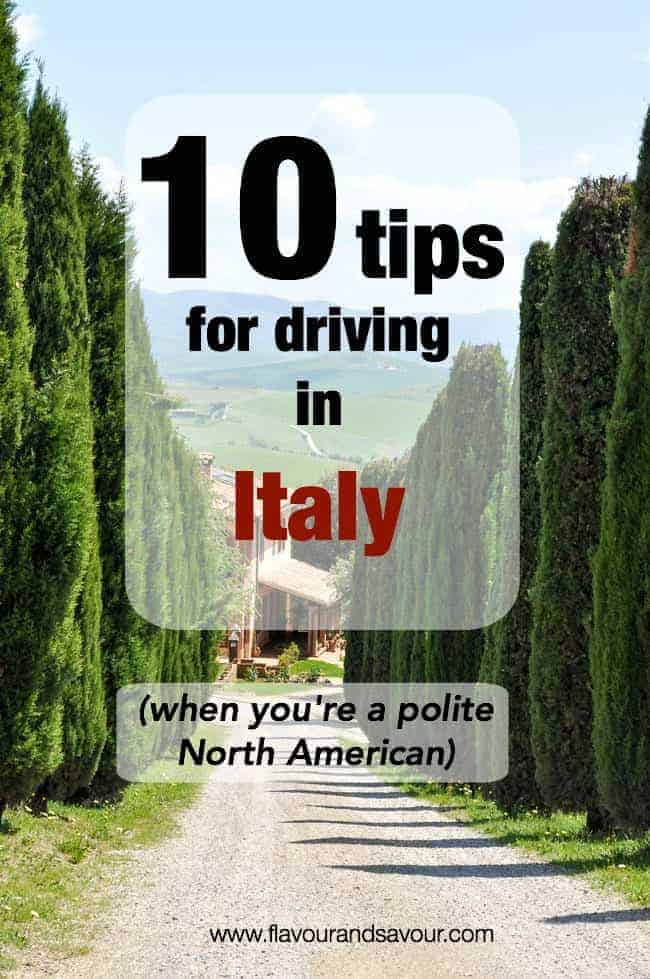 Driving in Italy is not like driving at home, but don't let that scare you off. And if you're not the least bit interested in this topic, have one of my favourite muffins and we'll see you next time. If you are interested in reading about our driving experiences while holidaying in Europe and some tips for driving in Italy, have one of those yummy muffins anyway, pour yourself a cup of coffee and read on.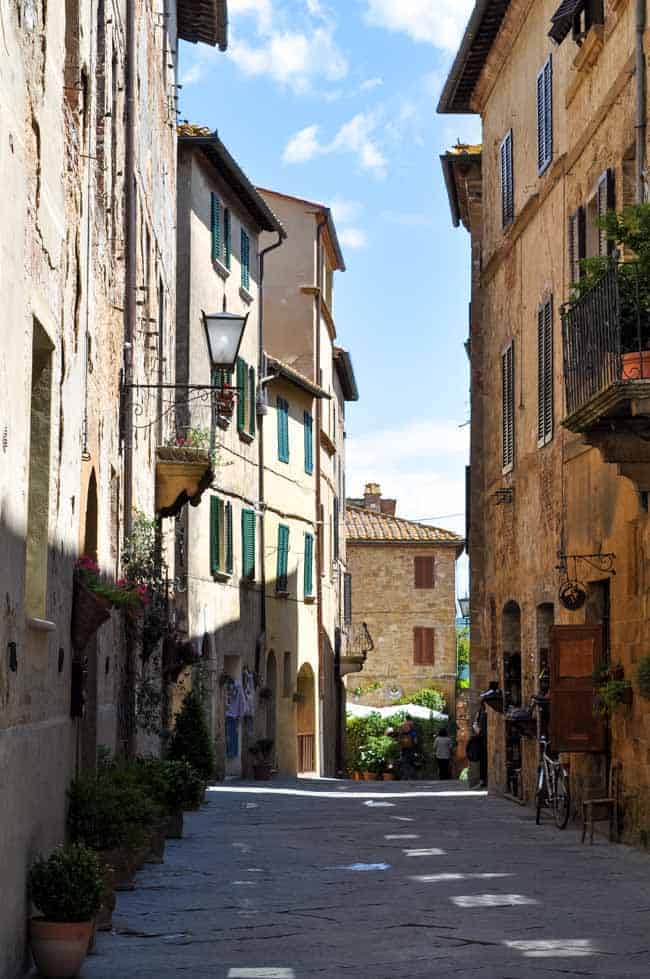 Having your own car while holidaying in Europe allows you to set your own agenda, explore the back roads and see how the locals really live. After our fifth trip to Europe ( four of which were driving holidays) and over 8 months of driving experience there, we feel comfortable enough to pass on a few tips for driving in Italy that would have been helpful to us the first time we came. Denis is completely confident winding his way through the narrowest streets, backing into the tightest parking spots, navigating the Autostrade and recently, even driving on the Amalfi Coast road. He has an uncanny sense of direction that has saved us from getting lost more times than I can count.
Here are some tips for driving in Italy and a few suggestions to help make your Italian driving holiday stress-free.
1. Become comfortable using your GPS before you leave home. We brought our own with us because we had been told there would be a charge of 17 Euros per day to have one in our rental car. As it turns out, our car came with one installed at no charge.  If you use your own, you can enter the addresses of your known destinations or accommodations before you leave–just one less thing to worry about.
2. Learn to use the googlemaps app on your iPhone. It saved us from getting lost many times when we were walking in cities.
3. When you rent or lease a car, consider a diesel-powered compact economy car, as diesel vehicles get better fuel economy and diesel itself will cost you less. Most vehicles in Europe are standard shift so either become comfortable driving one, or be prepared to pay a HUGE upcharge for an automatic transmission.
And while we are on the subject of diesel, one of the easiest places to fuel up is at an AutoGrill. These are huge "rest stops" on the Autostrade where you can get a cappuccino, a panini, buy snacks, wine, and locally produced foods, and use the bathroom. (If you want to buy something to eat or drink, you pay the cashier first, then pass your receipt to the staff at the cafeteria counter and they prepare your food for you.)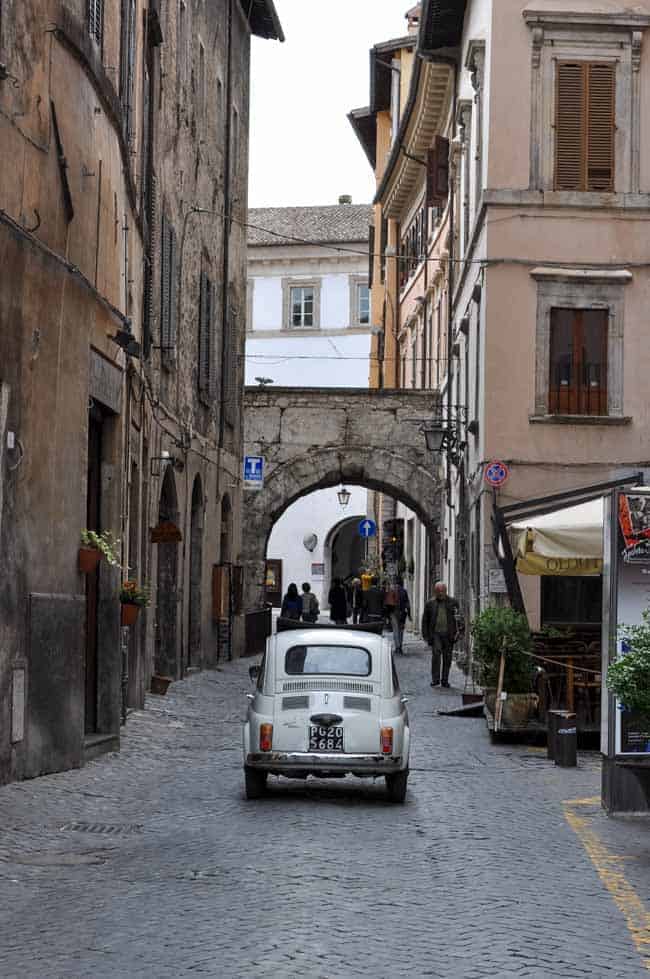 4. Learn to drive like an Italian. That means fast and aggressively. Speed limits are much faster than at home. 130 km per hour is not uncommon. 90 km through narrow streets in the middle of small towns is also not unheard of.
5. Get used to always having someone on your tail. Italians are notorious tailgaters, even if you are driving at or above the speed limit. It seems they cannot stand not to be first, as they will pass you as soon as it is reasonably safe–or even if it is not.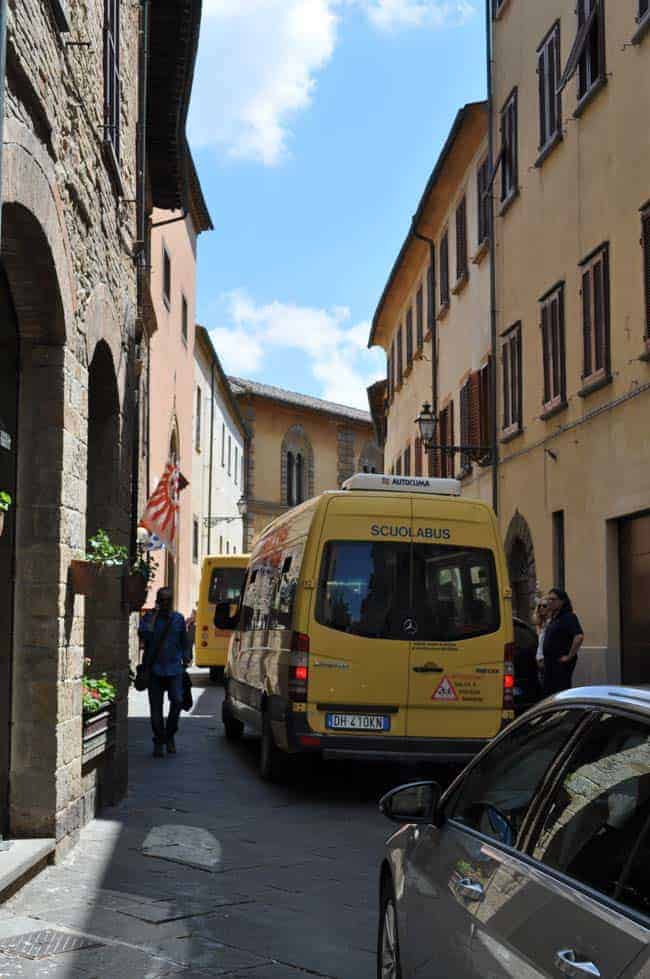 6. Get used to the fact that parking is rarely easy. You will possibly spend a good part of your trip looking for a place to park. We have found it useful to seek parking lots on a map before we enter a city so we at least have a general idea of where we're headed. There is no such thing as a Costco-sized parking lot over here, or even a regular-sized one. You may have to let your passenger out first and fold in the car's mirrors before squeezing into a tight spot. Parcheggio = parking in Italian.
At most parking lots, you take a ticket when you enter a lot. Take that ticket with you, as you will need to insert it into a machine and pay when you want to leave. The machine will spit the ticket back out at you. Keep it as you'll need it to exit the lot. In other areas, watch for the colour of the painted lines:  white means free parking, yellow is for residents only, and blue indicates paid parking by meter.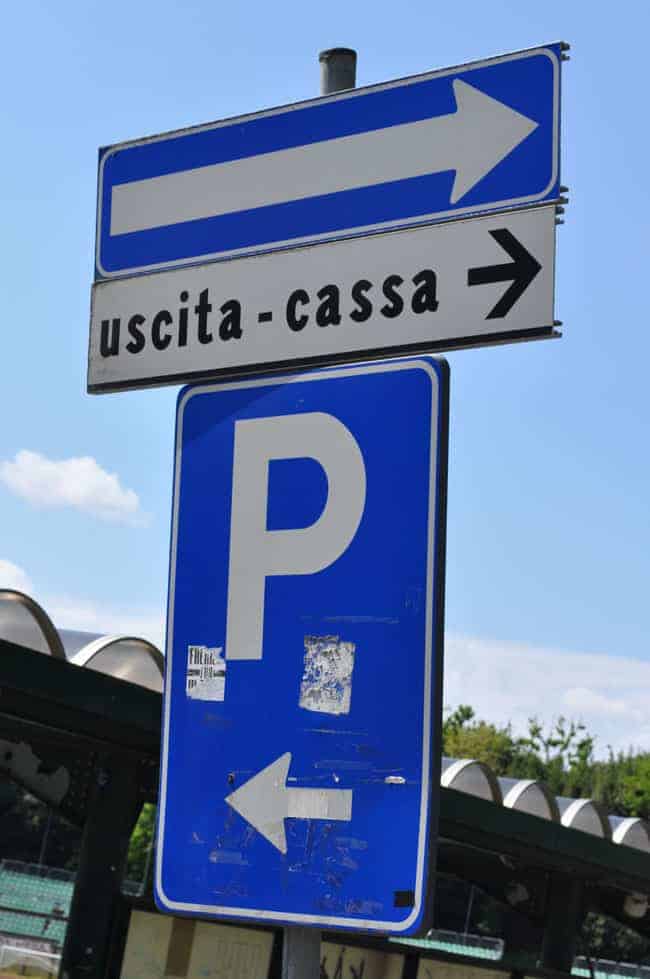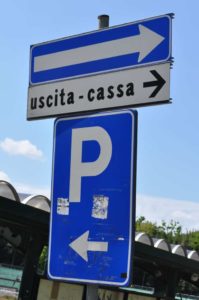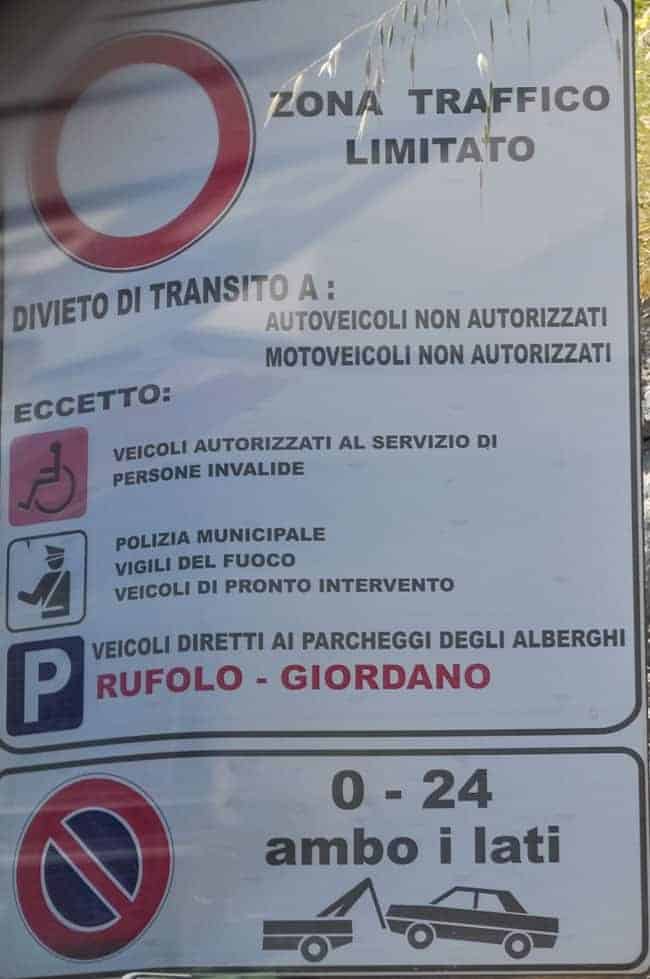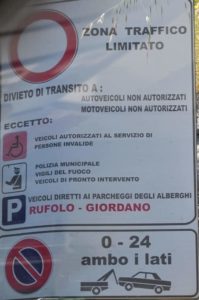 Exit – Pay over there=>                    Hmm . . . . nope! Don't go here!
7. Learn a bit of Italian before you leave home so you can interpret traffic signs.
Ingresso = entrance    Uscita = exit.  It's good to know the days of the week and the months of the year to avoid street cleaning (and possible tow-away) times.
8. Don't be surprised at the lack of signal lights. Italian drivers just don't seem to ever signal their turns. They also regularly drift into other lanes. The white line down the centre of the road seems to mean nothing to them at times. Motorcyclists seem to view it as their own private lane!
9. We recently drove (sort of accidentally) on the Amalfi Coast road. My advice: Just don't.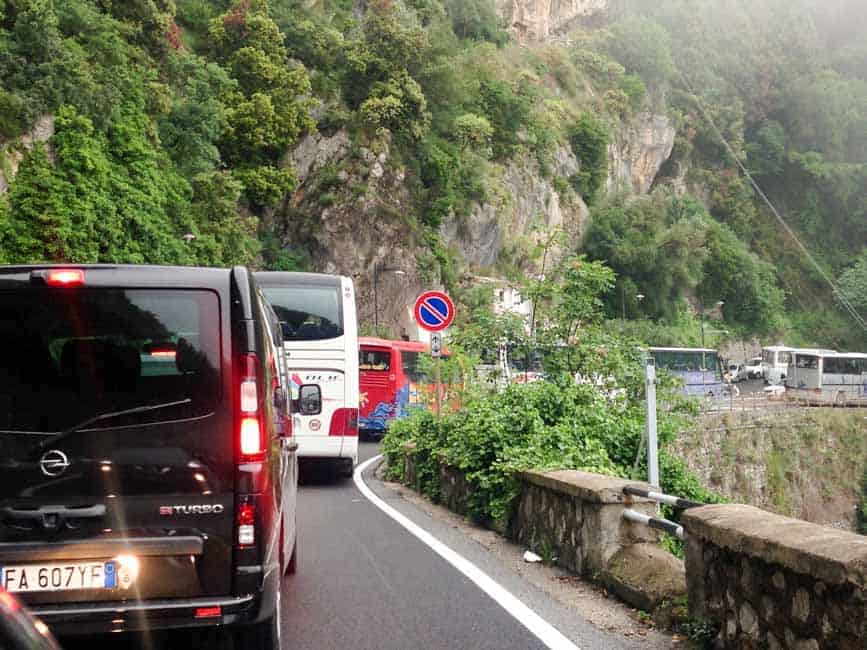 There are lots of options for public transportation available and there is no need to take your own car on this spectacular but crazy highway. It's a very narrow road built into the side of steep cliffs that descend straight to the ocean. Buses squeeze by each other, often having to pull in their mirrors to allow passage.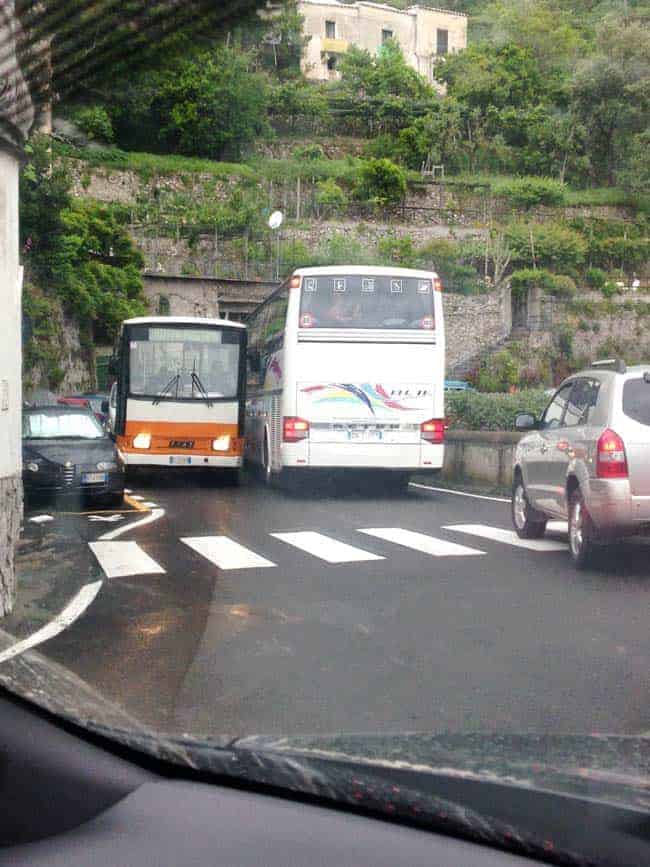 Motorcycles and scooters weave in and out between the vehicles. Cars stop in the middle of the road to pick up a friend or have a chat. The road is a series of switchbacks and hairpin turns. While it didn't seem to faze Denis, I spent much of the time with my eyes either closed or covered.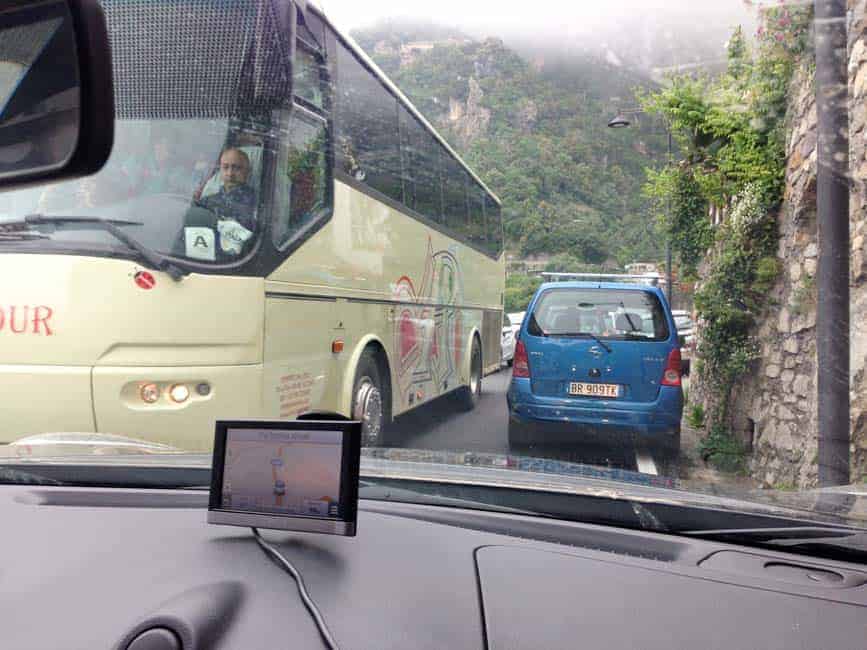 At one point, we saw an ambulance attempting to get through traffic to reach victims of an accident. It struck me that this could be a life or death situation if time was of the essence. The following day we traveled the road by bus, so Denis could actually see the views instead of just the traffic!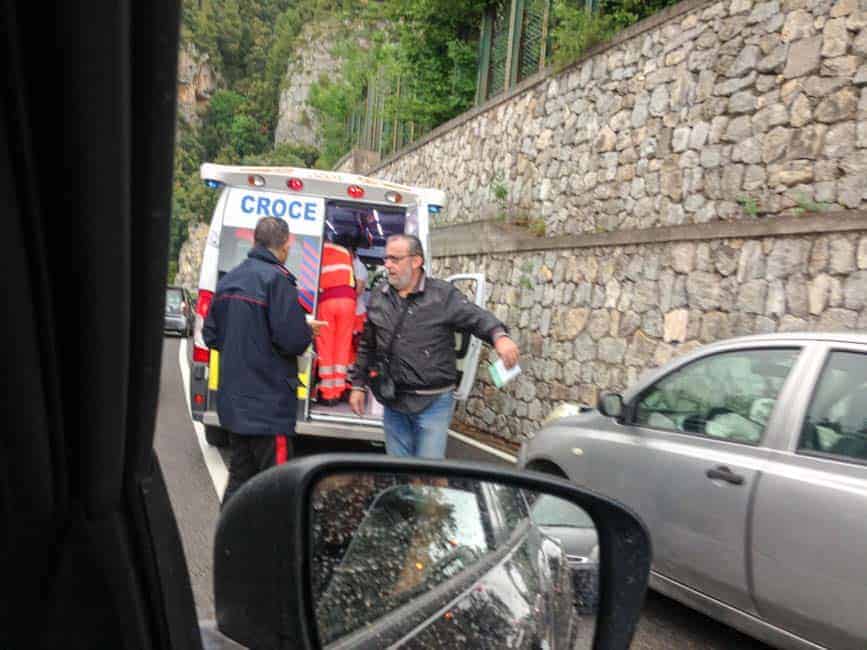 10. And the last one of my tips for driving in Italy:  Remember your polite North American roots! Denis consistently stops at crosswalks for pedestrians, unless there is someone right on his tail. They'll be surprised and will gratefully acknowledge that you did, as it seems the locals don't always do so.
While driving the Amalfi was NOT stress-free, we have many memories of our driving holidays in Europe that we wouldn't trade for anything:  zipping past vineyards and through tiny medieval villages in Bordeaux, climbing up mountain passes high in the Alps, driving through olive groves as far as the eye could see in Andalusia, and most recently, enjoying the spectacular views of rolling hillsides in Tuscany.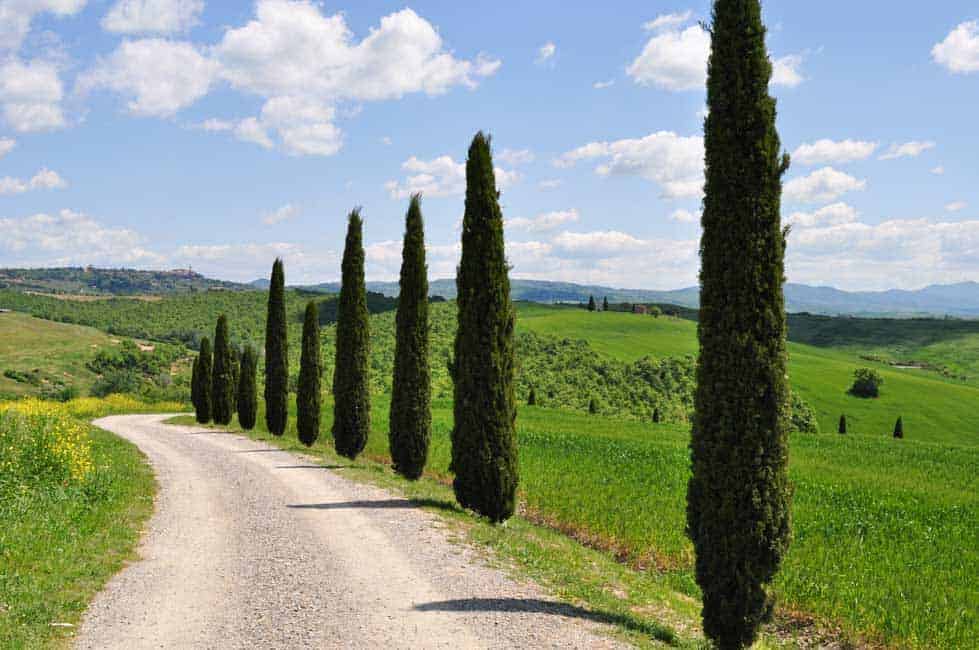 Do you have any tips for driving in Italy to share? I encourage you to leave your comments so we can all benefit.