A collection of 30 best grilling recipes to make the most of summer! From foil pack meals to kabobs and skewers, grilled chicken, salmon, shrimp, burgers and potatoes, you'll find the recipes you need to make the best barbecued dinner right here! All of these barbecue recipes are gluten-free.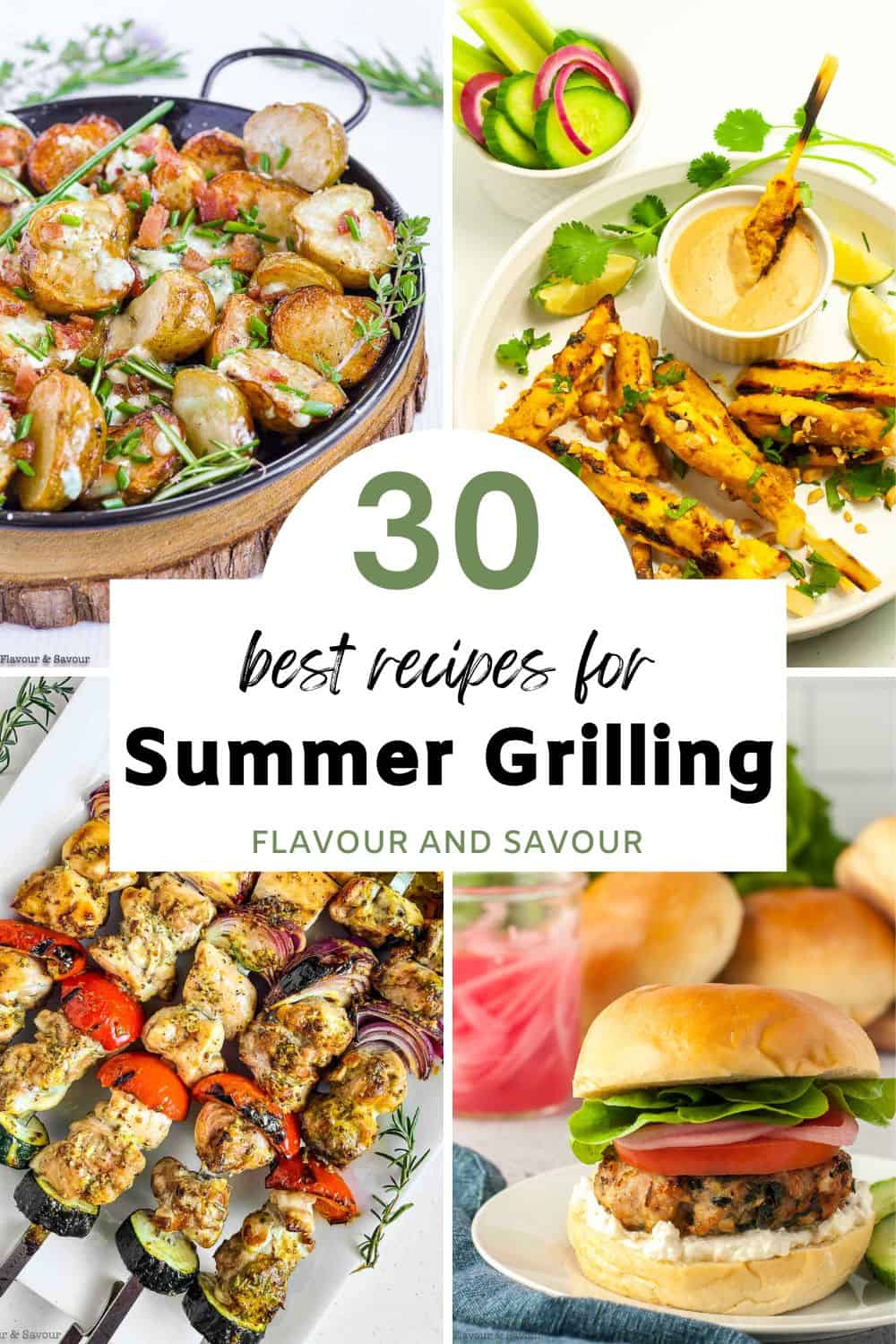 30 favourite grilling recipes for summer
Jump to:
Best BBQ recipes for Kabobs or Skewers
Food on a stick is fun to eat! You can usually prepare kabobs or skewers ahead of time and have them ready to grill when it's time to eat. You'll find lots of choices here for chicken, shrimp or potato kabobs.
Simple Chicken Satay with Peanut Sauce
Foil-Pack Grilled Meals
Prepare foil-packed meals ahead of time, refrigerate and dinner's a breeze! These meals are easy to clean-up, making them perfect for camping trips, too.
Easy Chicken Fajitas in Foil Packets
Grilled Chicken Recipes
Cajun Chicken Thighs with Zesty Quinoa
Caribbean Jerk Chicken Breasts
Grilled Chicken Salads and Shrimp Salads
Blackberry Balsamic Grilled Chicken Salad
Chimichurri Chicken Dinner Salad
Marinated Lemon Chicken Greek Salad with Mint
Caribbean Shredded Jerk Chicken Salad
Greek Chicken Cobb Salad
Skinny Greek Chicken Bowl with Watermelon and Feta
Best BBQ Recipes for Chicken Burgers
Open Faced Harissa Chicken Burgers
Chipotle Chicken Burgers with Fresh Peach Salsa
Grilled Sides, Desserts and Drinks!
And more! Grilling time doesn't always involve protein! Here are a few more favourite recipes to try at your next barbecue.
Grilled Halloumi Peach and Tomato Salad
Homemade cherry barbecue sauce
Grilled Peaches with Honey-Lemon Drizzle
Pineapple Strawberry Sangria with Grilled Pineapple
Round out your barbecue with extras!