Do you love salads, but find you're still looking around for something else to eat afterwards? Here are 6 dinner salads that will fill you up and leave you satisfied!

Salads are a great way to insure you're getting enough vegetables with essential vitamins, minerals and fiber, but sometimes they leave us looking around for more. You still want to feel like you've eaten a substantial meal after you've had a salad.
Adding protein and healthy fats to your salads will keep you feeling full and satisfied for more than a couple of hours so that you're not reaching for something unhealthy to tide you over to your next meal.
These 6 dinner salads are packed with layers of delicious and nutritious ingredients. Add some interest to your weeknight meals by trying one of these hearty salads, or use these for ideas to create your own.
There are no rules about what you can or cannot include in a salad. A well-made salad contains a balance of veggies and/or fruit, protein and healthy fat. Add superfoods for toppings and extra nutrition.
If your family doesn't like things mixed together, set up a salad bar and let them choose how much of each ingredient they'd like. Making a dinner from a salad bar will leave them feeling full and satisfied, never suspecting that they've filled their tummies with healthy ingredients.
1. Marinated Lemon Greek Salad with Mint
Here's a Greek classic you can make at home. It's full of colourful, crisp and crunchy veggies, juicy lemon chicken and Mediterranean herbs that seem to make whatever they touch taste exciting. I could probably eat this one every day. Use chicken breasts, chicken tenders, or even rotisserie chicken.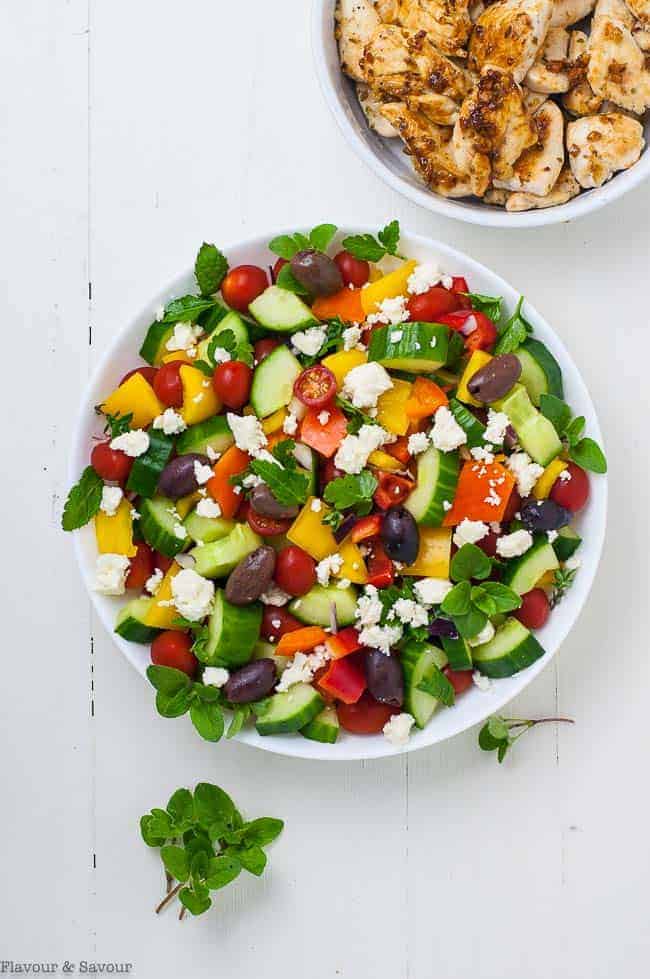 2. Caribbean Shredded Jerk Chicken Salad
Spicy chicken, sweet fruit, crunchy veggies and creamy avocado, all in one healthy dinner salad with perfectly balanced flavours. Jerk seasoning provides salt and a little heat, avocado gives us healthy fat, and oranges, lime and citrus vinaigrette give this salad necessary acid. Take a weeknight trip to Jamaica!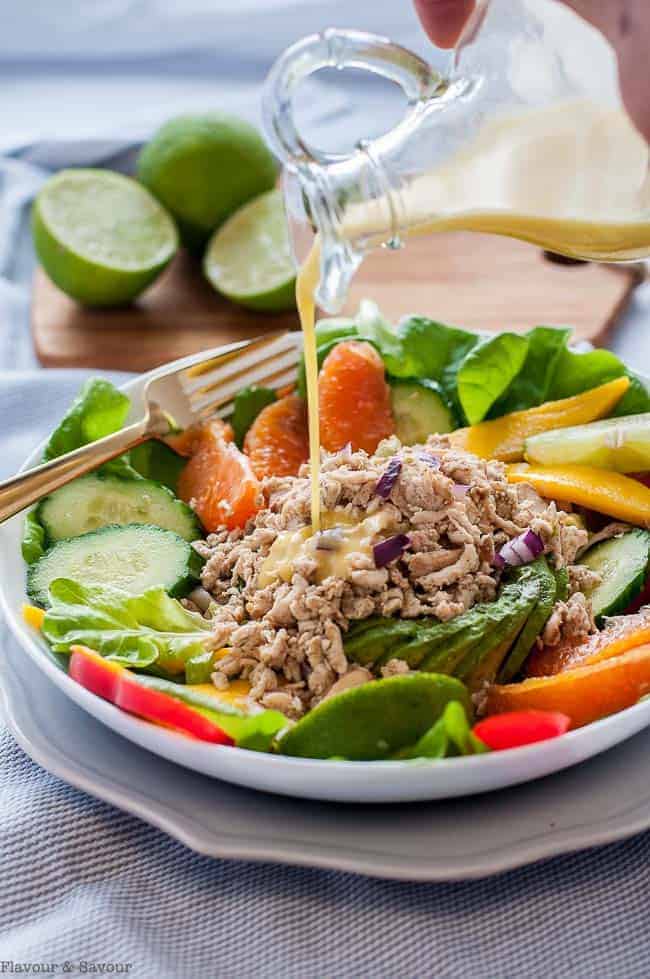 3. Lemon Garlic Shrimp Cobb Salad
This Lemon Garlic Shrimp Cobb Salad recipe is my twist on a classic Cobb Salad. It's a complete meal in a salad with a light, creamy avocado dressing.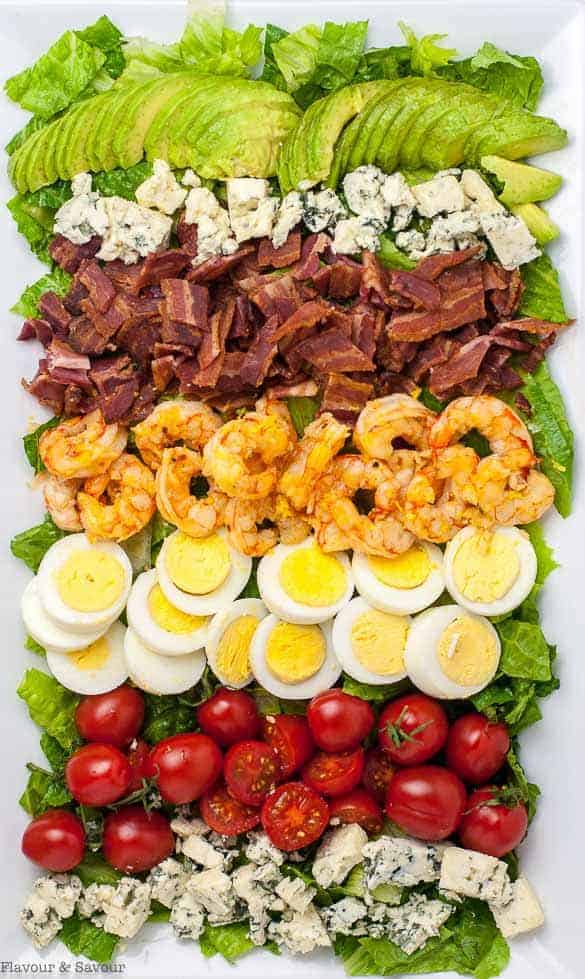 4. Easiest Chicken Satay Salad with Spicy Peanut Sauce
Crisp, colourful, fresh, nutritious and packed with flavour, this Chicken Satay Salad makes a light but totally satisfying dinner. Double it and you have tomorrow's lunch time problem solved! Pack your salad in an airtight container, pack the peanut sauce dressing separately and you'll be the envy of your co-workers.
5. Skinny Greek Chicken Bowl with Watermelon and Feta
Here's an easy summertime supper. It uses simple everyday ingredients and can be ready in about 30 minutes! You can either bake or grill boneless chicken breasts. While they're cooking, arrange a bed of fresh arugula and other greens, then add sliced cucumbers, cubed watermelon, crumbled feta cheese, and pitted Kalamata olives. Arrange sliced cooked chicken on top. Drizzle it all with balsamic vinaigrette, then happily eat off your lap in the sunshine!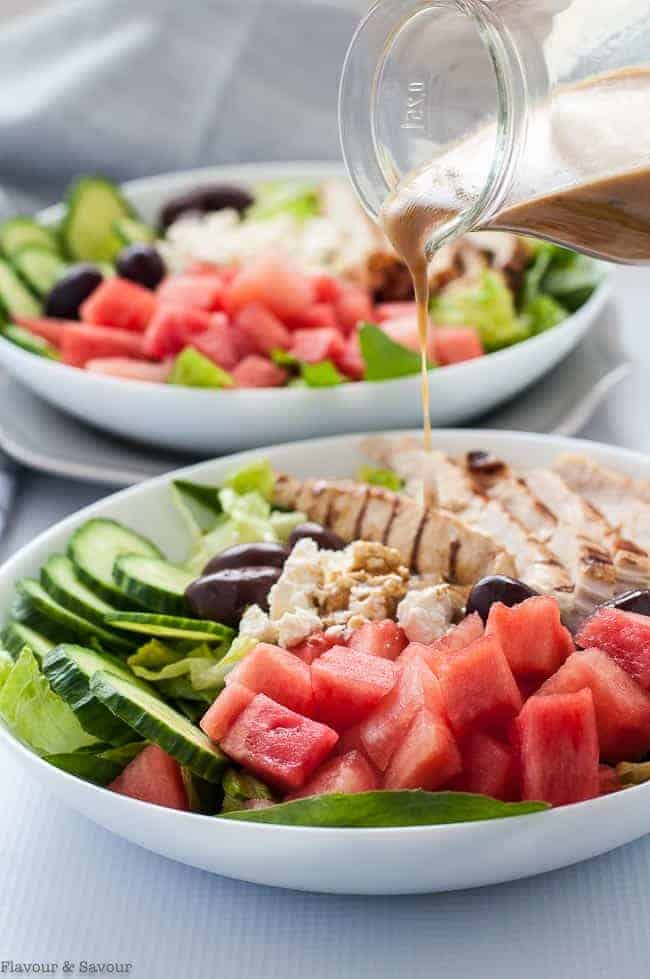 6. Skinny Chopped Chicken Taco Salad
Keep even the pickiest eater happy with all the options provided in this recipe for Skinny Chopped Chicken Taco Salad. Easy to customize for your vegetarian or vegan friends.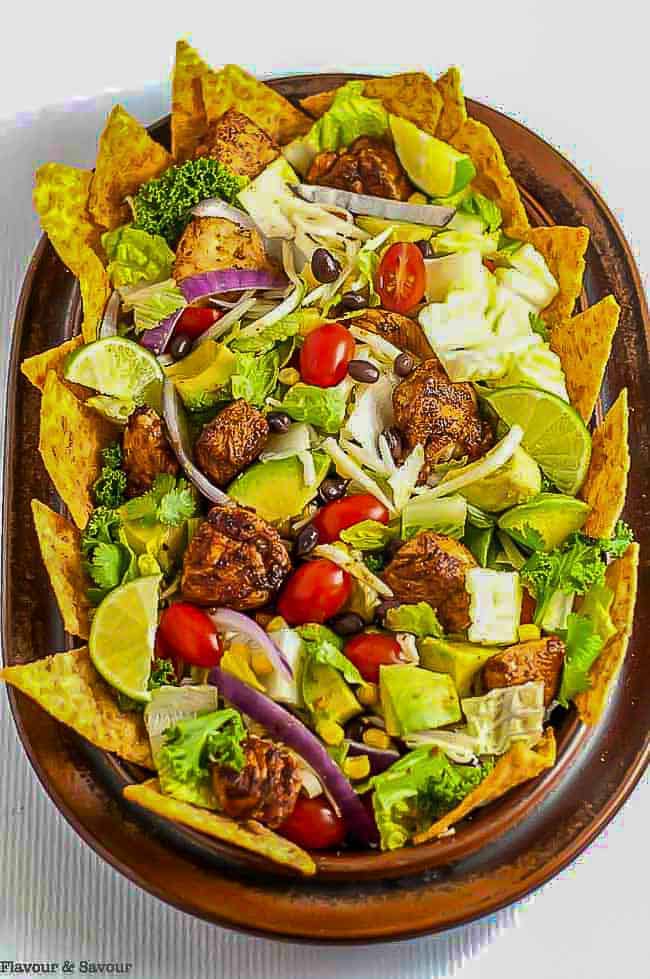 While there are no rules for making dinner salads, there are key elements will make them delicious!
greens (dark, leafy greens are best)
colourful vegetables
protein (from meat, fish, nuts and seeds)
fruit or berries
healthy fats (avocado, cheese, chia seeds, extra virgin olive oil)
I hope these 6 dinner salads will inspire you to create your own!
This post may contain affiliate links. If you click on any of the affiliate links and make a purchase within a certain time frame, I'll receive a small commission. The commission is paid by the third party, not by you. I am a participant in the Amazon Services LLC Associates Program, an affiliate advertising program designed to provide a means for me to earn fees by linking to Amazon.com and affiliated sites.