Want a quick, healthy dinner? Read on for 4 easy steps to make nutritious, superfood-packed power bowls like this Asian Wild Salmon Buddha Bowl. Not just for hipsters.
Make a Superfood Asian Wild Salmon Buddha Bowl
This Asian Wild Salmon Buddha Bowl is power packed with mighty superfoods to boost your immune system. It's a crispy, crunchy, creamy meal in a bowl.


Made with Asian-inspired crispy salmon cakes using Raincoast Trading Co. canned Wild Sockeye Salmon, Forbidden rice, kale, red cabbage, carrots and bean sprouts, it's a convenient meal you can enjoy at any time of year. Or tonight!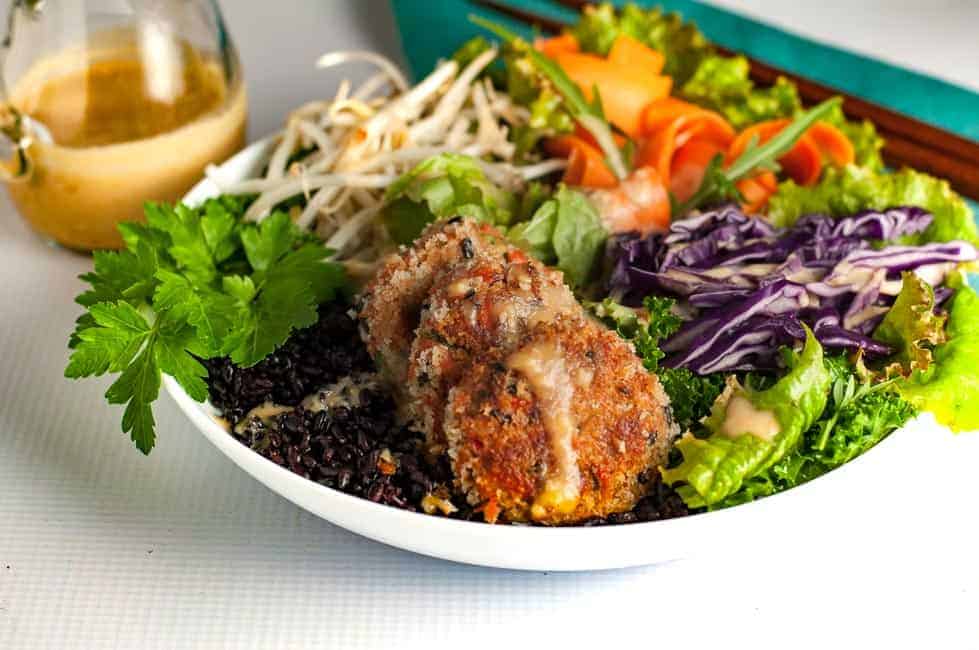 I consider myself a bit of a salmon connoisseur. Having lived near the ocean on Vancouver Island in the Pacific Northwest all my life, wild salmon has been always been an important part of my diet. My husband and son are avid sport fishermen and two of my family members work in fisheries conservation-related jobs. Needless to say, we eat wild Pacific salmon often, not only because we love how it tastes, but because we consider it an essential part of a healthy diet. You're probably well aware that wild salmon is an excellent source of Omega-3 fatty acids, B Vitamins and much more.
When we don't have fresh wild salmon available, I stock up on canned salmon, choosing Raincoast Trading Co. products. The company's claim that this is "Not your typical canned seafood" is spot on. Raincoast Trading Co. is a local company, based in Nanaimo, BC, that offers an environmentally friendly seafood choice. I feel good about choosing it, as their products have been endorsed by the Ocean Wise conservation program. All of their seafood is sustainably caught to help preserve non-targeted species.
Their salmon is single-cooked and packed in natural fish oils, boosting both its flavour and nutrients. Not only that, it comes packed in a BPA-free can. The convenient pull-tab lids on their cans means we don't need a can opener when we take it with us on boat-camping trips. While I'm lucky enough to be able to buy it in local stores, for all my readers south of the border, Raincoast Trading Co. products are readily available from amazon.com.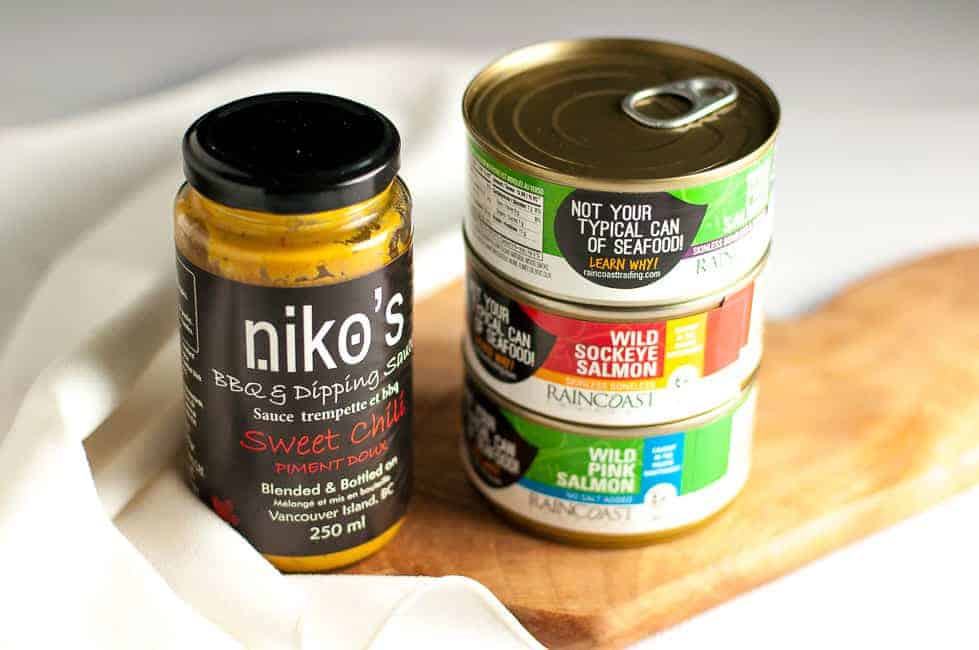 I chose their canned Wild Sockeye Salmon to make crispy salmon cakes for this Asian Wild Salmon Buddha Bowl, but their sockeye salmon is also available as skinless and boneless or salt-free for those on sodium-restricted diets. We like the variety with skin and bones, mainly for the extra calcium it provides. When my kids were young, they used to compete to see who got the most "crunchy bones" in the meals I made with canned salmon. That was my sneaky way of getting them to not be squeamish about eating the bones:)
This recipe for Asian salmon cakes is one I'll make again and again. My favourite Asian flavours--ginger, lime, garlic, soy sauce, lemongrass and sesame--enhance the sockeye salmon and make delectable patties that are perfect as an appetizer, or for adding to this Buddha Bowl. They'd be great in a salad for lunch, too.
Power Bowl meals have become one of our favourite ways to eat dinner and this Asian Wild Salmon Buddha Bowl is my latest creation. When my table-setting hubby realizes that dinner will only need a fork or chopsticks, he sometimes flicks on Netflix and we curl up on the couch, with our comforting bowls in hand. Table manners optional.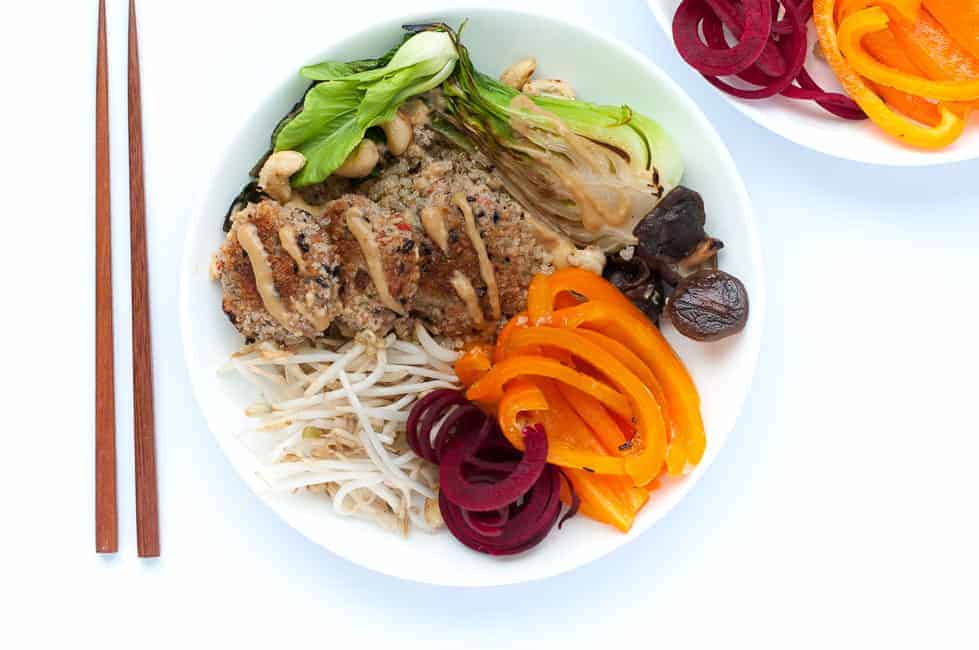 You can use raw or cooked vegetables, or a combination of both. In the bowl above, I lightly sautéed baby bok choy, shiitake mushrooms and orange bell peppers and added raw beets, bean sprouts and toasted cashews along with the salmon cakes for extra crunch. Be creative and use your own favourite veggies.
Buddha Bowls, Power Bowls, Superfood Bowls, Bliss Bowls: while these labels sound uber-trendy, they're all names for basically the same thing, a balanced meal that provides a significant health boost, served in a bowl. Varying textures, colours, and flavours make these bowls fun to create.
Want to create your own Buddha Bowl? Just follow these four steps:
Start with a base you love, like rice, quinoa, or a grain like farro, millet, or couscous.
Add a protein, like wild salmon or tuna, lean chicken, or dried beans.
Add vegetables, considering their colour and texture. Provide contrast and variety in both. Include raw, cooked or lightly steamed veggies. Arrange them so that similar colours are not next to each other. Let each ingredient shine on its own.
Top with an outstanding sauce. Drizzle with a flavourful dressing or sauce and garnish with fresh herbs, seeds or nuts.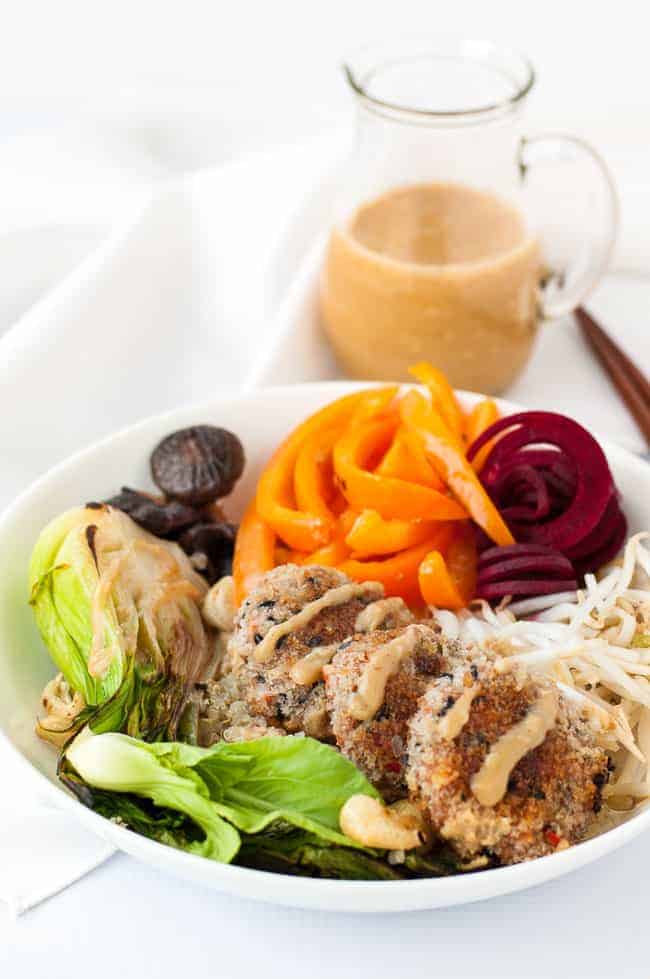 4 easy steps to make this Asian Wild Salmon Buddha Bowl
Cook the rice. I used Forbidden (black) Rice because we love it's rich nutty flavour, but you can use your favourite rice.
Prepare the wild salmon cakes. Just mix all ingredients in a large bowl, form into patties, coat with Panko crumbs and fry. (These are SO good!)
Assemble the vegetables. Start with a bed of mixed greens, including kale if you like, and add red cabbage, carrots and bean sprouts.
Make the Spicy Peanut Sauce (or use your favourite store-bought peanut sauce) and smother it all. Dig in and enjoy!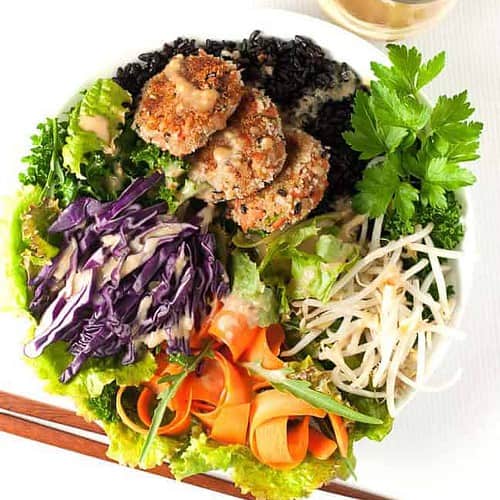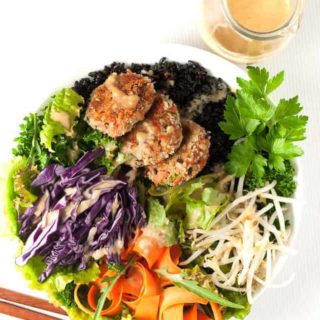 Asian Wild Salmon Buddha Bowl
This Asian Wild Salmon Buddha Bowl is power packed with mighty superfoods to boost your immune system. It's a crispy, crunchy, creamy meal in a bowl.
Print
Pin
Rate
Servings:
12
small salmon cakes
Jump to Video
Ingredients
Asian Wild Salmon Cakes ingredients
300

ml

(10 oz.) or 2 cans wild salmon

¼

cup

red onion,

finely diced

¼

cup

red pepper,

finely diced

1

tbsp

grated ginger

2

cloves

garlic,

minced

2

tbsp

parsley,

finely chopped

2

tsp

lime zest

1

tbsp

lime juice

2

tbsp

gluten-free tamari or coconut aminos

2

tsp

toasted or regular sesame oil

1 ½

tbsp

fresh lemongrass,

diced (or use lemongrass paste)

1

egg,

beaten

¼

cups

cooked black Forbidden rice

(or your favourite rice)

6

tbsp

Panko crumbs

(gluten-free if necessary)
Coating Ingredients
½

cup

Panko crumbs,

(gluten-free if necessary)

grapeseed oil for frying
Vegetable and Grain Ingredients
mixed greens with kale; cooked rice, quinoa or other grain; thinly sliced red cabbage, carrots, bean sprouts, cilantro for garnish.
Spicy Peanut Sauce ingredients
1

cup

smooth natural peanut butter

½

14 oz.

can coconut milk

¼

cup

tamari or coconut aminos

¼

cup

rice wine vinegar

2

cloves

garlic,

minced

¼ - ½

inch

slice of fresh ginger,

finely grated

2

tbsp

sweet chili sauce
Instructions
Cook the rice first. (You will need 1 cup of cooked rice for the 2 bowls plus ¼ cup cooked to add to the salmon cakes, so cook ⅝ cup rice with 1 ¼ cups water.)

In a large bowl, combine all the Asian Wild Salmon Cakes ingredients. Form into small cakes or patties, about 1 ½ inches in diameter.

Coat with more Panko crumbs.

Heat a large skillet, add oil to coat bottom of pan, and fry salmon cakes for 3-4 minutes on each side until browned. Remove, drain on paper towel.

Prepare the Spicy Peanut Sauce next. Put all ingredient in a blender and process until smooth and creamy.

Assemble bowls, beginning with rice on one side of the bowl and fresh greens on the other. Place the hot salmon cakes on top of the rice and assemble the vegetables on top of the greens. Drizzle with Spicy Peanut Sauce, garnish with cilantro and serve.
Notes
This may make more salmon cakes than you will need for 2 servings. Freeze or refrigerate leftovers for another meal.
Tried this recipe?
Share a photo on INSTAGRAM and tag it #flavourandsavour! I love seeing what you've made.
While I have been compensated by Raincoast Trading, all opinions are mine. Thank you for supporting the brands that support me! #RainCoastTrading #BCBuyLocal #Ad
This project is supported by the BC Government's Buy Local Program; delivered by the Investment Agriculture Foundation of BC with funding from the BC Ministry of Agriculture.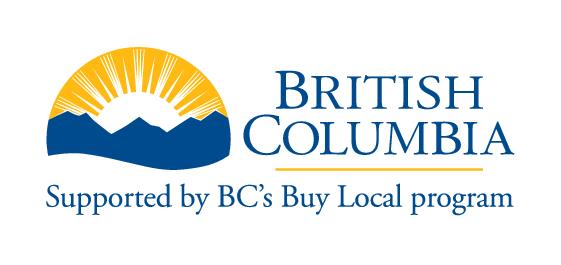 Like this recipe? Pin it or share it!