Serve these Avocado Bacon and Eggs right in the skin. No dishes to wash!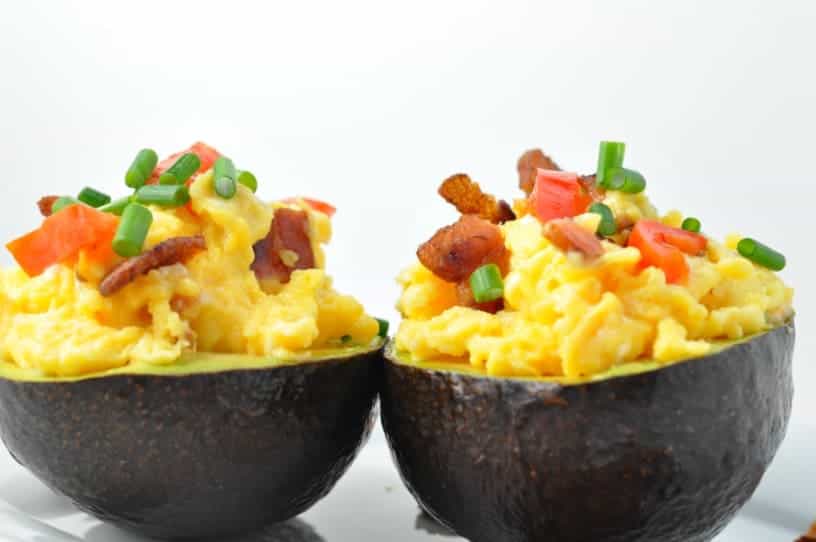 I used to love having a bacon and egg breakfast for an occasional treat, when I ate toast, that is. But bacon and eggs without toast is like hot apple pie without ice cream.
But . . . these Avocado Bacon and Eggs have solved my problem. No toast? No problem.
Scrambled eggs and bacon on top of a creamy ripe avocado satisfy all those carb cravings that toast used to satisfy. Simply cook the eggs and bacon, mix them together, halve the avocado, remove the pit and mound the egg mixture in the cavity. Serve it right in the skin.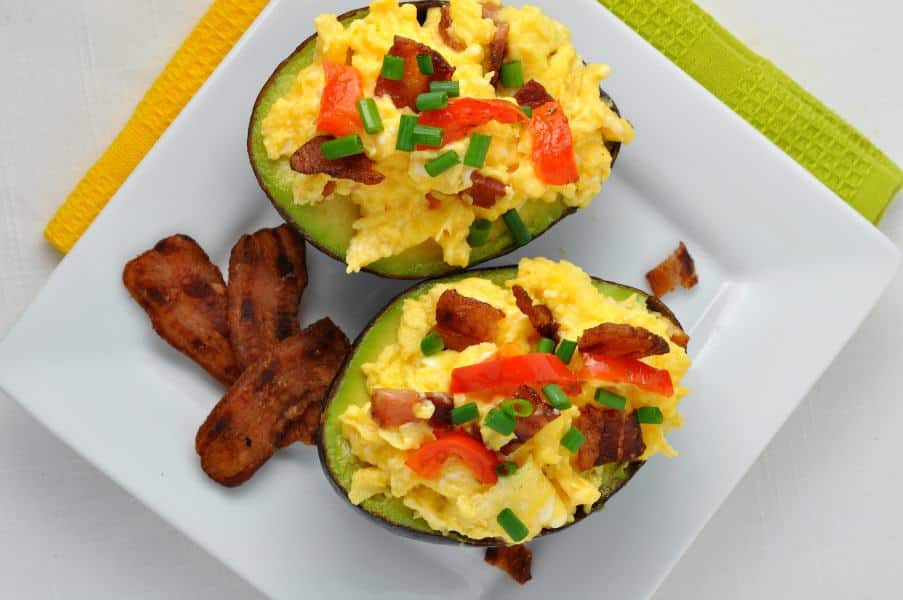 My mom used to make herself a bacon and egg breakfast every morning, right up until she was no longer able to cook for herself. She would fry two pieces of bacon and a sunny-side-up egg and serve it with a well-buttered slice of whole-grain toast and a cup of black instant coffee. I watched her eat this meal many times over the years, from the time I was a little girl until a few years before she died.
Her method was always the same. She'd have a bite of bacon, a bite of egg and a bite of toast. Repeat. Bacon, egg, toast. Repeat. She ate it in order so that her last three bites were the most delectable of all: the crispiest chunk of bacon, the nicely set bit of egg yolk, and the center of the piece of toast--no crusts--just that soft part right smack in the middle that holds all the melted butter.
Just like Mom would save and savour that last bite, she'd save things she treasured instead of using and enjoying them: she had candles that were never lit, Spode teacups that stayed in the china cabinet so they wouldn't get broken, and special jars of gourmet jelly that remained in the pantry.
-->Wait a sec. OMG! I AM MY MOTHER'S DAUGHTER! I'm guilty of all three of those!
So why am I thinking and writing about my mother? Mom passed away three years ago today. While she died with no regrets about how she lived her life, I can't help thinking that there were times when she could have enjoyed some of the things she had, rather than always feeling that she had to save them for tomorrow. And this approach applies to relationships too, don't you think?
Sunday is Father's Day, a day to honour and cherish all the Dads in our families and to let them know just how much they mean to us now while they're still here. While picking out a card today, I found myself thinking how important it is to not save our compliments and good wishes for those we love just for a special day like Father's Day or Mother's Day.
Light the candles, use the special teacups, savour those gourmet jellies and nurture the relationships we have now before it's too late. Begin by treating your Dad to a special breakfast, like these Avocado Bacon and Eggs!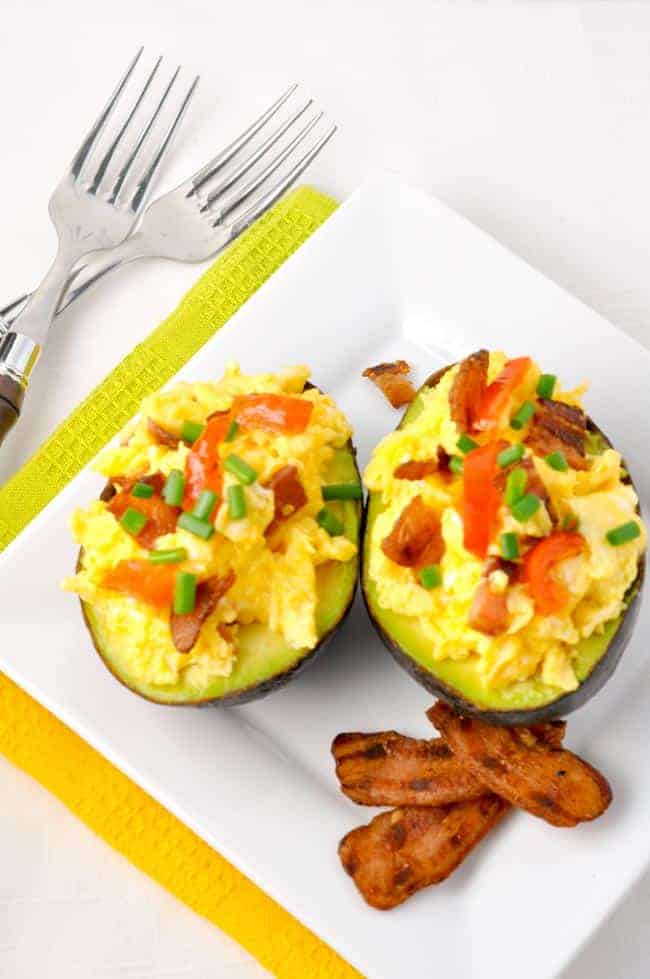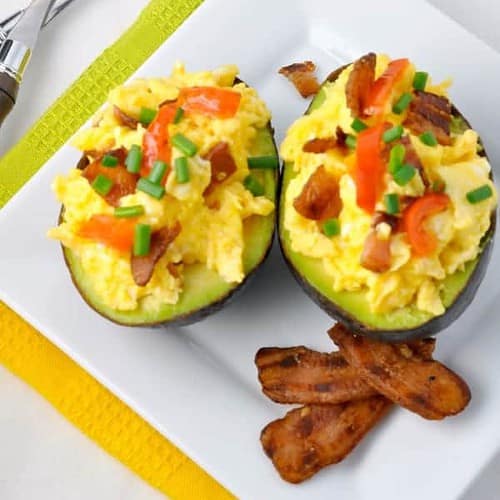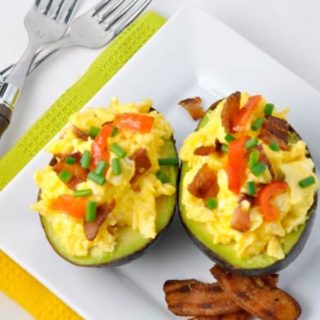 Avocado Bacon and Eggs
Avocado Bacon and Eggs with no toast! Who needs toast when you can satisfy your carb cravings with healthy avocado?
Print
Pin
Rate
Ingredients
1

avocado,

halved, pit removed (see video for how to remove an avocado pit safely)

2

eggs,

scrambled

2

slices

bacon,

cooked and crumbled

garnish of your choice: snipped chives or other herbs

or grated cheese (optional)
Instructions
Cook the bacon till crispy. Drain on paper towels and crumble.

Scramble the eggs in a little oil or butter.

Slice the avocado in half and remove the pit.

Mix the bacon with the eggs, mound on top of the avocado, garnish as desired and serve immediately.
Nutrition
Calories:
315
kcal
|
Carbohydrates:
9
g
|
Protein:
10
g
|
Fat:
27
g
|
Saturated Fat:
6
g
|
Cholesterol:
178
mg
|
Sodium:
215
mg
|
Potassium:
591
mg
|
Fiber:
6
g
|
Vitamin A:
385
IU
|
Vitamin C:
10.1
mg
|
Calcium:
37
mg
|
Iron:
1.3
mg