If you're searching for ideas for homemade gifts for teachers, neighbours, friends or family members, read on! Here are 9 DIY Easy Kitchen Gift Ideas that I've made for others over the years. Gifts from your kitchen that you've made yourself are bound to be loved and appreciated, as they're gifts from your heart, made with your hands!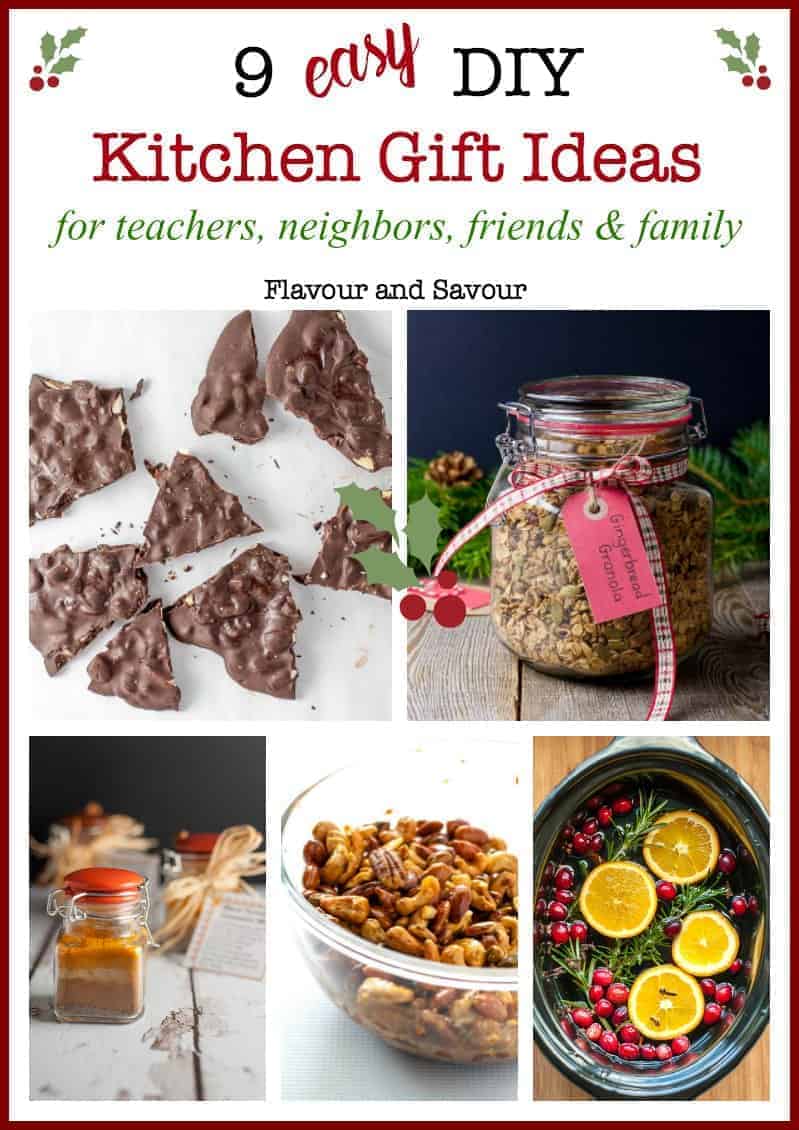 DIY Easy Kitchen Gift Ideas
1. Simmering Holiday Potpourri
Wrap up small packages of this potpourri spice mix for your friends or family. Simmer in a slow cooker or on the stove top and make your home smell like Christmas! This holiday potpourri mix is ideal if you don't know if the recipient has food allergies.
2. Sweet and Spicy Pretzel Nut Snack Mix
Mix raw nuts, brown sugar, cinnamon, cayenne, maple syrup and flaky sea salt with pretzels and bake. Delightfully addictive!
3. Last-Minute Cherry Almond Chocolate Bark
Chocolate bark is always a welcome gift. No dried cherries on hand? No worries. Try different combinations, like dried cranberries with pecans or walnuts or try this Chocolate Orange Almond Bark or this Salted Dark Chocolate Bark with Pumpkin Seeds.
4. Espresso Glazed Holiday Nut Mix
You'll only need 4 ingredients to make this simple glaze for mixed nuts. Bring to a boil, stir in the nuts, and bake in the oven. So good!
5. Never-Fail Cranberry Pecan Biscotti
This is a reliable recipe that can be easily adapted to include your favourite nuts, dried fruits and spices.
6. Warm Turmeric Cinnamon Milk Spice Mix
This Golden Milk is smooth, sweet, and comforting. It may be the perfect gift for someone who has trouble sleeping!
Do you know someone who loves caramel? Read on for two ways to make your own salted caramel sauce, one is classic, the other paleo. Both are fabulous!
8. Sweet and Spicy Rosemary Nuts
A hint of cayenne and a sprinkle of fresh rosemary makes these Sweet and Spicy Rosemary Nuts irresistible.
9. 30-Minute Gingerbread Spiced Granola
A jar of this crunchy goodness would always be a welcome gift. Make a batch in the oven, transfer it to a jar, attach a ribbon and a tag and give it to a lucky friend!
I hope these DIY easy kitchen gift ideas have inspired you to make one or more of these, or to come up with your own!
Like this post? Pin it or share it! Never miss a recipe--subscribe to receive my weekly newsletters.