Start your day off on a healthy note with one of my five favourite smoothies. And read on for tips for making the best smoothies possible!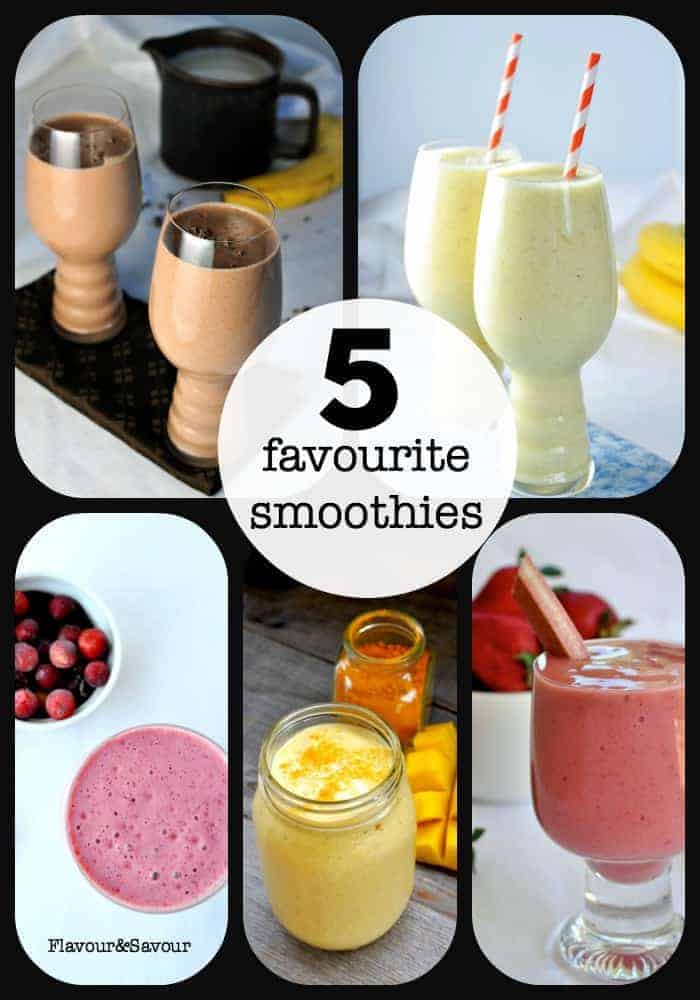 Here's a round-up of recipes for my five favourite smoothies. Whether you're at home or on-the-go, a smoothie is a great way to get a wide variety of nutrients, all in one glass. It's the best way I find to ease into my day. If I'm not particularly hungry, I can pour my smoothie into a to-go mug and be on my way, saving it for later.
Here are five favourite smoothies, in no particular order.
1. Chocolate Almond Smoothie made with cacao powder, hemp hearts, almond butter and dates. Can you think of a better way to start your day than with chocolate? This one keeps me feeling full all morning.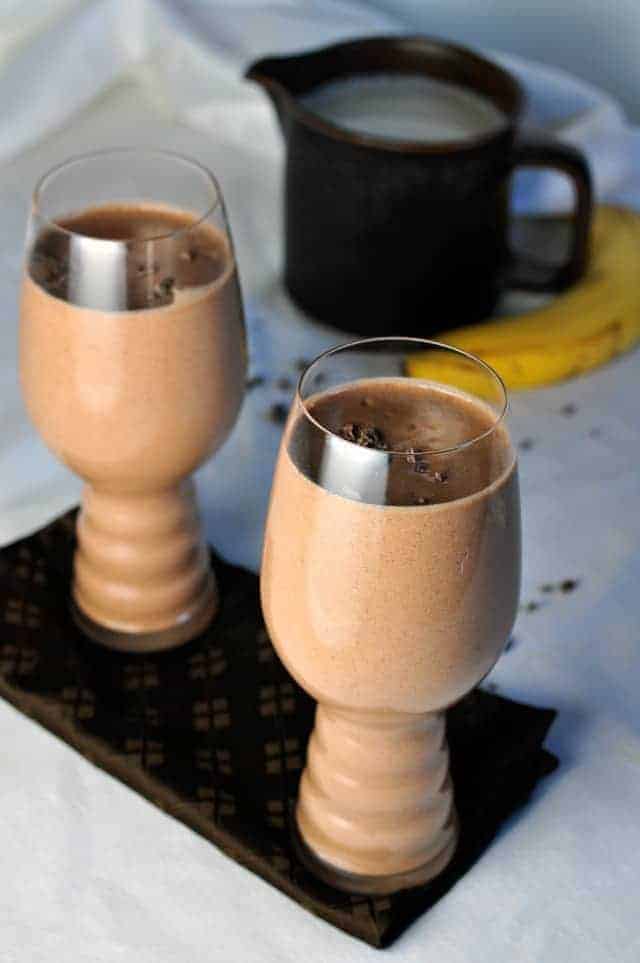 2. Fresh Pina Colada Smoothie So fresh! If you can't be in the tropics, bring some sunshine into your kitchen.

3. Tropical Turmeric Smoothie Start your day with this clean-eating smoothie made from bananas and mango and flavoured with turmeric, ginger, cinnamon and cardamom.

4. Strawberry Rhubarb Smoothie Who needs sugar-sweetened Strawberry Rhubarb Pie when you can have this naturally sweetened Strawberry Rhubarb Smoothie?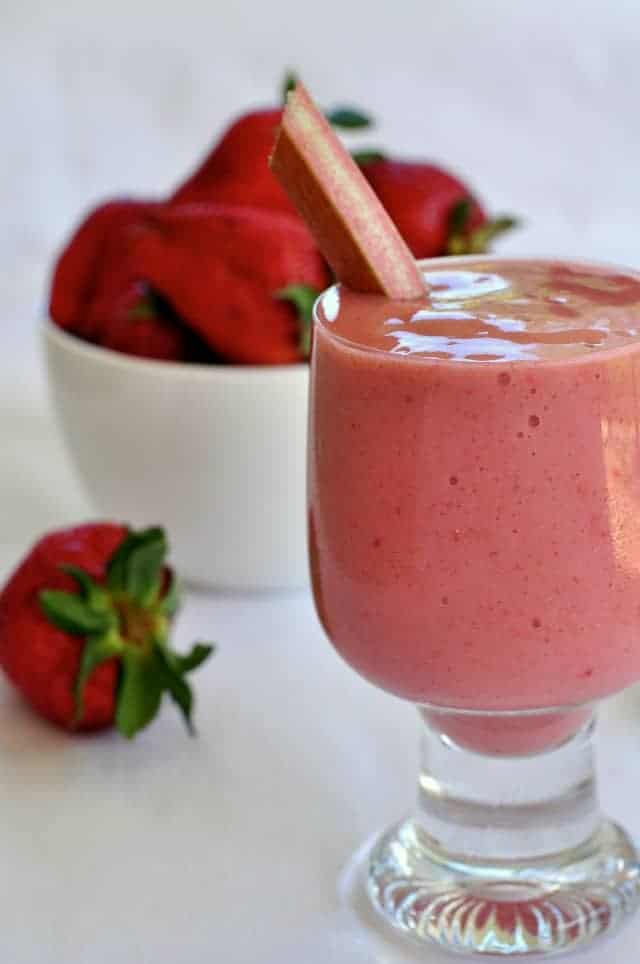 5. Cranberry-Raspberry Hemp Seed Smoothie Load up with cold-busting Vitamin C with this healthy cranberry smoothie.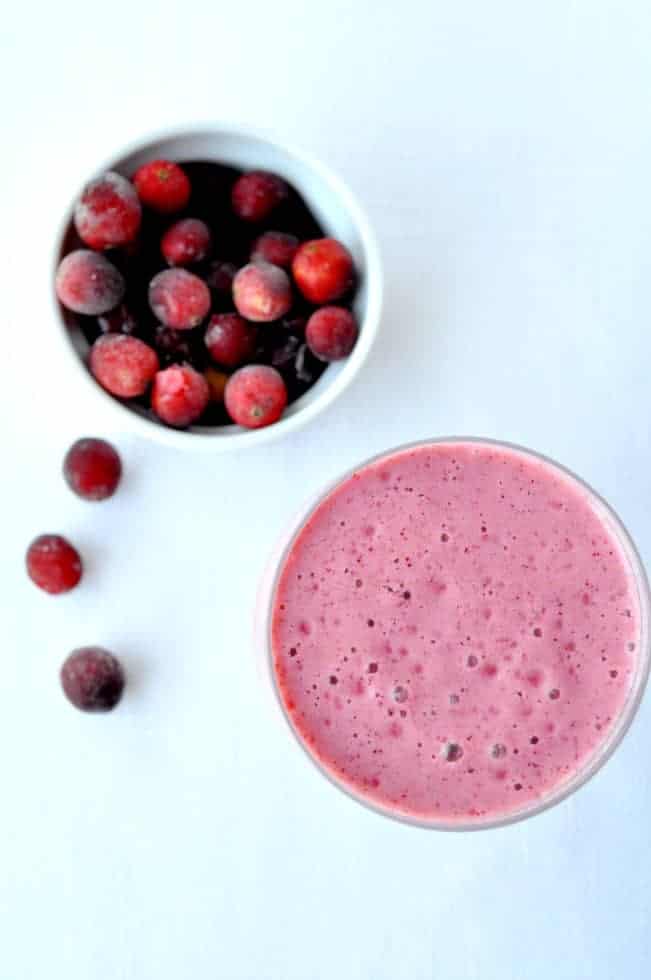 Let me just say that I LOVE my Vitamix. Having a high-speed blender allows me to make these fabulous smoothies, soups, sauces, dressings, sorbets and ice cream all in seconds. I'm not one to wax poetic about kitchen appliances but this one makes food preparation and recipe creation a snap.
How to Make the Best Smoothies
The recipes above are just suggestions. I like to get creative with my smoothies but I've learned a few tips along the way.
1. Go easy on the chia. Chia seeds are a rich superfood, but because of their high fiber content they form a gel. Use about 1 tablespoon per 8 ounces of liquid to keep your smoothie drinkable rather than "spoonable".
2. Colour is important. Green smoothies can quickly turn to brown muck. Experiment with your balance of fruit to greens. Adding fresh parsley to a spinach or kale smoothie helps to green it up. Use kiwi or a neutral-coloured fruit, such as apple or pear. Kale plus fruit can sometimes equal brown mush unless you use a berry with an intense colour, like cranberries or blueberries. The Strawberry-Rhubarb Smoothie (above) would have been a light beige colour and would not have looked very appetizing without the addition of fresh strawberries.
3. Plan your "superfood" of the day to add, but again, think about the colour and flavour. Spirulina and kelp are best added to a green smoothie. Consider the taste too. Too much matcha can easily overpower your other ingredients, but ginger adds a fabulous fresh flavour. Other choices for superfoods to add: chia seeds, hemp hearts, chorella, cacao, goji berries, melted coconut oil, matcha, wheat grass. Add psyllium husks for extra fiber or toss in healthy spices like cinnamon or turmeric. Try kombucha or kefir in your smoothie too.
4. Plan ahead for your winter smoothies. Freeze strawberries, raspberries and blueberries in the summer when they're at their peak so you'll have them all winter. Buy overripe bananas, peel, slice and freeze on a tray, then store in a freezer container so you always have a natural sweetener.
5. Get yourself organized. Keep all your smoothie add-in in one cabinet in your kitchen near your blender.
6. Avoid artificial sweeteners. Opt for dates, maple syrup or honey if your fruit is not sweet enough.
These are just a few suggestions. Have fun creating your own family favourites.
SAVE THIS TO ONE OF YOUR PINTEREST BOARDS
and
connect with me on Pinterest
! I'm always finding new tasty recipes to pin. Subscribe to my weekly newsletter and never miss a recipe!
This post contains affiliate links. If you click on any of the affiliate links and make a purchase within a certain time frame, I'll receive a small commission. The commission is paid by the third party, not by you. I am a participant in the Amazon Services LLC Associates Program. It's an affiliate advertising program designed to provide a means for me to earn fees by linking to Amazon.com and affiliated sites.