Disclosure: I was provided a complimentary FoodSaver®Vacuum Sealing System to use in my kitchen and to review. I was not otherwise compensated. All opinions in this FoodSaver® review are my own.
It's a no-brainer to ask if you want to save time and money in the kitchen. Who doesn't?
Have you ever wondered if it's worth buying one of those vacuum sealer appliances that seals bags of food? I mean, how often would you use it?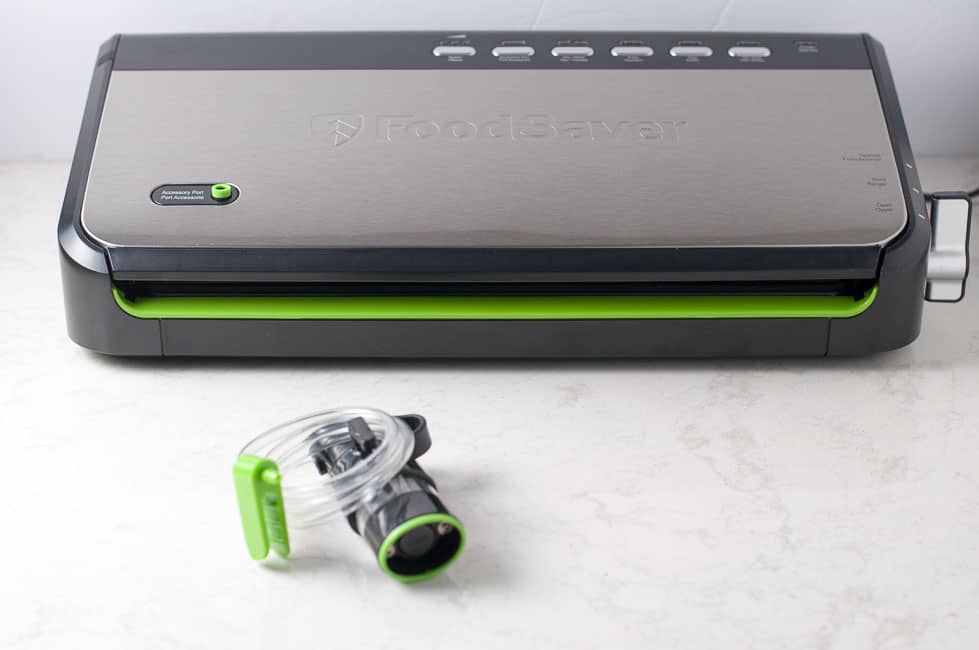 Recently I was offered the chance to review the FoodSaver®Vacuum Sealing System. I'm a little embarrassed to admit that until this week, I thought the only reason for using one of these was to package fish or game to extend its freezer life.
I've since learned that I was dead wrong! I've had a great time using this FoodSaver® with a host of food items and I'm sharing those time and money-saving ideas with you today. Right out of the box, this user-friendly appliance was ready to help keep me organized. My first question was, "Are the bags BPA free?" Yes!
Watch this short video to see five ways to use a FoodSaver® Vacuum Sealer you might not have considered.
Air is the enemy when you're trying to keep food fresh. Vacuum packing extends the life of foods by removing air from sealed containers, preventing oxidation which affects your food's nutritional value and flavour. It can also prevent the growth of microorganisms that may spoil your food.
Recently, we bought several pounds of fresh halibut directly from a fish boat, cut it into serving-sized portions and put that FoodSaver® to work. We eat halibut, cod and salmon frequently, and often buy it in large quantities. I hate to admit that in past years we've had fish develop freezer burn when we hadn't packaged it properly.

Every summer I freeze berries from my garden and from local U-Pick farms. My freezer is full of blueberries, raspberries, strawberries and Saskatoons. I freeze berries on trays before packaging them in zipper bags and I do my best to remove the air using a straw, but it's impossible to extract it all. Since receiving my FoodSaver®, I've transferred these berries to FoodSaver® bags and vacuum sealed them to extend their life and preserve all that sun-kissed summer flavour for smoothies, crumbles and pies.
But I've discovered that this FoodSaver® is not only for preserving fish, meat, or garden produce like peaches and plums.
Ways to Use a Vacuum Sealer
Get this: you can reseal snack bags of cookies, chips and crackers! We don't eat these often but when we do, I have been known to staple or even paper clip the bag when I can't find those elusive bag clips in my kitchen drawer. The bag resealing option is a true game-changer in our home!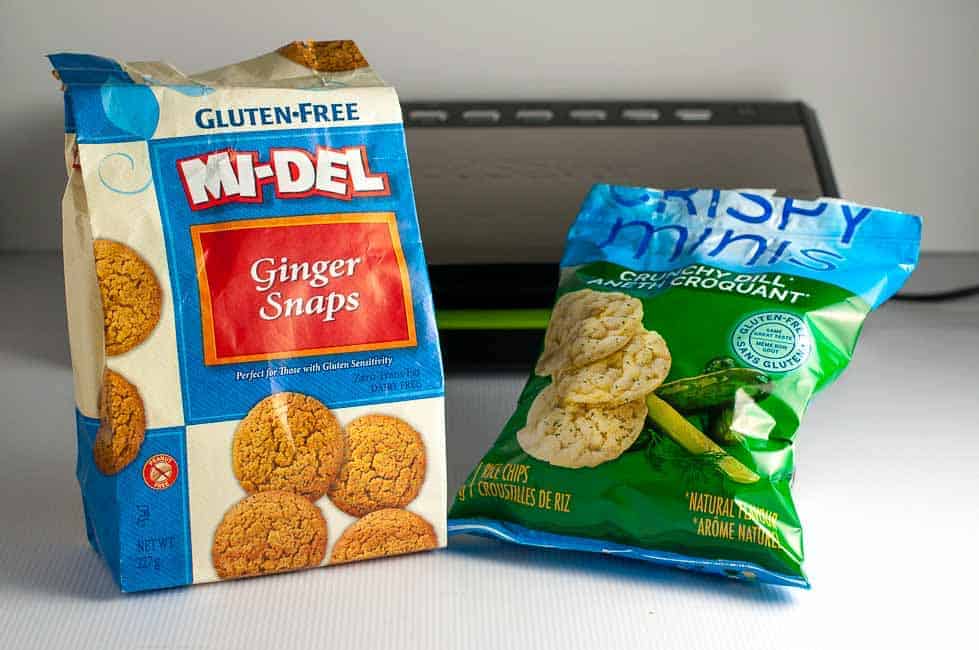 I'm lucky to have a beautiful set of silver cutlery but I hardly ever use it because I can't be bothered to keep it polished. Enter the reusable FoodSaver® zipper bags! All I have to do is place my silver cutlery in one of the reusable FoodSaver® bags and vacuum seal it. When I need it, I take it out, then return it to the same bag and reseal it again using the handheld accessory hose that comes with this model. Watch the video above to see how efficiently this works.
And here is yet another benefit. Included with this system is a bottle stopper that we use to reseal our wine bottles, on the rare occasion that there is some left over.
5 things I like about the FoodSaver® vacuum sealer
it's user-friendly
its attractive enough to keep on my kitchen counter, and doesn't take up a lot of space
it uses BPA-free bags and containers
replacement bags are readily obtainable
it can be used for so much more than simply vacuum packing meat!
4 things I'm planning to vacuum pack soon
frozen cookie dough balls
leftover turkey from Christmas dinner
waterproof bags for boating and camping
marinated chicken, like Easy Baked Thai Chicken, Easy Thai Chicken Skewers, and Greek Lemon Chicken Kabobs
If my review has piqued your curiosity, check out the different models on the Foodsaver website. You'll be glad you did.
Make sure to check out @FoodSaverCanada on Facebook for inspiration and ideas!
See my post describing how to marinate freeze and bake chicken dishes with a newer model of the FoodSaver here: 3 Easy Chicken Meals to Marinate, Freeze and Bake.
If you try the FoodSaver® following this review, snap a pic and tag me on Instagram and tell me how you saved time . . . . and money! @flavourandsavour/ #flavourandsavour
This post contains affiliate links. If you click on any of the affiliate links and make a purchase within a certain time frame, I'll receive a small commission. The commission is paid by the third party, not by you. I am a participant in the Amazon Services LLC Associates Program, an affiliate advertising program designed to provide a means for me to earn fees by linking to Amazon.com and affiliated sites.
Like this post? Please pin it or share it! Subscribe to my weekly newsletter and never miss a recipe.