Grilled shrimp, raw zucchini noodles and crisp vegetables all drizzled with an intensely flavourful sesame miso vinaigrette make this Fresh Veggie and Grilled Shrimp Zoodle Bowl a nutritious lunch or a light dinner.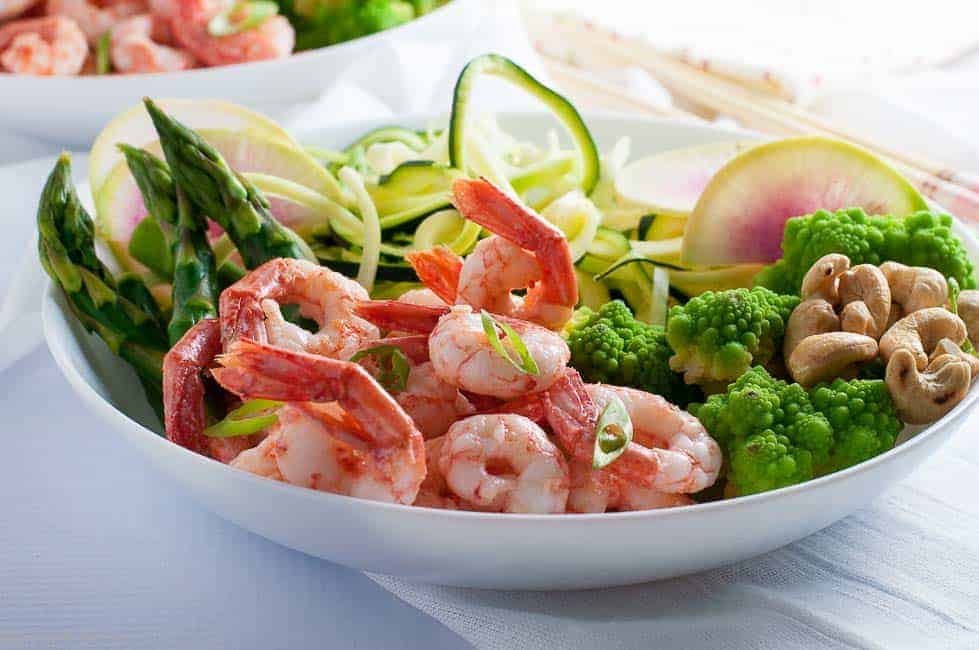 A Paleo Shrimp Zoodle Bowl!
I'd like to say that I'm one of those super-organized cooks who plans meals a week in advance and shops with a comprehensive grocery list. But I'm just not, and never have been. Most of the time, I just fly by the seat of my pants and wing it.
I often find inspiration for my meals while browsing through the produce section. This Fresh Veggie and Grilled Shrimp Zoodle Bowl resulted when I spotted a beautiful head of chartreuse-coloured Romanesco Broccoli and I knew I just had to have it.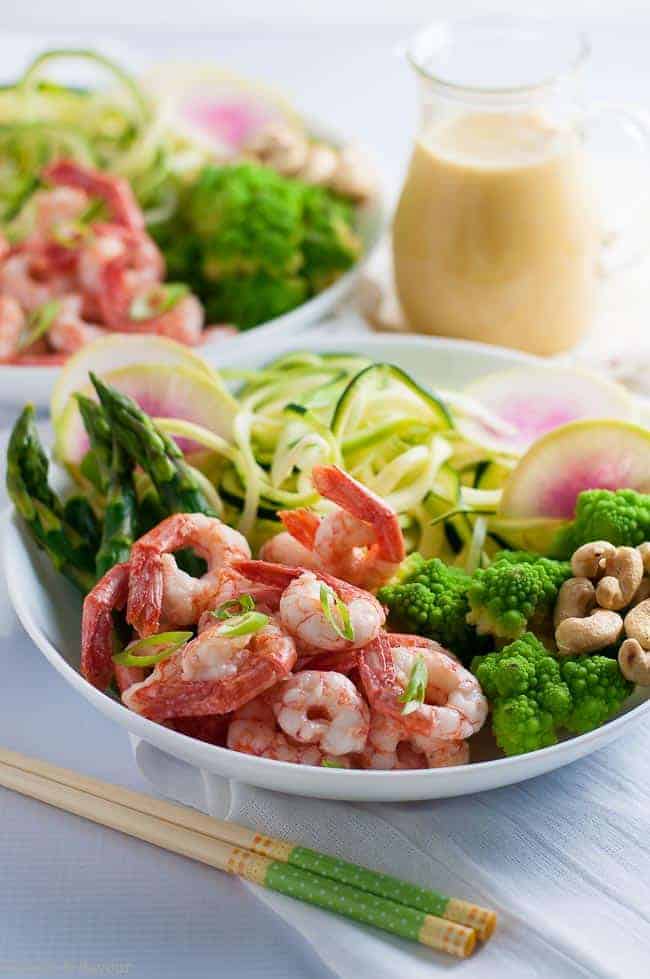 While shopping, I remembered I had a couple of those spectacular watermelon radishes in my fridge, and so I decided on a spring green and pink theme for dinner.
While it sounds like a beautiful redecorating project for a bedroom, it resulted in a colourful and appetizing dinner.
I added asparagus, zucchini noodles, fresh shrimp, green onions and a few cashews for a little extra crunch and our power bowl supper was born.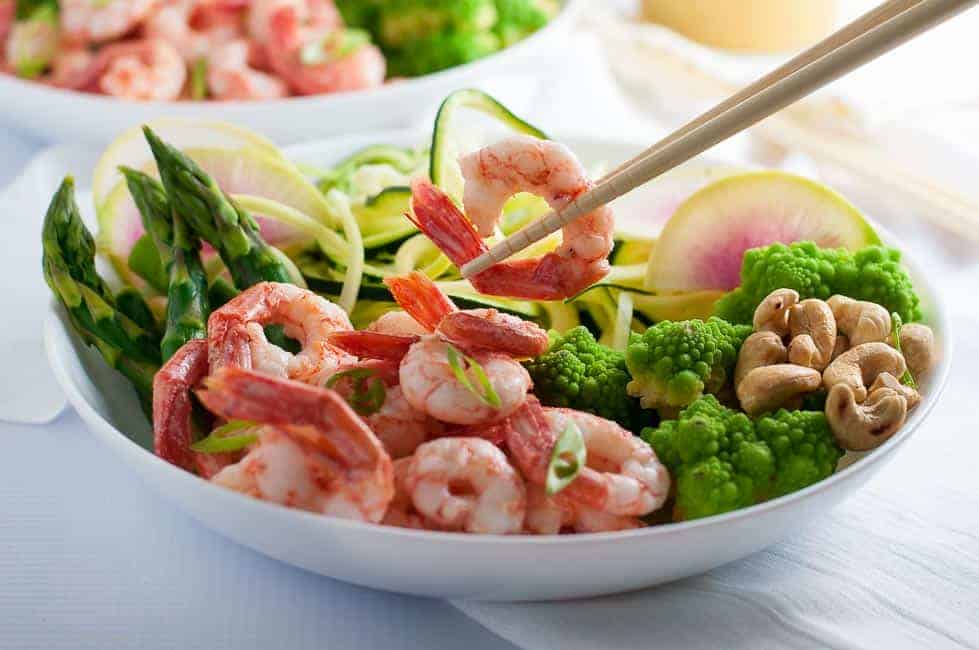 What salad dressing is best on this Shrimp Zoodle Bowl?
I had some Sesame Miso Vinaigrette left over after making this Asparagus Salad with Smoked Salmon on the weekend. It gave this meal-in-a-bowl some warm umami flavours and was the perfect choice to tie it all together.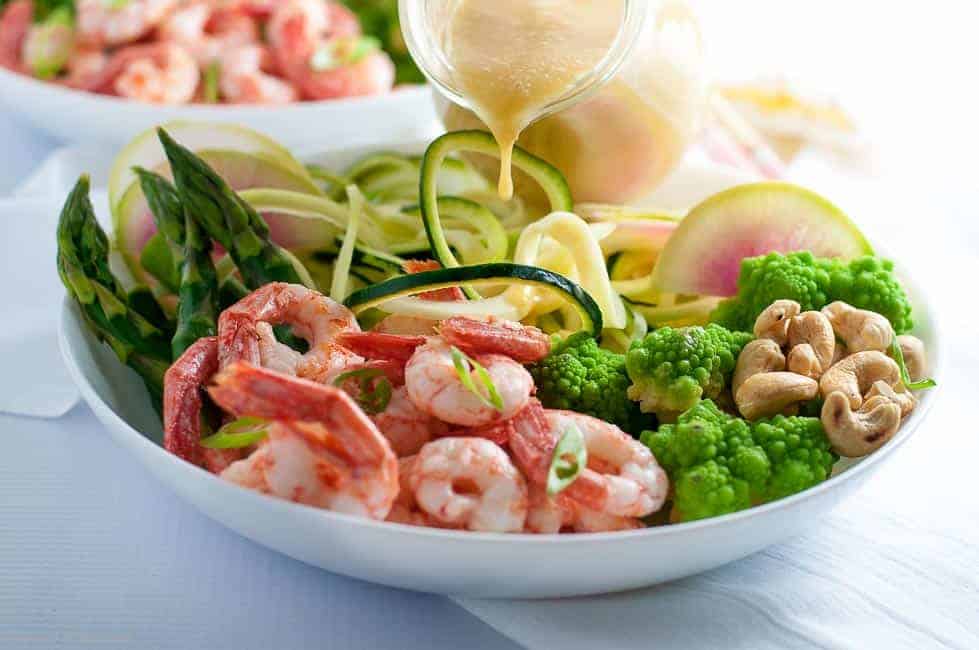 What is Romanesco Broccoli?
If you haven't tried Romanesco before, look for it soon. It is milder than broccoli and it looks similar to cauliflower, but has a more delicate flavour. You can't miss its beautiful chartreuse colour.
Most interesting to me, and maybe to you if you're a math nerd, is that the spirals of florets on a head of Romanesco form a natural fractal, growing in a pattern that repeats itself and looks the same at every scale. This repeating pattern is a spiral based on the Fibonacci sequence. If you remember your high school math, a Fibonacci sequence is one in which every number after the first two is the sum of the two preceding ones: 1, 1, 2, 3, 5, 8, 13, 21, 34, 55, 89 and so on.
But I digress. While it's fun to examine a head of this beautiful vegetable and marvel how math is found in nature, it's even better to enjoy its crunchy texture and mild nutty flavour.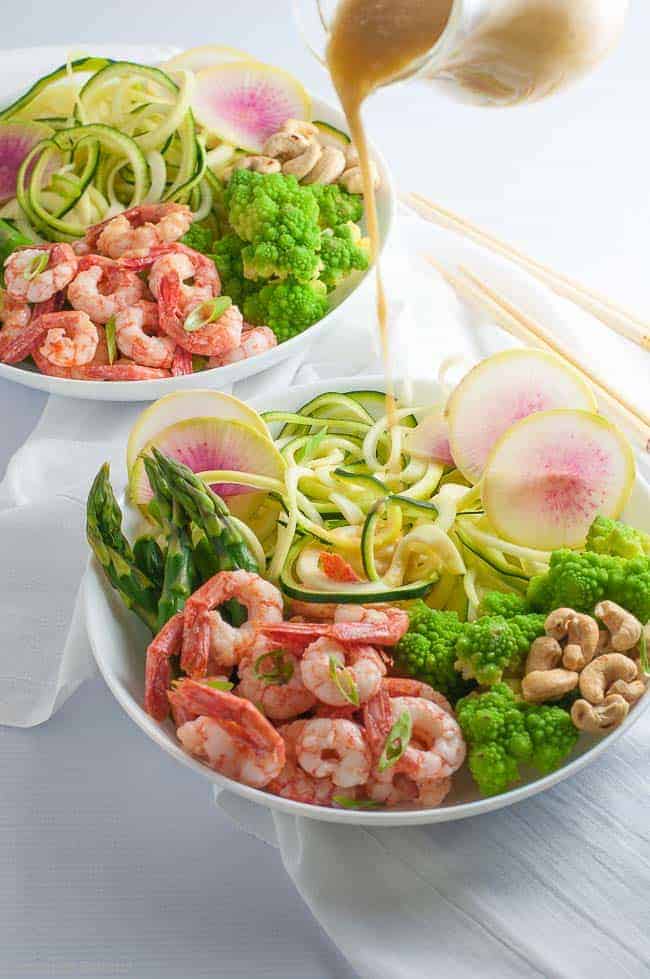 And speaking of delicate flavours, watermelon radishes add colour and crunch to a salad, too. I love that they seem so plain and unremarkable until you slice into their spectacular interior! I spiral cut a zucchini with my spiralizer to make a bed of raw noodles, added some lightly blanched asparagus spears along with the Romanesco Broccoli, and chose sustainable local side-stripe shrimp to complete this paleo shrimp zoodle bowl.
So if you see something that catches your eye next time you're shopping, act on a whim, pick it up, and create a healthy zoodle bowl for your lunch or dinner!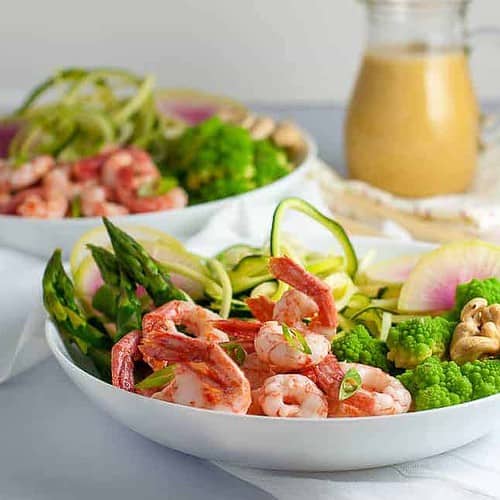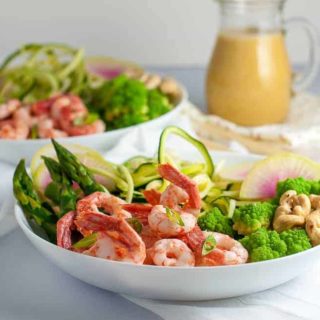 Fresh Veggie and Shrimp Zoodle Bowl
Grilled shrimp, raw zucchini noodles and crisp vegetables all drizzled with an intensely flavourful sesame miso vinaigrette makes this Fresh Veggie and Shrimp Zoodle Bowl a nutritious lunch or a light dinner.
Print
Pin
Rate
Ingredients
Zoodle Bowl Ingredients
¾

lb.

shrimp or prawns,

peeled, tails left on

1

cup

Romanesco broccoli florets

8

spears

fresh asparagus,

trimmed

1

medium

zucchini,

spiralized

½

cup

cashews,

toasted

6 - 8

slices

watermelon radishes
Sesame Miso Vinaigrette
1

tablespoon

sesame seeds

2

tablespoon

white miso

2

tablespoon

toasted sesame oil or regular sesame oil

½

cup

rice vinegar

6

tablespoon

extra-virgin olive oil

1

tablespoon

honey

½

teaspoon

sea salt
Instructions
Blanch Romanesco broccoli florets and asparagus first. Place in a pot of boiling water for 2 minutes, or just until they turn bright green and have softened slightly. Remove from boiling water and immediately transfer to a bowl of ice water. When completely cool, remove and pat dry.

Cook shrimp or prawns on a grill or on the stovetop for 2 minutes on each side or just until no longer translucent.

Arrange ingredients in a bowl and drizzle with Sesame Miso Vinaigrette.
Sesame Miso Vinaigrette
Toast sesame seeds in a small skillet over medium heat, shaking the pan frequently to prevent burning. When they just begin to darken and become fragrant, remove from heat immediately and transfer to a small plate to cool.

In a small jar, whisk the remaining ingredients until well combined.

Add the toasted sesame seeds.
Notes
Calorie count does not include dressing. You will have more dressing than you will need for two serving of this salad. Store in a jar and save for another salad.
Nutrition
SAVE THIS TO ONE OF YOUR PINTEREST BOARDS
and
connect with me on Pinterest
! I'm always finding new tasty recipes to pin. Subscribe to my weekly newsletter and never miss a recipe!
This post contains affiliate links. If you click on any of the affiliate links and make a purchase within a certain time frame, I'll receive a small commission. The commission is paid by the third party, not by you. I am a participant in the Amazon Services LLC Associates Program. It's an affiliate advertising program designed to provide a means for me to earn fees by linking to Amazon.com and affiliated sites.