These Gluten Free Apple Raisin Oatmeal Cookies drizzled with Maple Pecan Glaze are ideal for a mid-morning or after-school snack.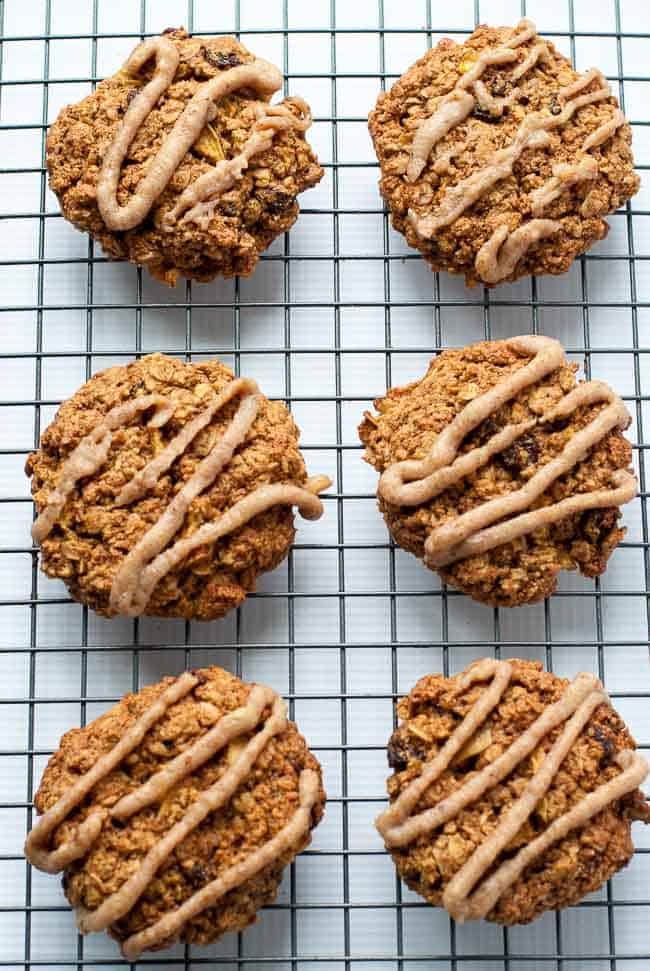 Cookies are comfort food. On days when I'm not feeling great, (which are pretty rare) I tend to gravitate toward food that I found comforting as a child. Cookies fall into that category. But not just any cookie will do. Comforting cookies have to be somewhat healthy with familiar flavours. Today I opted for good old rolled oats, added some apple chunks and raisins and came up with these Gluten Free Apple Raisin Oatmeal Cookies.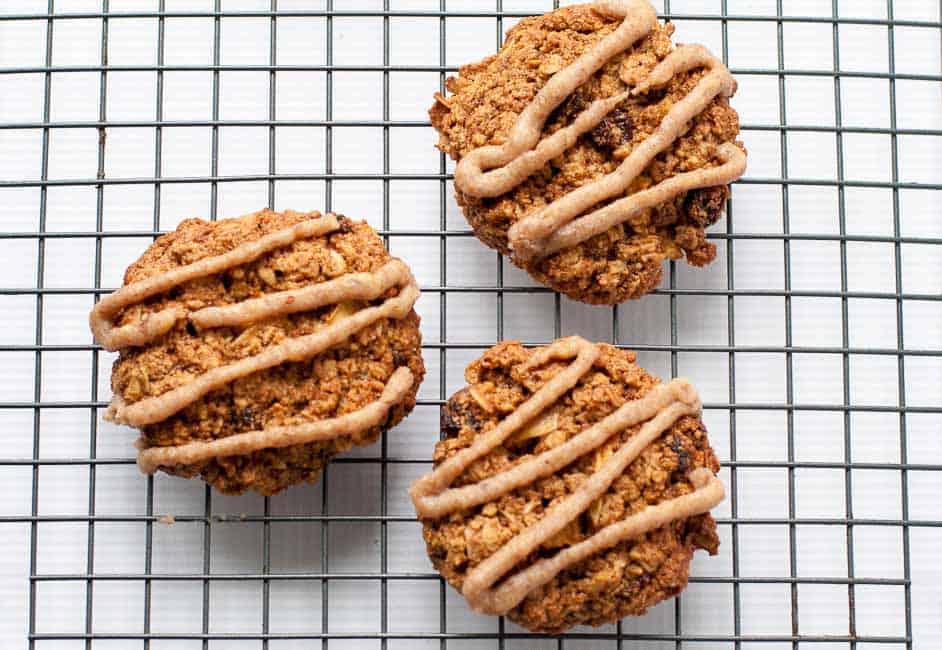 This week I  had my first real cold in three years. Stuffy nose, cough, headache, sinus pain, fatigue . . .  the works. I craved sympathy. It was pretty pathetic. Denis made me a great homemade chicken soup, and we used up some of our freezer meals. Carrot Ginger Soup was a great remedy for a nasty cold. I downed my Oil of Oregano Wellness Shooter, sipped my Turmeric Pick-Me-Up and drank copious amount of herbal tea with lemon, honey, and apple cider vinegar.
Later in the week, by the time I felt like I could actually cook a meal, I chose the easiest meal I could think of. This Maple Walnut Crusted Sheet Pan Halibut, baked on one pan in 15 minutes with no clean-up was a good choice.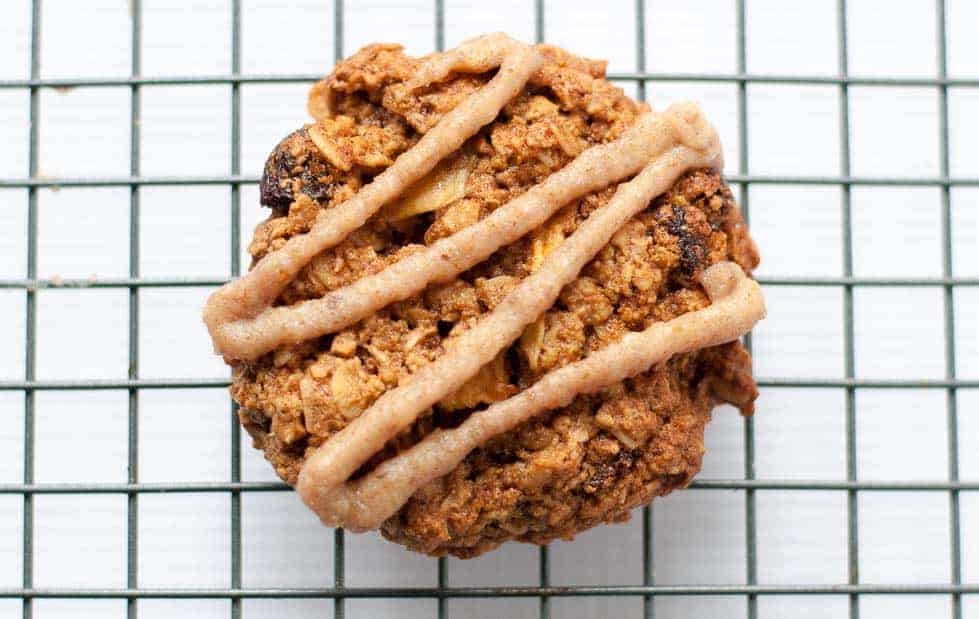 While oatmeal cookies will supply some essential nutrients, they contain too much fat and sugar to be eaten every day. However, their real benefits lie in what they can do for your well-being. A good cookie can chase away a grumpy mood. The smell of cookies baking in the oven is a promise of good things to come. Cookies to the rescue!
This recipe for Gluten Free Apple Raisin Oatmeal Cookies uses coconut palm sugar. It has a lower glycemic index than granulated sugar, meaning it doesn't cause spikes in your blood glucose and insulin levels like white sugar does. Use certified gluten-free oats for celiac diets. While these oatmeal cookies are delicious on their own, drizzling them with a little Maple Pecan Glaze adds a little natural sweetness.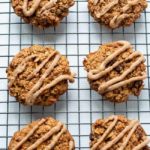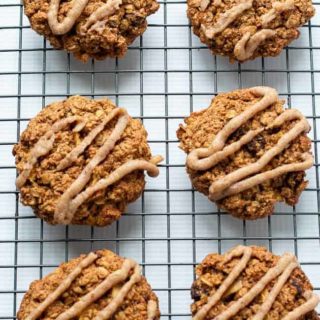 Gluten-Free Apple Raisin Oatmeal Cookies
These Gluten Free Apple Raisin Oatmeal Cookies sweetened with low glycemic coconut palm sugar and drizzled with Maple Pecan Glaze are ideal for a mid-morning or after-school snack.
Ingredients
1/2

cup

butter

3/4

cup

coconut palm sugar or brown sugar

1

tsp

pure vanilla extract

1

egg,

at room temperature

1 1/4

cup

oat flour

certified gluten-free, if necessary

1 1/2

cup

rolled oats

certified gluten-free, if necessary

1

tsp

cinnamon

1/2

tsp

baking soda

1/2

tsp

salt

1/2

cup

apple, finely chopped

1/3

cup

raisins
Maple Pecan Glaze
6

tbsp

pecans

2

tbsp

pure maple syrup

1

tbsp

coconut oil

melted

2

tbsp

water

pinch

sea salt
Instructions
Heat oven to 350°F. Line 2 baking sheets with parchment paper.

Cream butter and sugar together with an electric mixture until fluffy. Add vanilla and egg and beat until smooth.

In a separate bowl, combine oat flour, oats, cinnamon, baking soda and salt.

Add to creamed mixture and beat just until combined.

Gently stir in finely chopped apples and raisins.

Use a quarter cup measure to scoop dough on to parchment paper-lined baking sheets. Flatten slightly and space generously.




Bake for 12 - 15 minutes or until golden brown. Let sit on baking sheet for 3-4 minutes, then transfer to wire rack to cool.

Mix all ingredients for Maple Pecan Glaze in a blender until very smooth. Drizzle over cookies.
Recipe Notes
If you glaze the cookies with Maple Pecan Glaze, store them in an airtight container in the refrigerator. Adding the Glaze will make the cookie softer. If you prefer a crisper cookie, omit the glaze.