When choosing a ripe watermelon, there are several indicators you can look for to ensure you pick a sweet, juicy, and flavourful one. Here's a guide for how to select the best watermelon to make the tastiest snacks, watermelon salads, drinks, mocktails and more!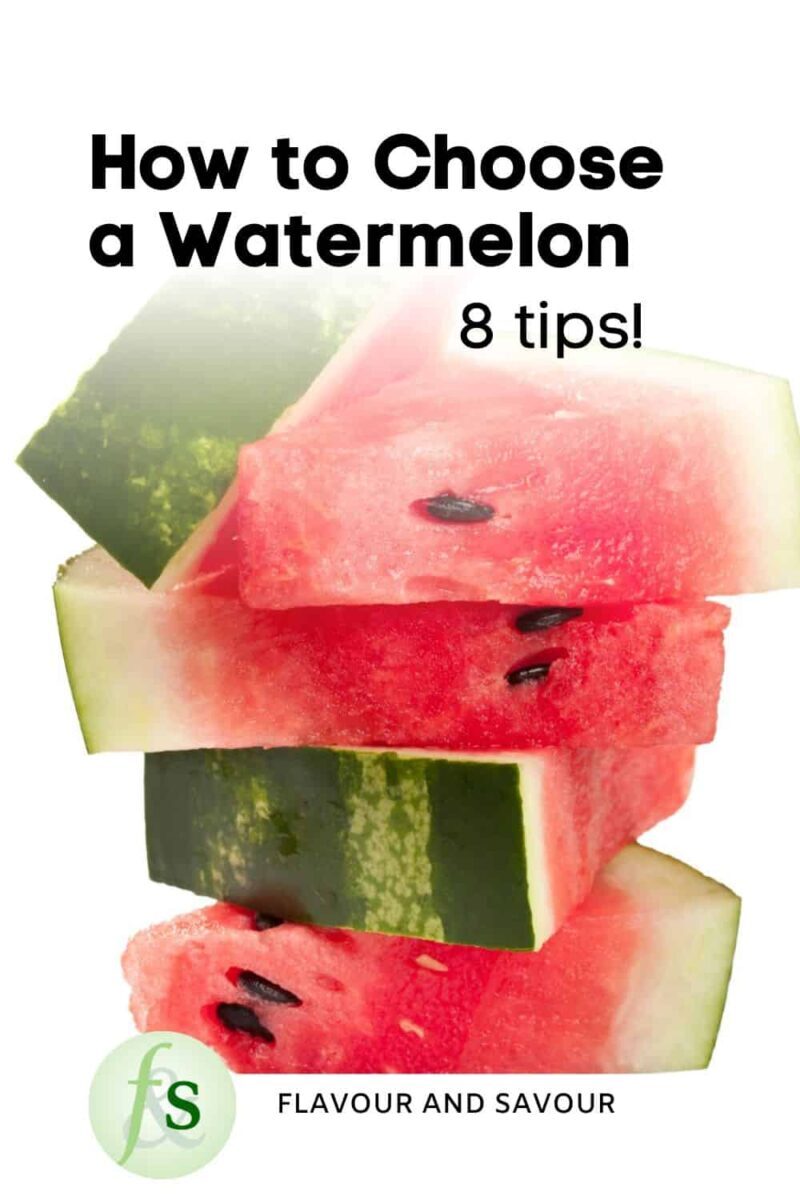 Nothing screams "summer" more than a fresh juicy watermelon! This summer melon is usually a part of every summer cookout, picnic, or camping trip. It's the easiest way to provide a healthy dessert for a crowd and you'll know your kids will love it.
But there's nothing more disappointing than cutting into a whole melon to find that it is dry and pulpy or has started to spoil. Here's a list of things to look for when choosing a sweet, ripe watermelon to enjoy with your friends and family.
8 things to look for when choosing a watermelon
Examine the skin: The skin of a ripe watermelon should have a dull or matte appearance rather than a shiny or waxy one. Look for a watermelon with a uniform colour and avoid any with significant blemishes, cuts, or bruises.

Check the field spot: The field spot is the area where the watermelon rested on the ground while growing. A ripe watermelon will have a creamy yellow or buttery color on the underside, indicating that it has ripened fully. Avoid watermelons with a white or green field spot, as these are likely underripe and may have been picked too soon.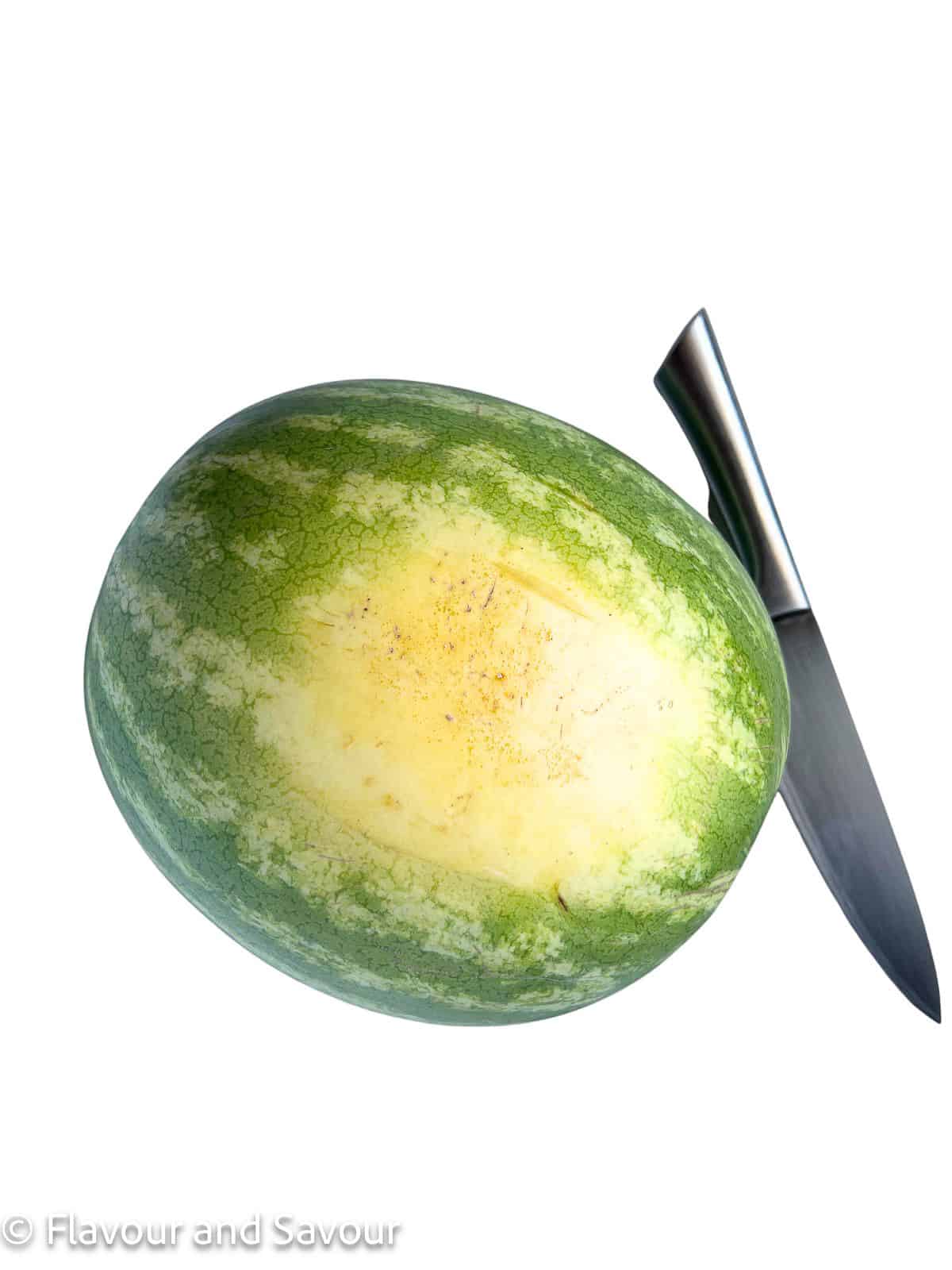 Tap the watermelon: Gently tap or knock on the watermelon with your knuckles. A ripe watermelon will produce a deep, hollow sound. If the sound is dull or flat, your watermelon may be underripe or overripe.

Assess the weight: A ripe watermelon will feel heavy for its size. This is because watermelons are mostly water, and a heavier weight suggests that it is juicy and ripe. However, keep in mind that size can also affect weight, so compare similar-sized watermelons.

Check the shape: Look for a watermelon that is symmetrical and uniform in shape. Odd shapes can be an indication of improper growth or inconsistent ripening.

Look for a firm texture: Gently press your hands against the watermelon's skin. A ripe watermelon should feel firm but not overly hard or soft. If it's too hard, it may be underripe, while excessive softness could indicate overripeness.

Consider the stripes: Many watermelon varieties have dark green stripes on their skin. The contrast between the stripes and the lighter skin should be distinct. If the stripes are faded or barely visible, the watermelon may not be fully ripe.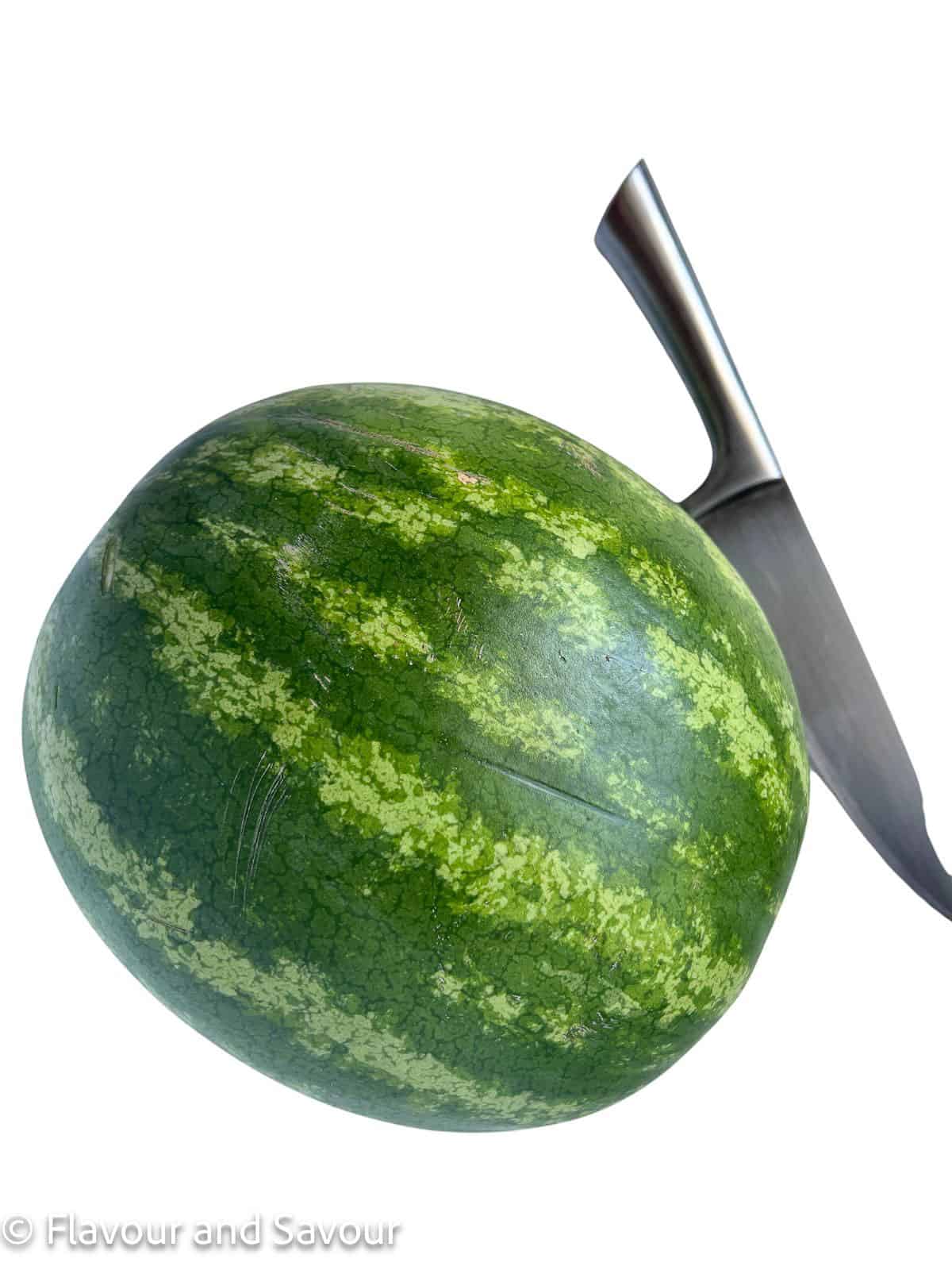 Smell it: Give the watermelon a sniff near the stem end. A ripe watermelon will have a sweet, slightly musky aroma. If there is little to no smell or if it has a sour or fermented odor, it may be underripe or overripe.

While these tips can help you pick a good watermelon, there's no foolproof method. Different varieties may have slight variations in appearance and ripeness indicators.
Ultimately, trust your senses and preferences to choose a watermelon that looks and feels right to you.
More delicious watermelon recipes to try
And then, enjoy these delicious recipes with your fresh watermelon!
🗒 More summer salads
Did you use this guide?
If these tips for how to pick a good watermelon were helpful to you, let me know in the comments below. Add your suggestions, too!