Dessert for breakfast? Why not? This Paleo Raspberry Coconut Parfait is a healthy way to start the day.
Jump to Recipe Print Recipe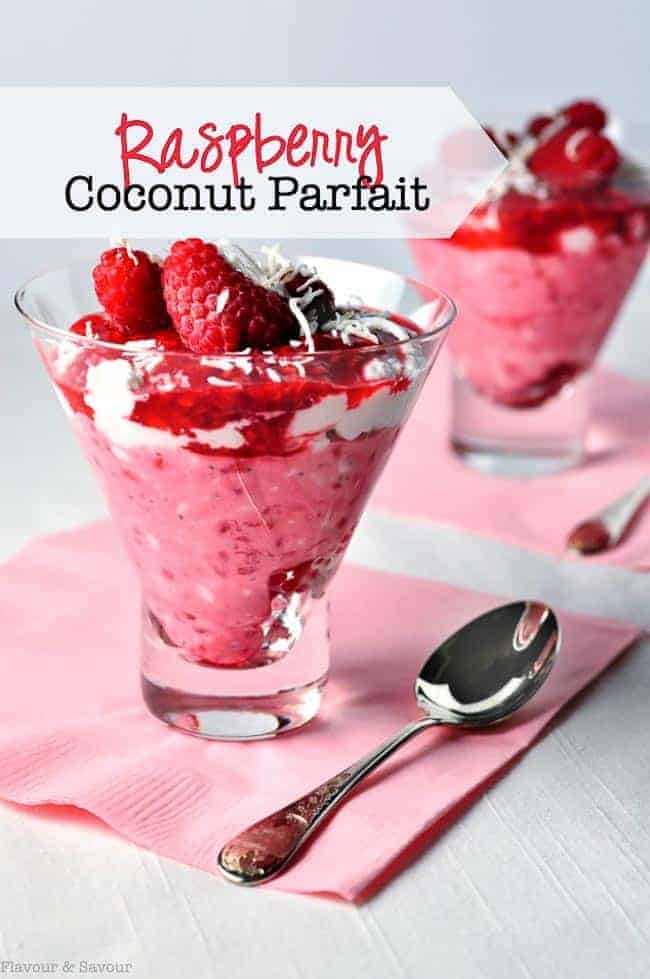 Ten minutes. That's how long it took to whip up this Raspberry Coconut Parfait for dessert today. No sugar, no dairy, no gluten, no kidding! This wholesome parfait is made with refreshing raspberries and extra creamy air-whipped coconut milk sweetened with a little honey. Dessert--definitely, but it could be part of your breakfast too. Who wouldn't want to wake up to that pretty bowl of heavenly pink creaminess? It's a guaranteed good-mood maker at any time of the day.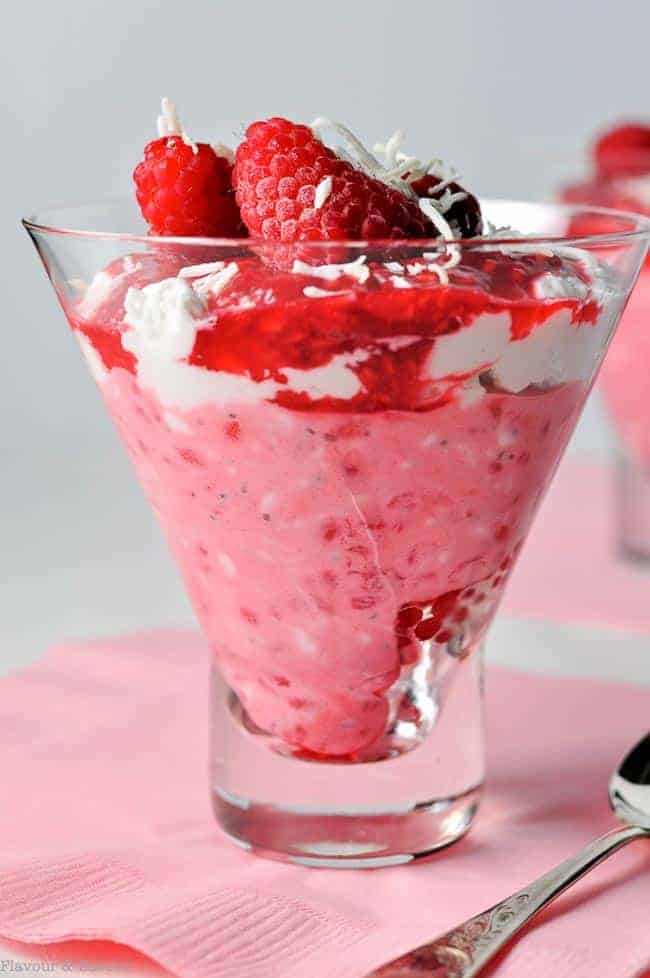 Just take that can of full-fat coconut milk (that one that you always keep in the refrigerator ready to whip--you know, that one) out of the fridge, drain off the liquid and whip up the solid milk with your electric mixer until it has doubled in volume. Add a teaspoon of vanilla, a tablespoon or so of honey or pure maple syrup and whip a little more to combine. Mash some raspberries and mix with half of the whipped coconut milk. You can add a little more sweetener if you need to and a teaspoon or two of chia seeds to thicken it. Then just layer it in a glass dish: whole berries, raspberry mixture, extra whipped coconut milk and top it all off with a few berries and a sprinkle of coconut.
Fancy dessert on a weeknight? No biggie. I can handle it.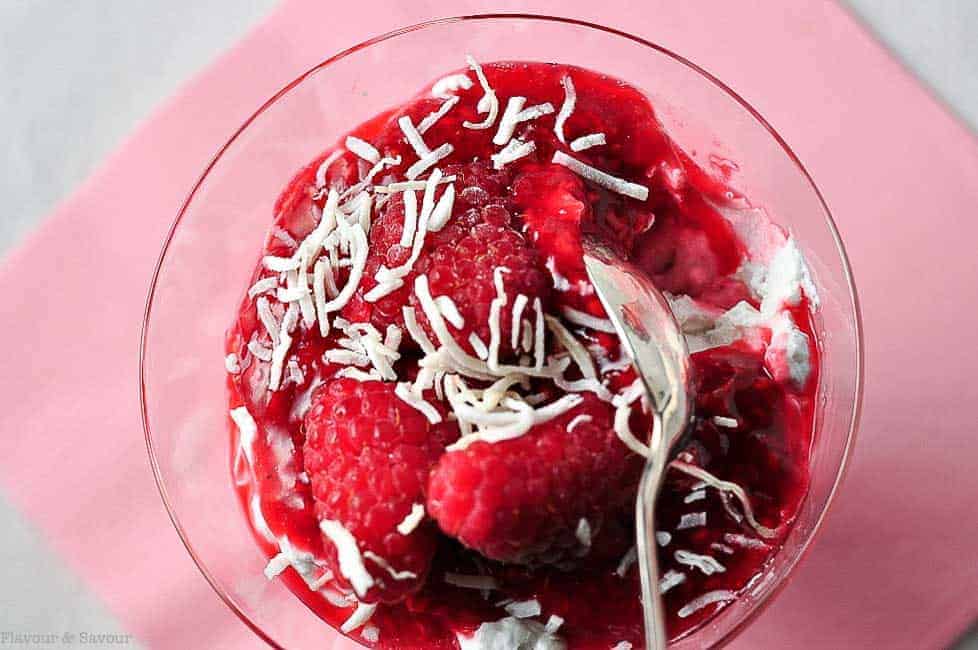 Ever had trouble whipping coconut milk? So have I! Here are some tips I've discovered that may help.
1. Keep a can of coconut milk in your refrigerator so it's always ready when you need it. Light coconut milk will not whip. You must have the full-fat variety. Refrigerate for at least 24 hours to make sure the solid part is completely hardened.
2. Brands that ONLY contains coconut and water will be more successful. Those with emulsifiers (like guar gum or carrageenan) or thickeners (like corn starch or methyl cellulose), or preservatives and whiteners, (like sodium or potassium metabisulphite) sometimes just will not whip.
3. Chill both your mixing bowl and the beaters.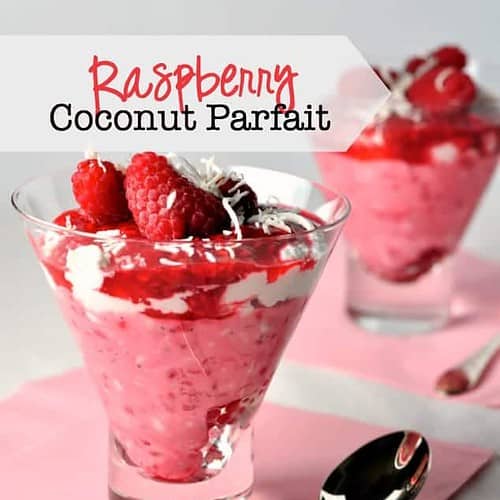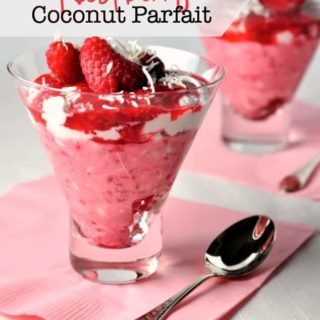 Paleo Raspberry Coconut Parfait
This Paleo Raspberry Coconut Parfait is a sweet, creamy wholesome dessert that can be ready in less than 10 minutes. Dairy-free and refined-sugar free.
Print
Pin
Rate
Ingredients
2

cups

fresh or frozen raspberries

1

can full-fat coconut milk,

refrigerated for 24 hours

2

tablespoon

honey or maple syrup

or more depending on the sweetness of your berries

1

teaspoon

pure vanilla extract

1

or 2 teaspoons chia seeds,

optional

unsweetened organic shredded coconut for garnish,

optional
Instructions
Thaw raspberries if using frozen ones.

Open the can of coconut milk and carefully remove the solid portion. Put it in a medium mixing bowl. Save the liquid in the can for your morning smoothie.

Whip the coconut milk solids with an electric mixer until doubled in size. Add 1 tablespoon honey or maple syrup (or more or less, depending on your preference) and whip until very well combined and fluffy.

Mash half of the berries. Fold them into half of the whipped coconut milk. Add a teaspoon or two of chia seeds to thicken if you think it's too runny.

Layer in serving dishes. Begin with a few whole berries, then the raspberry mixture, the whipped coconut milk and top off with more berries and a sprinkle of shredded coconut.
Here's another easy paleo dessert:
Meyer Lemon Mini Parfait