Sweet, with a little bit of heat! Fabulous flavours from the Southwest combine in this crisp and crunchy Pineapple Jicama Salad.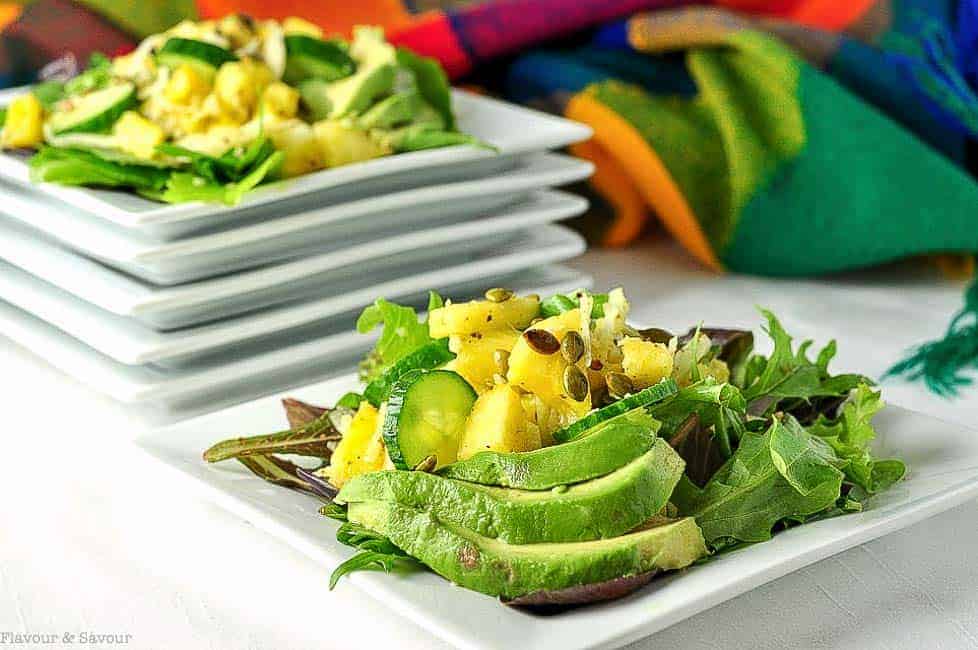 In this Pineapple Jicama Salad, jicama is paired with fresh juicy pineapple over a bed of crisp greens, topped with crunch cucumber and creamy avocado. It's tossed with a fabulous Cilantro Lime Vinaigrette! This Pineapple Jicama Salad pairs well with Tex-Mex flavours, so serve it alongside burritos, enchiladas or your other favourites spicy meals. 
Jicama–it's that insignificant looking tuber that the grocery store clerks always have to look up to find the code. What it can do to a salad, however, is not insignificant!
I first tried jicama (pronounced "hick-ah-mah"or HEE-kah-mah.") in Mexico. It was served on the beach in a plastic cup, sliced like french fries and soaked in fresh lime juice. Its crunchiness, together with the tartness of the lime, made a refreshing guilt-free snack.
Jicama is native to Mexico and Central America. It has a papery beige exterior and creamy white flesh. The easiest way to attack it is to cut it in half first, then peel it. You can use a spiralizer
or a julienne peeler
to cut it into thin shoestrings. While it is mostly water, it is an excellent source of fibre, antioxidants and Vitamin C that adds interest to salads.
This is a simple 3-part recipe:
Whisk the Cilantro Lime Vinaigrette ingredients together ahead of time.
Toss  the jicama and pineapple with the vinaigrette and allow it to sit for an hour or so before scattering over the greens.
Add some cucumber and avocado and sprinkle with spicy pepitas.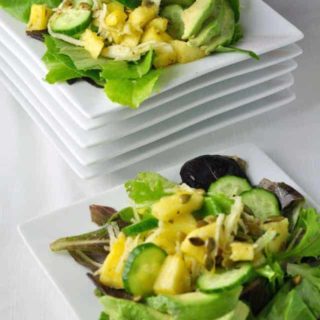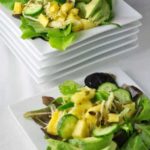 Pineapple Jicama Salad
This Southwestern style salad features sweet pineapple and crunchy jicama. It's sweet with a little heat! Toss it with a flavourful Cilantro Lime Vinaigrette.
Print Recipe
Ingredients
Cilantro Lime Vinaigrette
2

serrano peppers,

seeded and minced

2

tbsp

lime juice,

freshly squeezed

1

tsp

lime zest

2

tbsp

rice vinegar

1/2

cup

minced fresh cilantro

1/2

tsp

sea salt

1/2

tsp

freshly ground black pepper

1/4

cup

extra-virgin olive oil
Salad
1/2

fresh pineapple,

peeled, cored, and chunked

1

jicama,

peeled and julienned

4

cups

mixed greens

1

avocado,

peeled, pitted and sliced

1/2

cucumber,

thinly sliced

2

tbsp

toasted pumpkin seeds tossed with 1/2 teaspoon oil and 1/4 teaspoon dried chili flakes
Instructions
Whisk together the vinaigrette ingredients. Add the prepared pineapple and jicama and allow to marinate.

Just before serving, put the greens in a bowl or on a platter and top with the jicama-pineapple mix. Arrange the cucumber and avocado slices on top. Sprinkle with toasted chili pumpkin seeds and serve immediately.
Nutrition
This Pineapple Jicama Salad is delicious served with any of the following.
Its bright, refreshing flavours provide a great contrast to peppery Southwestern dishes.
4 Ingredient Honey Lime Chili Chicken Thighs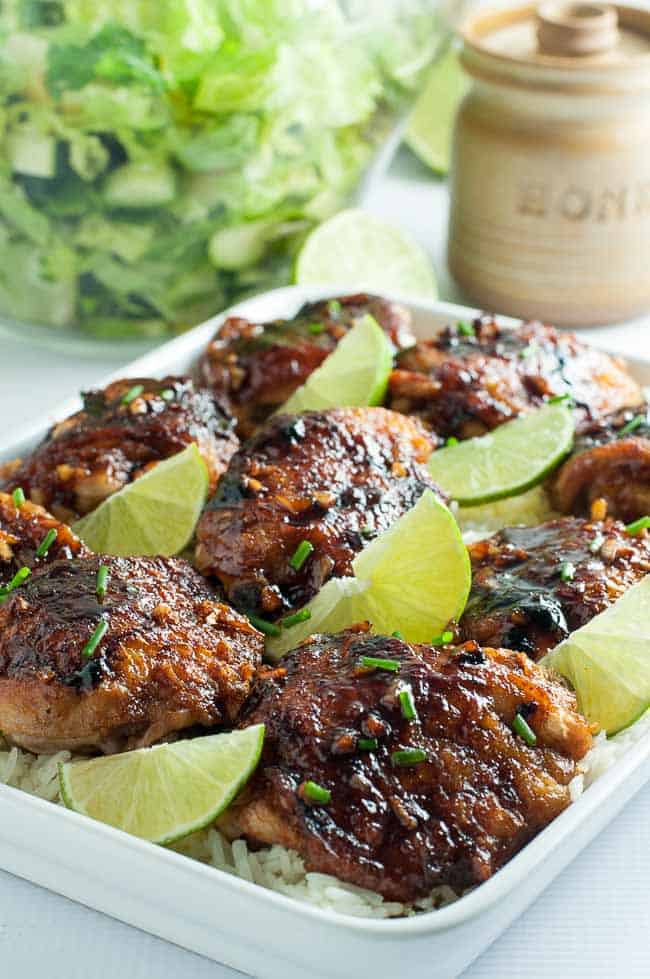 Easy Honey Lime Chili Glazed Salmon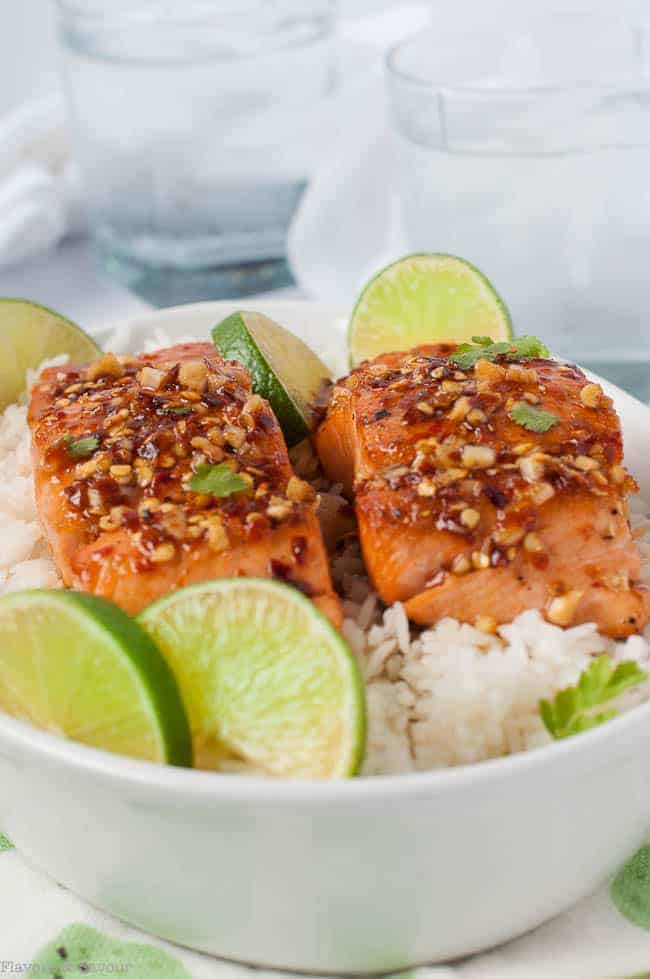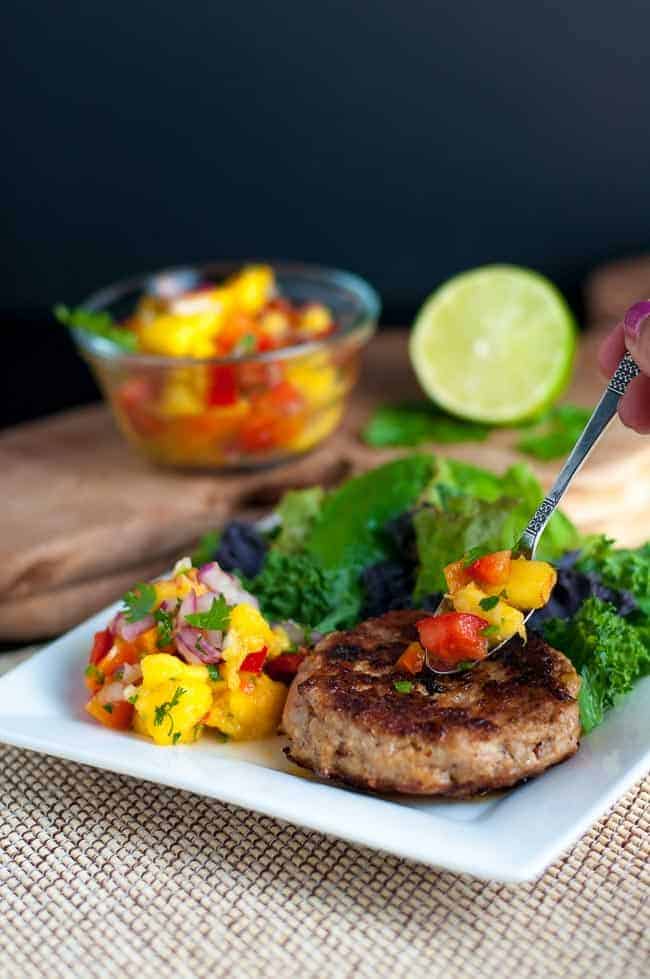 Smoky Chipotle Honey Mustard Glazed Chicken Thighs