Wondering what to see, do and eat in Seville? We spent three days savouring Seville, and enjoyed the sights, sounds, and flavours of this main city in the Andalusian region of Southern Spain. If you're planning to travel to Spain, this is a city not to be missed!
What to see, do and eat in Seville, Spain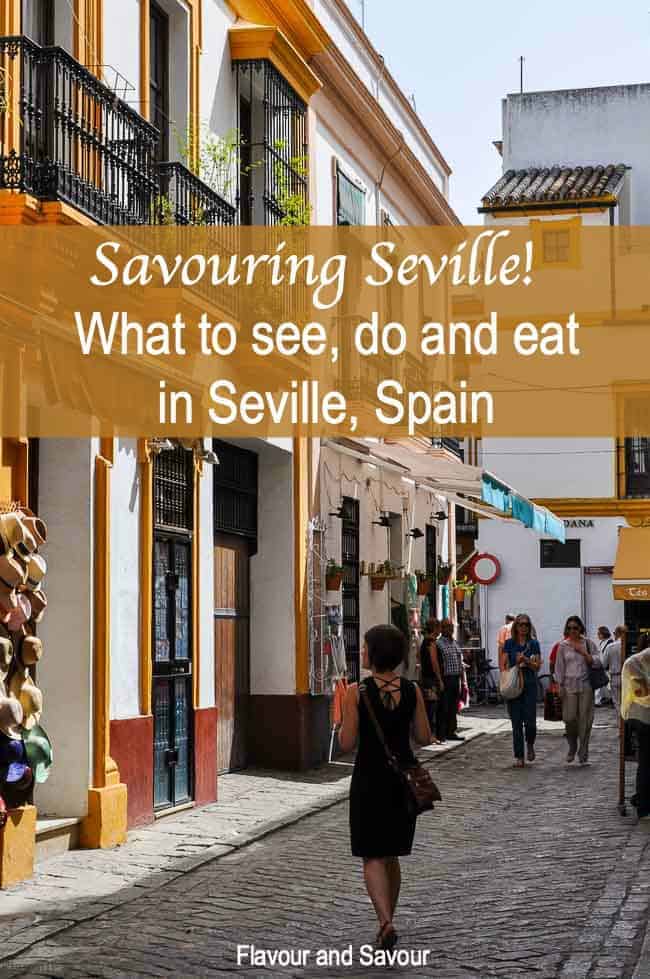 The Alcazar
We spent hours wandering through the Alcazar, an amazing 10th century Moorish palace, refurbished and rebuilt in the 14th century when the Christians decided it was theirs.
The Cathedral
Seville's cathedral is the third largest in Europe after St. Peter's in Rome and St. Paul's in London. It's absolutely stunning. It is definitely worth spending some time here (and it may provide you with some relief from the usual hot weather in Seville!)
The Giralda Tower
We walked to the top of the Giralda Tower at the Cathedral, in the sweaty, sticky, sultry 40 C. heat. The commanding view from the top and the stories the tower holds are worth the hike up!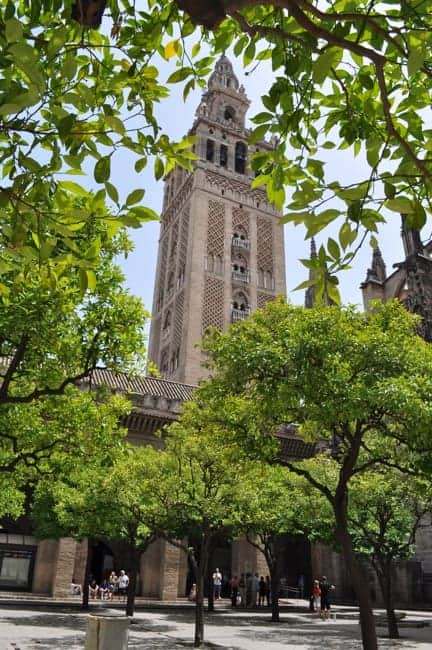 Barrio Santa Cruz
Barrio Santa Cruz is the old Jewish Quarter, now a maze of narrow streets, some with buildings so close they're called "kissing lanes" as lovers could lean across their wrought-iron balconies to connect with each other. It's a hodgepodge of romantic alleys filled with shops and tapas bars. Lots of fun to explore! In fact, we loved it so much, we're returning to stay in the Hotel Murillo on our next trip.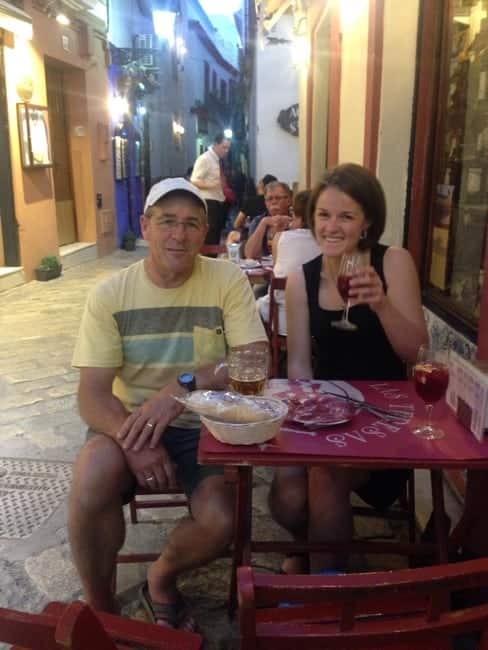 Eating and drinking!
Sipping Sangria at a tapas bar in beautiful Seville! Try the local traditional tapas, like tortilla española, bacon-wrapped prawns, stuffed dates, or delicious Salmorejo!
Plaza de Espagna
Plaza de Espagna is a stunningly beautiful, magnificent, massive (insert more adjectives here) square built in 1929 for a World's Fair, complete with an adjoining park. It was hard to stop taking photos there.
Tapas!
And so much more!!! There are many incredible sights to see in this city, but the best part of our time was simply the paseo and the tapas! We tried seven different tapas bars in this city famous for its tapas scene. This must be what food bloggers' heaven looks like! Our favourite tapas bar was Bar Alfalfa!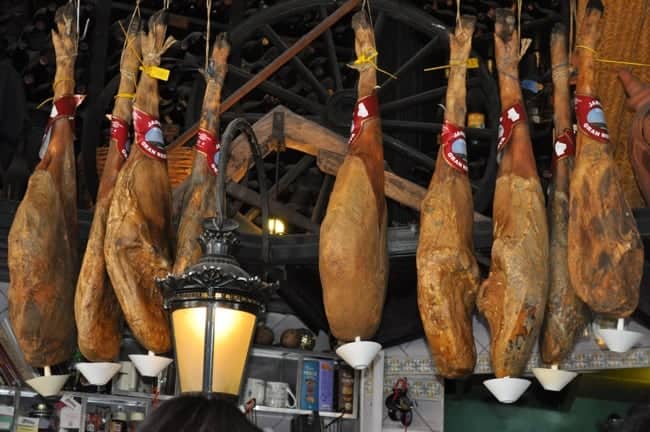 Yes, those are hams hanging from the ceiling. The little umbrellas are there to catch the fat.
Don't pass up a chance to see a flamenco performance!
Such incredible energy and passion in this traditional art form. Be sure to grab some tickets and allow an hour or so to take in a flamenco performance one evening. You won't forget it!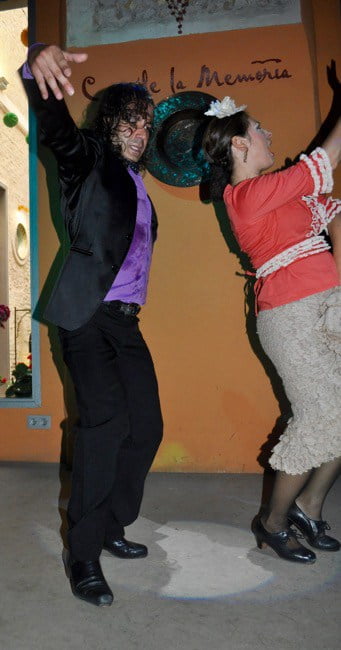 Ready to experience the sights and flavours of Seville? Pin this for later!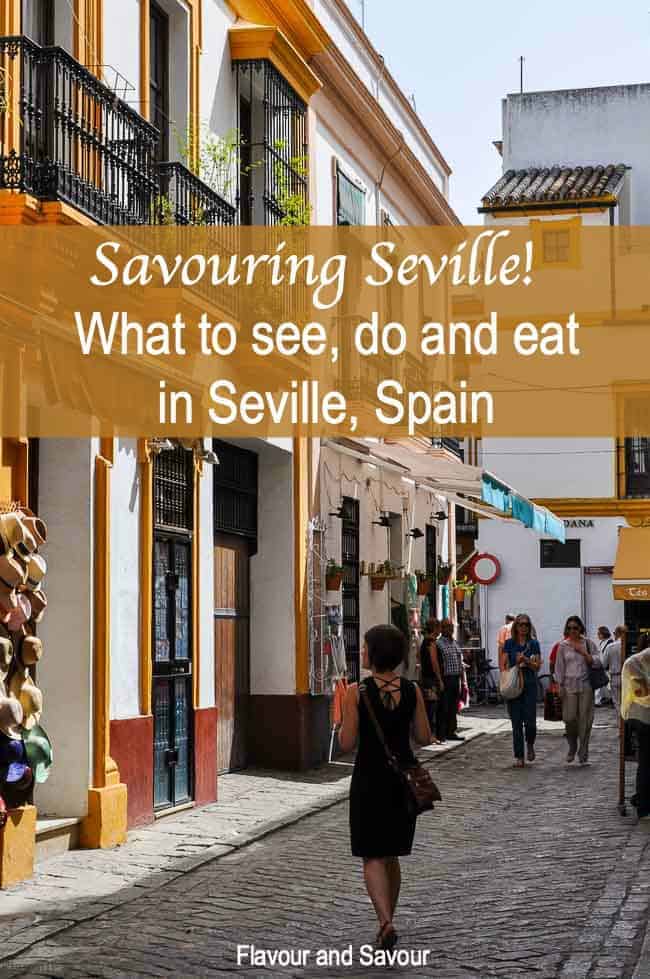 Planning a holiday in Europe?
Check some of my other travel posts, too.