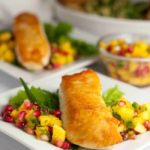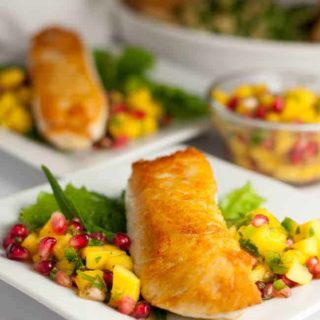 Print
Crusted Halibut with Mango Pomegranate Salsa
This Salt and Pepper Crusted Halibut with Mango Pomegranate Salsa is an easy weeknight meal that's spectacular enough for entertaining! Serve with a colourful nutritious salsa.
Make the salsa first. Combine all ingredients in a small bowl and set aside to allow flavours to blend.

Heat oven to 450°F. Remove skin from halibut, pat dry with cloth or paper towel.

Heat an ovenproof sauté pan over medium-high heat. Add grapeseed oil (or other oil with a high smoke point).

When it is just barely beginning to smoke, add the halibut pieces with the "presentation side" down and the side from which the skin was removed face up.

Sear for 2 to 3 minutes, carefully lifting it with a fish turner to check on the colour.

When it has turned golden brown, remove the pan from the heat and transfer it to a preheated 450°F. oven. Bake for 3 - 5 minutes or just until the halibut flakes easily.

Remove from the oven, flip the pieces over to lightly sear the other side, then transfer to serving plates.