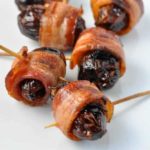 Print
Bacon Wrapped Stuffed Dates
Sweet dates, strong flavoured cheese and smoky bacon combine to make this always popular bacon wrapped stuffed dates appetizer.
24

Medjool dates

about 2 cups

1/2

cup

soft goat cheese or blue cheese

12

strips

bacon, hormone free, nitrate-free

sliced crosswise (not thick-cut bacon)

sturdy toothpicks
Preheat oven to 375°F.

With a small sharp knife, make a slit in one side of each date and remove the pit.

Stuff about 1 teaspoon of cheese into the cavity.

Wrap 1/2 slice of bacon around each date. Secure with a toothpick.

Place on a rimmed baking tray (lined with parchment paper) and bake for 10 min.

Remove from oven, turn each one over and bake for a further 6-8 minutes. Repeat this step one more time, or until bacon is cooked. Cook longer if you prefer crispier bacon.

Drain on paper towel. Cool for 5 minutes before serving.

Refrigerate leftovers.
The easiest way to stuff the dates is to fill a piping bag with goat cheese and use a frosting tip to pipe it into the cavity. An even easier way is to buy the goat cheese in a tube, snip off one of the corners, and squeeze it into the date. If you're using blue cheese, just use a small spoon. Use about 1 teaspoon of cheese per date, depending on their size. Don't overfill, or the cheese will melt and leak out while the dates are baking.
Once you've stuffed them, gently pinch the dates closed to keep the cheese in before wrapping with the bacon.
Thinly sliced bacon works best, I've found, as it cooks faster. You'll only need half a slice for each date.
Wrap each date so that there is just a small amount of overlap and secure it with a toothpick. Make sure to insert the toothpick in the meaty part of the bacon and not the fat to prevent it from coming undone. If the bacon slice has too much of an overlap, the part that is covered will not cook evenly and NOBODY LIKES RAW BACON, right?
Bake at 375°F for about 20 -25 minutes in total, using that handy little toothpick to turn them 2 or 3 times so that all sides of the bacon cook evenly. Drain on paper towel. Cool for 5 minutes before serving.
Calories:
124
kcal
|
Carbohydrates:
18
g
|
Protein:
2
g
|
Fat:
5
g
|
Saturated Fat:
2
g
|
Cholesterol:
9
mg
|
Sodium:
90
mg
|
Potassium:
188
mg
|
Fiber:
1
g
|
Sugar:
15
g
|
Vitamin A:
90
IU
|
Calcium:
23
mg
|
Iron:
0.3
mg