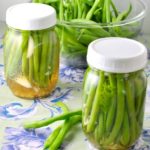 A quick and easy recipe for Refrigerator Pickled Beans. Great for snacking, as a side, or as a garnish for Caesar cocktails.
Cuisine:
Canadian, American
Calories per serving
:
161
kcal
2

cups

green beans

(fresh) enough to completely fill a 16 oz. Mason jar: about 2 cups, stems removed

1

cup

vinegar,

white or apple cider

1

cup

water

2

tsp

sugar

1 - 2

cloves

minced garlic

OR 1 to 2 tablespoons minced garlic scapes

1 ½

tsp

coarse sea salt

2 - 3

sprigs

fresh dill

1

slice

small onion

½

tsp

whole black peppercorns

¼ to 1

tsp

red pepper flakes,

depending on how hot you want them
Make the brine first, as it needs to cool. Combine the vinegar, water, sugar, salt and garlic in a small saucepan and heat to boiling. Remove from heat and let cool.

Prepare the beans. Wash and remove the stems but leave the tip on. Use the straightest ones, then fill the jar so you know exactly how many to use.

Remove them from the jar and trim the bunch all at once with a sharp knife so that they will fit in the jar with about 1/2 inch of headroom.

Blanch and shock the beans to preserve their colour and crispness. Bring a pot of water to a boil, then add the beans and boil for 30 seconds. Remove the beans and immediately plunge into an ice bath (a large bowl filled with ice and water) to stop the cooking. Drain and set aside.

Sterilize the jar and lid by washing in hot soapy water, rinsing thoroughly and pouring boiling water over all. Let it stand for a few minutes.

Fill the jar with the beans. Add the peppercorns, onion slice, red pepper flakes, and fresh dill. Carefully pour the cooled brine over top so that the beans are completely covered. Put the lid on tightly. Store in the refrigerator. Allow the flavours to develop for at least 2 days.

These will last for about 2 weeks in the refrigerator.
I made one jar with white vinegar and one with apple cider. They are both good but the jar with apple cider tastes a little stronger.