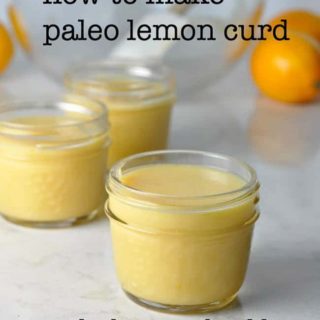 Print
How to Make Paleo Lemon Curd
Make your own preservative-free paleo-friendly lemon curd in a few minutes in your own kitchen.
1

tbsp

Meyer lemon zest

3

eggs

1/4 - 1/3

cup

honey

1/4 cup was a bit too tart for me, so I used 1/3

1/2

cup

freshly squeezed Meyer lemon juice

6

tbsp

coconut oil or grass-fed butter
Zest the lemons. You may need 2. Squeeze the juice, measure 1/2 cup and set aside.

Whisk the eggs in a medium saucepan with a heavy bottom. Whisk in the honey and lemon zest.

Set over low - medium heat and whisk constantly until mixture is pale yellow and slightly thickened. If you have the heat too high, the eggs will start to cook too soon and become lumpy. But don't despair--If this happens, just turn the heat down, keep stirring and you'll be able to strain out the solids later. Be patient. This takes a while.

Stir in the lemon juice and the coconut oil or butter, one tablespoon at a time. Keep stirring to prevent it from scorching on the bottom. Continue to cook and stir until the mixture has thickened and is just beginning to bubble. You'll think it will never happen . . . but it will. Don't let it boil.

Remove from heat and strain through a sieve. Don't skip this step. You'll be surprised at the solids that remain in the sieve. Store in glass jars in the refrigerator. It will thicken as it cools.
Serving:
0.25
cup
|
Calories:
149
kcal
|
Protein:
2
g
|
Fat:
15
g
|
Saturated Fat:
12
g
|
Cholesterol:
81
mg
|
Sodium:
31
mg
|
Potassium:
30
mg
|
Vitamin A:
120
IU
|
Vitamin C:
2.7
mg
|
Calcium:
12
mg
|
Iron:
0.4
mg