Follow these four easy steps to learn how to make paleo lemon curd with coconut oil, eggs, honey and lemons! Having this healthier lemon curd recipe means you'll never buy it in a jar again!
Note: This lemon curd recipe is not difficult, but since posting this recipe, I've discovered it's even easier to make in the microwave. Check this 5-Minute Microwave Lemon Curd recipe. It uses the same ingredients to make healthy lemon curd in a much shorter time!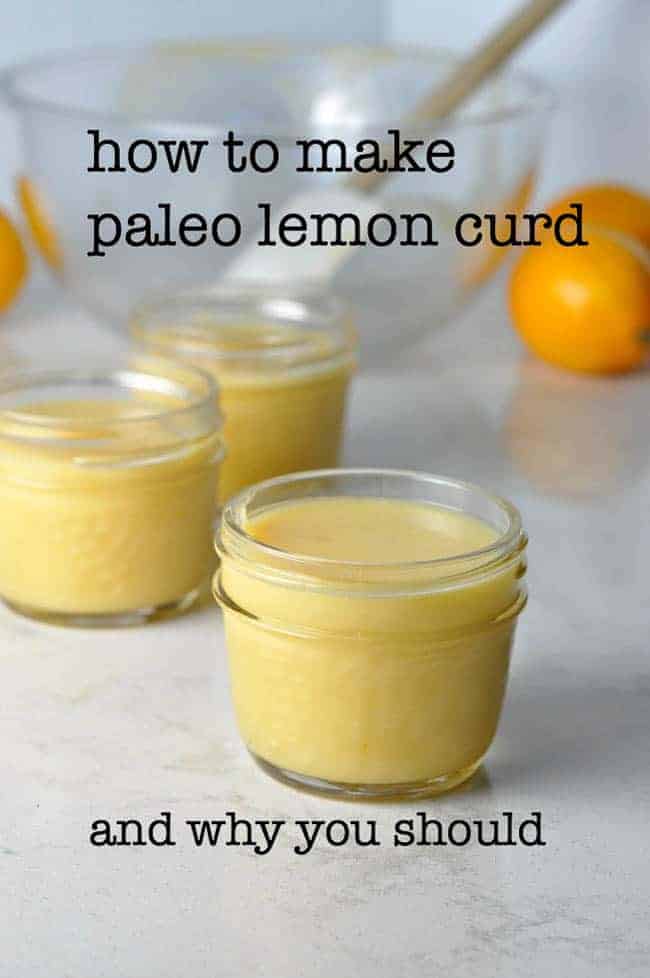 Paleo lemon curd. So many ways to eat it -- so little time -- on pancakes, with Pavlova and berries, nestled between layers of strawberry shortcake, in tender pastry tarts, as a layer cake filling . . . or straight from the jar with a spoon. My mom used to spread it on toast! So good.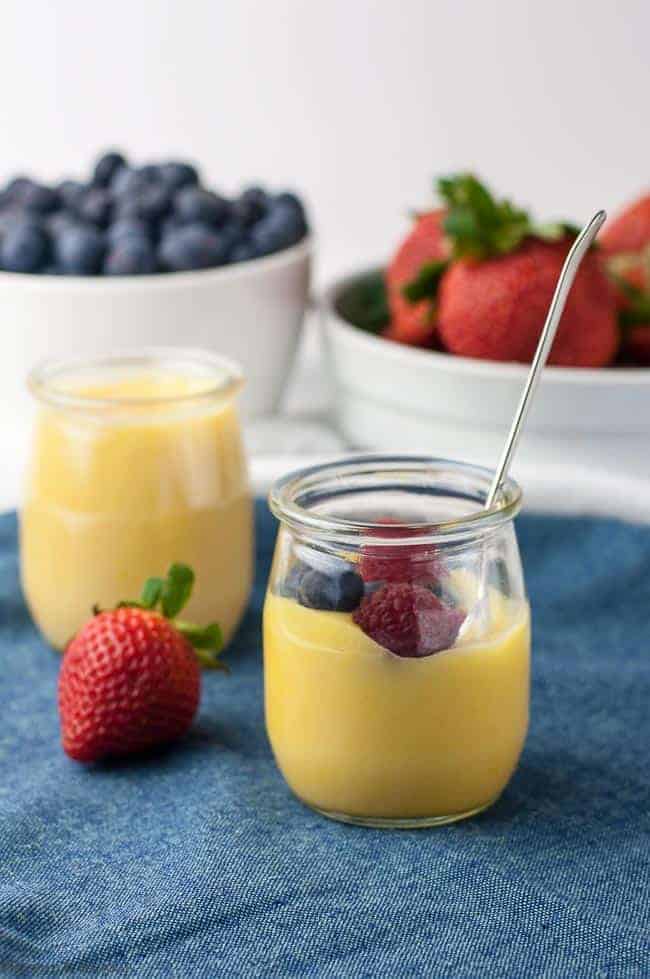 Good, that is, until you read the list of ingredients either on the back of a jar of ready-made lemon curd or even in a traditional recipe. Most lemon curd recipes call for ¼ pound of butter and 1 ½ cups of sugar.
This lemon curd recipe, however, is made with coconut oil, eggs, honey and regular or Meyer lemons and it's a simple four-step recipe that couldn't be easier!
Why buy it in a jar when you can make your own preservative-free paleo-friendly lemon curd in a few minutes in your own kitchen?
And why would you want to learn how to make paleo lemon curd?
Easy! So you can make this creamy Gluten-Free Lemon Curd Tart,
or these Lemon Tarts with Blueberries
and feel good about serving dessert to your health-conscious friends and family.
You'll love this Easy Lemon Curd Fruit Dip, too!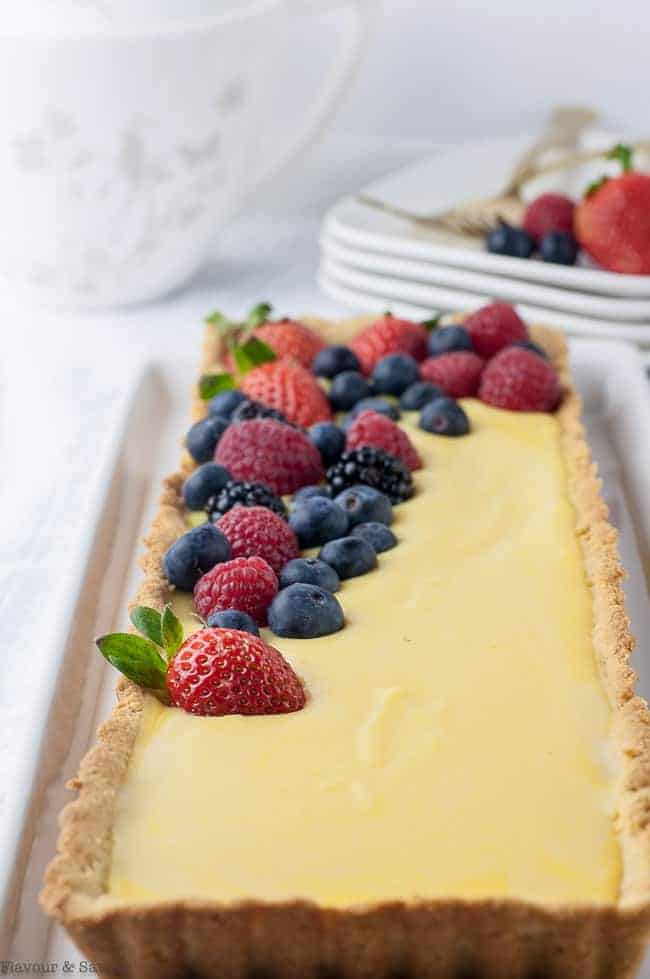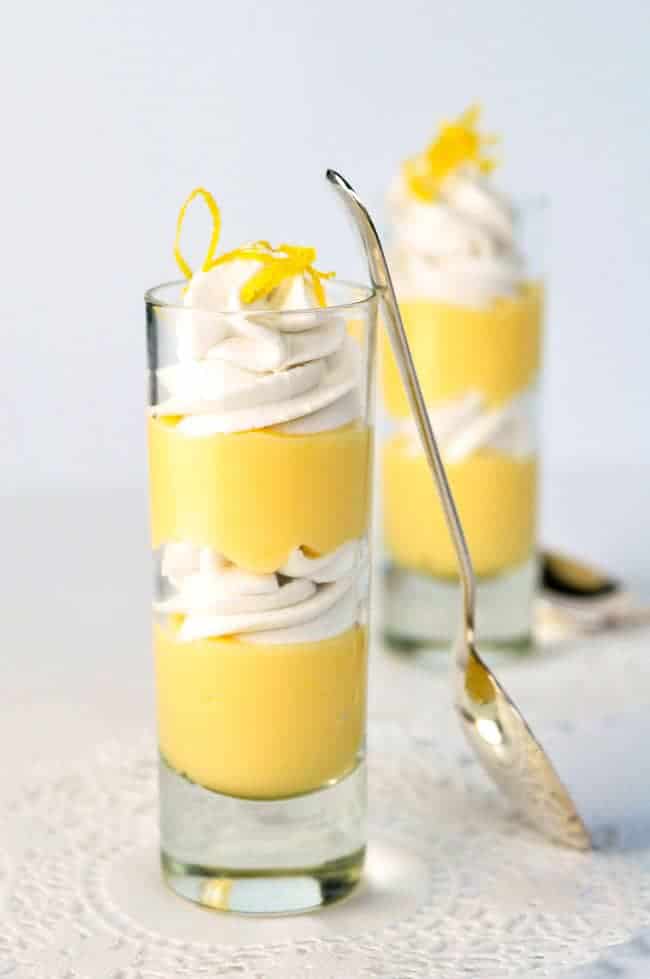 This Mini Meyer Lemon Parfait is so simple. Just alternate layers of this homemade paleo lemon curd with whipped coconut milk in a shot glass or other dessert glass and top with a little lemon zest.
Meyer lemons are in season now, and while you can certainly use any lemons in this recipe, Meyer lemons are naturally sweeter, so you can use less sweetener. Their zest has almost a floral aroma. They have a suggestion of mandarin in them which is irresistible.
I secretly jump for joy when I find them in the produce section every winter. Seek them out, before they're gone.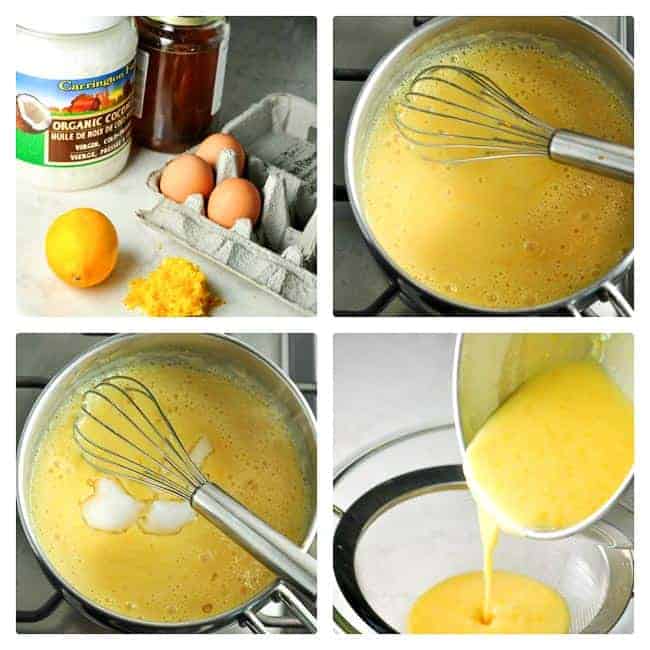 Four Easy Steps to make your own Paleo Lemon Curd
You'll find detailed instructions for making paleo lemon curd in the recipe card below, but here's a quick overview of what you'll do.
Zest and juice the lemons.
Whisk and gently heat the eggs, honey and zest in a saucepan.
Add the lemon juice and coconut oil and continue to cook.
Strain and store.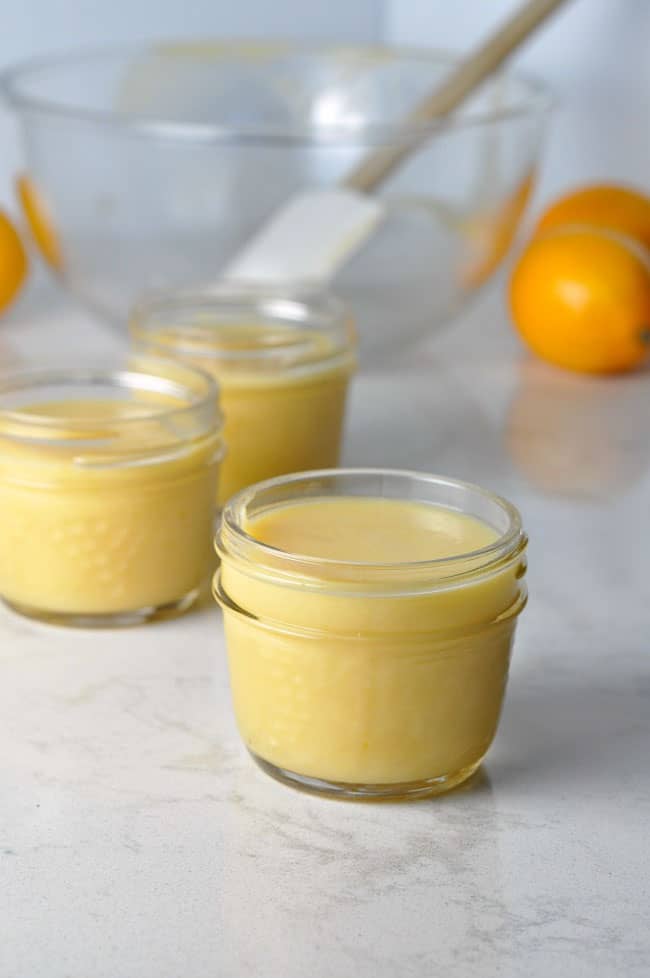 Finally, add some lids and store this healthier lemon curd in the fridge. It will keep for at least a week.
Make ahead and freeze
This is a recipe that can be made ahead of time. Lemon curd freezes successfully, too! I store it in small ½ or 1 cup Mason jars in the freezer.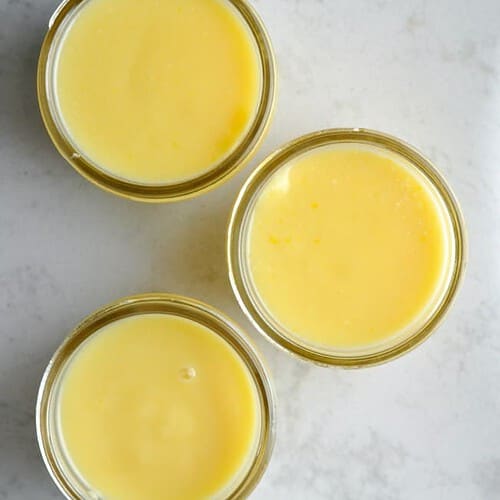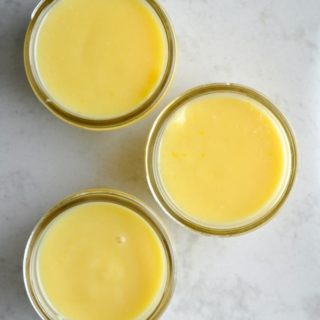 How to Make Paleo Lemon Curd
Make your own preservative-free paleo-friendly lemon curd in a few minutes in your own kitchen.
Print
Pin
Rate
Ingredients
1

tablespoon

Meyer lemon zest

3

eggs

¼ - ⅓

cup

honey

¼ cup was a bit too tart for me, so I used ⅓

½

cup

freshly squeezed Meyer lemon juice

6

tablespoon

coconut oil or grass-fed butter
Instructions
Zest the lemons. You may need 2. Squeeze the juice, measure ½ cup and set aside.

Whisk the eggs in a medium saucepan with a heavy bottom. Whisk in the honey and lemon zest.

Set over low - medium heat and whisk constantly until mixture is pale yellow and slightly thickened. If you have the heat too high, the eggs will start to cook too soon and become lumpy. But don't despair--If this happens, just turn the heat down, keep stirring and you'll be able to strain out the solids later. Be patient. This takes a while.

Stir in the lemon juice and the coconut oil or butter, one tablespoon at a time. Keep stirring to prevent it from scorching on the bottom. Continue to cook and stir until the mixture has thickened and is just beginning to bubble. You'll think it will never happen . . . but it will. Don't let it boil.

Remove from heat and strain through a sieve. Don't skip this step. You'll be surprised at the solids that remain in the sieve. Store in glass jars in the refrigerator. It will thicken as it cools.
Nutrition
Serving:
0.25
cup
|
Calories:
149
kcal
|
Protein:
2
g
|
Fat:
15
g
|
Saturated Fat:
12
g
|
Cholesterol:
81
mg
|
Sodium:
31
mg
|
Potassium:
30
mg
|
Vitamin A:
120
IU
|
Vitamin C:
2.7
mg
|
Calcium:
12
mg
|
Iron:
0.4
mg
These mini dessert shooter glasses are a fun way to serve tiny desserts, especially when you want "just a taste."