These no-bake Roasted Almond Chocolate Truffles have all the flavour and decadence of a traditional truffle, but they're suitable for your friends and family following paleo, vegan or gluten-free diets.
Jump to Recipe         Print Recipe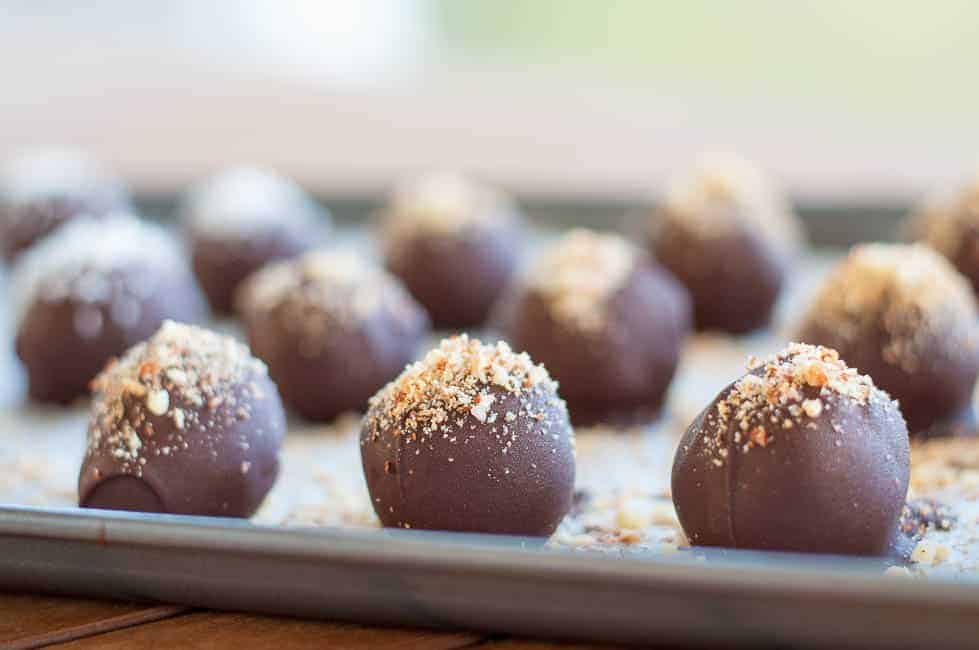 Have you ever dined at a restaurant where the server cushions the shock of your dinner bill by offering a few chocolate truffles on the tray with the check? I suppose the underlying idea is to have you leave the restaurant with a sweet taste in your mouth so you'll return. Every time I  devour one of those, however, I regret that I just consumed a glob of unhealthy fat. You'd think I'd learn.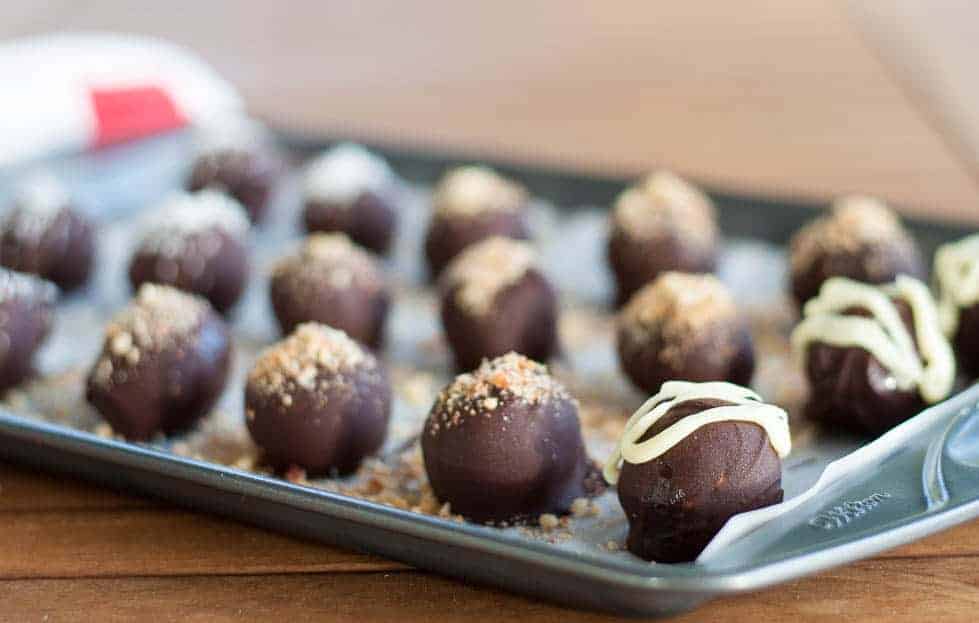 Traditional chocolate truffles are usually concocted with rich chocolate and heavy cream and if made correctly will leave you with a sublime chocolate experience that will be etched in your memory. I love the look of these tiny chocolate bombs, so I set out to make a healthier version that would be just as satisfying. These Roasted Almond Chocolate Truffles were the result.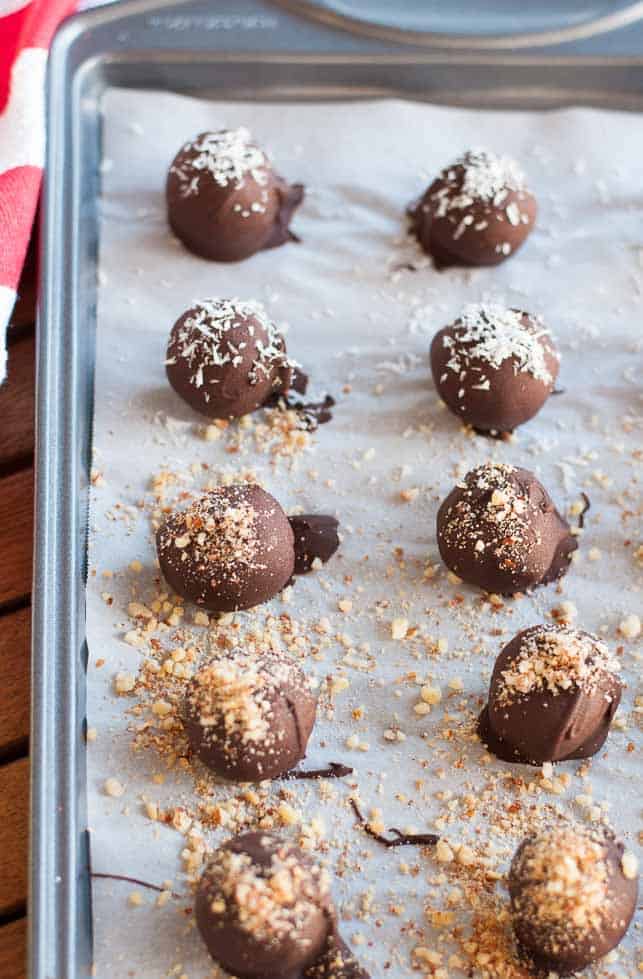 Made with soft and squishy Medjool dates, roasted almonds, and cocoa, I flavoured them with a little pure almond extract and rolled them in a high quality dark chocolate. One bite into that brittle chocolate shell  opened it with a satisfying crack, revealing the soft sweet filling inside and convinced me that I had a winner.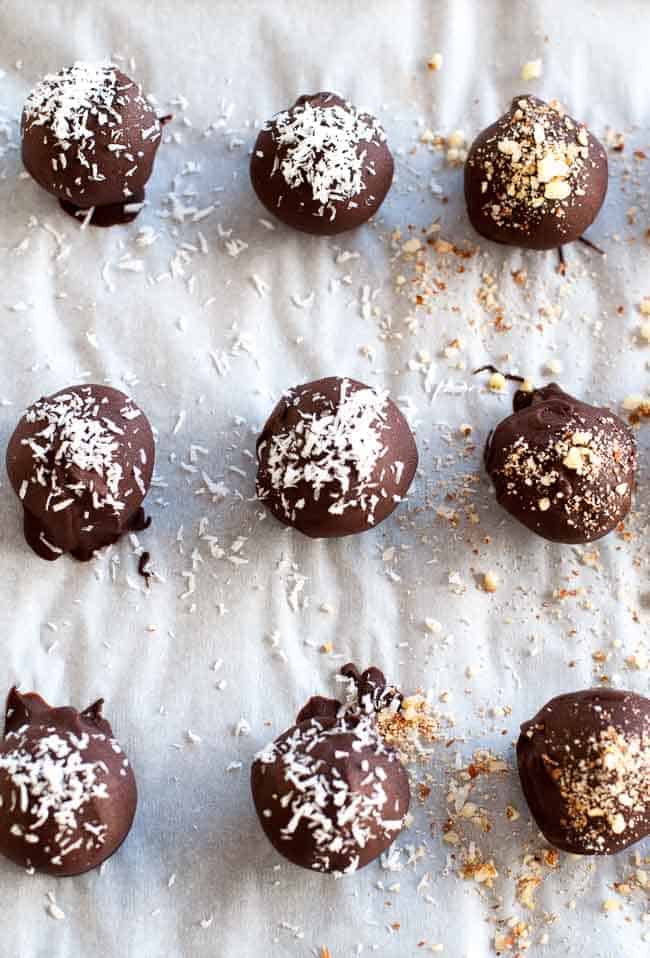 These little chocolate truffles are quick and easy to prepare.
Use a food processor to grind toasted almonds, dates, cocoa and flavouring, roll into tiny balls and dip into melted chocolate. I find using the "two fork" dipping method works for me. Drop a truffle into a small bowl of chocolate, gently roll it with two forks, lift it out and allow excess chocolate to drip off, then place on a parchment paper lined baking sheet to set and chill. These are best stored in the refrigerator where they will stay deliciously ready for snacking for at least two weeks.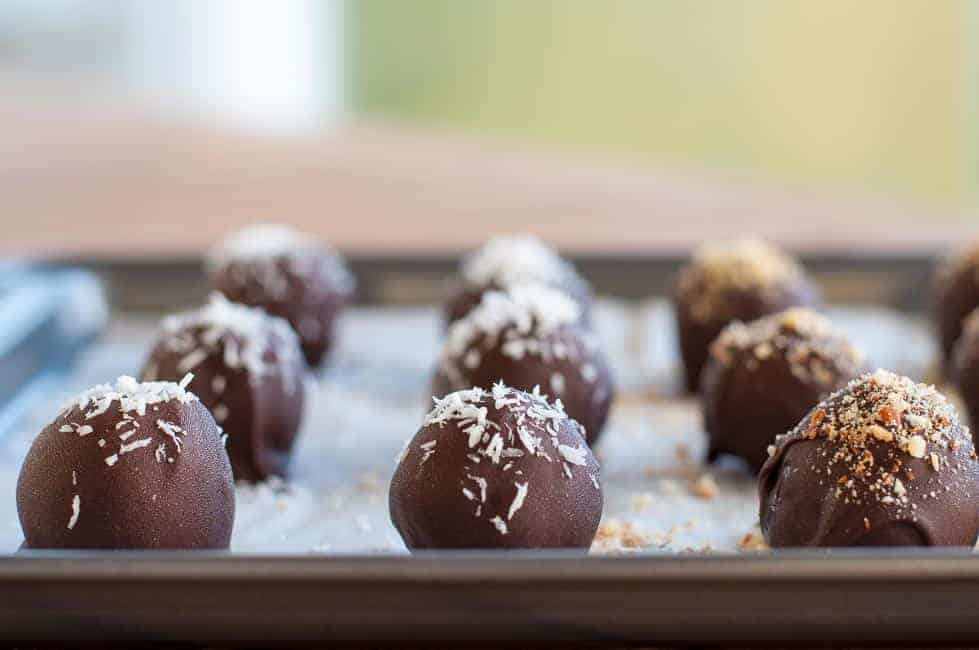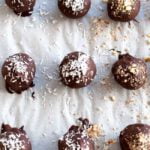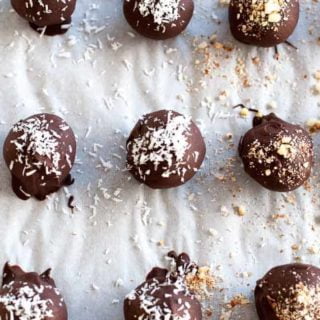 Roasted Almond Chocolate Truffles (Paleo, Vegan)
These no-bake Roasted Almond Chocolate Truffles have all the flavour and decadence of a traditional truffle, but they're suitable for paleo, vegan and gluten-free diets.
Cuisine:
Canadian, American
Ingredients
1

cup

almonds,

roasted

1

cup

soft Medjool dates,

pitted (about 10-12)

3-4

tablespoons

cocoa powder

1

teaspoon

coconut oil,

melted

1

teaspoon

pure almond extract

6

oz

(about 3/4 cup) quality dairy and soy-free dark chocolate (70%)

Shredded unsweetened coconut or

1 oz. white chocolate or toasted ground almonds to decorate
Instructions
Heat oven to 350°F.

Spread almonds on a baking sheet and roast for 5 - 7 minutes until fragrant and lightly browned.

Remove from oven.

Use a food processor to finely chop almonds. Remove 1 tablespoon and set aside for garnish.

Add dates, cocoa powder, coconut oil and almond extract to food processor and process until very finely ground..

Roll into small balls in the palm of your hand. Chill.

Meanwhile, melt 5 of the 6 ounces of chocolate over (not in) boiling water. Once melted, remove from heat and add the remaining ounce of chocolate. Stir until melted. This will prevent chocolate from "blooming" or developing white marks.

Coat the truffles by dipping in the melted chocolate. Use two forks to roll the balls in the chocolate, allow the excess chocolate to drip off, and then place on a parchment paper lined baking sheet.

Sprinkle some with shredded coconut, some with the remaining tablespoon of roasted almonds and drizzle others with melted white chocolate once the dark chocolate has set completely.

Keep refrigerated.
More gluten-free chocolate deliciousness!