These Easy Thai Chicken Skewers (without peanut sauce) are sweet, spicy and succulent. They're marinated in a flavourful combination of tamari, ginger, garlic and Thai chili paste. Cooked on either an outdoor or indoor grill, these Thai chicken kabobs may soon become a family favourite!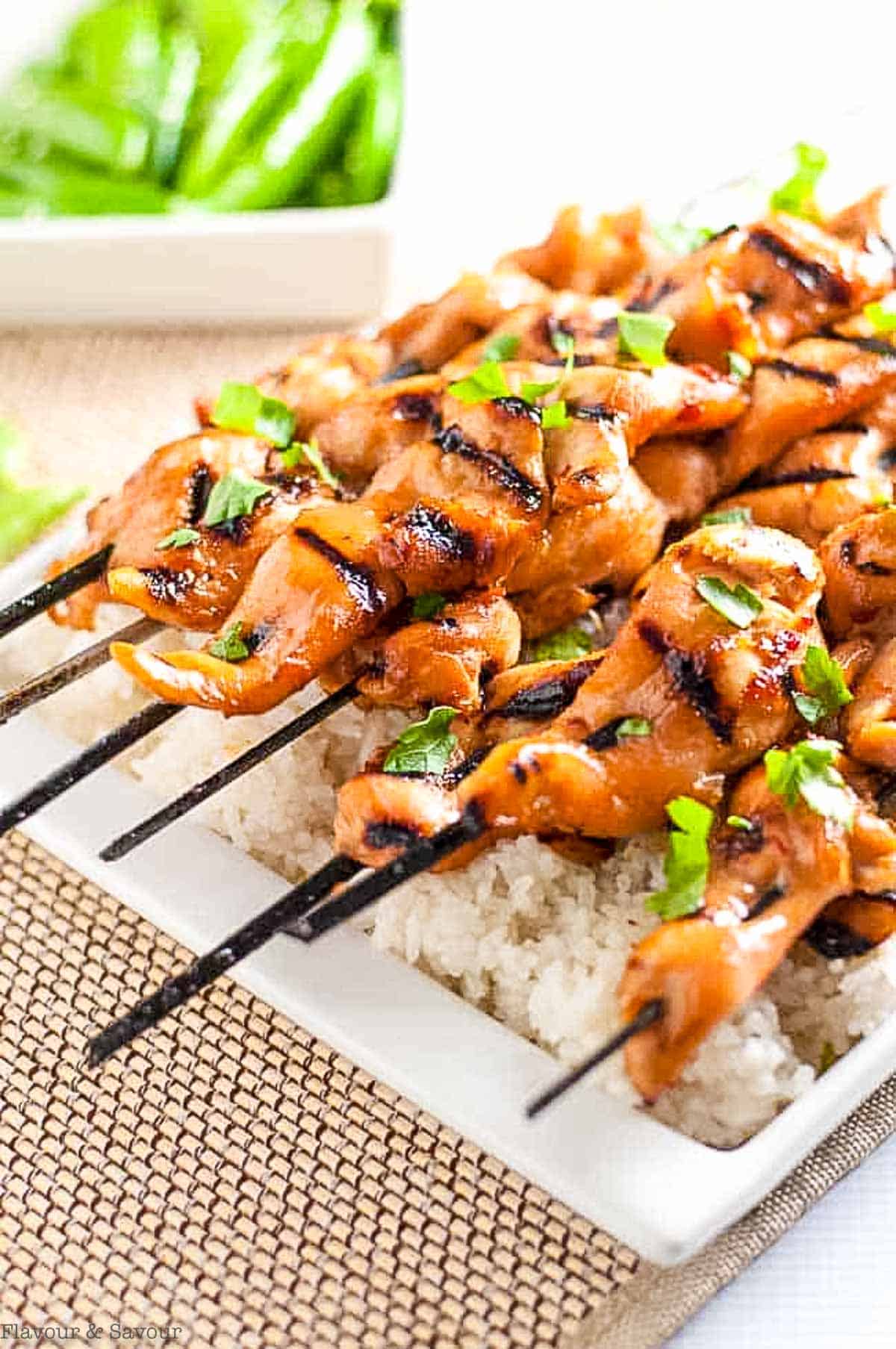 These easy Thai Chicken Skewers are one of my favourite ways to cook chicken. They're a little sweet and a little spicy! Served over Thai Coconut Rice with fresh veggies or a salad, these peanut-free chicken kabobs make a delicious quick dinner.
Chicken kabobs, like these Grilled Rosemary Mustard Chicken Kabobs and Grilled Thai Turmeric Chicken Kabobs, are quick enough for a weeknight family dinner, but they're also one of my favourite meals to serve to friends.
If you love the flavours of Southeast Asia, these Thai Chicken Skewers make a great meal to serve in warmer weather!
While these spicy kabobs are similar to chicken satay, this Thai food recipe does not use peanut sauce or contain peanut butter. If peanut allergies are a problem in your home, this is the recipe for you!
🛒 Ingredients for Thai Chicken Skewers
chicken: You can use skinless, boneless chicken breasts, chicken tenders, or chicken thighs in this recipe. They all work beautifully, resulting in flavourful kabobs, fresh from the grill.
soy sauce: gluten-free tamari (or coconut aminos for Paleo diet)
sesame oil: has a slight nutty flavour
honey: for naturall sweetness to balance the saltiness of the soy sauce. (You can substitute brown sugar or coconut sugar.)
Sambal Oelek: I chose Sambal Oelek to use in this recipe, an Indonesian chile paste. It has so much flavour and is made with simple ingredients: crushed red chiles, vinegar and salt. In my view, it is far superior to Sriracha because it has more depth of flavour. It's readily available in most grocery stores, usually in the international food aisle. However, if you're a Sriracha fan, feel free to use it!
ginger root: finely grated
garlic: fresh cloves are always best
lime: I like to add a squeeze of lime juice to the cooked chicken kabobs and serve with quartered limes.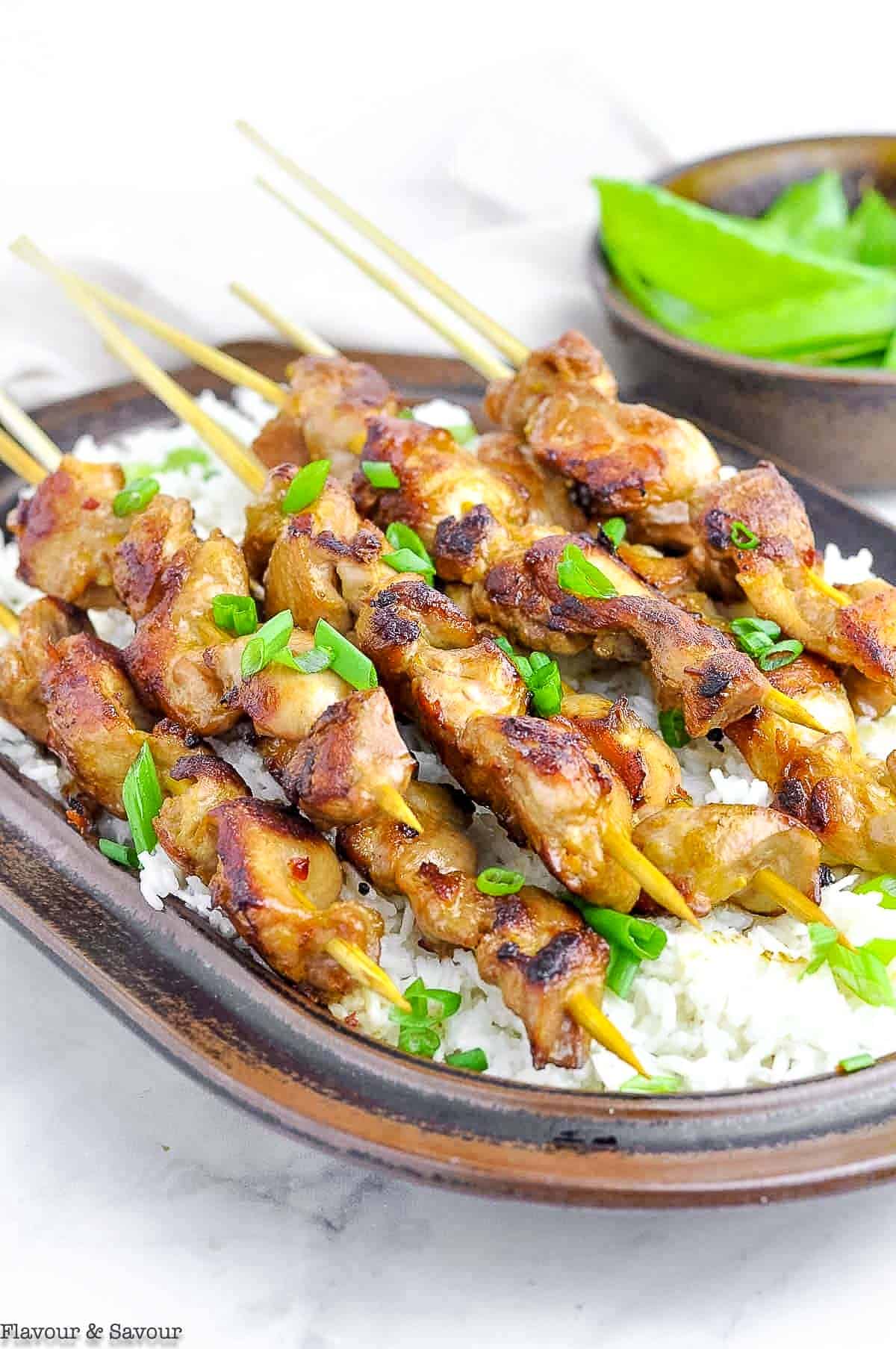 🔪 Easy Step-by-Step Instructions
👍🏼Helpful Tips
I grill outside almost all year, but I also grill these skewers on my indoor grill pan. Grilling indoors allows me to have more control over getting the chicken nicely browned and prevents flare-ups.
If using wooden skewers or bamboo skewers, be sure to soak them in water for at least 30 minutes. You can also use metal skewers.
You can easily control the amount of heat in this recipe. Start with a teaspoon of Sambal Oelek and work up from there.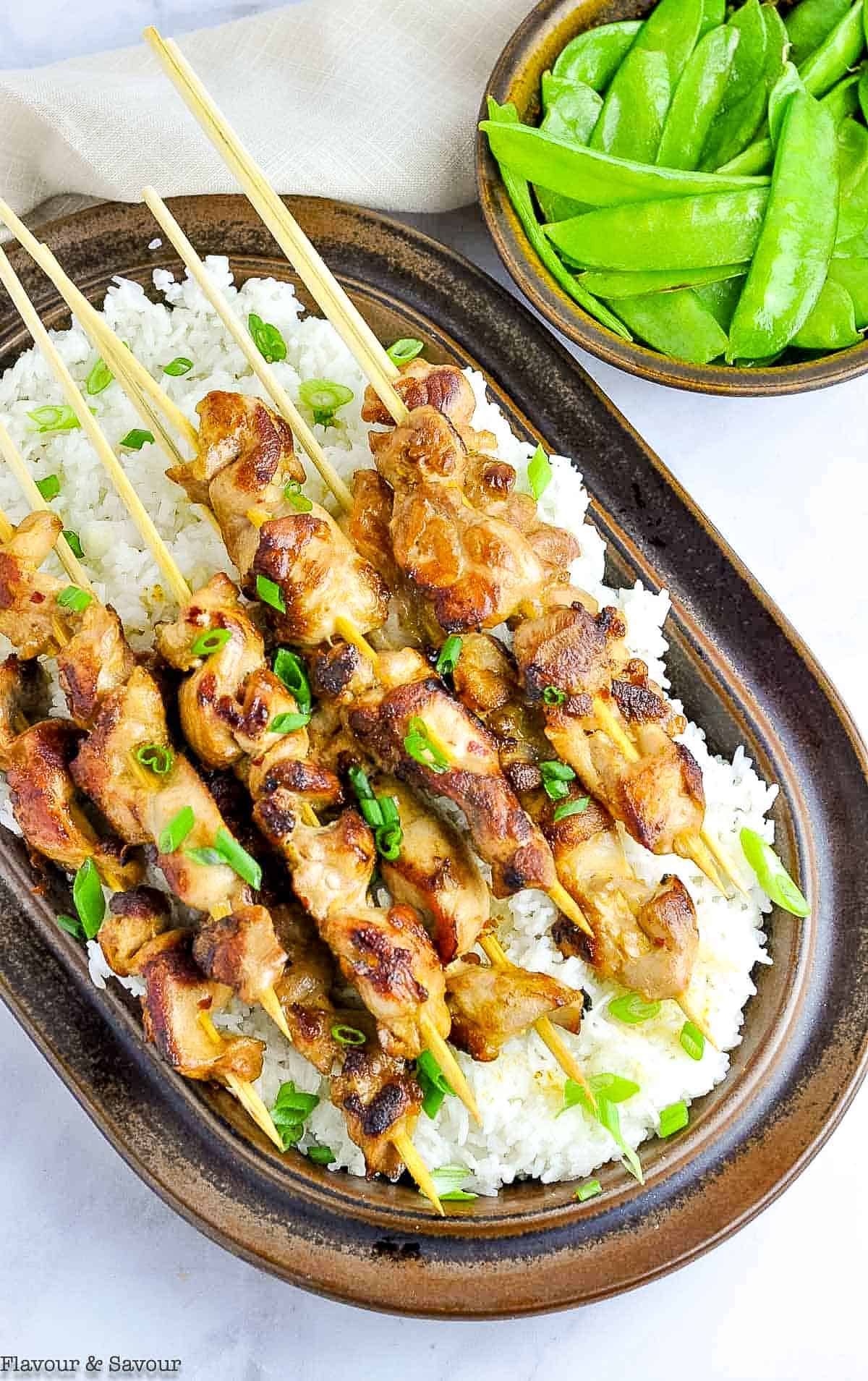 🍽 What to serve with Thai Chicken Skewers
Serve these chicken kabobs with lots of fresh veggies and Thai Coconut Rice made with jasmine rice. If you prefer potatoes, just add more skewers to the grill and make these Grilled Lemon Garlic Potato Kabobs!
I like them with lightly sautéed snow peas or Easy 5-Minute Sesame Asparagus.
For a Thai food meal, serve them with Crunchy Thai Noodle Salad with Peanut Sauce or Asian Pear Slaw with Ginger and Lime or Thai-style Coleslaw with Kohlrabi.
You might also like to serve them with homemade peanut sauce, as I did in this recipe for Simple Chicken Satay with Peanut Sauce.
⏰ Make these Thai chicken kabobs ahead of time!
I like having easy meals in the freezer, ready to cook on busy days. You can prepare part of this recipe ahead of time.
Mix the marinade ingredients, and cut the chicken parts into strips. Combine the chicken with the marinade and transfer to a resealable freezer bag or a freezer-safe container with a lid. Then, when you're ready to cook, thaw overnight in the fridge, thread the chicken pieces onto skewers and grill.
How to reheat leftover kabobs
It's doubtful you'll have any leftovers, but these can be gently reheated in the microwave, in the oven, or in an air fryer.
Get the napkins! These Thai chicken kabobs are full of finger-licking yumminess.
🗒 More favourite chicken recipes
When you make these Thai Chicken Kabobs, please leave a comment and a star rating below. Thanks in advance! Subscribe to my newsletter and have new recipes delivered straight to your inbox.
📖 Recipe