This Orange Date and Pomegranate Spinach Salad is a colourful winter salad guaranteed to brighten any meal! Enjoy this citrus date salad at a festive holiday dinner, too.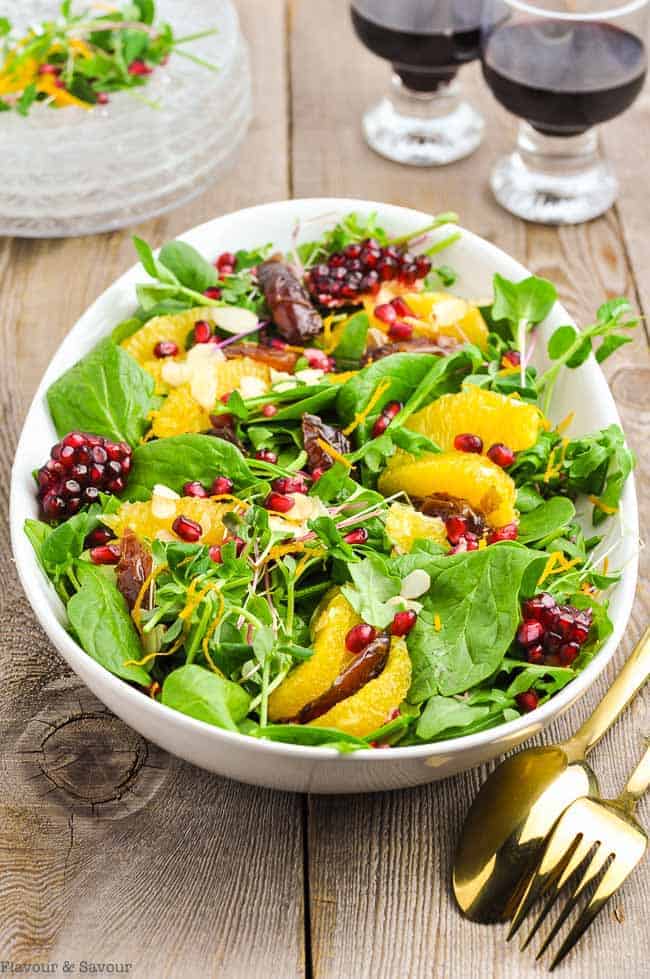 This Orange Date and Pomegranate Spinach Salad makes a beautiful, healthy winter salad,  guaranteed to cheer you up on the dreariest day!
Baby spinach and peppery arugula, sweet oranges, squishy dates and tiny pomegranate jewels make this citrus-date salad one to remember . . .  and, if you're like me, it's one you'll make again and again. It's just that good!
It's easy to find fresh salad ingredients in the summer months (when we basically live on fresh salads and grilled meat). In the winter months, however, it can be a little more challenging to find veggies that are at their peak.
That's when we need to be creative, and use the fruits and veggies that ARE in season. For example, this Watermelon Radish and Satsuma Spinach Salad is perfect for those months in which satsumas are in season. It adds an exotic element to your meals when you're getting tired of soups and stews!
Similarly, when kiwis are at their peak, this Kiwi Mandarin Salad with Creamy Avocado Dressing makes a refreshing addition to your dinner, and it's full of all that Vitamin C we need in the winter months. And of course, my favourite Pomegranate Mandarin Salad with Avocado and Feta is always in demand in my home.
In today's winter salad recipe, I used sweet navel oranges, Medjool date and  pomegranates to dress up a base of a baby spinach-arugula salad mix to make this green salad with winter fruit.
…