These gingerbread cut-out cookies are easy to mix, cut, bake and decorate. This is a classic gingerbread cookie recipe that never fails.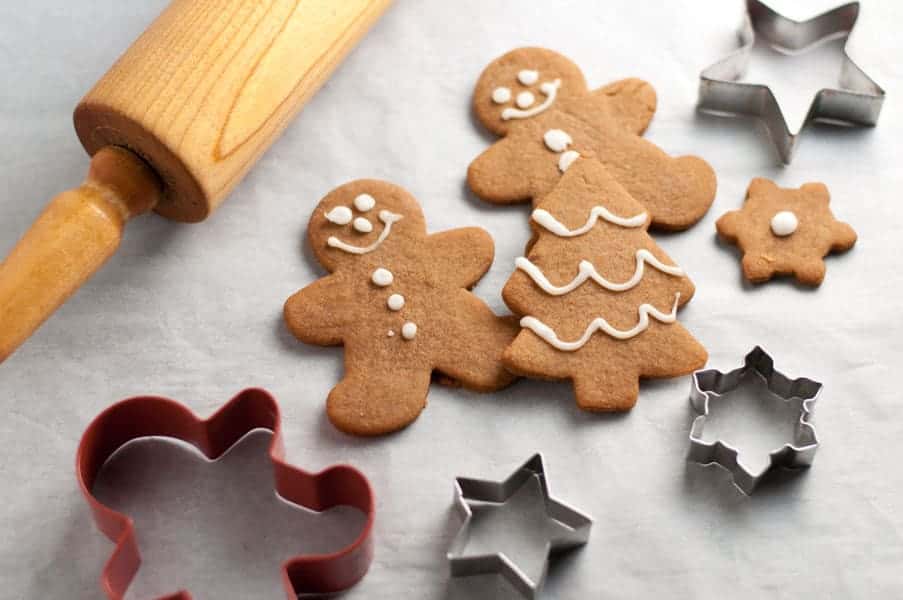 This reliable recipe for traditional gingerbread cut-out cookies is one I've used for many years. It makes sturdy cut-out cookies that are fun to decorate. Gather your kids in the kitchen and make some memories using this classic gingerbread cookie recipe!
Christmas traditions are fun to create
Our Christmas is steeped in tradition, but with an expanding family, we're flexible enough to let go of the customs that no longer work. We love to embrace new ones that do. Our Christmas Day routines vary each year depending on which members of our extended family can join us.
We've hung on to many traditions: baking Nana's Butter Tarts, watching the youngest child placing the angel at the top of the tree, finding an orange in the toe of our stockings, and pulling and popping Christmas crackers when we all sit down to dinner.
Now that our kids have families of their own, I cherish seeing them maintain some of the traditions they grew up with and, at the same time, I love seeing the new ones they've developed, too.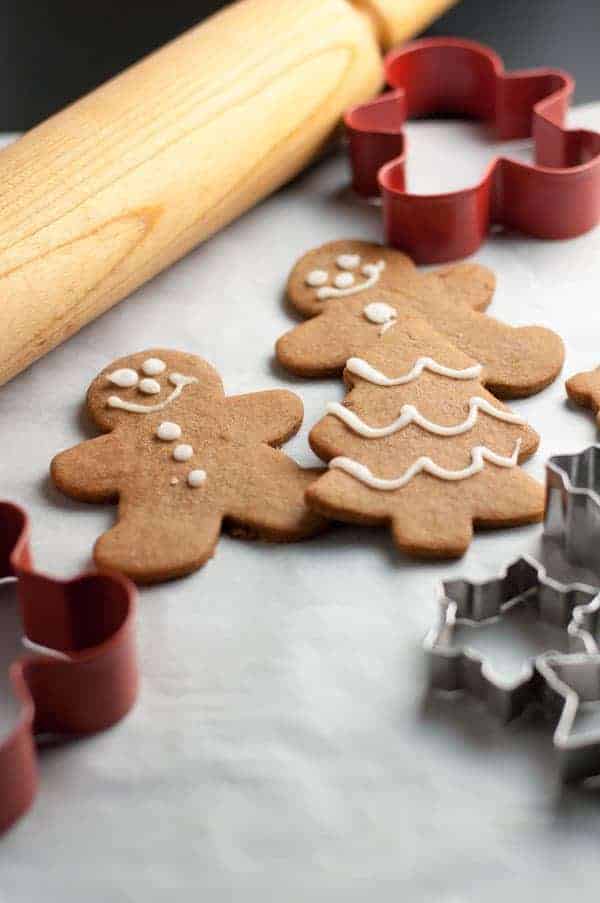 Our holiday diets have changed significantly, too. With some family members with gluten and dairy intolerances, rich cheesecake for dessert and gooey cinnamon buns for breakfast have been replaced with other healthier choices.
But one tradition that has stood the test of time has been our annual gingerbread cookie-making day. Some can eat them, some can't, but we still make them anyway, just because it's fun. You don't have to be a child to enjoy decorating little gingerbread men and women!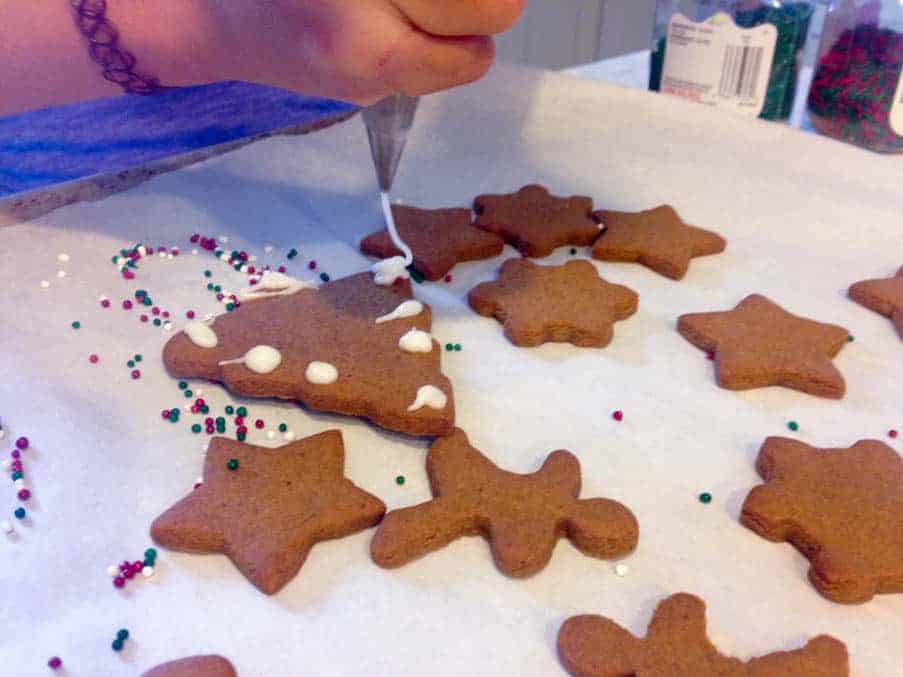 This recipe for reliable gingerbread cut-out cookies has been tweaked over the years until it is the way we like it. It has just the right amount of ginger (not too spicy) and just the right amount of molasses (not too strong). It's simply the best gingerbread cookie recipe for decorating.
These cookies are sweet, but not too sweet. They're sturdy enough to hold their shape, but tender, soft and chewy when you bite them. In short, they're perfect!
We pipe decorations on them with a simple mixture of powdered sugar mixed with a tiny bit of lemon juice.
Tips for Making Gingerbread Cut-Out Cookies
Choose which kind of molasses you like. In my experience, kids find regular molasses too strong, so I use the lighter fancy molasses.
If you're planning to bake with kids, make the dough ahead of time, as it has to chill for at least 30 minutes. Rolling, cutting and baking is often the most fun with young children who don't like to wait!
To make the decorating icing, start with a small amount of lemon juice and add more, a drop or two at a time until you reach the desired consistency. Then use a piping bag and decorating tip set to draw faces and buttons on gingerbread people or to decorate Christmas trees and stars.
Add sprinkles or coloured sugar if you like, or go wild with chocolate chips, raisins or nuts.
Start a new tradition using this classic gingerbread cookie recipe!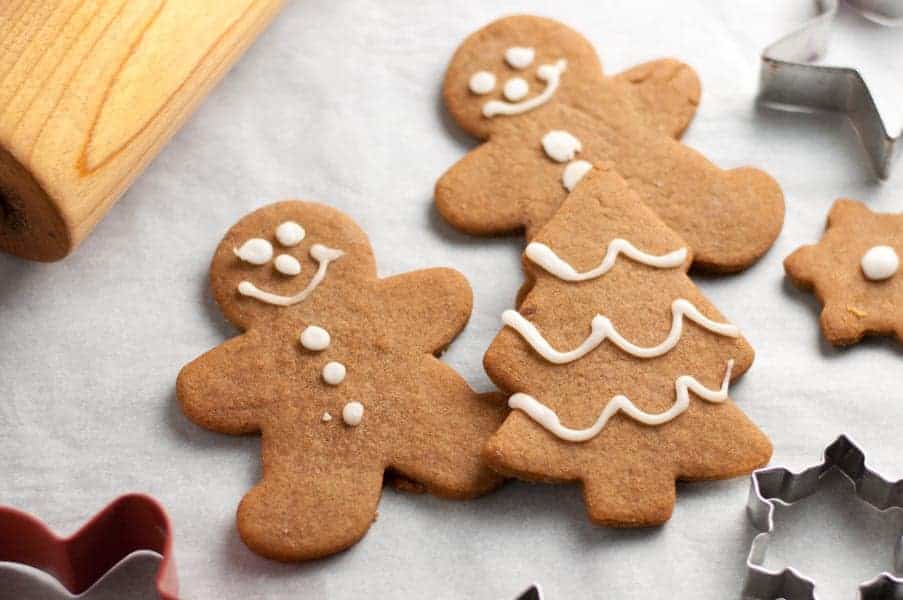 Can I freeze these Gingerbread Men Cookies?
Yes, these cookies freeze beautifully, even when they have been decorated. Even without freezing, they stay fresh for a week or more. Lay them flat in an airtight container and put sheets of parchment paper or paper towel in between the layers.
The Best Gingerbread Cookie Recipe for Decorating
That claim may sound presumptuous, but I've made used this recipe successfully for years, with my own children, with kids in my classrooms, and with my grandchildren.
To make the icing for adding decorations, combine one cup of confectioner's sugar (also called icing sugar or powdered sugar) with one tablespoon lemon juice, adding just a few drops at at time until you achieve a firm consistency. Fill a piping bag fitted with a #10 decorating dip, then draw faces, wavy lines, buttons, dots, or whatever you like.
If you don't have a piping bag, fill a ziplock bag with icing and snip off a tiny corner with scissors. It's a little more difficult to handle, but it does work. This ziplock bag option is the answer if you have several children decorating cookies at the same time!
I hope baking gingerbread cut-out cookies becomes one of your family's holiday traditions, too!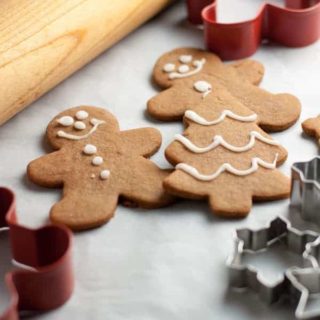 Traditional and Reliable Gingerbread Cut-Out Cookies
Traditional and Reliable Gingerbread Cut-Out Cookies. A family favourite recipe. This classic gingerbread cookie recipe makes a big batch. Fun to make, fun to decorate! Even more fun to eat.
Print
Pin
Rate
Equipment
46 piece Deluxe Cake Decorating Set
Holiday Cookie Cutter Set
Instructions
Beat softened butter and sugar until fluffy, then add molasses and egg. Beat 2 minutes on medium speed or until well combined.

Whisk together flour and remaining ingredients.

Stir dry ingredients into wet ingredients by hand until well blended, or use an electric mixer on low speed. Don't overbeat.

Press dough into 2 or 3 balls, flatten slightly, wrap tightly and chill for 30 to 60 minutes before rolling.

Roll out ⅛ inch thick, cut with cookie cutters and transfer to baking sheet.

Bake at 350° F. for 8 - 10 minutes.

Cool 2 minutes before removing from pan.

To make icing, mix 1 cup powdered sugar with a tablespoon of lemon juice. Use a piping bag to decorate once the cookies are completely cool.

To make icing, mix 1 cup powdered sugar with a tablespoon of lemon juice. Use a piping bag to decorate once the cookies are completely cool. Add extra decorations if you like!
Nutrition
Calories:
99
kcal
|
Carbohydrates:
14
g
|
Protein:
1
g
|
Fat:
4
g
|
Saturated Fat:
2
g
|
Cholesterol:
13
mg
|
Sodium:
114
mg
|
Potassium:
54
mg
|
Sugar:
8
g
|
Vitamin A:
125
IU
|
Calcium:
15
mg
|
Iron:
0.3
mg
Tried this recipe?
Share a photo on INSTAGRAM and tag it #flavourandsavour! I love seeing what you've made.
Nutrition Facts
Traditional and Reliable Gingerbread Cut-Out Cookies
Amount Per Serving
Calories 99
Calories from Fat 36
% Daily Value*
Fat 4g6%
Cholesterol 13mg4%
Sodium 114mg5%
Potassium 54mg2%
Carbohydrates 14g5%
Protein 1g2%
Vitamin A 125IU3%
Calcium 15mg2%
Iron 0.3mg2%
* Percent Daily Values are based on a 2000 calorie diet.
These Zebra Cookies are fun for kids to make, too.
This recipe was originally published in 2015. I have updated it with new tips and nutritional information.
SAVE THIS TO ONE OF YOUR PINTEREST BOARDS
and
connect with me on Pinterest
! I'm always finding new tasty recipes to pin. Subscribe to my weekly newsletter and never miss a recipe!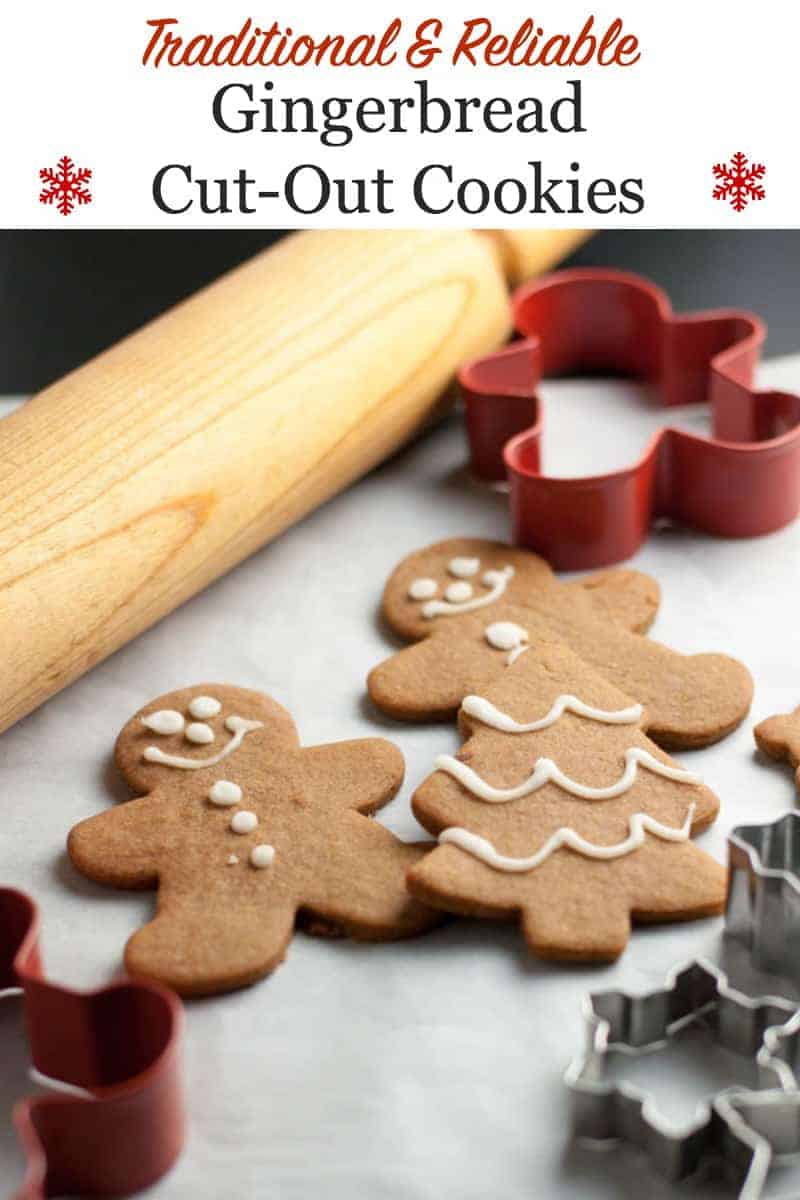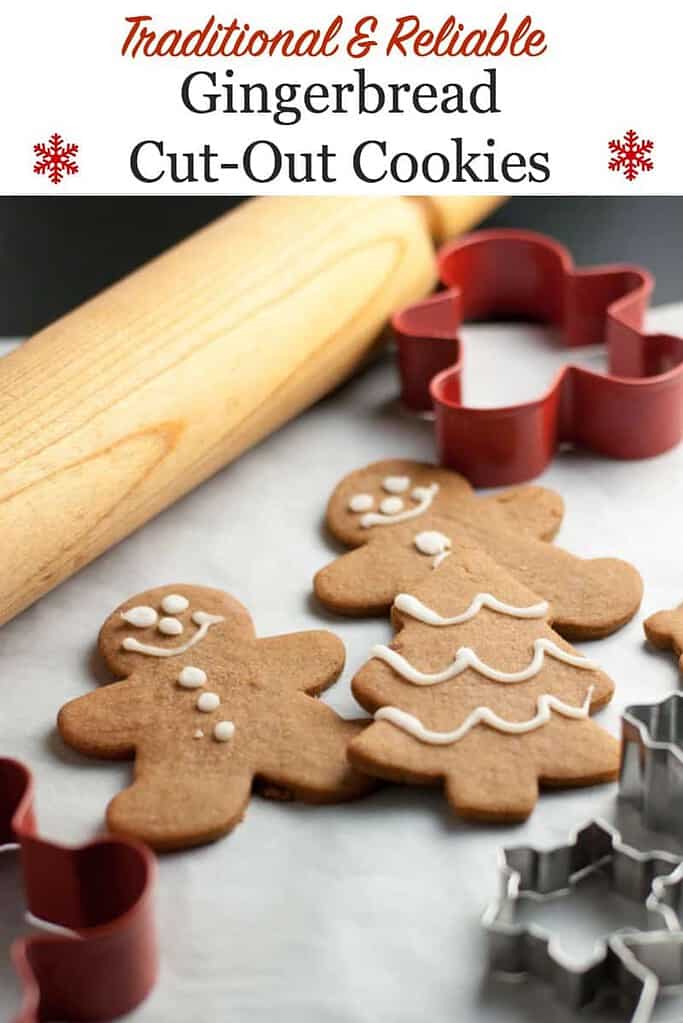 This post contains affiliate links. If you click on any of the affiliate links and make a purchase within a certain time frame, I'll receive a small commission. The third party pays the commission, not you. I am a participant in the Amazon Services LLC Associates Program. It's an affiliate advertising program designed to provide a means for me to earn fees by linking to Amazon.com and affiliated sites.