A tasty twist on a classic Cobb Salad. This meal in a bowl recipe includes tips for cooking bacon without a mess and for taking the frustration out of peeling hard-boiled eggs! Keto-diet friendly.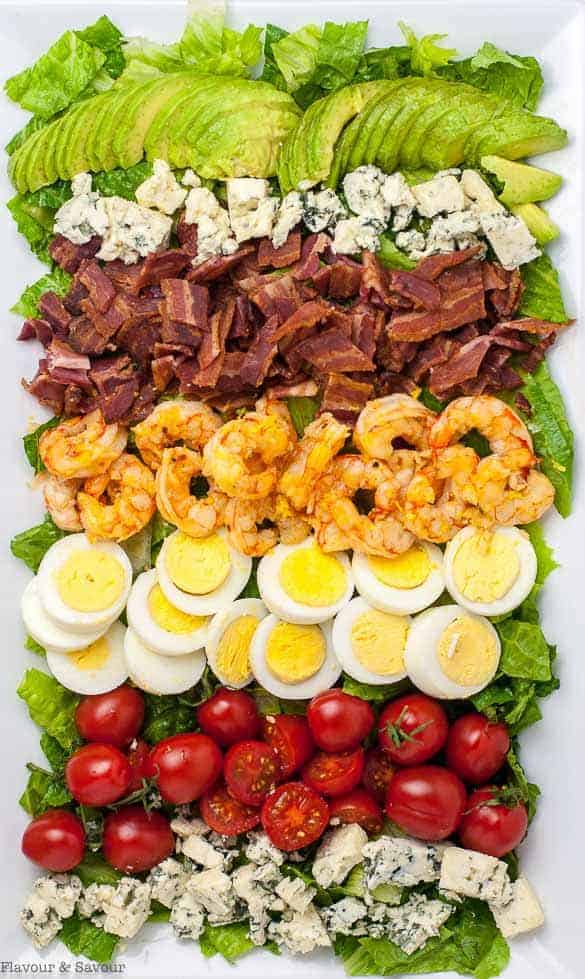 This Lemon Garlic Shrimp Cobb Salad recipe is my twist on a classic Cobb Salad. It's a complete meal in a salad with a light, creamy avocado dressing.
Cobb Salad has been a popular restaurant item in North America for decades. It's traditionally made with grilled chicken breast, bacon, tomatoes, hard-boiled eggs, lettuce, blue cheese and avocado.
If you've ever ordered one, you may remember that it's very filling, and if you're like me, you've given up trying to finish it and asked to take half of it home with you.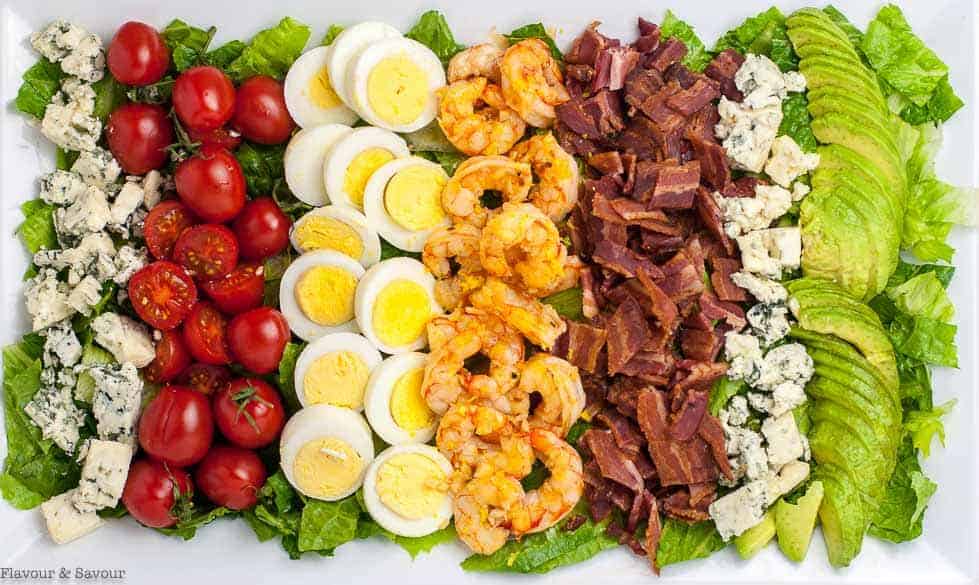 If I'm eating filling foods like bacon, eggs, cheese and avocado, there's no way I can eat a chicken breast, as well! Substituting a few large shrimp for the chicken breast make this Lemon Garlic Shrimp Cobb Salad a little lighter.
While this seafood Cobb Salad is not a low-calorie meal, it is rich in protein and it's appropriate for a ketogenic diet. If you want a lighter version of a Cobb Salad, this Family Style Greek Cobb Salad may be just what you're looking for.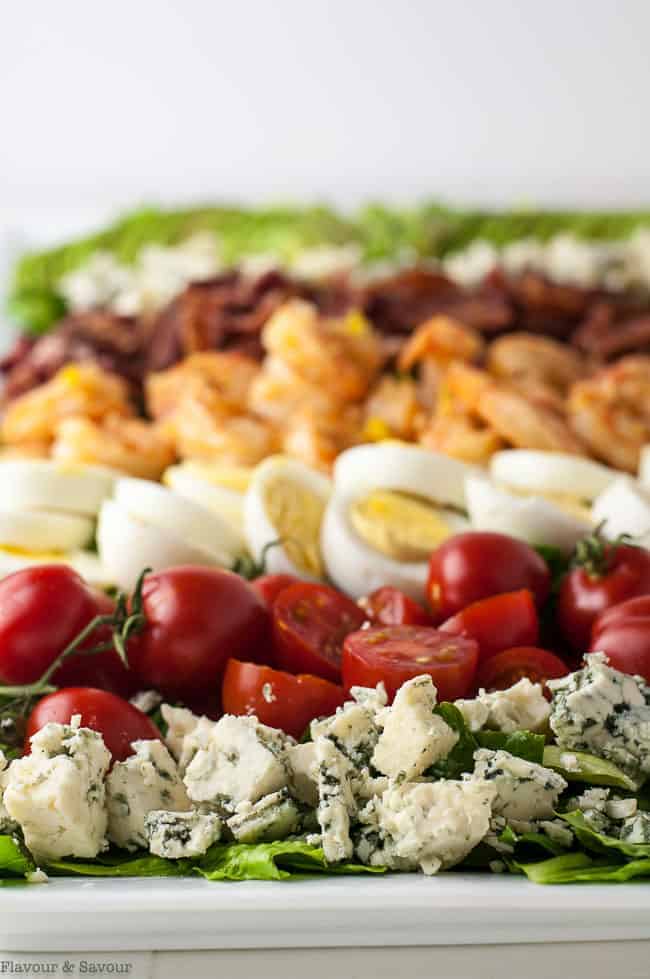 Tips for making Lemon Garlic Shrimp Cobb Salad
I like to serve Cobb Salads on a large platter and let everyone serve themselves.
Fresh ingredients look appetizing when displayed in rows. Give some thought to arranging them with contrasting colours and textures before you begin. For example, break up the white cheese and the white eggs by adding tomatoes in between.
Start by blending the dressing ingredients. Next cook the eggs, cool and peel them. Then, cook the bacon, drain, pat dry with paper towels, chop in bite-sized pieces and set aside. Line a large platter with chopped romaine or other crisp greens. Arrange rows of crumbled blue cheese, cherry tomatoes (or chopped tomatoes) sliced hard-boiled eggs, and bacon.
Quickly cook the shrimp with a little garlic, lemon and white wine, and arrange in a row. And lastly, just before serving, slice an avocado into very thin slices and add to the platter. Drizzle it with a little lemon juice to prevent browning.
Offer Creamy Avocado Dressing on the side and serve!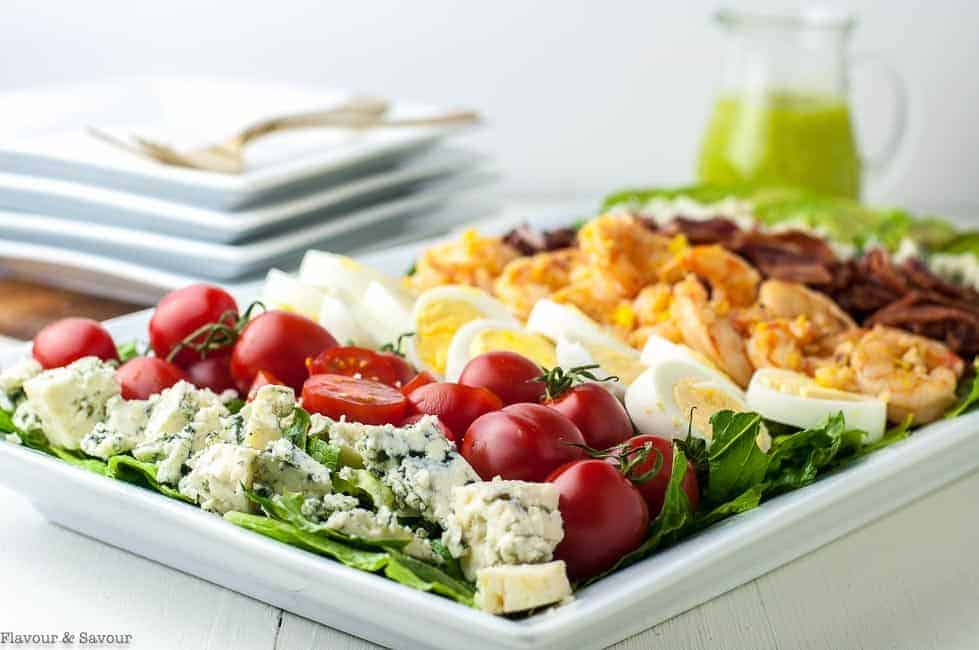 How to cook bacon without messing up your kitchen
Have you ever avoided frying bacon on the stove top because you know you'll have a greasy, spattered mess to clean up?
Once I discovered how easy it is to cook bacon in the oven, I've used this method consistently. Place a cooling rack on top of a sheet pan or a baking sheet with sides. Lay the bacon strips on the rack and cook at 400°F. for 10 to 15 minutes, depending on the thickness of the slices. Turn once halfway through cooking time.
Not only does oven baking reduce the mess, the extra rendered fat drips down to the baking sheet away from the bacon. The bacon strips cook evenly, with no overdone or underdone parts.
And if you line the baking sheet with parchment paper before placing the cooling rack on top, clean-up is a breeze!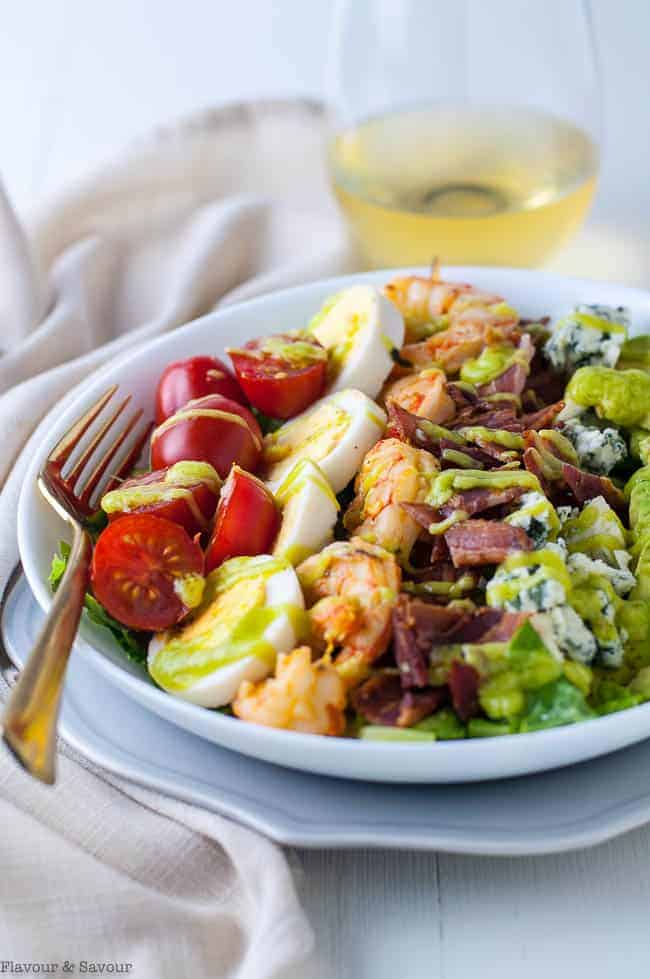 How to peel hard-boiled eggs without totally ruining them
Peeling hard-boiled eggs can be very frustrating. If you're planning to serve devilled eggs, it's important that the eggs aren't full of pock marks! There are more theories about the best way to peel hard-cooked eggs than there are about how the dinosaurs died.
Some say to start the eggs in cold water, others recommend starting them in boiling water. Some maintain that adding vinegar to the water is the key, others insist you add baking soda. A common theory is to use older eggs, not fresh ones. Chill in the fridge before peeling; don't chill, and peel right away.
Some of these methods work, some don't and you'll find more hacks on youtube, professing to be the absolute best way to peel.
I've only found two things that work consistently for me. Place the eggs in a pot of cool water covered by 1 inch of water. Bring to a boil, turn off the heat and let them sit for 12 - 13 minutes. Remove from the pot, place in a bowl of ice water until completely cool, then peel.
Start at the broader end of the egg where there is an air pocket. Crack gently, remove a piece of shell about the size of a quarter, then roll the egg on the counter top to make more tiny cracks. Using the side of your thumb, not your fingernails, try to separate the thin membrane from the egg white by pushing and nudging with your thumb. Often it will peel off in large pieces. Getting that membrane to separate from the white seems to be the key, as the shell adheres to the membrane and the two come off together.
Good luck! Let me know in the comments what method works best for you.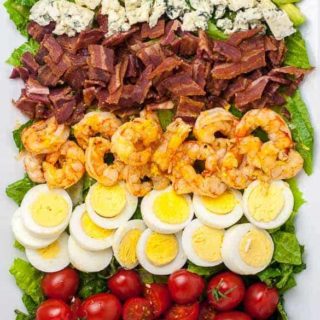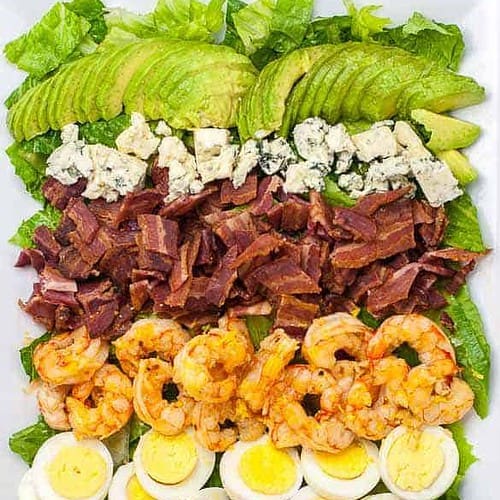 Lemon Garlic Shrimp Cobb Salad
Lemon Garlic Shrimp Cobb Salad is a tasty twist on a class Cobb Salad recipe. It combines lemon garlic shrimp, bacon, hard-boiled eggs, cherry tomatoes, blue cheese and avocado on a bed of romaine and drizzled with Creamy Avocado Dressing.
Print
Pin
Rate
Ingredients
8

slices

bacon

thick cut, nitrate-free

4

eggs

hard-boiled

20

cherry tomatoes

6

cups

romaine

chopped

4

oz

blue cheese

crumbled

1

avocado

peeled and sliced very thinly
Lemon Garlic Shrimp
16

large

shrimp

peeled and deveined

1

tsp

oil

1

tsp

butter

3

tbsp

garlic

finely minced

2

tbsp

lemon juice

2

tbsp

dry white wine

1

tsp

chili flakes
Creamy Avocado Dressing
1

avocado

¼

cup

apple cider vinegar

or white wine vinegar

¼

cup

lemon juice

fresh squeezed

¾

cup

olive oil

extra virgin

salt and pepper

to taste
Instructions
Prepare Creamy Avocado Dressing. In a blender, combine avocado, apple cider vinegar and lemon juice. Gradually add olive oil and blend until well combined. Season with salt and pepper. Transfer to serving vessel and cover with plastic wrap.

Prepare the hard-boiled eggs. Place the eggs in a small saucepan and cover with cold water by 1 inch. Bring to a boil, then remove from heat and let sit in the water for 12 minutes. Transfer to a bowl filled with ice water. Cool completely, then peel.

Heat oven to 400°F. Line a rimmed baking sheet with parchment paper, place a baking rack on top and lay the strips of bacon on the rack. Cook for 10 - 15 minutes, turning once part way through or until bacon is crispy. Remove from oven and pat dry with paper towel to remove excess fat. Chop into bite-sized pieces.

To prepare Lemon Garlic Shrimp, heat a skillet over medium-high heat. Add 1 tsp oil and 1 tsp butter. When melted, add 3 tbsp minced garlic. When translucent, add shrimp. Toss with 2 tbsp lemon juice, 2 tbsp white wine and 1 tsp. dried chili flakes. Cook shrimp for 2 minutes, turn and continue cooking for 1 to 2 minutes or just until they are no longer translucent. Remove from heat. Garnish with lemon zest.

Chop romaine leaves and arrange on a large serving platter (or in individual bowls.) Make rows of crumbled blue cheese, cherry tomatoes, sliced hard-boiled eggs, chopped bacon pieces and Lemon Garlic Shrimp. Add avocado slices and sprinkle with a squeeze of lemon juice to prevent browning.
Nutrition
Calories:
501
kcal
|
Carbohydrates:
15
g
|
Protein:
21
g
|
Fat:
39
g
|
Saturated Fat:
14
g
|
Cholesterol:
226
mg
|
Sodium:
820
mg
|
Potassium:
949
mg
|
Fiber:
6
g
|
Sugar:
4
g
|
Vitamin A:
10545
IU
|
Vitamin C:
33.5
mg
|
Calcium:
242
mg
|
Iron:
3.2
mg
Tried this recipe?
Share a photo on INSTAGRAM and tag it #flavourandsavour! I love seeing what you've made.
Nutrition Facts
Lemon Garlic Shrimp Cobb Salad
Amount Per Serving
Calories 501
Calories from Fat 351
% Daily Value*
Fat 39g60%
Cholesterol 226mg75%
Sodium 820mg36%
Potassium 949mg27%
Carbohydrates 15g5%
Protein 21g42%
Vitamin A 10545IU211%
Vitamin C 33.5mg41%
Calcium 242mg24%
Iron 3.2mg18%
* Percent Daily Values are based on a 2000 calorie diet.
Save this to one of your pinterest boards
Subscribe to my weekly newsletter and never miss a recipe!
This post contains affiliate links. If you click on any of the affiliate links and make a purchase within a certain time frame, I'll receive a small commission. The commission is paid by the third party, not by you. I am a participant in the Amazon Services LLC Associates Program, an affiliate advertising program designed to provide a means for me to earn fees by linking to Amazon.com and affiliated sites.