This Winter Persimmon Kale Salad features kale slaw, sliced persimmons, pomegranate arils, feta cheese and an amazing maple-balsamic dressing! Learn how to choose a persimmon and how to cut persimmons for a salad.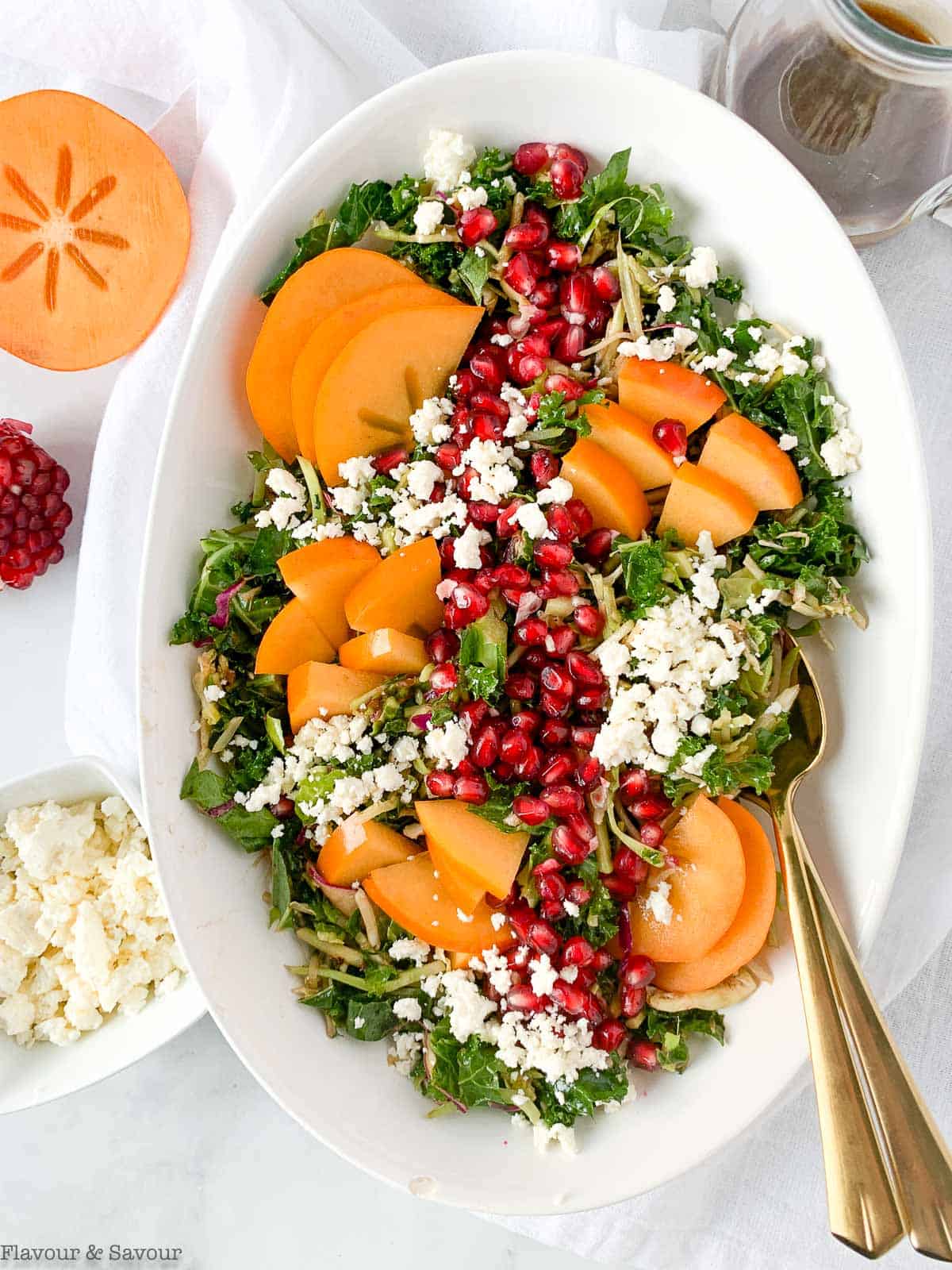 This Winter Persimmon Kale Salad takes advantage of all the nutritious greens and fruit available in the winter months. It's a healthy salad made easy by using prepared kale slaw mix.
It's topped with sliced persimmons, pomegranate arils and feta cheese and then drizzled with a to-die-for maple-balsamic dressing! So good.
Winter salads can be just as beautiful and nutritious as summer salads! For ideas to inspire you, check these 15 Best Winter Salad Recipes.
Have you tried persimmons? When you see them in your supermarket grocery store, don't pass over them! They're a real treat.
❓How to choose a persimmon
Persimmons are abundant in Japan. There are two varieties of persimmons generally available in North America, the Fuyu and the Hachiya.
The Fuyus are the most popular here, as they're grown in California. They are squat and round. They look almost like orange tomatoes, with slightly thicker skin.
Look for those without severe blemishes on the skin. You can peel them if you like, but the skin is definitely edible, and it's a good source of fiber.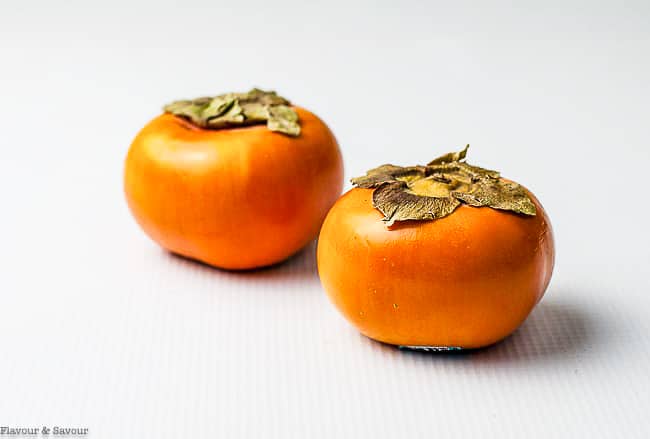 The Hachiya persimmons must be fully ripe to be eaten or they'll taste horrible and will completely dry out the inside of your mouth.
However, once they are fully ripe, to the point of looking like they're spoiling and ready for the compost, they're sweet and absolutely delicious.
The Hachiya persimmons are good in baked goods, like muffins and cakes, Since they're high in pectin, they're commonly used to make regular or chia jam. They are heart or acorn-shaped.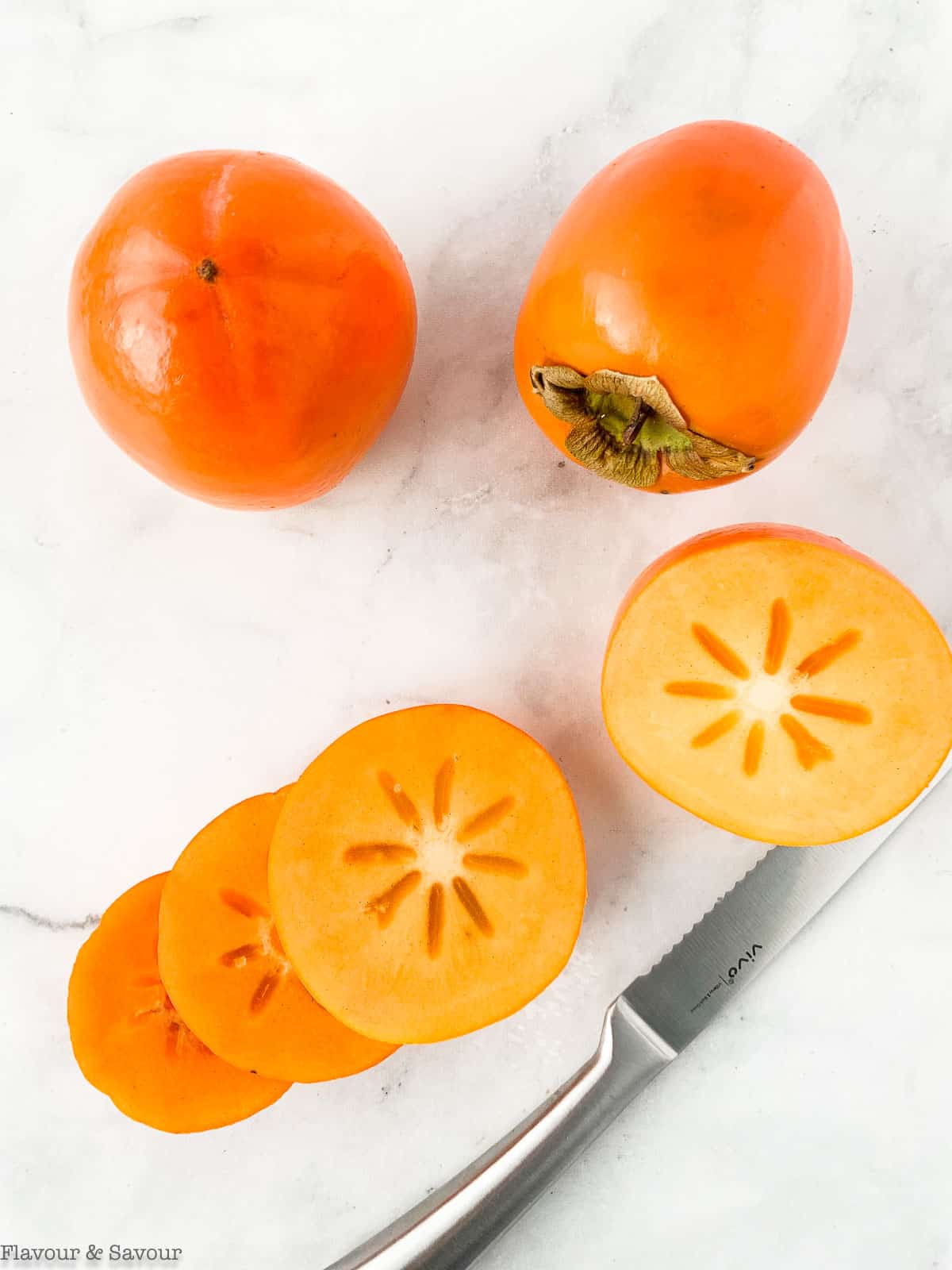 You might also like this Persimmon Pomegranate Salad with Maple Walnuts and these sweet and smoky two-bite Persimmon Prosciutto Cheese Bites.
Persimmons are generally available from October through January, making them an ideal fruit to dress up a winter salad.
So let's make a shopping list and make this gorgeous Winter Persimmon Kale Salad!

🛒 Ingredients
A simple list of ingredients!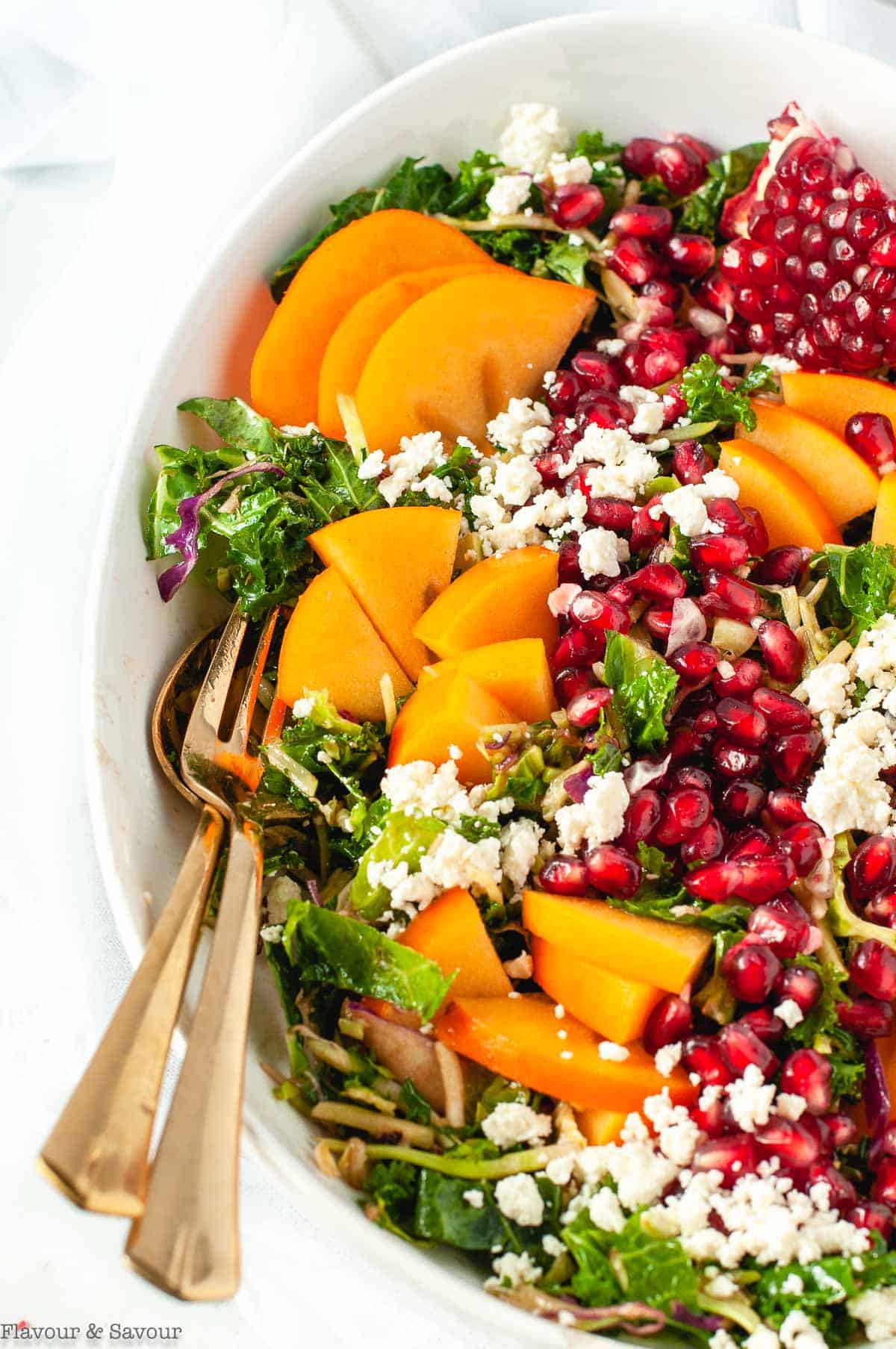 kale slaw mix: I buy this in a package. It's a blend of cabbage, broccoli, kale, cauliflower and Brussels sprouts. Of course, you can make your own, but I find this a real time saver.
persimmons: one or two. While I would normally choose Fuya persimmons for this salad, this time I used the Hachiya variety as they were fully ripe and on sale!
pomegranate arils: these add a beautiful, rich colour and texture to the salad.
feta cheese: substitute goat cheese or burrata if you'd like
maple-balsamic dressing: recipe below. You're going to be making this one on repeat, it's so good!
🔪 Instructions
Here's a quick overview of what you'll do.
You'll start by making the maple-balsamic dressing. Toss it with the kale slaw, making sure it is well combined. Add it to a salad bowl or serving platter, then top with sliced persimmons, pomegranate arils and crumbled feta cheese. That's it!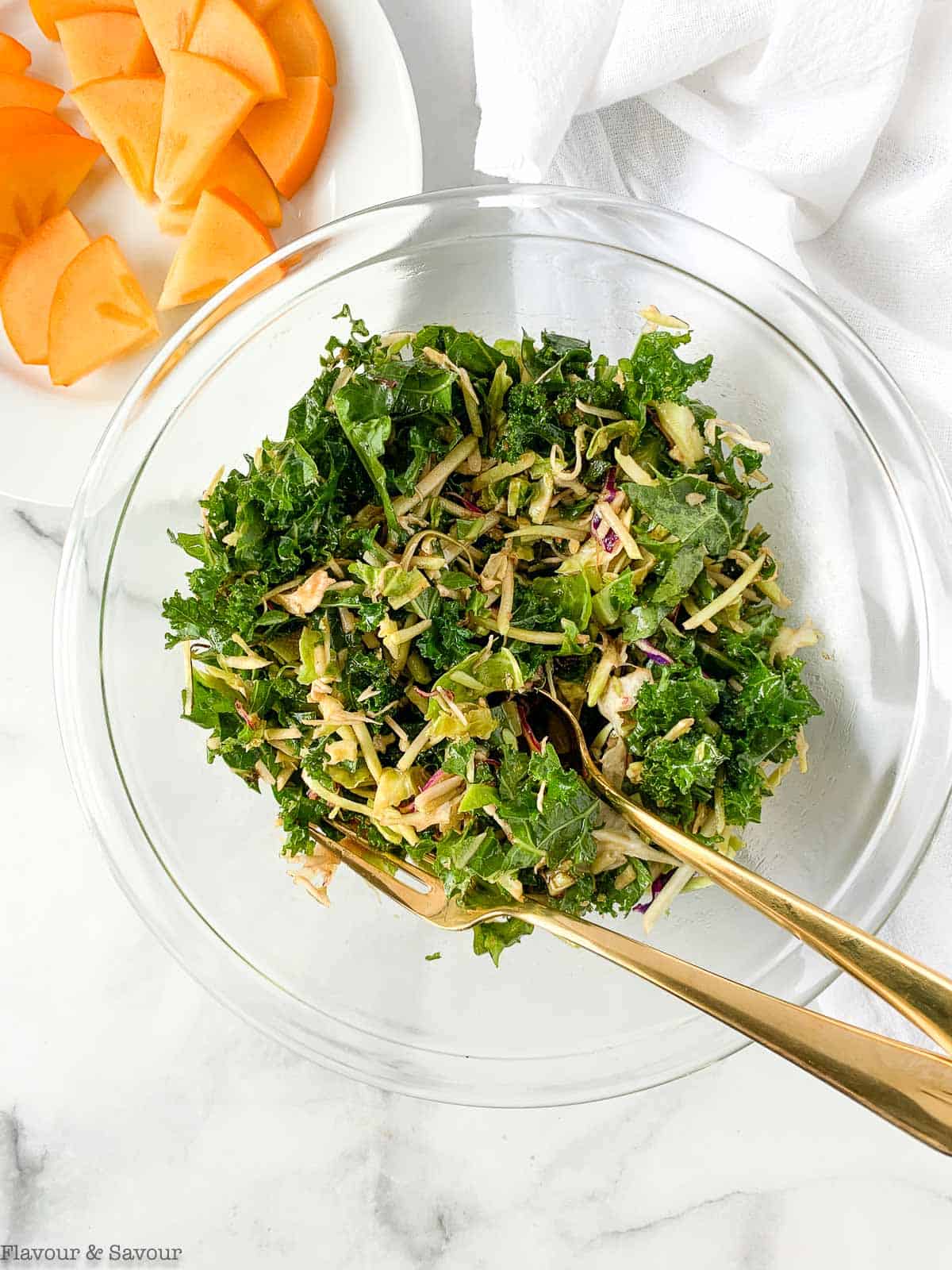 Frequently asked questions about persimmons
What do persimmons taste like?

Persimmons are unique! A ripe Fuyu persimmon is firm and sweet and with a silky texture similar to a cross between a mango and an apple or a mango and a date.
Can you eat the skin of persimmons?

Yes. Persimmon skins are edible and not tough. You can bite right into one! However, if they're badly marked or bruised from shipping, you may want to peel them.
How do you cut a persimmon for a salad?

Persimmons are beautiful inside! While they're considered seedless, they do have very tiny edible seeds that form a star pattern. They look a little like a sand dollar when you slice them through their circumference.

You can leave them as round slices, or you can cut them in half. The easiest way is to cut out the stem end with a paring knife, creating a small cone shape. The stem and the small core will come out. Next cut the fruit in half from the stem end through the bottom. Then turn one half cut-side down and slice thin crosswise slices. You can cut the slices into triangles to make bite-sized pieces.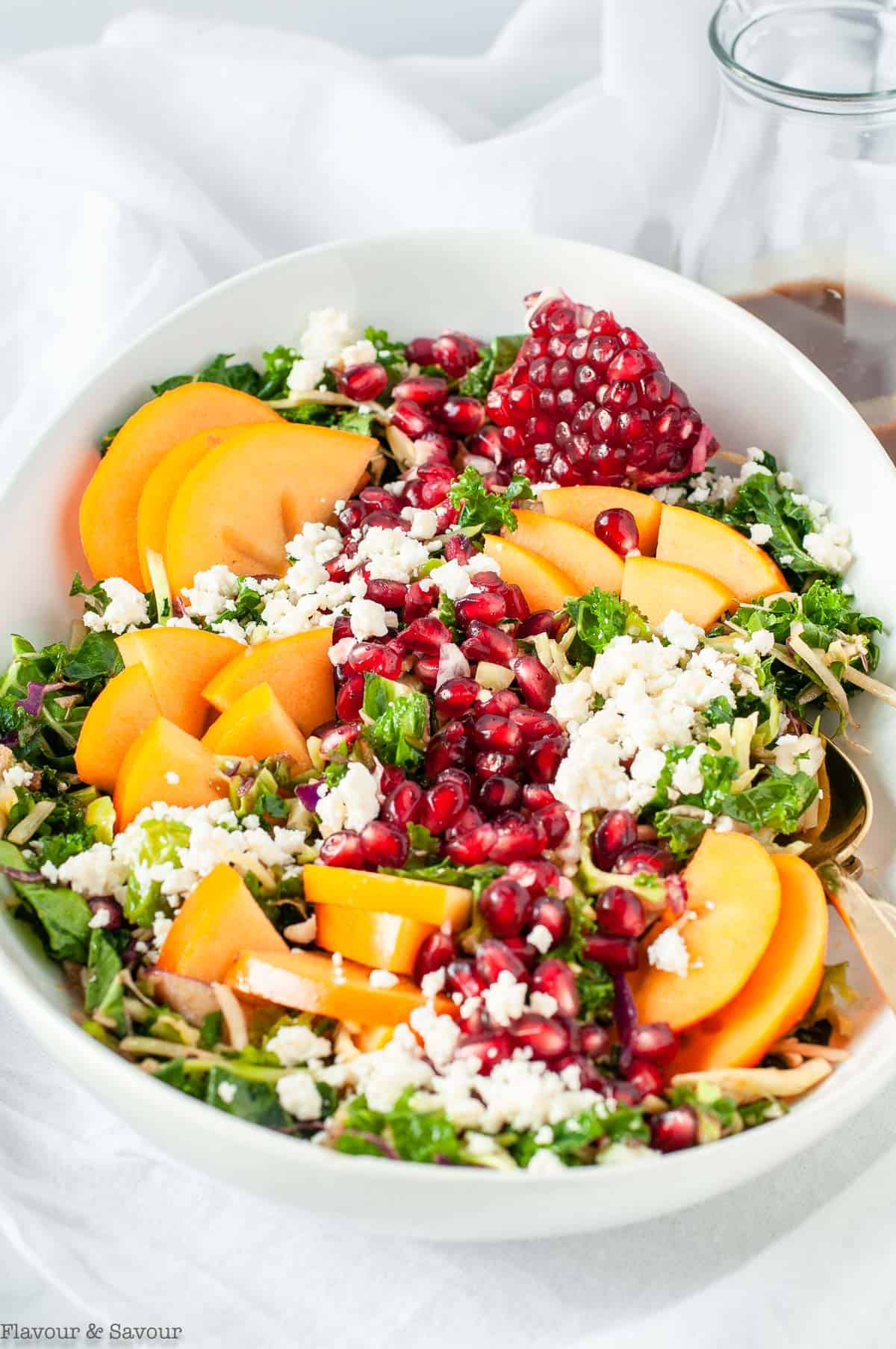 🔁 Possible Variations
If you don't have pomegranate arils, fresh raspberries add the same rich colour and look gorgeous in this salad.
You could also substitute finely chopped and massaged Tuscan kale for the kale slaw.
Kale can be a little tough but it's very easy to tenderize. First, strip the leaves from the tough inner stem and chop the leaves into very small pieces. Put them in a bowl, drizzle with a teaspoon or two of olive oil and gently massage the oil into the leaves. Massaging helps to break down the tough connecting fibers and makes the kale easier to digest.
How to store persimmon salad
While this kale slaw salad is best eaten on the day it's made, it's sturdy enough to serve the following day as well. Store in an airtight container in the fridge.
📖 Recipe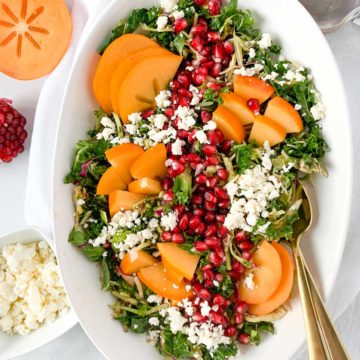 Winter Persimmon Kale Salad with Pomegranate
This beautiful Winter Persimmon Salad makes a delicious side dish for holiday dinners, or for any weeknight meal. Use prepared kale slaw, add persimmons, pomegranate and feta cheese and toss with maple-balsamic dressing.
Print
Pin
Rate
Ingredients
4

cups

prepared kale slaw mix

2

medium

persimmons

½

cup

pomegranate arils

3

tablespoon

feta cheese
Maple Balsamic Dressing
¼

cup

olive oil,

extra virgin

2

tablespoon

balsamic vinegar

1

tablespoon

pure maple syrup

½

teaspoon

Dijon mustard

sea salt and pepper

to taste
Instructions
Whisk the dressing ingredients together and toss half of it with the kale slaw. Transfer to a serving bowl or platter.

Arrange sliced persimmons, pomegranate arils and feta cheese on top of the kale slaw.

Drizzle with more dressing, if desired.
Notes
Dressing is not included in the nutrition information as you won't need it all for this salad. Save it for another day!
Nutrition
Calories:
335
kcal
|
Carbohydrates:
69
g
|
Protein:
7
g
|
Fat:
7
g
|
Saturated Fat:
4
g
|
Cholesterol:
23
mg
|
Sodium:
303
mg
|
Potassium:
824
mg
|
Fiber:
2
g
|
Sugar:
7
g
|
Vitamin A:
4303
IU
|
Vitamin C:
165
mg
|
Calcium:
234
mg
|
Iron:
5
mg
This post was published in 2020. It has been updated with new information.