Prep ahead for your next picnic or camping trip by making this Mason Jar Boozy Tropical Fruit Salad before you go. A Mason Jar dessert of fresh fruit marinated in Limoncello will be ready to enjoy by the time you've set up camp!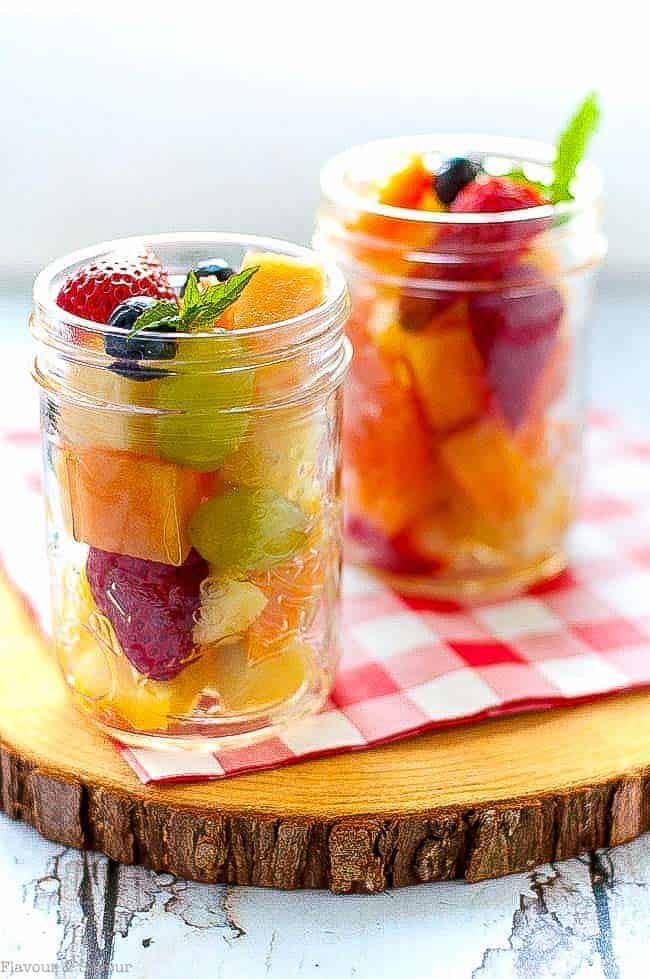 Mason Jar Boozy Tropical Fruit Salad is so easy it hardly needs a recipe, but it's so good I have to tell you about it!
Fresh naturally sweet fruit tossed and marinated in a sweet Italian liqueur makes a spectacular dessert for any time of the year. It's particularly fun to take on a camping trip, for picnics, deck parties or potlucks.
Limoncello country on the Amalfi Coast
We were in Limoncello country recently, on the beautiful Amalfi Coast in southern Italy. Limoncello is an Italian lemon liqueur, traditionally made from the zest of Sorrento lemons, but it has become very popular in North America too and is now also made with California lemons.
It's sweet, but not too sweet, it's good for sipping when it's ice-cold and it makes delicious desserts. Shops in Sorrento and Positano are lemon crazy and they sell everything from Limoncello in cello-shaped bottles (yes, I bought one) to lemon-flavoured pasta, candies, chocolate, candles and even soap!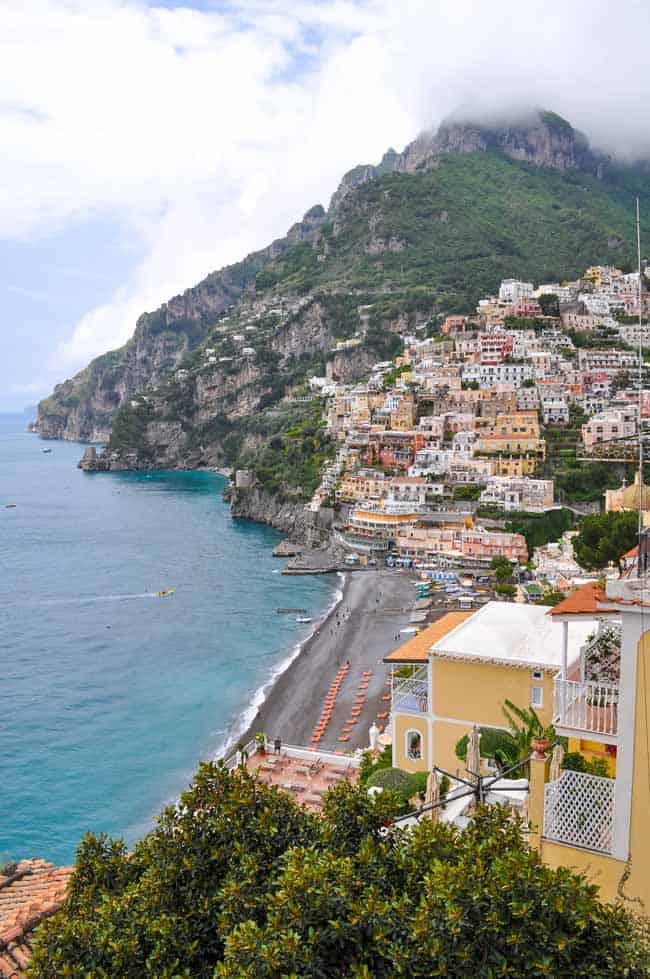 This Mason Jar Dessert is a great choice for camping and picnics!
It will soon be camping season! Our version of camping no longer involves wet tents, tarps, or Coleman stoves that won't light in the wind. We go boat-camping in the Gulf Islands of the Pacific Northwest, swim and picnic on secluded beaches, hike trails through cool forests and find a quiet cove to anchor for the night.
Eating great food is an important part of the camping experience for us. Being able to harvest crabs and prawns or occasionally catch a salmon for dinner is something for which we are grateful.
I was inspired to make this Mason Jar dessert after reading Chocolate and Marrow's Mason Jar Campfire Pancakes recipe on Brooke's beautiful blog. I love dreaming up new camping menu ideas and I adore anything in a Mason jar. When I read how she prepares her made-from-scratch pancakes before she goes camping, I knew I wanted to be just as organized and do the same.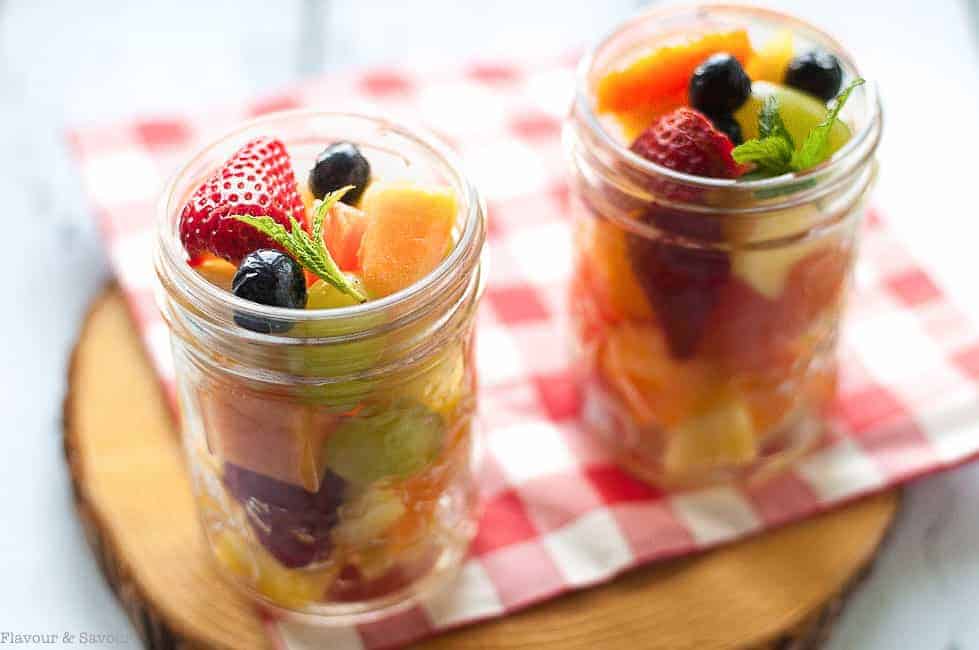 But I opted for a dessert instead of breakfast. After setting up camp, everyone needs a reward, don't you think?
This Mason Jar Boozy Tropical Fruit Salad is an easy dessert
And it will be even better if you let it sit until you've got your campsite set up! Make it at home the day before and let all that fresh fruit soak up the sweet and tart Limoncello.
Choose in-season fruit, such as
pineapple
strawberries
melon
oranges
grapes
blueberries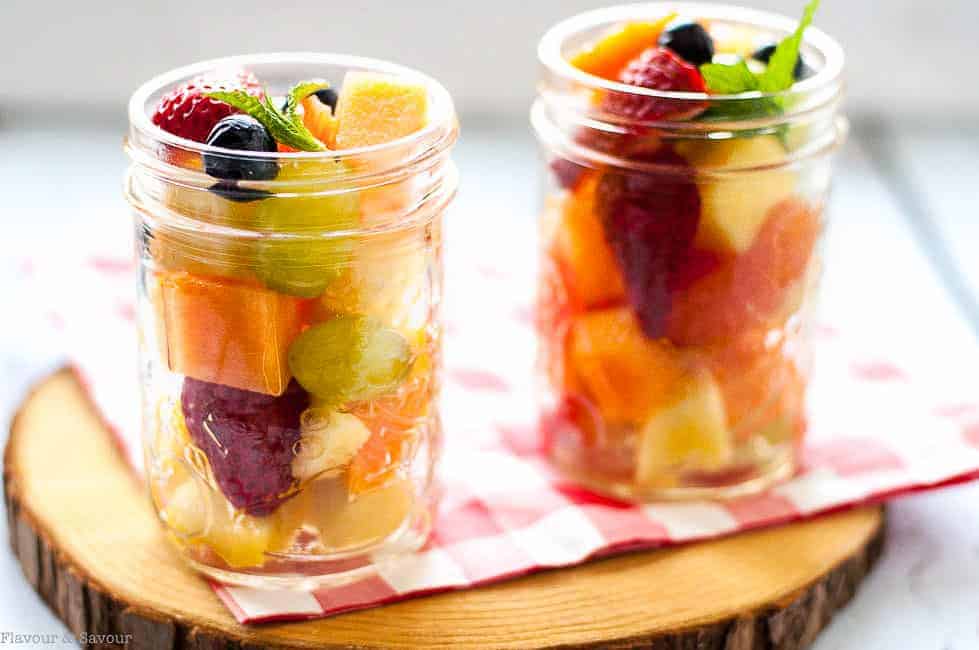 Create new camping memories!
I have fond memories of our camping trips when I was a kid. I have visions of my dad cooking bacon in a cast iron pan over a fire in Banff and the smell of slightly burnt toast cooked over the fire slathered with Mom's homemade strawberry jam.
Just because you're camping does not mean resorting to hot dogs, hamburgers, s'mores and sugary cereals. Up your game this year, and try "glamping."
There's a world of healthy camping culinary possibilities that won't take a lot of precious time away from your outdoor fun, but will make special memories.
Fresh fruit . . . with an Italian liqueur: I think this will be one of them.
If you love desserts in jars, check out this collection for more delicious ideas! 12 Gluten-Free Mini Desserts in Jars
More make-ahead recipes for your next camping or glamping trip!
Mason Jar Boozy Tropical Fruit Salad
Plan ahead for your next picnic or camping trip by making this Mason Jar Boozy Tropical Fruit Salad before you go. Fresh fruit marinated in Limoncello will be ready to enjoy by the time you've set up camp!
Print
Pin
Rate
Ingredients
2

cups

fresh fruit

cut into bite-sized pieces. Use pineapple, cantaloupe, strawberries, grapes, oranges, or whatever is in season. Avoid using tender berries that might get crushed.

2

oz

Limoncello liqueur

fresh mint leaves
Instructions
Fill 8 oz. Mason jars with fruit.

Drizzle 1 oz of Limoncello over fruit in each jar.

Put lids on jars and store in refrigerator.
Nutrition
Calories:
238
kcal
|
Carbohydrates:
45
g
|
Protein:
1
g
|
Sodium:
11
mg
|
Potassium:
210
mg
|
Fiber:
3
g
|
Sugar:
37
g
|
Vitamin A:
715
IU
|
Vitamin C:
5.2
mg
|
Calcium:
12
mg
|
Iron:
0.7
mg
Tried this recipe?
Share a photo on INSTAGRAM and tag it #flavourandsavour! I love seeing what you've made.
SAVE THIS TO ONE OF YOUR PINTEREST BOARDS
and
connect with me on Pinterest
! I'm always finding new tasty recipes to pin. Subscribe to my weekly newsletter and never miss a recipe!