These Gluten-Free Chocolate Quinoa Cupcakes feature dark, rich chocolate. They're moist, they hold together perfectly, and they're free of refined sugar! Make them for a birthday party or special dessert, topped with whipped chocolate coconut milk frosting.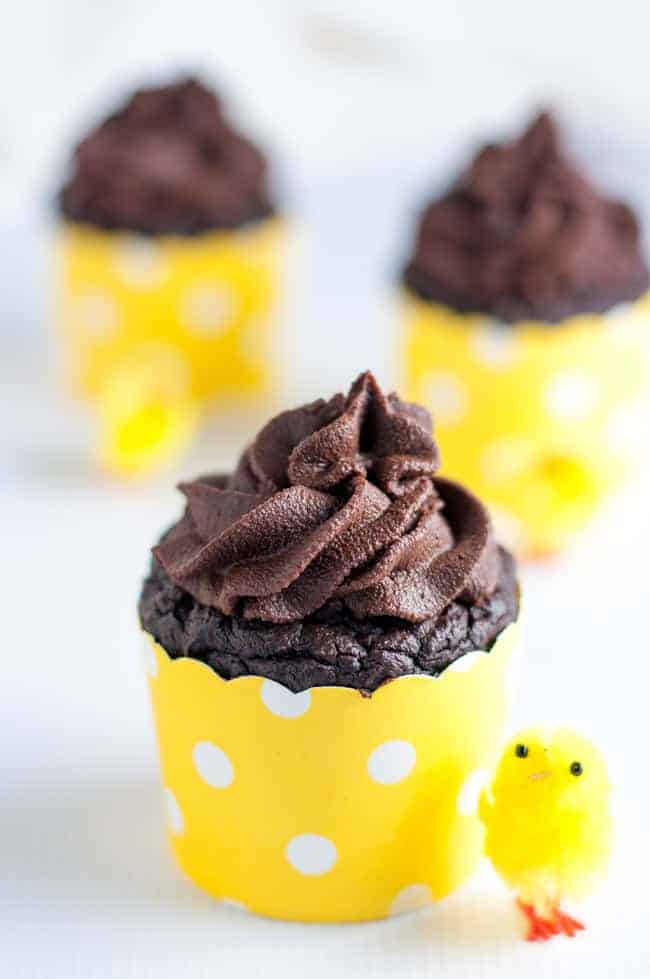 Chocolate Quinoa Cupcakes:  let's bring back an old favourite! Do you remember when Chocolate Quinoa Cake first appeared on the scene a few years ago? We all felt like we were making a healthier choice by adding quinoa to our cake batter. And now these even healthier chocolate quinoa cupcakes satisfy all my criteria for a cupcake:
they feature dark, rich chocolate,
they're moist and tender,
they hold together perfectly,
and they are free of gluten and refined sugar!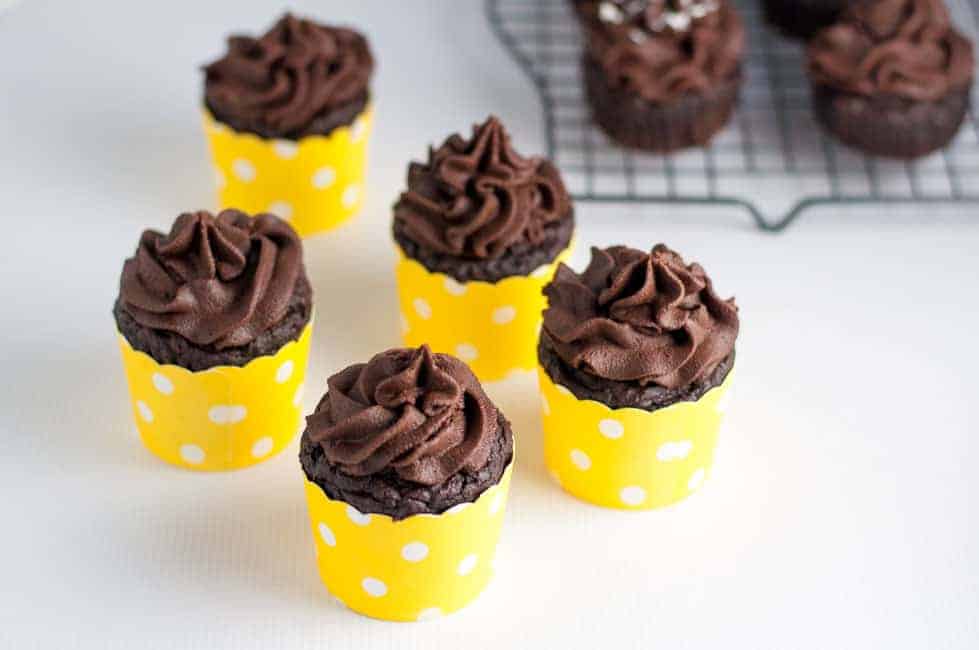 With the publication of the popular cookbook Quinoa 365 in 2010, quinoa became a trendy food for the next few years.
Advertised as gluten-free, wheat-free and nutrient packed, we were all adding it to everything: stir-fries, salads, burrito bowls, muffins, and yes, even chocolate cake. Later, it played second fiddle to chia seeds and goji berries as they rose in the food trend charts and we experimented with these superfoods.
But quinoa's popularity has resurged once again, and it is now higher than ever. It's an ancient crop, grown in the Andes. While it is a grain crop, it is grown for its seeds, the part that we eat. Quinoa is a good source of protein, it's gluten-free, and it is easy to digest.
I've made this recipe many times, as cake, as muffins,  as these Chocolate Quinoa Mini Bundt Cakes with Strawberries, and as cupcakes and it's always popular.
I've adapted the original recipe that appeared in Quinoa 365, replacing the milk with a non-dairy alternative, reducing the amount of granulated sugar and replacing it with coconut palm sugar, and best of all, adding a fabulous chocolate frosting made with whipped coconut milk.
I've also included options in the recipe below so you can adapt it to your own family's tastes.
Notes About These Chocolate Quinoa Cupcakes
1. There are two things you will need to do ahead of time:
a. Make sure you have a can of full-fat coconut milk chilling in the refrigerator for 24 hours.
b. Cook and cool the quinoa. Please note that the recipe requires 2 cups of COOKED quinoa, not dry. Cook 3/4 cup of dry quinoa in 1 1/2 cups of water to yield 2 cups of cooked quinoa. Measure the cooked quinoa before adding it as sometimes it yields a little more than 2 cups.
2. Choose your sugar.
The original recipe called for 1 1/2 cups of granulated sugar. I used just 1 cup of coconut palm sugar instead, and I found that the cupcakes were sweet enough if they were frosted. However, if you are not planning to frost them, I would increase the sugar to 1 1/4 or 1 1/2 cups, depending on your tastes.
3. Use your blender.
If you have a high-speed blender like a Vitamix or a Blendtec, definitely use it for this recipe! It breaks down the quinoa very quickly, so there are no little lumpy seeds in the finished product. I would imagine a regular blender or food processor could do the same with just a little more processing time.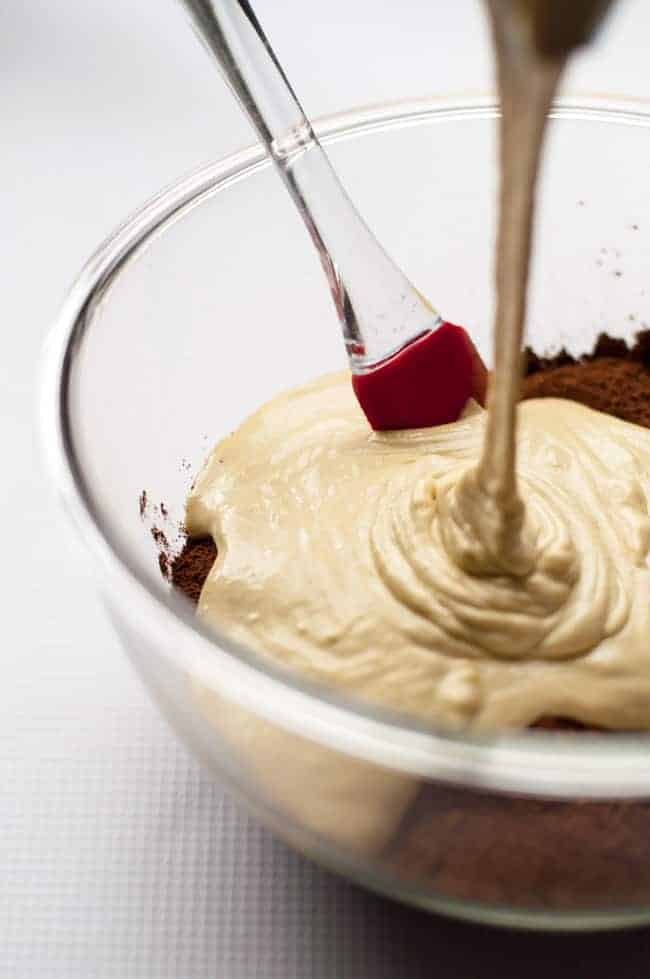 Next, mix the wet ingredients in a blender and sift the dry ingredients in a large bowl, then pour the wet ingredients into the dry and thoroughly combine before filling muffin cups.
4. While they are baking, make the frosting
First, melt the chocolate over simmering water, then add the coconut milk. Stir until it has melted and is well combined, and then allow it to cool completely before whipping it. This has become our go-to frosting and I used it as a creamy chocolate layer in this luscious little chocolate-raspberry parfait.
If you make sure to wait until it is completely chilled and beginning to harden before you whip it, you'll be happy with the results. It holds its shape and makes decorating with a piping bag a breeze.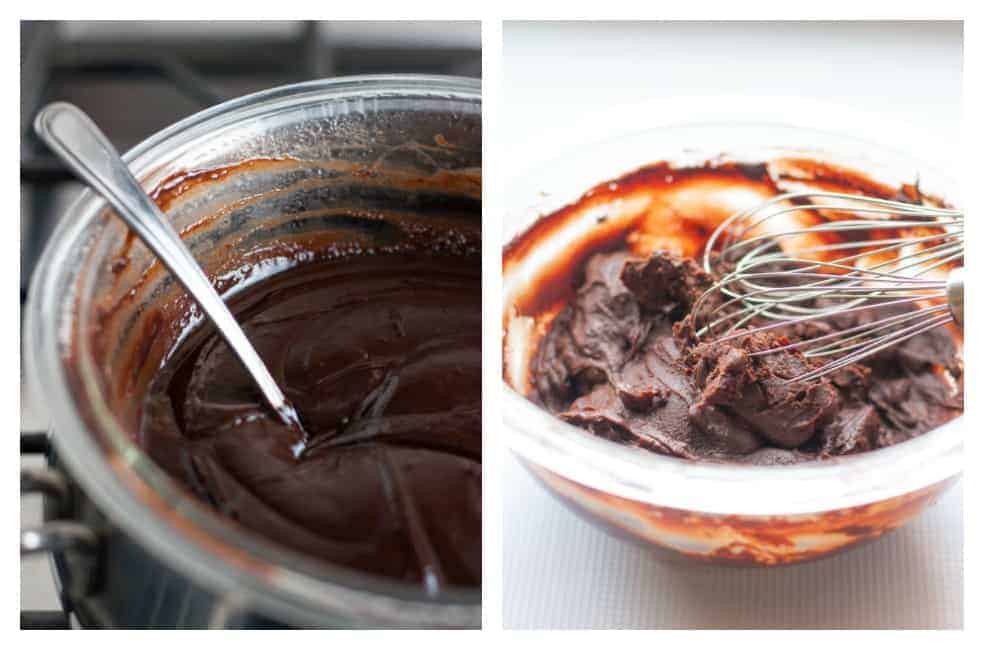 Finally, just serve and wait for the happy, chocolatey smiles all around! Any extras you have can be frozen in an air-tight container.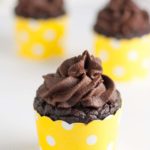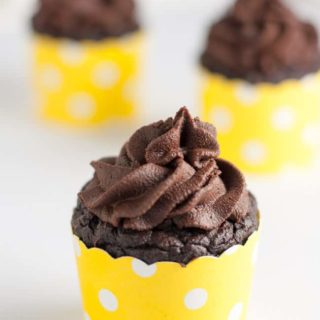 Even Healthier Chocolate Quinoa Cupcakes
Total Time:
1
hour
7
minutes
These Chocolate Quinoa Cupcakes are rich, uber-chocolately and gluten-free.
Print Recipe
Ingredients
2

cups

cooked quinoa,

see note below

1/3

cup

milk (almond

coconut, or cow's milk)

4

eggs

1

tsp

vanilla extract

1/2

cup

melted butter

1/4

cup

melted coconut oil

1

cup

coconut palm sugar,

organic cane sugar (or refined sugar) Increase to 1 1/4 cups for a sweeter product)

1

cup

unsweetened cocoa powder

1/2

tsp

baking soda

1 1/2

tsp

baking powder

1/2

tsp

sea salt
Whipped Chocolate Coconut Cream Frosting
1 14

ounce

can full-fat coconut milk,

refrigerated overnight

2

cups

chocolate chips
Instructions
Cook 3/4 cup dry quinoa in 1 1/2 cups water. ( 3/4 cup of quinoa cooked in 1 1/2 cups water will yield approximately 2 cups of cooked quinoa.) Spread out on a baking sheet to cool.</span>

Heat oven to 350°F. Line 12-14 muffin tins with parchment paper liners or line two 8″ round pans or one 9 x 13″ pan with parchment paper.

Mix the milk, eggs and vanilla in a blender or food processor.

Add the cooked and cooled quinoa, butter, and coconut oil to the blender. This is where a high-speed blender like a Vitamix or a Blendtec comes in handy, as it will grind the cooked quinoa, preventing a lumpy texture in the cooked cake.

Sift the sugar, cocoa, baking powder, baking soda and sea salt in a large bowl.

Add the wet ingredients from the blender to the dry ingredients in the bowl and mix until thoroughly combined. Fill lined muffin tins 3/4 full, spreading to the edges.

Bake at 350 degrees for 24-27 minutes or until toothpick inserted comes out clean.Remove, let cool in tins for 10 minutes, then transfer to a cooling rack. Remove the parchment paper liners. Let cool before frosting with:
Whipped Chocolate Coconut Cream Frosting.
Melt chocolate in a bowl over, not in, simmering water.

Remove the can of coconut milk from the refrigerator. Carefully open it and scoop the hardened milk from the can into the chocolate, saving the liquid for another use. Stir until melted and combined. Remove from heat, let cool.

When completely cool and just beginning to harden slightly, beat with an electric mixer until light and fluffy.

Frost. Makes 14 cupcakes.
Kitchen items I used to make these Even Healthier Chocolate Quinoa Cupcakes

This post may contain affiliate links. If you click on any of the affiliate links and make a purchase within a certain time frame, I'll receive a small commission. The commission is paid by the third party, not by you. I am a participant in the Amazon Services LLC Associates Program, an affiliate advertising program designed to provide a means for me to earn fees by linking to Amazon.com and affiliated sites.

Save this to one of your Pinterest boards
Subscribe to my weekly newsletter and never miss a recipe!