This Smoked Salmon Spinach Frittata is creamy, custardy and filled with smoked salmon, potatoes, spinach and goat cheese. A healthy egg recipe for breakfast, brunch, lunch or dinner!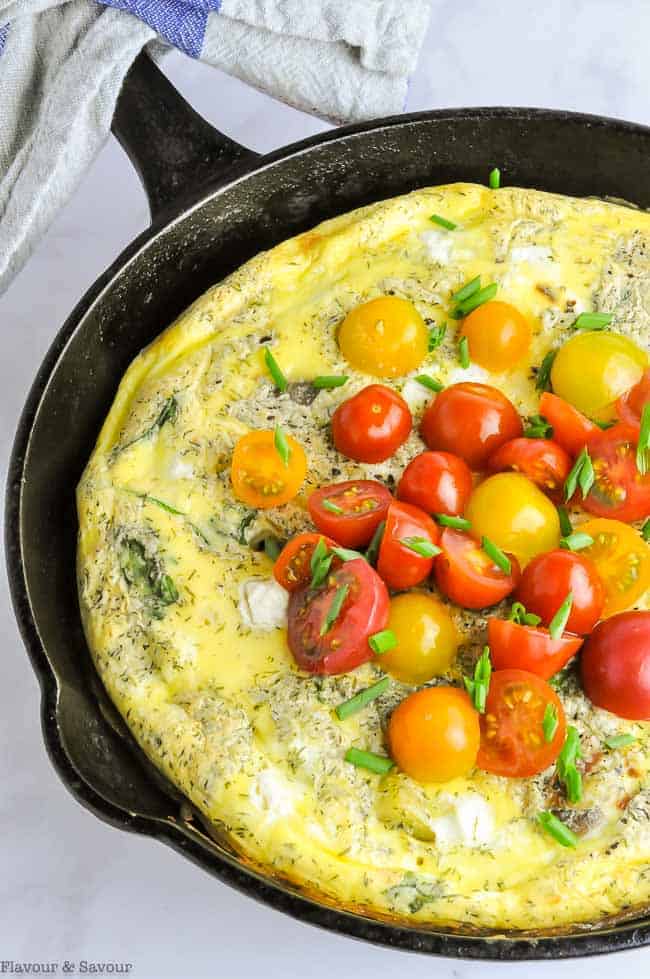 I'm sharing my favourite Smoked Salmon Spinach Frittata today. It's creamy, custardy, and it's filled with smoked salmon, potatoes and spinach and dotted with goat cheese! Here's a frittata recipe that works equally well for breakfast, lunch or dinner.
I sometimes like to cook a healthy egg recipe for dinner. If you love having breakfast for dinner (or brinner) occasionally too, this smoked salmon frittata is for you!
Jump to: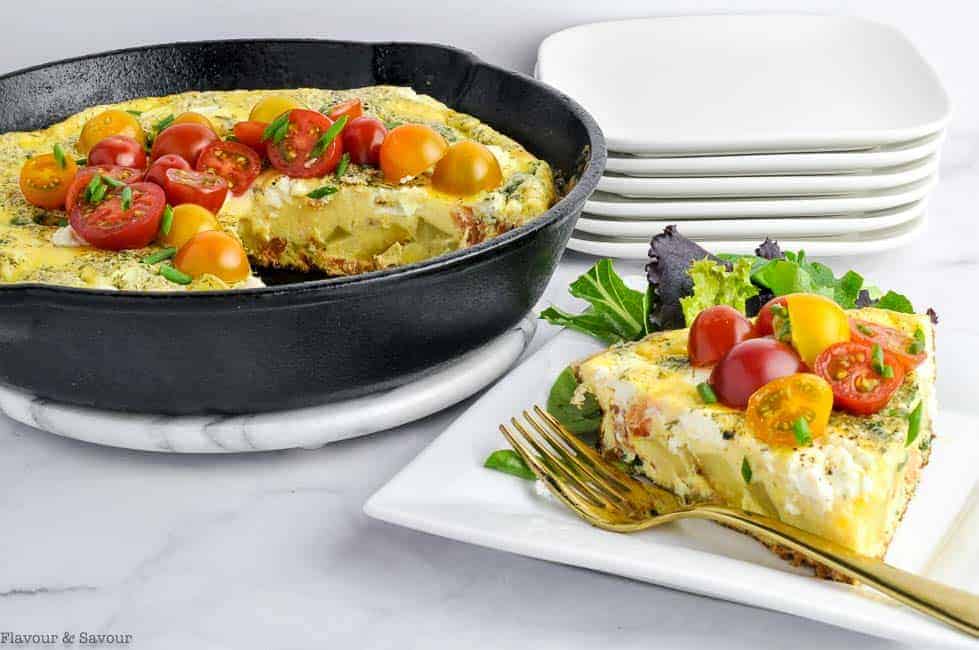 ❤️Why this recipe works
This recipe uses the stovetop-to-oven skillet method which is much easier than the traditional "fold and flip" stovetop method. You'll start the frittata in an oven-proof skillet on the stovetop, then transfer it to the oven to finish cooking. It's almost foolproof! Honestly, this frittata has never failed me. I use the same method to make this Double Cheese Asparagus Leek Frittata.
Another bonus? A frittata tastes just as good hot or cold! It makes great leftovers for lunch and can be reheated for a quick meal.
Frittata means "fried" in Italian. While this is an Italian-inspired egg dish, adding potatoes gives it a delicious Spanish flair, as it's similar to Tortilla Espanola - a Traditional Spanish Tortilla.
Ready to make sure you have everything you need to make this smoked salmon frittata?
🛒 Ingredients
eggs: a whole dozen! That may sound like a lot, but this smoked salmon frittata will make six main-course servings, or eight as a side.
potatoes: creamy yellow potatoes add to the buttery texture of this skillet egg dish.
sour cream: or rich dairy for more creamy texture. If you don't have any, you can substitute heavy cream or plain yogurt.
red onion: adds lots of flavour
hot-smoked salmon: coarsely chopped
spinach: baby spinach leaves are a superfood that adds both vitamins and colour to this meal.
goat cheese: you'll add tiny dollops of goat cheese to the top of the frittata mixture just before transferring to the oven. More creamy yumminess and flavour!
herbs: dill goes well with salmon, or you could substitute chives.
butter: for sautéing the onions
salt and pepper
🔪 Frittata Instructions
Here's an overview of what you'll do to make this flavourful smoked salmon frittata. Complete directions are in the recipe card below.
You'll start by cooking the potatoes. Using a microwave makes this quick, but you can boil them if you like. Drain and set aside.
Next, you'll whisk together the eggs, sour cream (or other dairy product), dill, salt and pepper. You can use an electric mixer if you like, but don't overbeat the eggs.
A well-seasoned cast-iron skillet works well for making frittatas, but you can use an oven-proof non-stick skillet instead.
Heat the oil in the skillet, then add the onions. Cook and stir until translucent and tender but not browned before adding the cooked potatoes. Stir the onions and potatoes together, then add two or three large handfuls of baby spinach to the skillet. Cook for a few minutes, just until barely wilted.
Sprinkle the smoked salmon pieces on top, arranging them fairly evenly.
Pour the egg mixture over top and let it cook for a few minutes over low heat until the bottom is set and the sides are beginning to set. Top with small pinches of creamy goat cheese, arranging evenly on the surface.
Transfer the skillet to the oven and cook for 20 - 22 minutes or until the top is golden and puffy. Avoid overbaking, as overcooked eggs are dry and chewy. The center should still jiggle a little when you gently shake the pan. Remove from the oven at this point, as it will continue to bake in its residual heat.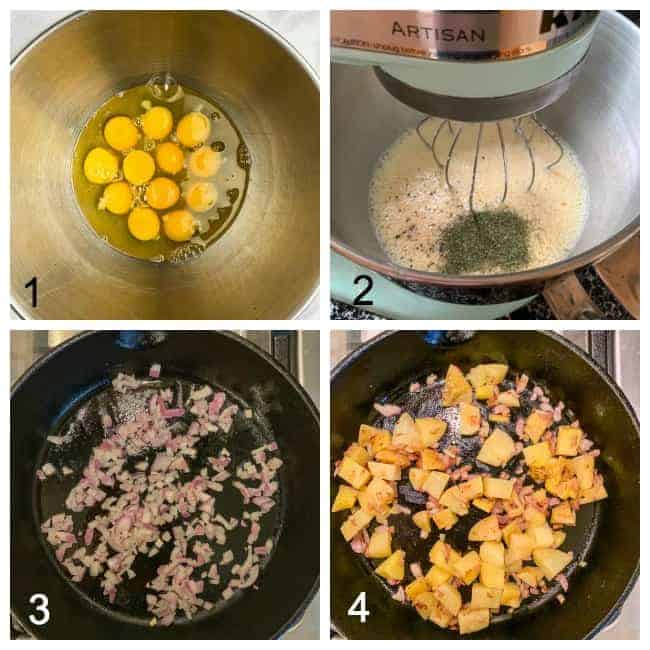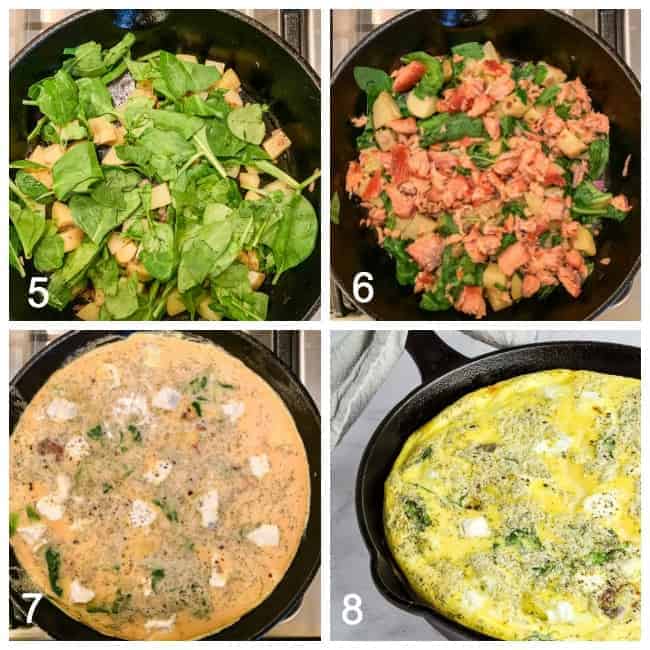 ❓FAQ's
How will I know when the frittata is done?
A frittata will be done when it is light golden in colour and puffed up. When you give the pan a gentle shake, the center will be a little jiggly. Take it out of the oven at this point and let it cool for five minutes on the counter. It will continue to cook and firm up a little.
What's the difference between a frittata and an omelet?
An omelet is of French origin. It is made with beaten eggs that are quickly fried and folded around fillings such as cheese, mushrooms, spinach, ham, bacon or other chopped veggies.

A frittata is like an open-faced omelet with the additions cooked inside. It's usually started on the stovetop and finished in the oven. It's similar to a quiche in that it has a custard-like filling, but it is not baked in a crust, making it ideal for gluten-free diets.
Make this frittata even more appetizing with garnishes!
While a puffy golden frittata looks enticing when you first remove it from the oven, it will deflate somewhat and won't be as appetizing. Here's where garnishes come to the rescue! Add any of the following to dress it up:
sliced cherry tomatoes
fresh herbs, like chives or dill
a few fresh spinach leaves
finely diced red bell pepper
a few pieces of flaked smoked salmon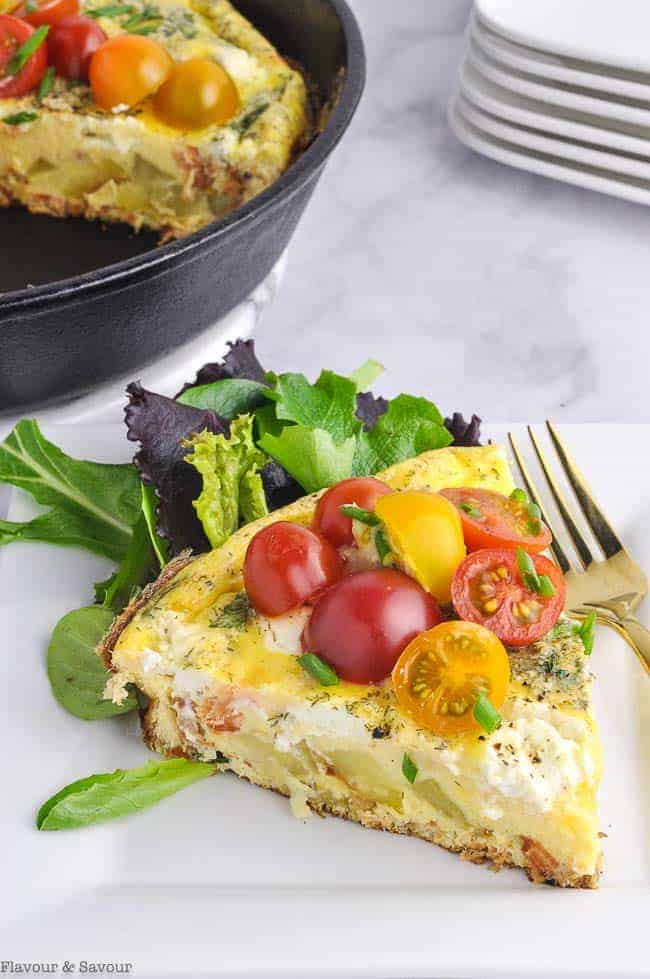 🔁 Possible Variations
Use your favourite cheese instead of goat cheese. I like the combination of smoked salmon with goat cheese as it lets the flavour of the smoked salmon shine. Use what you like!
Leave out the spinach, or use greens of your choice. For example, try finely chopped kale, bell peppers or even leftover veggies.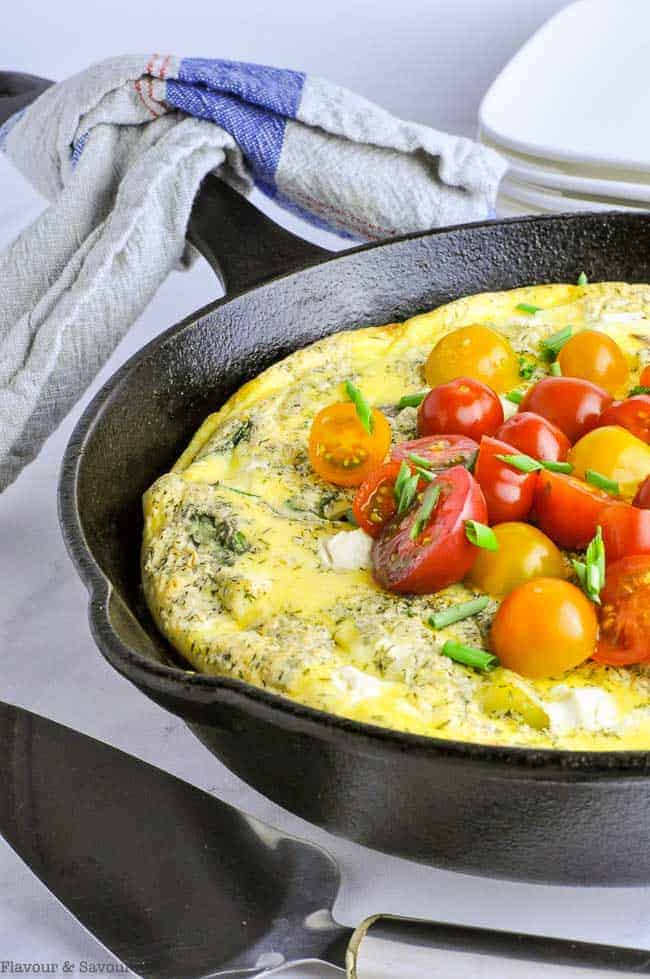 How to Store a Frittata
This smoked salmon frittata will stay fresh for a few days in the refrigerator. Serve it cold, at room temperature, or reheat it gently in the microwave.
Frittatas don't freeze well. They become watery once thawed, so enjoy this brunch or brinner egg dish fresh from the oven!
📖 Recipe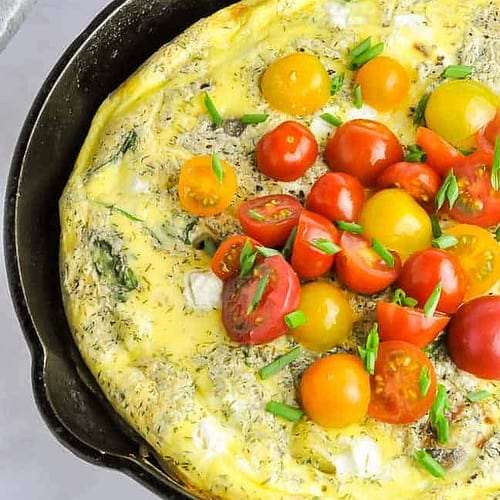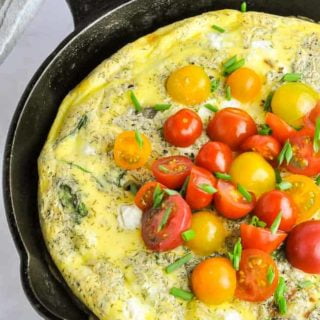 Smoked Salmon Spinach Frittata
This Smoked Salmon Spinach Frittata is creamy, custardy and filled with smoked salmon, potatoes, spinach and goat cheese! A healthy egg recipe for brunch or dinner!
Print
Pin
Rate
Equipment
12 inch cast iron or non-stick oven-proof skillet
Ingredients
12

large

eggs

8

oz

yellow potatoes,

1 ½ cups diced

8

oz

sour cream,

or heavy cream or Greek yogurt

1

teaspoon

Kosher salt

2

tablespoon

fresh dill,

or 2 teaspoon dried dill

1

teaspoon

pepper,

freshly ground

2

tablespoon

butter

½

cup

red onion,

finely diced

2

cups

baby spinach leaves,

roughly chopped

6

oz

hot-smoked salmon,

coarsely chopped

3

oz

creamy goat cheese
Instructions
Dice potatoes and place in a microwave-safe container with 1 tablespoon water. Cook in microwave for 5 minutes on High or until fork-tender. Drain liquid.

In a medium bowl, whisk the eggs, sour cream, salt and dill.

Melt butter in a cast iron skillet or non-stick oven-proof skillet over low heat. Add onions and sauté until translucent but not browned.

Add cooked, diced potatoes and stir to coat with the onions.

Add spinach leaves and cook for 2-3 minutes, just until wilted.

Sprinkle evenly with smoked salmon pieces.

Gently pour egg mixture over the top. Use a spatula to make sure ingredients are evenly distributed. Cook for 2-3 minutes or until the bottom of the frittata begins to set.

Add small dollops of goat cheese to the surface, distributing evenly.

Transfer skillet to a preheated oven. Cook for 20-22 minutes or until puffed and golden.The center should still jiggle slightly. Remove from oven. It will continue to cook a little on the counter.

Let cool for 5 minutes, then garnish with halved cherry tomatoes and freshly snipped chives or other herbs. Slice into wedges and serve.
Nutrition
Calories:
370
kcal
|
Carbohydrates:
8
g
|
Protein:
24
g
|
Fat:
26
g
|
Saturated Fat:
13
g
|
Cholesterol:
465
mg
|
Sodium:
899
mg
|
Potassium:
491
mg
|
Fiber:
1
g
|
Sugar:
2
g
|
Vitamin A:
2084
IU
|
Vitamin C:
8
mg
|
Calcium:
152
mg
|
Iron:
4
mg