Tortilla Española, also known as tortilla de patatas or Spanish tortilla is a traditional Spanish dish made with eggs, potatoes, onions, and olive oil. This simple 4-ingredient recipe always turns out beautifully! While it's a popular choice for a Spanish tapa party, it's also ideal for breakfast, lunch or a light dinner.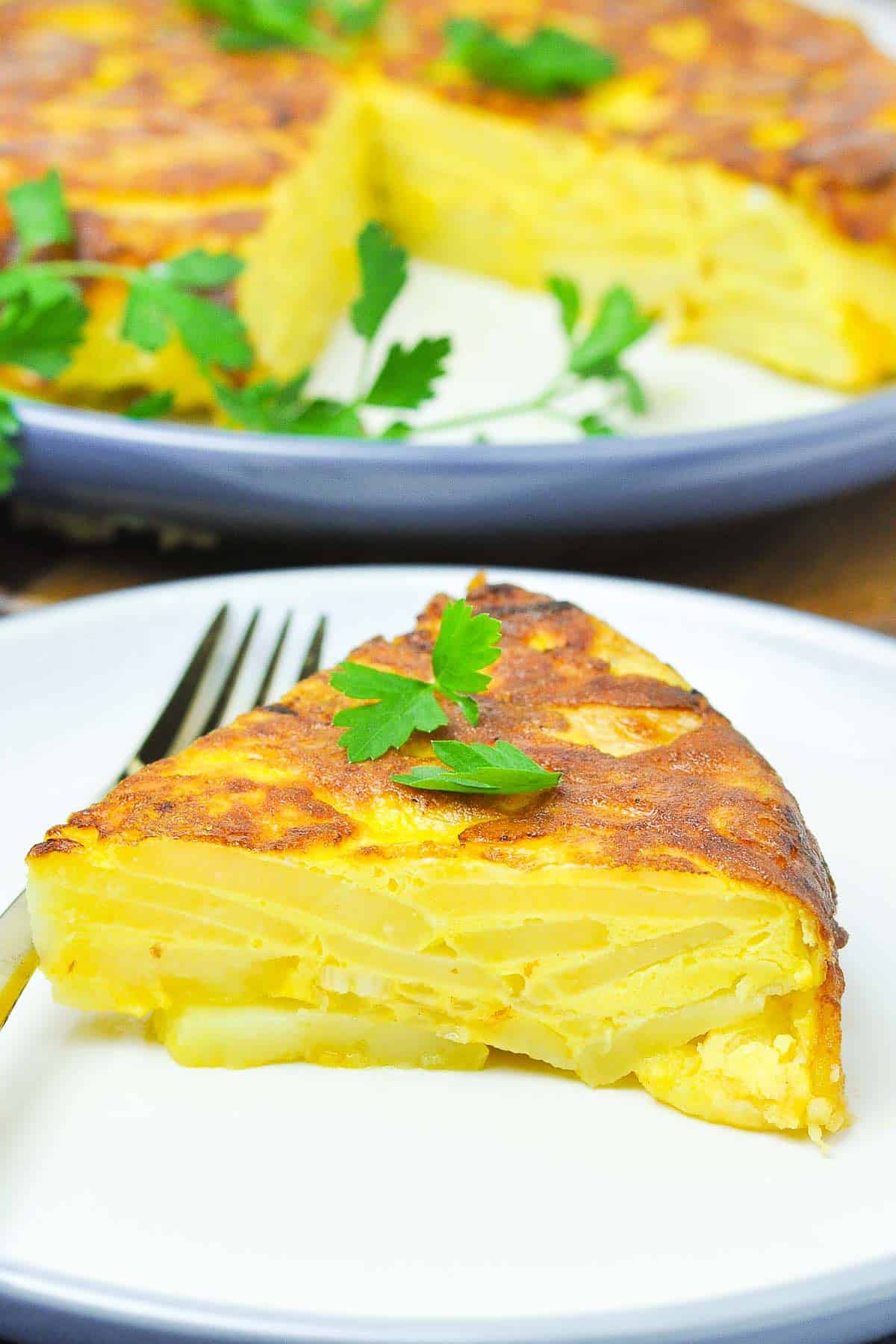 Tortilla Española is a popular tapa (small dish) in Spain. If you travel in Spain youll discover that it is on the menu in every tapa bar, cafe or restaurant! It is commonly served as a snack or appetizer but it can also be a main dish for breakfast, lunch or dinner!
Not only that, you can enjoy it warm straight from the oven, or at room temperature. It is often cut into small pieces or wedges to share with others.
You'll find several recipes for Spanish tapas in my Appetizer index. A few of my favourites are Air Fryer Bacon-Wrapped Dates, these easy Spanish Spiced Almonds, and these oh-so-delicious Prawn and Chorizo Skewers with lemon garlic dip.
Jump to:
❤️ Why you'll love this recipe
Only 4 ingredients: Tortilla Española is the most traditional tapa of all. If you have eggs, potatoes and onions on hand, you can make this classic Spanish tortilla in no time!
Versatile: While I'm posting this recipe to add to my growing collection of recipes for tapas, you'll also love this dish as a meal! It is a versatile dish that can be enjoyed as a snack, appetizer, or main course.
Deliciously satisfying: Tortilla Español is a comforting dish made from a simple yet very flavourful combination of eggs, potatoes, onions, and olive oil. It is slightly firm on the outside with a soft, creamy interior. Potatoes add a subtle sweetness and a slightly earthy flavor, while onions give it a mild, savory taste that perfectly complements the eggs.
It's Spanish, not Mexican. Tortilla Española is nothing like a Mexican tortilla. It's more like a fritatta, but one hundred times more tasty!
Budget-friendly: Spanish tortilla is an inexpensive dish made with simple, everyday ingredients you probably have on hand.
Allergen-friendly: This vegetarian recipe is both gluten-free and dairy-free.
🛒 Ingredients
Ready to make a simple Spanish omelet? You'll find a complete list of ingredients with amounts in the recipe card below. But before we get to the full recipe, here are a few notes about the ingredients.
potatoes: Yukon Gold or another variety of creamy yellow potato is my favourite choice for this recipe.
eggs: You'll need 6 large eggs.
onion: Adds mild, savoury flavour that goes perfectly with potatoes.
olive oil: Gives this recipe a rich, almost nutty flavour.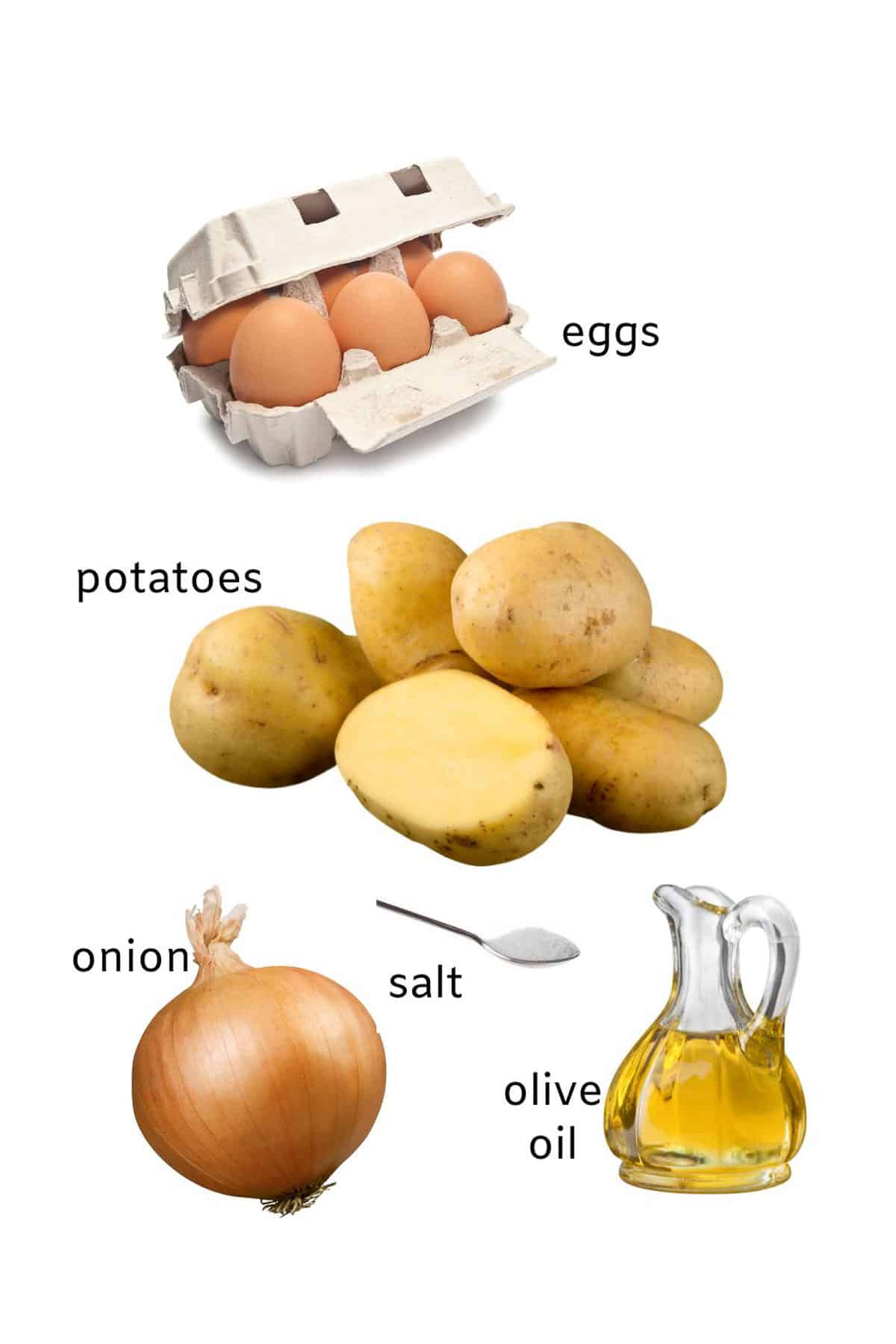 🔪 Step-by-Step Instructions
Here's an overview of what you'll do to make this recipe for Spanish omelette perfectly. You'll find complete instructions in the recipe card at the end of this post.
I have made this simple Spanish tortilla many times, most often as tapas, but also for breakfast, for lunch, and even for a light dinner, and it always turns out perfectly. It's hard to mess up this recipe!
Here's a list of the equipment you'll need:
an ovenproof skillet (cast iron works well)
a large pot to cook the potatoes
a sharp knife (or a mandolin slicer)
a large bowl
a whisk
a large plate
Simply cook the potatoes until just tender. Drain the potatoes, slice them, sauté the onions, whisk the eggs, add a little salt and mix it all together.
Pour into a preheated ovenproof skillet with a generous amount of olive oil, let it set just for a minute, then bake it in the oven.
When it is done, run a spatula around the edge of the skillet. Invert a large plate over the skillet and flip the two over. The tortilla will release easily and should slide right out. It will be a beautiful golden brown!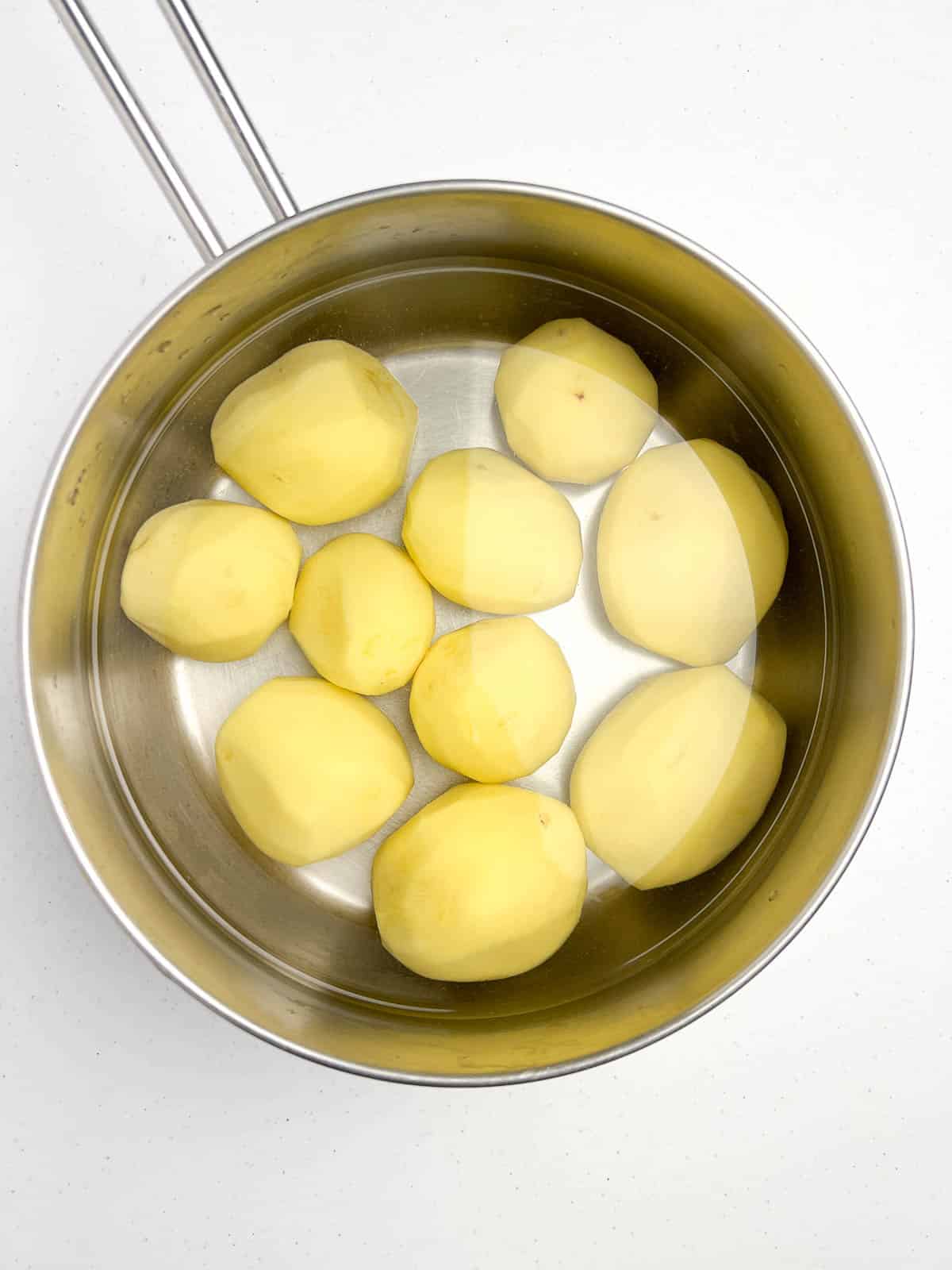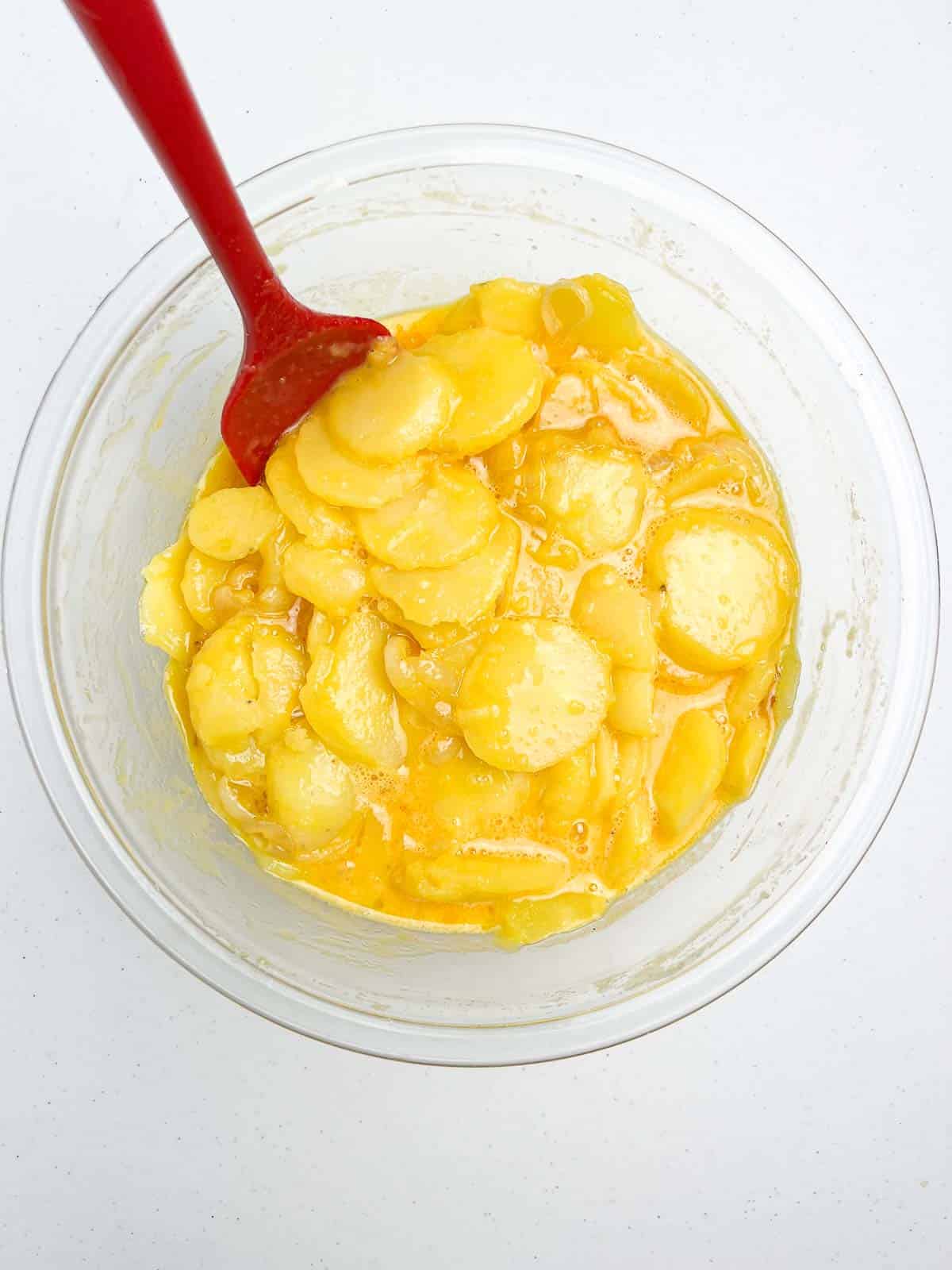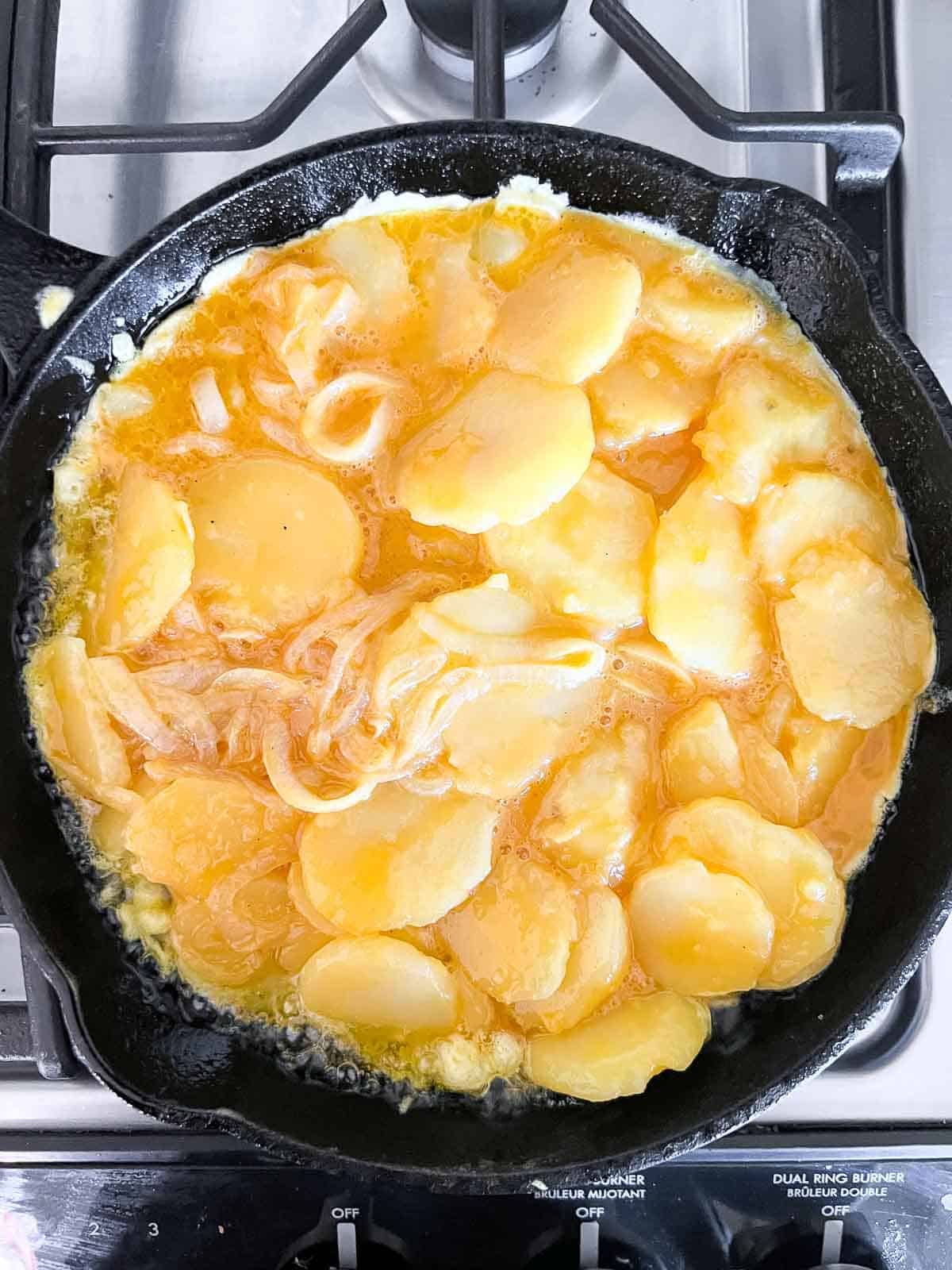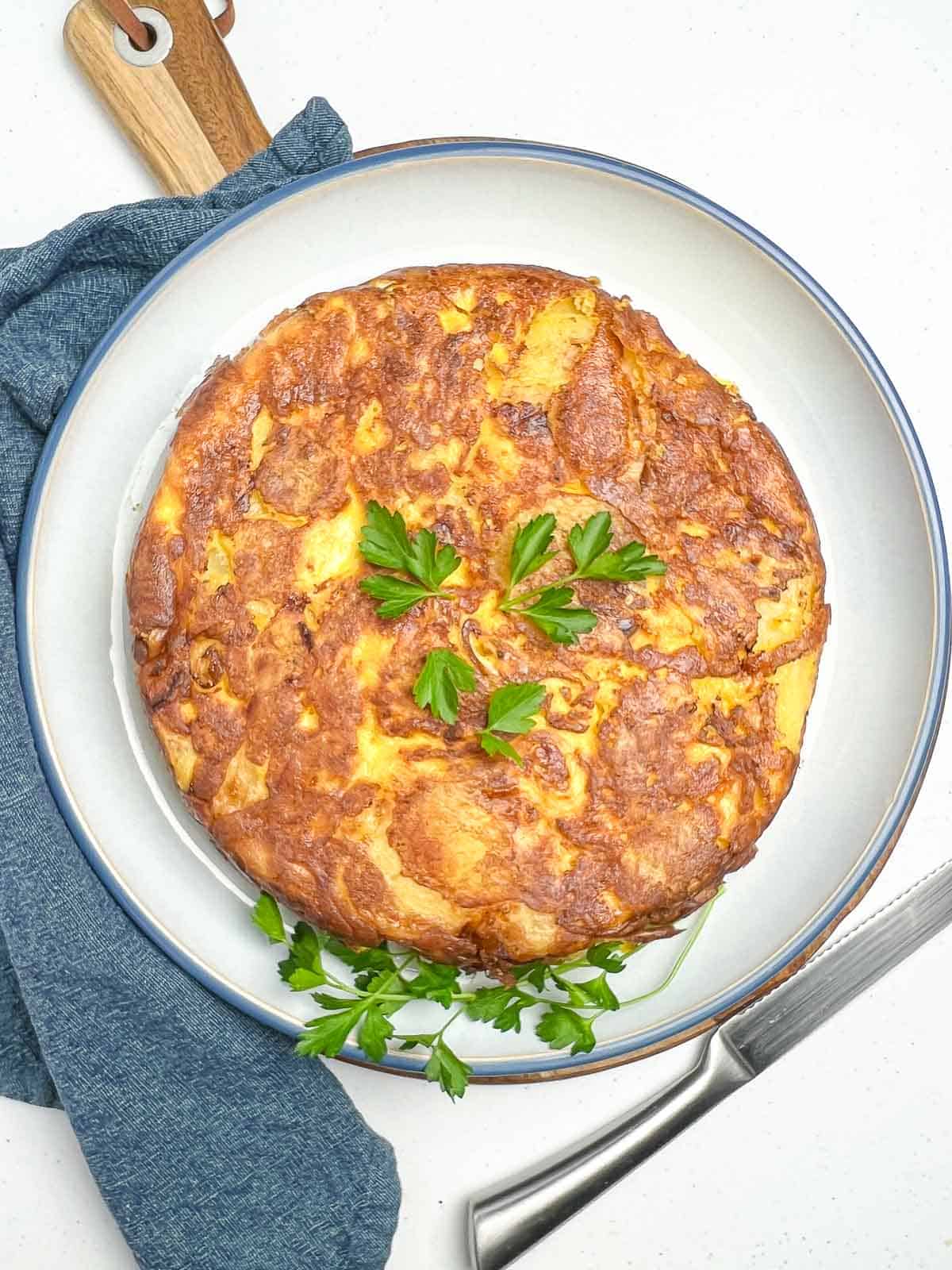 🔁 Possible Variations
You can make many variations of this traditional Tortilla Española by adding different ingredients. Here are a few examples:
Spinach Tortilla or Tortilla de Espinacas: add sautéed spinach to the egg and potato mixture.
Tuna Tortilla or Tortilla de Atún: stir in canned tuna to the mixture.
Mushroom Tortilla or Tortilla de Setas: add sautéed cremini or shiitake mushrooms to the egg and potato mixture.
Ham and Cheese Tortilla or Tortilla de Jamón y Queso: delicious with added diced ham and grated cheese.
These are just a few examples of the many variations of Tortilla Española that you can try at home.
👍🏼 Helpful Tips
Don't skimp on the oil! Most recipes for Spanish tortilla call for ½ cup of olive oil. I've reduced that to ⅓ cup in this recipe successfully. It adds so much flavour and it prevents the tortilla from sticking to the pan. (Use the full ½ cup if you'd like!)
Use a toothpick to check for doneness. The top might look like it is not completely cooked after it has baked for 20 minutes or so, but use the toothpick test to check. It can be deceiving!
❓Did you know?
Tortilla Espanol is a staple of Spanish cuisine that probably originated in Spain in the 19th century. This national dish is said to have been created by farmers who used the simple ingredients of eggs, potatoes, onions, and olive oil that were readily available to them.
It was something a shepherd could wrap in brown paper, shove in his pocket, and save for his lunch.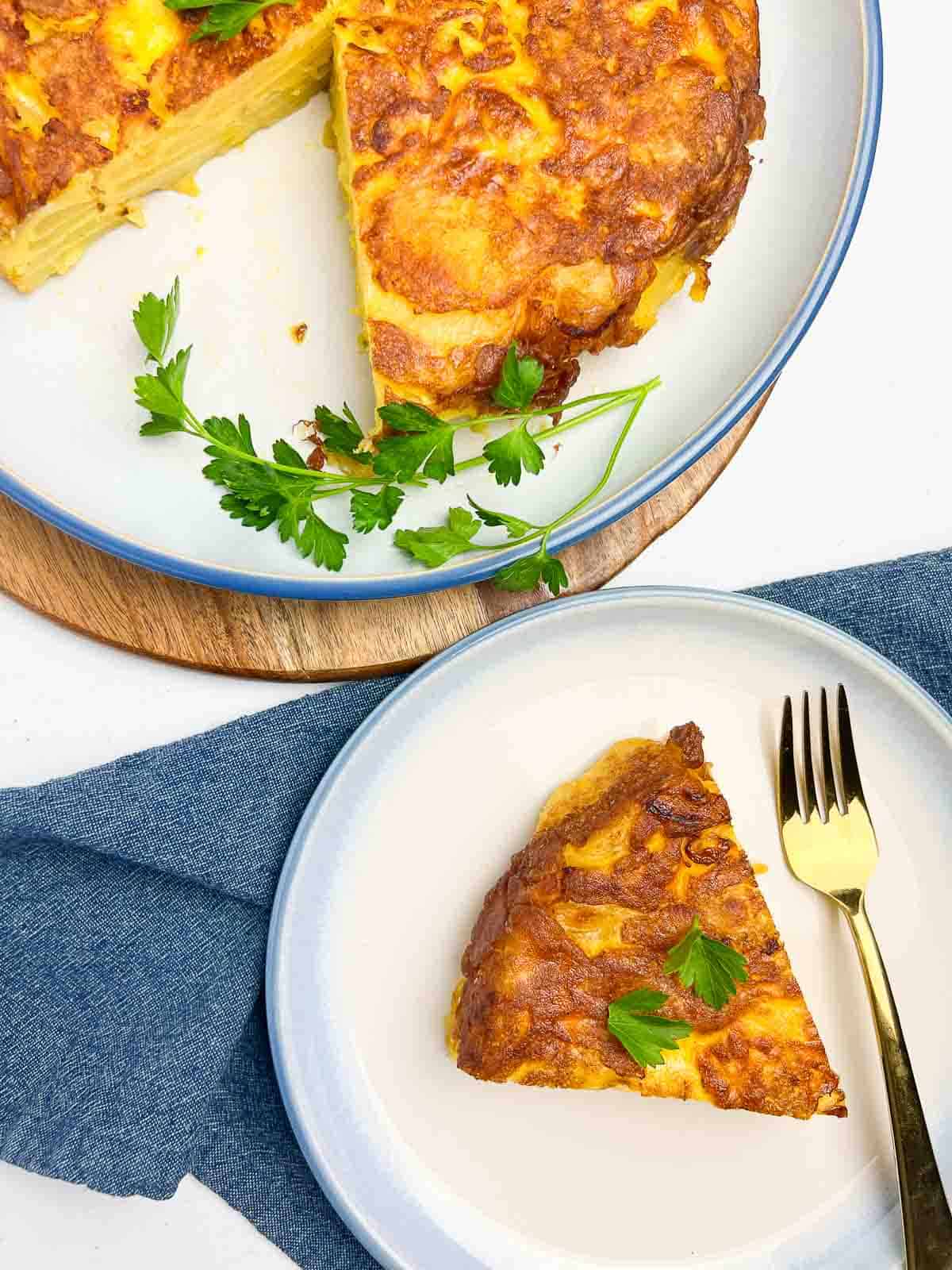 ⏰ How long will tortilla española last?
Spanish tortilla will last for 3 days. You can store it at room temperature, or in the fridge. It is delicious both warm or cold.
If you'd like to serve leftovers warm, reheat them in the oven at 325°F. for about 10 minutes or until warmed through.
I don't recommend freezing it.
🍽 How to serve Tortilla Española
Tortilla Española can be served in a variety of ways, depending on the occasion. Here are some suggestions:
As a tapa: Cut the tortilla into small wedges or cubes and serve it as a snack or appetizer. Top it with a good quality Spanish olive or a slice of pimento as a garnish.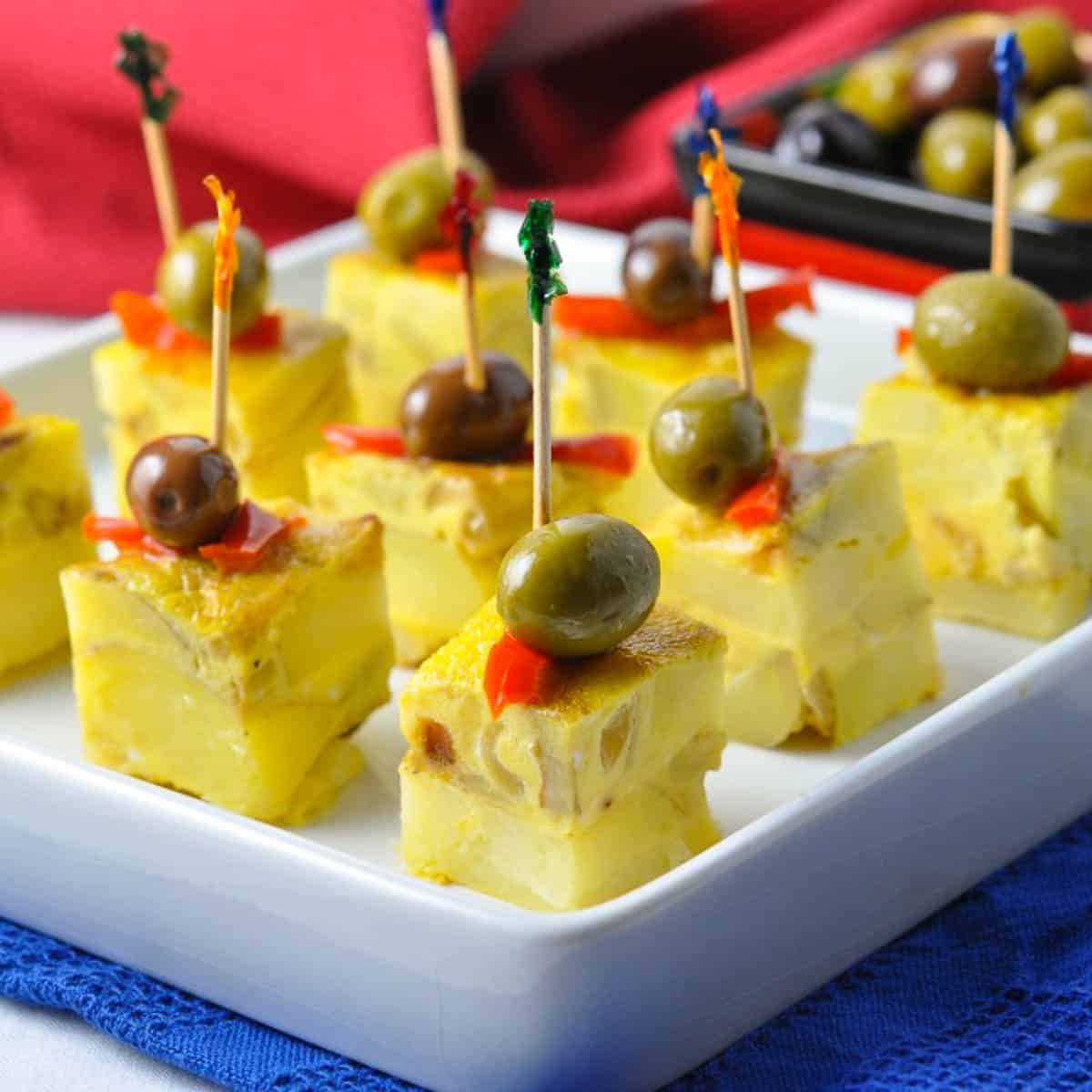 As a sandwich: Slice the tortilla horizontally and stuff it with lettuce and tomato and aioli. Or make a bocadillo de tortilla by stuffing a slice of it between two slices of warm crusty baguette with a slather of aioli.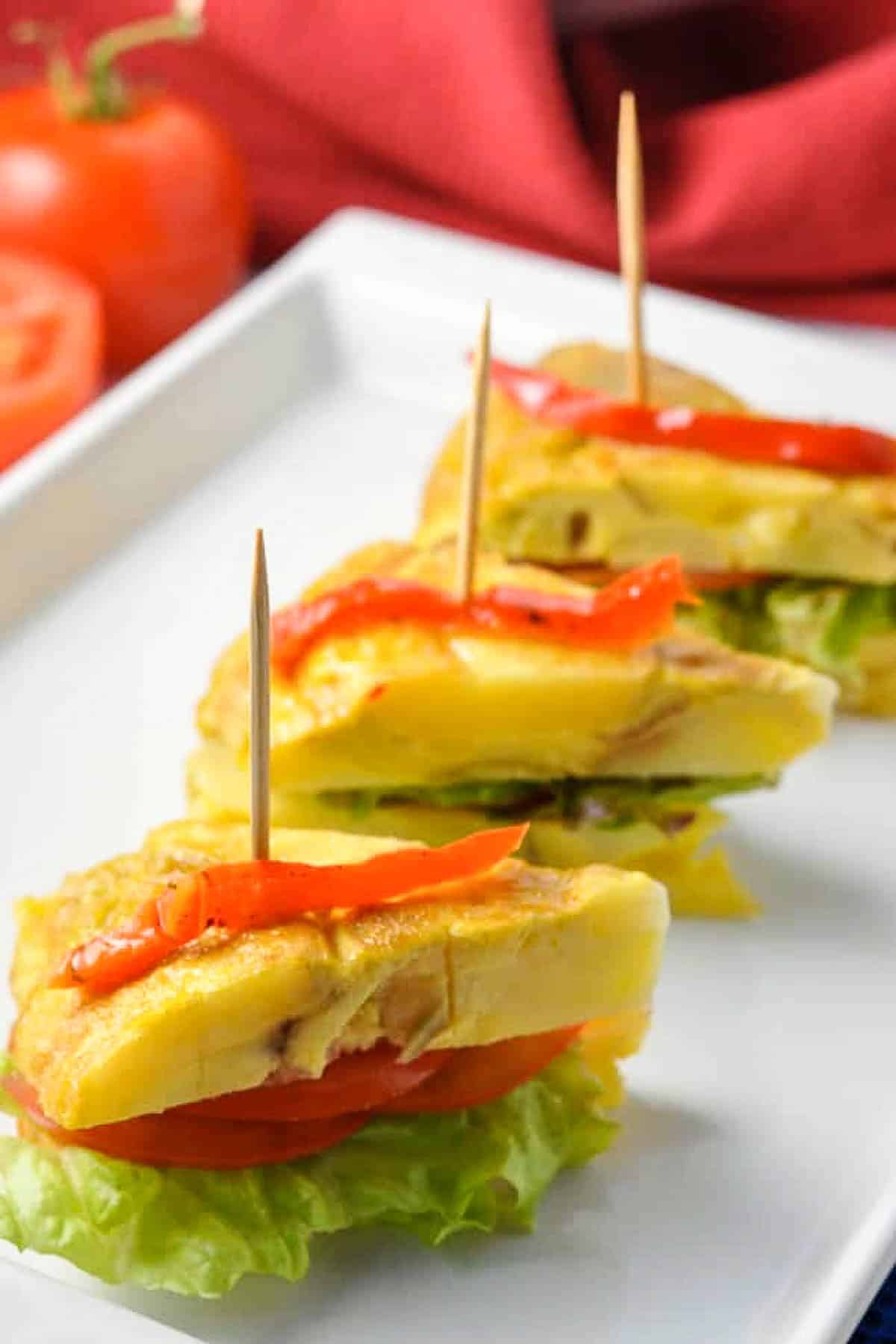 As a main course: Serve a larger portion of the tortilla as a main course for breakfast, lunch or dinner, along with a healthy side salad or vegetables.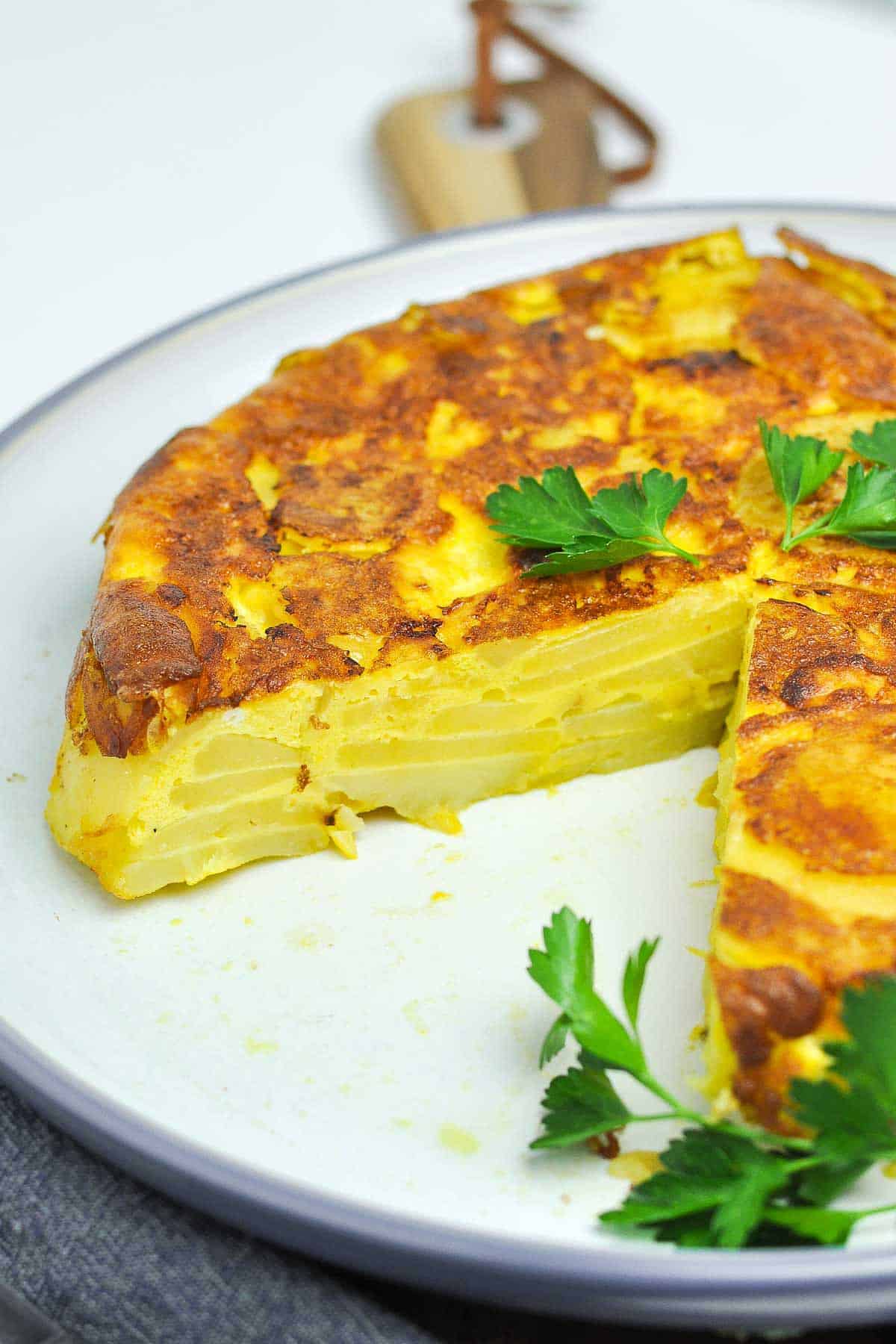 With sauce: My favourite way to serve the tortilla is with a side of easy garlic aioli or this flavourful Mediterranean Romesco sauce for dipping or drizzling.
At room temperature: Tortilla Española can be served at room temperature, making it a great option for picnics, camp-outs or deck parties.
With toppings: Add toppings, such as sliced avocado, crumbled feta cheese, or chopped herbs like parsley or oregano to the top of the tortilla before serving for extra flavour and texture.
These are just a few ideas for serving Tortilla Española, but feel free to get creative and come up with your own favorite ways to enjoy this classic Spanish dish!
Enjoy this traditional Spanish tortilla for breakfast, lunch or dinner . . . or plan a tapas night soon!
🗒 More recipes for tapas and appetizers
Did you make this recipe for Tortilla Española?
Please leave a comment and a star rating below. I love hearing from you! Thanks in advance. Subscribe to my newsletter and receive new recipes delivered straight to your inbox once a week.
📖 Recipe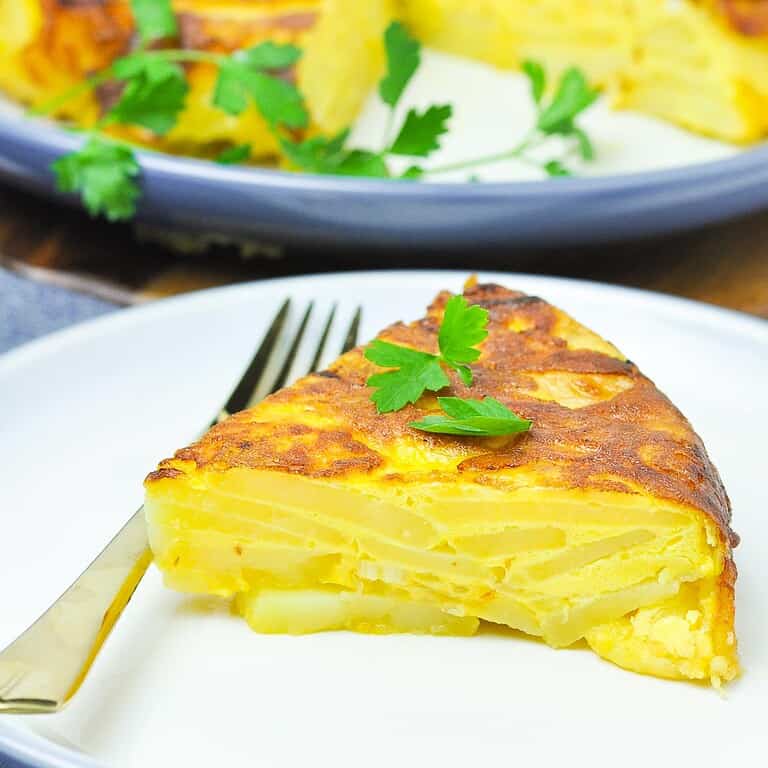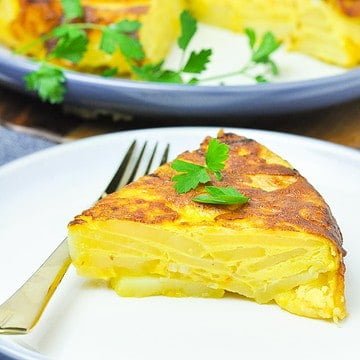 Tortilla Española: Classic Spanish Tortilla
Tortilla Española--the most traditional Spanish tapa is quick and easy to make. Delicious!
Print
Pin
Rate
Share by Text
Ingredients
2

pounds

Yukon Gold potatoes,

or yellow creamy potatoes

6

large

eggs

1

large

yellow onion

sliced

⅓

cup

extra-virgin olive oil

1

teaspoon

sea salt
Instructions
Peel the potatoes. In a large pot, cover them with cool water and boil until they are just fork-tender. Avoid overcooking or the potatoes will not slice nicely. Slice thinly. Using a mandolin slicer produces uniform slices, but it's not essential. A sharp knife will work too.

Heat half of the oil in an ovenproof skillet over medium heat and sauté the onions, just until translucent but not browned.

Whisk eggs in a large bowl. Add the sliced, cooked potatoes, salt and onions.

Add the remaining oil to the frying pan and when hot, pour in the egg-potato-onion mixture. Let it cook for a minute or two, just until the edges are set.

Transfer the skillet to the oven and bake at 350 F. for 20 minutes or until the egg has set. A toothpick inserted in the center should come out clean.

Run a spatula around the edge of the skillet to loosen the tortilla. Invert a serving plate over the skillet and flip the plate and the pan over together. The tortilla will release easily.

Allow to cool slightly. Slice into wedges or small squares and serve warm or at room temperature.
Nutrition
Calories:
304
kcal
|
Carbohydrates:
29
g
|
Protein:
10
g
|
Fat:
17
g
|
Saturated Fat:
3
g
|
Polyunsaturated Fat:
2
g
|
Monounsaturated Fat:
11
g
|
Trans Fat:
0.02
g
|
Cholesterol:
186
mg
|
Sodium:
469
mg
|
Potassium:
742
mg
|
Fiber:
4
g
|
Sugar:
2
g
|
Vitamin A:
274
IU
|
Vitamin C:
32
mg
|
Calcium:
52
mg
|
Iron:
2
mg
*This post was originally published in 2015. I have updated it with new photos, tweaked the recipe and expanded the instructions.