Stuff fresh figs with soft goat cheese and drizzle with honey for an amazing starter or dessert. Or stuff with blue cheese, add hazelnuts and a drizzle of balsamic reduction! This post includes three ways to serve fresh figs, no baking required!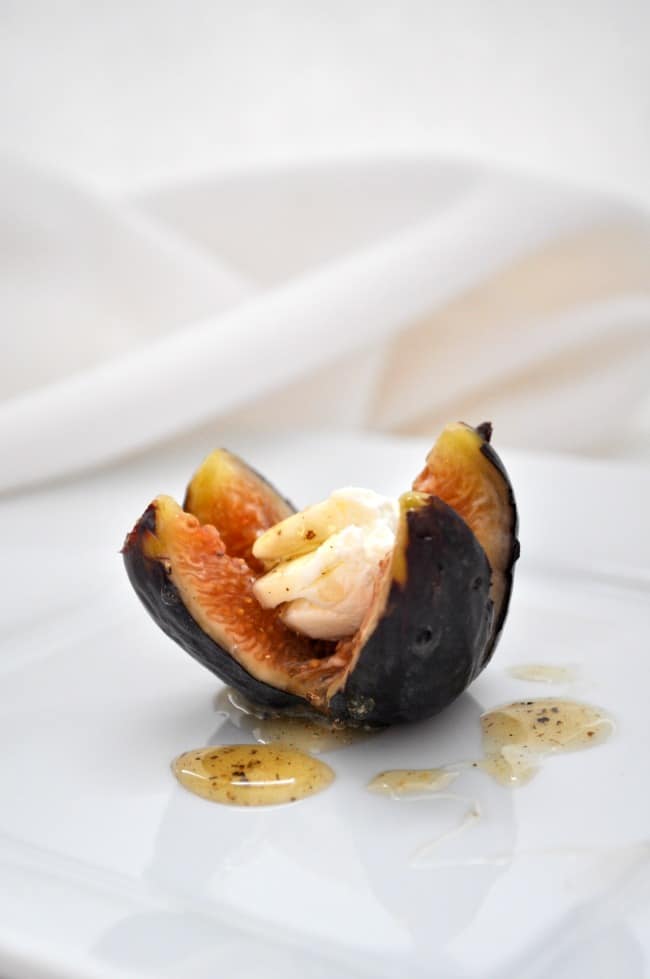 Fresh figs stuffed with goat cheese and drizzled with honey make a spectacular appetizer, or dessert!
If your only experience with figs has been those store-bought cookies packed in your lunch when the homemade ones were all gone, it's time to branch out and sample some fresh ones. Fresh figs are simply luscious!
❤️ Why you'll love this recipe
There is no need to bake figs in this recipe. Simply slice a fresh fig into quarters, fill the center with soft goat cheese and drizzle with warmed honey! So easy, and so much flavour without having to roast figs!
This recipe is quick and easy. You're not roasting figs in the oven, so it's a healthy snack you can whip up at the last minute. And there's nothing as wonderful as biting into a fresh fig!
These Fresh Figs with Goat Cheese and Honey will open a whole new world of possibilities for you. Stuffed figs make an incredible goat cheese starter, or even a light dessert! See my ideas for different variations below.
🛒 Ingredients
fresh figs: any variety. Desert King, Brown Turkey and Black Mission are common varieties you'll find in supermarkets or farmer's markets.
goat cheese: soft variety, or you can substitute blue cheese
honey: plain liquid honey, or try these with lavender-infused honey. You'll find instructions for how to make lavender-infused honey in this recipe for Fresh Apricots with Goat Cheese and Lavender Honey
Instructions
Gently wash and wipe the figs.
Remove the stem with a sharp knife. Cut the figs in quarters, making sure to not cut all the way through.
Stuff 1 teaspoon of goat cheese into the center of each fig.
Drizzle with honey or lavender-infused honey and serve.
Commonly asked questions about figs
I honestly can't decide if these figs with goat cheese recipes are appetizers or desserts. I mean, fruit paired with cheese is traditionally served after dinner in France, n'est-ce pas? But these stuffed figs are pretty darn cute and I think they'd work equally well as a little pre-dinner nibble.
You decide. Or have them before AND after. They're just that good.
📖 Recipe
This post has been updated with more information to make it more helpful!