These Japanese Chicken Yakitori Skewers are traditional street food, grilled and basted with an amazing sweet and savoury sauce and topped with a zesty sesame-lemon sprinkle. They're tender, bite-sized chicken kabobs with rich umami flavours, ideal as an appetizer or a main dish. A 30-minute recipe!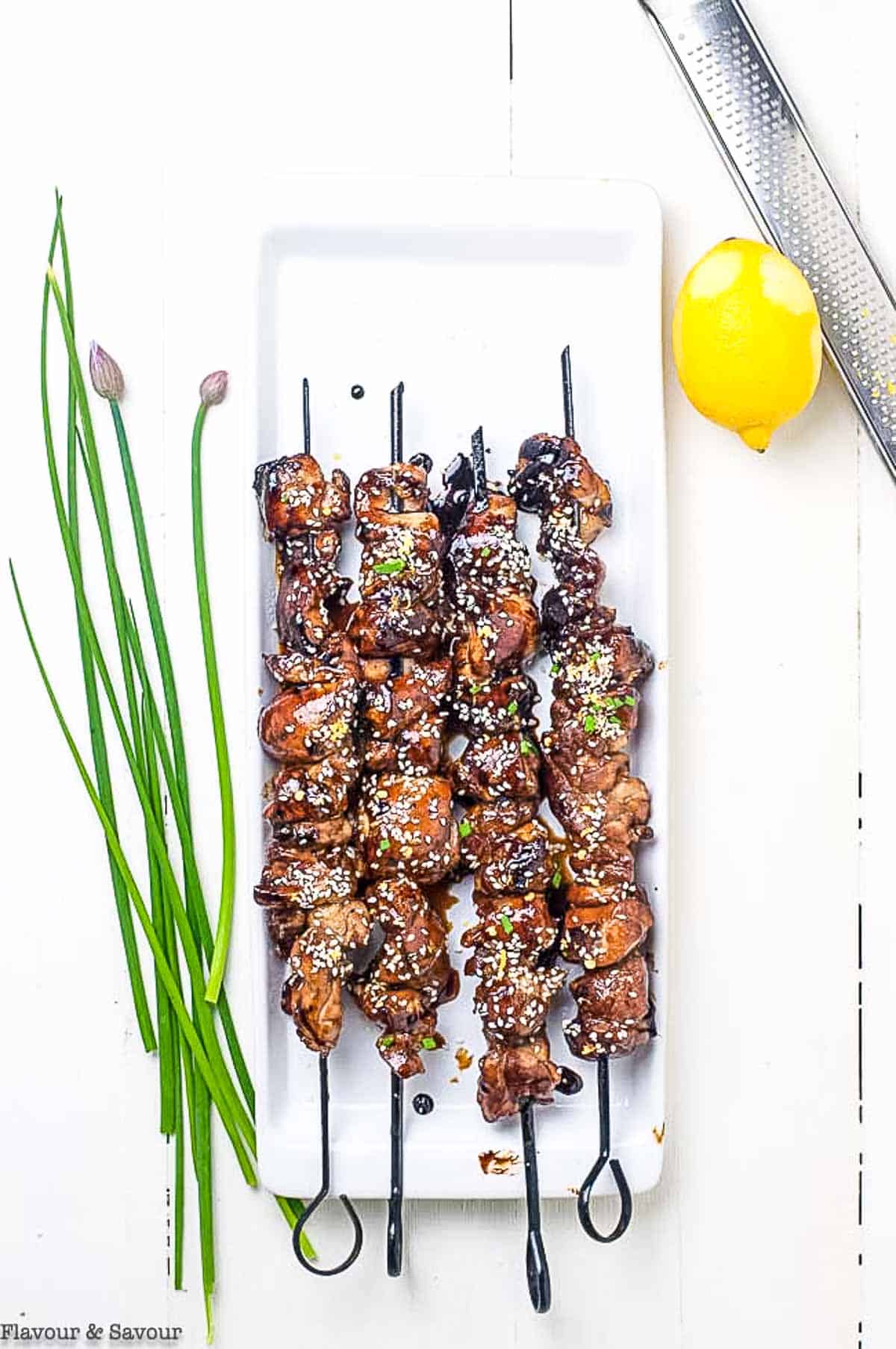 Add some Asian-inspired flair to your next party with these Japanese Chicken Yakitori Skewers! These bite-sized pieces of tender chicken thighs have all the flavours you'd expect in traditional Japanese food: sweet, salty, savoury and umami. But wait! There's more.
They're garnished with a zesty sprinkle of sesame and lemon which puts them over the top.
I've made these Ginger-Garlic Glazed Korean Chicken Skewers and these Greek Lemon Chicken Kabobs many times lately, but today I decided to try something with a Japanese influence instead!
❓ What is chicken yakitori?
Yakitori is Japanese barbecue chicken, threaded onto skewers, grilled over a charcoal flame and glazed with a richly flavoured sauce.
While travelling in Tokyo, we discovered that yakitori skewers are popular with commuters as an after-work snack, (similar to satay stalls on the street corners of Singapore.) Street vendors offer different types of yakitori outside metro stations and on street corners.
These popular street food skewers are basted in tare, a sweet soy sauce and mirin mix which gives them a rich deep colour and umami flavour.
While yakitori has traditionally been viewed as a cheap meal, high-end yakitori restaurants are also popular in Japan.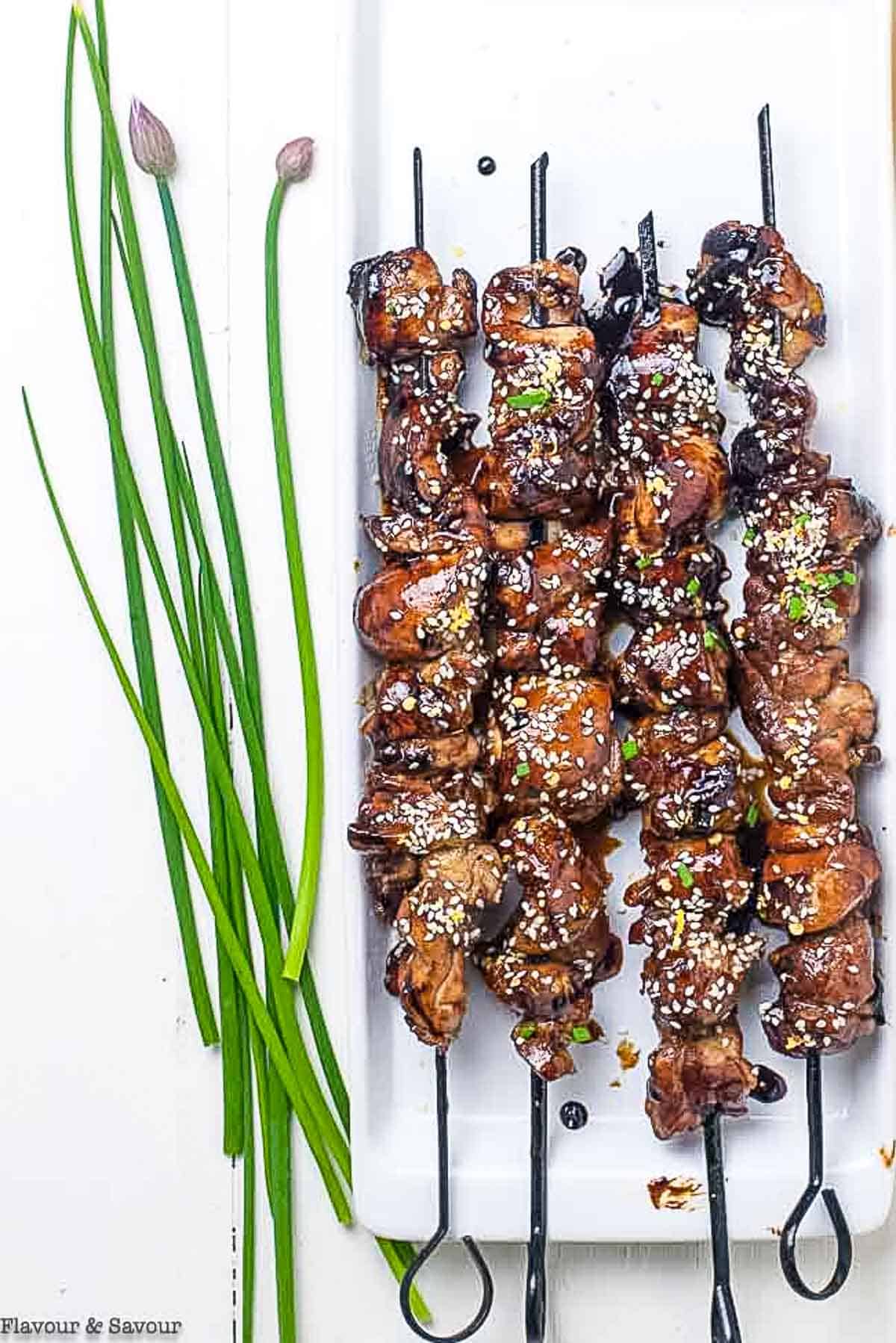 Japanese chicken yakitori skewers offer a harmonious blend of savoury, sweet, and smoky flavours along with a tender, juicy texture. It's no wonder they're such a popular street food!
There's no need to travel to Tokyo to enjoy this Japanese BBQ! You can make these easy Japanese chicken skewers at home. Serve them as either an appetizer or as a main meal with sides.
🛒 Ingredients
Two things make these homemade yakitori skewers incredibly delicious: juicy chicken thighs and a flavourful basting sauce! Here's what you'll need:
coconut sugar or brown sugar
mirin: sweet Japanese rice wine adds sweetness. If you can't find mirin, you can substitute sake, dry sherry or a sweet white wine plus an extra pinch of sugar.
tamari: gluten-free soy sauce. If you're following a paleo diet you can use coconut aminos instead.
rice vinegar: adds the necessary acid to balance the flavours
chicken thighs: boneless, skinless so they cook quickly. Thighs will result in juicier meat than breasts.
vegetable oil for the grill
for the not-to-be-missed garnish: sesame seeds, chives, red pepper flakes and lemon zest
This yakitori sauce has those almost indescribable umami flavours! As you baste the chicken on the grill, the sauce caramelizes, leaving a deep rich colour and intense flavour on the chicken thighs. Oh-so-good!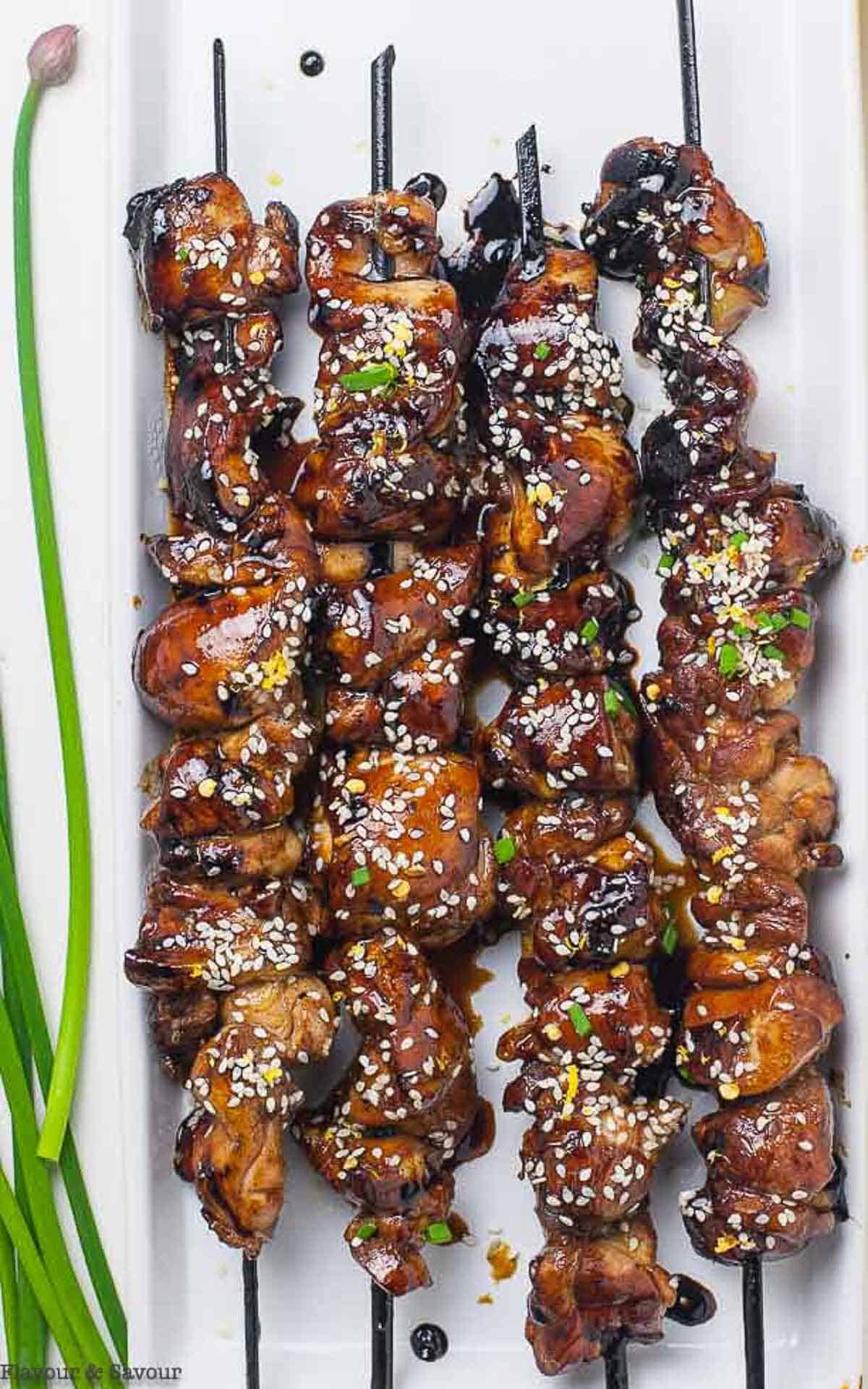 🔪 Instructions
Here's an overview of what you'll do. You'll find complete instructions in the recipe card below.
If using wooden skewers or bamboo skewers, soak them in water for an hour or two.
First, combine the ingredients for the sesame-lemon sprinkle in a small bowl and set aside.
Next, in a small saucepan, combine the marinade ingredients. Slice the chicken thighs in half lengthwise, transfer to a resealable bag or marinating container and add ¼ cup of the yakitori chicken marinade. Refrigerate the chicken.
Simmer the remaining marinade over medium-high heat until it is syrupy and reduced by half. Remove from heat.
Heat the grill. If using charcoal, bank the coals on one side of the grill. If using gas, leave one side of the grill on low heat. Oil the grates.
Thread the chicken onto skewers, accordion-style. Sprinkle with salt and grill over direct heat, rotating until browned, about 3-4 minutes. Then move to the cooler side of the grill and continue to cook, basting every minute or so until skewers are cooked through and nicely glazed.
Remove from the grill before topping with a sesame-lemon sprinkle and/or fresh chives or even green onions.
Expect rave reviews! And if you like tender chicken in a super flavourful sauce, try this 20-Minute Japanese Chicken Stir Fry with Broccoli or these Air Fryer Teriyaki Chicken Wings, too!
👍🏼Helpful Tips
Remember to soak your wooden skewers for at least 30 minutes while you're preparing the yakitori chicken marinade.
If you're using metal skewers, I find the ones that are flat instead of round tend to hold the meat firmly in place while you flip the skewers over on the grill.
🥶 Make ahead and freeze
You can make this Japanese chicken recipe ahead of time and store it as a freezer meal. Freeze the chicken pieces right in the marinating container with the marinade. Reduce the remaining marinade and freeze it separately.
Thaw in the refrigerator overnight, then thread the chicken pieces on the skewers and grill as outlined in the recipe card.
How to store Japanese yakitori skewers
Refrigerate leftovers promptly in an airtight container. Reheat in the oven in foil at 350°F. for 10 - 15 minutes or until heated through.
🗒 More skewer or kabob recipes
🗒More 30-minute meals to try
🌟 Did you make this recipe?
When you make this chicken yakitori recipe, please leave a comment and a star rating below. I love hearing how my recipes turned out for you, or what adaptations you made. Thanks in advance! Subscribe to my newsletter and have new recipes delivered straight to your inbox.
📖 Recipe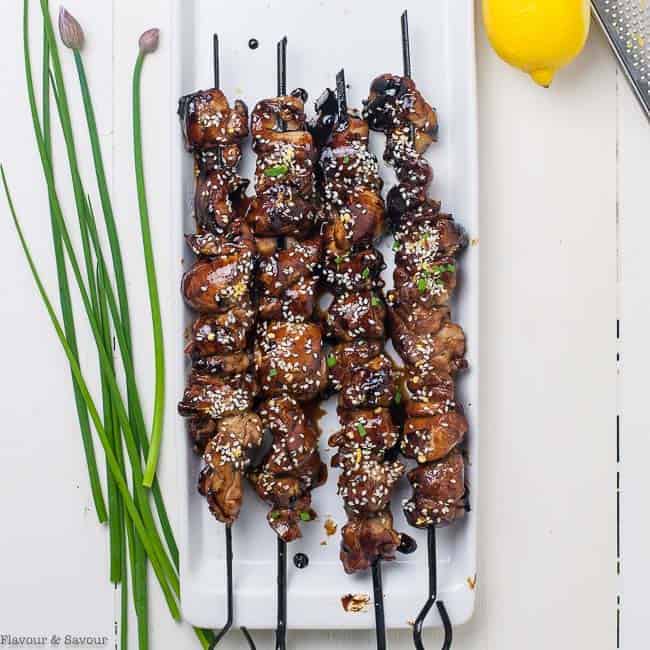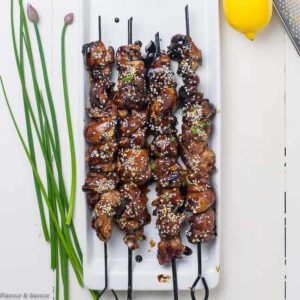 Easy Japanese Chicken Yakitori Skewers
These Easy Japanese Chicken Yakitori Skewers are traditional Japanese food, grilled and basted with a sweet and savoury sauce and topped with a zesty sesame-lemon sprinkle.
Print
Pin
Rate
Servings:
8
appetizers, 4 as a meal
Ingredients
⅓

cup

coconut sugar,

or brown sugar

⅓

cup

mirin,

sweet Japanese rice wine

⅓

cup

tamari,

or coconut aminos for paleo diet

¼

cup

rice vinegar

8

medium

chicken thighs,

boneless, skinless

vegetable oil

for the grill
Sesame Lemon Sprinkle
2

tablespoons

sesame seeds

1

tablespoon

chives,

snipped

1

teaspoon

dried red pepper flakes

1

teaspoon

lemon zest,

finely grated
Instructions
Combine coconut sugar, mirin, tamari (or soy sauce or coconut aminos) and vinegar in a small saucepan.

Before heating, transfer ¼ cup of the mixture to a resealable plastic bag or marinating container.

Slice chicken thighs lengthwise, add to the bag and massage to coat. Chill in the refrigerator for 2 hours or more.

Simmer the remaining marinade over low heat until reduced by half. It will have the consistency of syrup. Remove from heat.

Heat one side of a gas grill to medium-high and the other to low. (If using coals, bank them on one side). Clean the grates with a barbecue brush then oil them. Thread chicken on to 4 skewers, accordion style.

Grill over direct heat until nicely browned, 3-5 minutes. Remove to the cooler side of grill and continue to cook, basting and turning every minute or so until cooked through, about 7 - 10 minutes depending on the temperature of the grill. Use an instant-read thermometer to make sure the internal temperature of the chicken is at least 165°F.

Remove to a serving platter, top with sesame-lemon sprinkle and serve.
Notes
You can make the marinade ahead if you'd like. Cool and chill, then bring to room temperature before using. See the recipe post for freezing instructions.
Nutrition
Calories:
304
kcal
|
Carbohydrates:
11
g
|
Protein:
19
g
|
Fat:
19
g
|
Saturated Fat:
5
g
|
Cholesterol:
110
mg
|
Sodium:
719
mg
|
Potassium:
267
mg
|
Sugar:
6
g
|
Vitamin A:
180
IU
|
Vitamin C:
0.6
mg
|
Calcium:
33
mg
|
Iron:
1.4
mg
This recipe was inspired by Soy-Basted Chicken with Sesame-Citrus Sprinkle from Bon Appetit.