A simple, spectacular 5-minute appetizer made with fresh figs, salty goat cheese and sweet maple-glazed walnuts.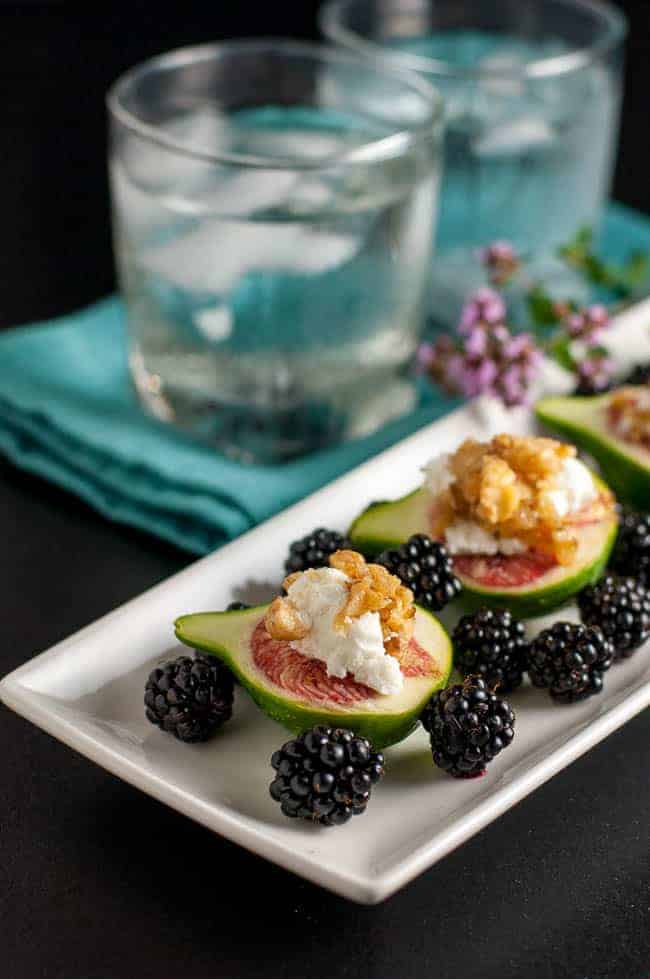 With more and more figs ripening on the tree in our yard every day, I've been looking for new ways to serve them. I love them in this Fresh Fig Arugula Salad with Blackberries, and this Honey Roasted Fig and Burrata Crostini, but today I just made a simple appetizer. These fresh figs with goat cheese and maple walnuts were quick to whip up and they made a healthy summer snack.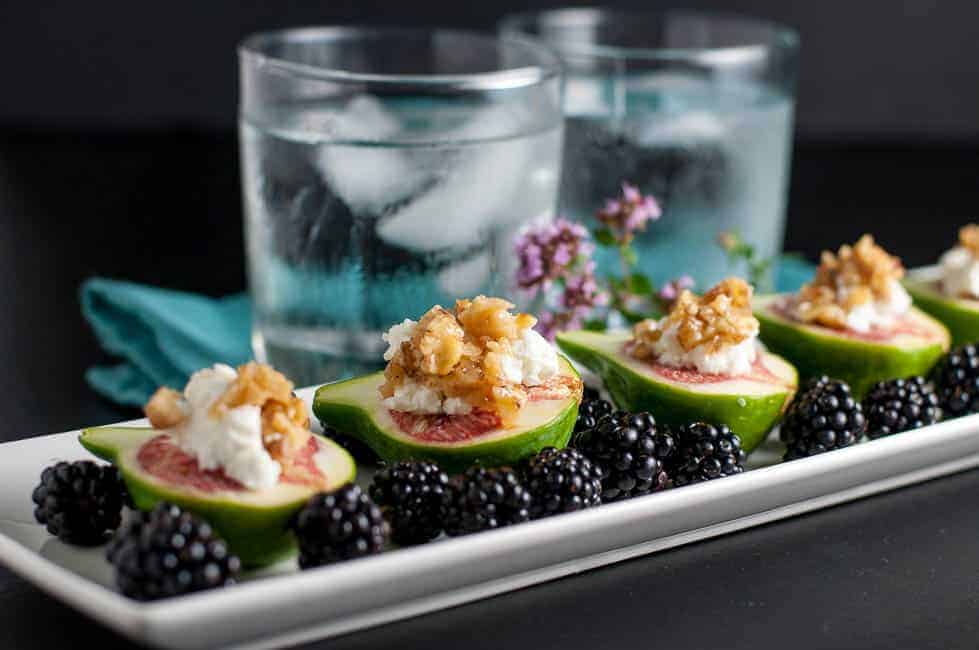 Is there anything as luscious as fresh figs? Their flavour and texture are unique. Smooth skin and sweet chewy flesh make fresh summer figs something to seek out and enjoy during their short season.
There's no need to peel figs. Their skin is soft and completely edible. Several varieties of figs are available and their colours range from blackish-purple with pink flesh (Black Mission), purple skin and red flesh (Brown Turkey), greenish-yellow skin with amber flesh (Calimyrna) or green skin with pink flesh (Desert Sun).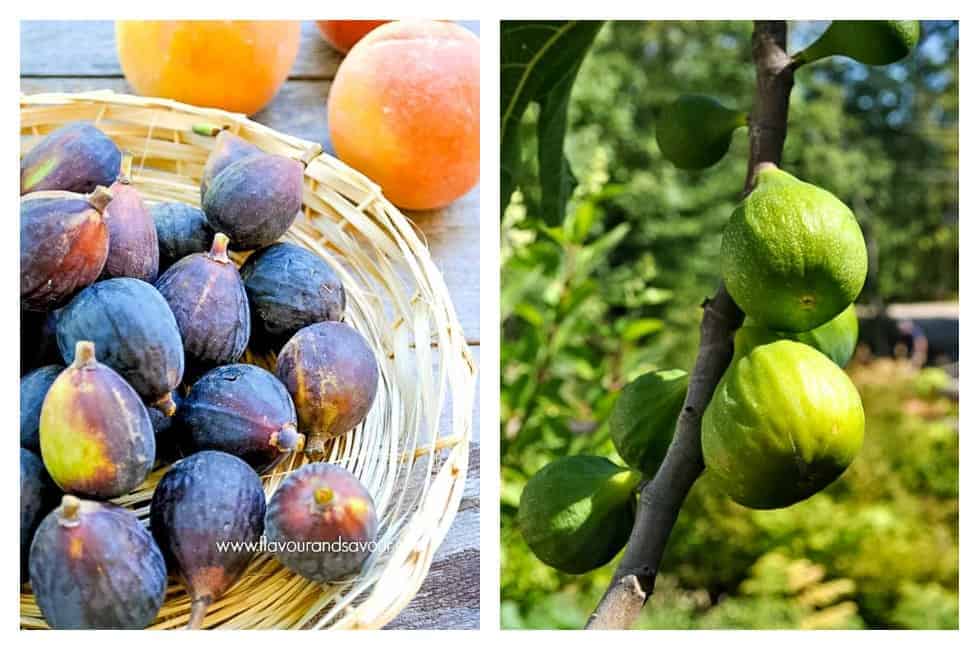 How do you know if figs are ripe?
If you are picking figs from a tree, look for ones that are just starting to bend from the branch. They become heavy as they ripen, gravity works its magic and they begin to droop and move closer to the branch. They should give just a little when you apply pressure. If they're fully ripe (and therefore the tastiest they can be) a simple twist will remove them from the branch. If they begin to drip, it means they are so ripe that they can't hold their nectar and you are in for a taste treat. Get them quick before the wasps or birds beat you to them.
If you're buying figs in a market or store, look for those with smooth, unblemished skin. They should be firm but give a little with pressure. Avoid those that are soft and mushy or those that are too hard. They won't fully ripen if they've been picked too early. Figs spoil quickly, so use them right away or keep them in the refrigerator for a day or two.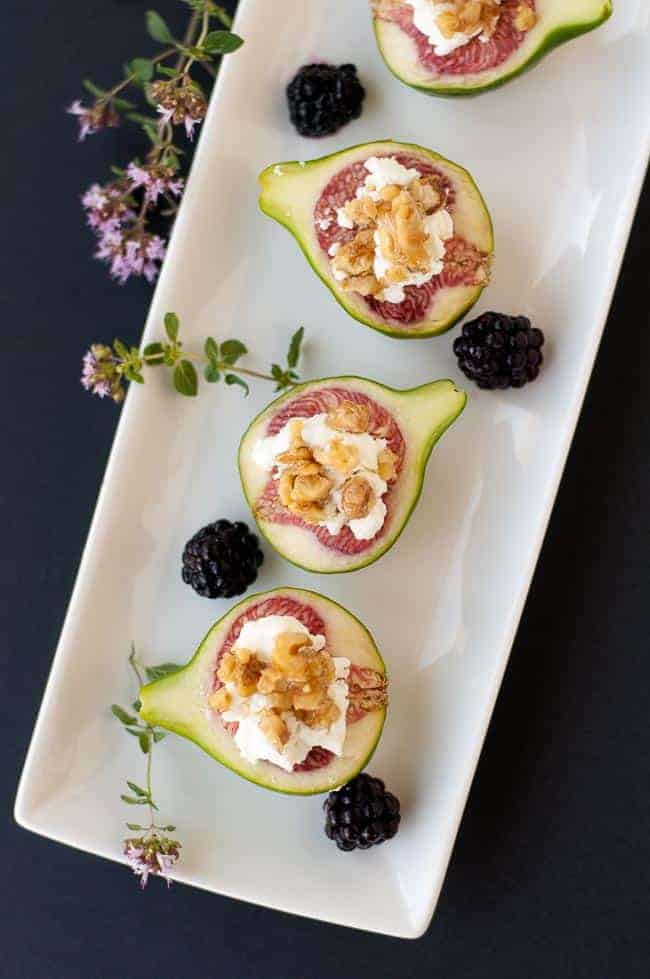 Are figs good for you?
Yes! Figs may help build strong bones, as they contain calcium, magnesium and Vitamin K. They're high in fiber, so they help with digestion. They're also a source of iron and other essential vitamins and minerals. Figs contain potassium, which may help to lower blood pressure. They're listed as "medium" on the Glycemic Index scale.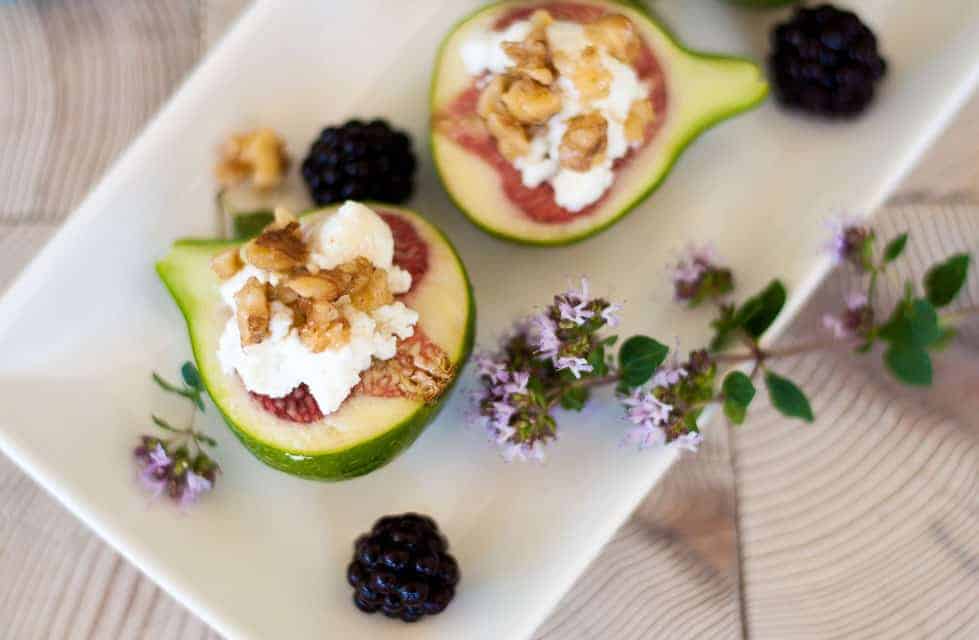 I really hope you get a chance to try some fresh figs this summer. This recipe for fresh figs with goat cheese and maple walnuts takes only five minutes to prepare. Just toss a small handful of chopped walnuts in a heated skillet with 2 teaspoons maple syrup, cook for a few minutes until caramelized, then remove from the heat and add a pinch of smoked sea salt.  Slice the figs in half, top with goat cheese, sprinkle with the maple-glazed walnuts and serve. So good!
And if you want to try other similar fig appetizer recipes, try this Fresh Fig Appetizer with Blue Cheese and Hazelnuts or these Fresh Figs with Goat Cheese and Honey.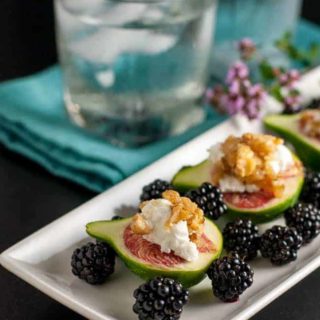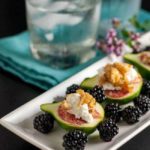 Fresh Figs with Goat Cheese and Maple Walnuts
A simple, spectacular 5-minute summer appetizer made with fresh figs, salty goat cheese and sweet maple-glazed walnuts.
Print Recipe
Ingredients
6

fresh figs

1/4

cup

creamy goat cheese

2

tbsp

walnuts

2

tsp

maple syrup

pinch of smoked sea salt
Instructions
Prepare Maple-Glazed Walnuts first. Heat a small skillet over medium heat. Add 2 Tablespoons walnuts and 2 teaspoons maple syrup and cook, stirring occasionally until walnuts are toasted and syrup has caramelized, about 3 minutes. Sprinkle with a pinch of smoked sea salt.

Trim stems from figs and slice in half. Slice a tiny piece of the rounded part of each fig half so they will sit level on a serving plate.

Top cut side with 2 teaspoons goat cheese and sprinkle with maple-glazed walnuts and serve.
Nutrition
Calories:
45
kcal
|
Carbohydrates:
5
g
|
Protein:
1
g
|
Fat:
2
g
|
Cholesterol:
2
mg
|
Sodium:
17
mg
|
Potassium:
65
mg
|
Sugar:
4
g
|
Vitamin A:
1.7
%
|
Vitamin C:
0.6
%
|
Calcium:
1.8
%
|
Iron:
1.3
%
Nutrition Facts
Fresh Figs with Goat Cheese and Maple Walnuts
Amount Per Serving
Calories 45
Calories from Fat 18
% Daily Value*
Total Fat 2g 3%
Cholesterol 2mg 1%
Sodium 17mg 1%
Potassium 65mg 2%
Total Carbohydrates 5g 2%
Protein 1g 2%
* Percent Daily Values are based on a 2000 calorie diet.
Other favourite fresh fig recipes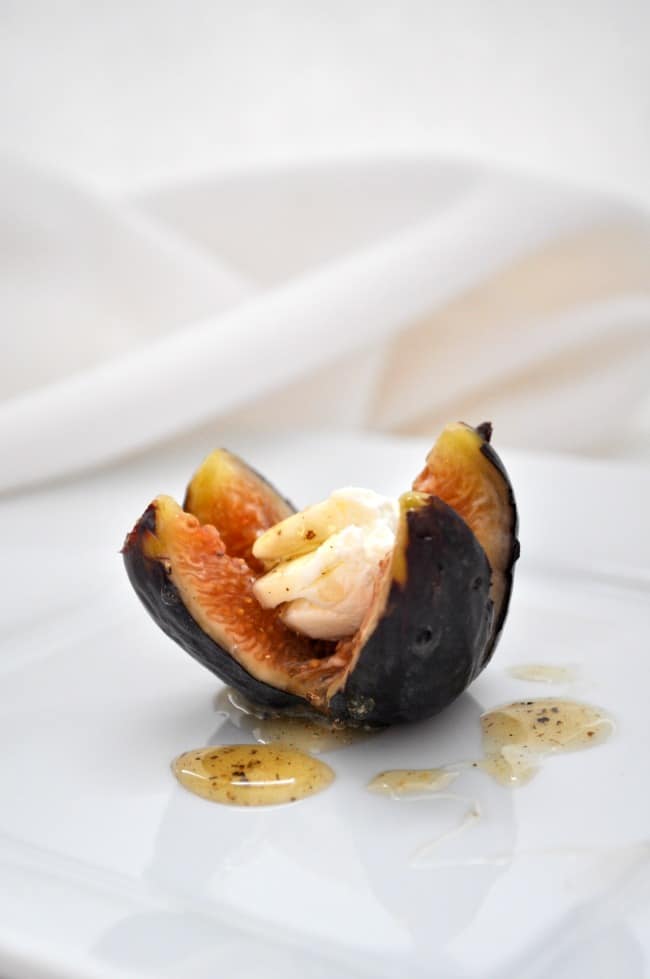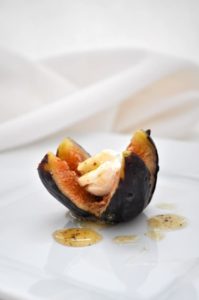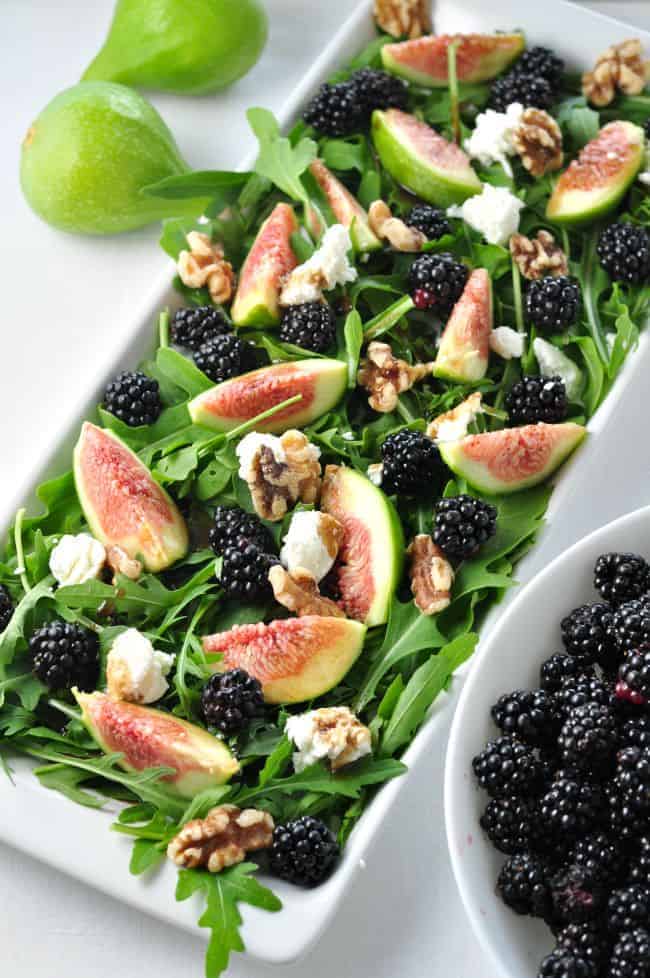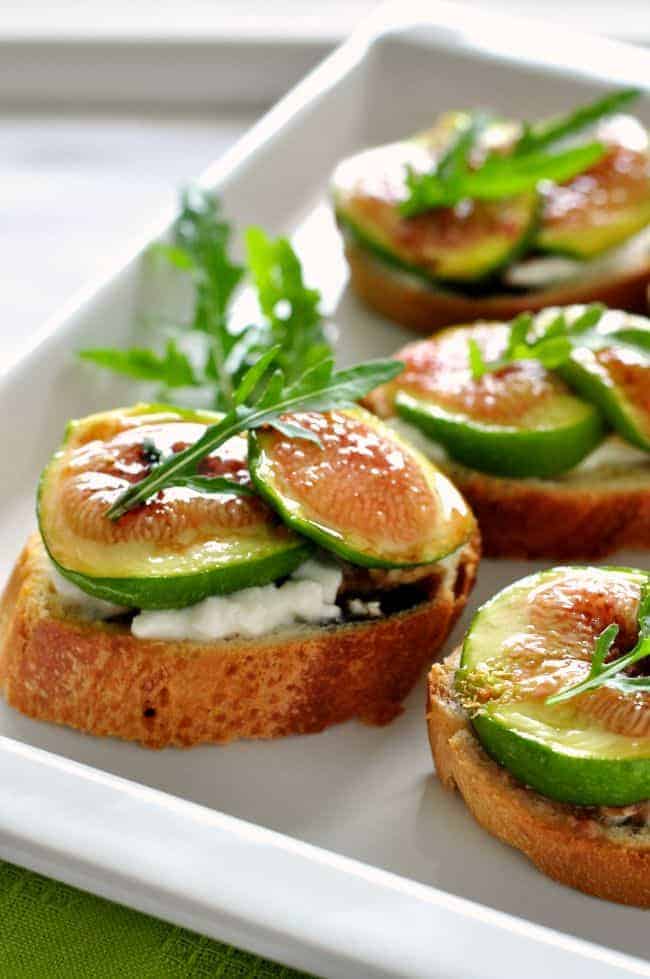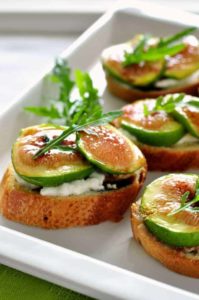 This post may contain affiliate links. If you click on any of the affiliate links and make a purchase within a certain time frame, I'll receive a small commission. The commission is paid by the third party, not by you. I am a participant in the Amazon Services LLC Associates Program, an affiliate advertising program designed to provide a means for me to earn fees by linking to Amazon.com and affiliated sites.
SAVE THIS TO ONE OF YOUR PINTEREST BOARDS
and
connect with me on Pinterest
! I'm always finding new tasty recipes to pin. Subscribe to my weekly newsletter and never miss a recipe!