Use your slow cooker or stove top and make your home smell like Christmas with this Simmering Holiday Potpourri! Wrap it up in small packages for gifts and attach a printable gift tag.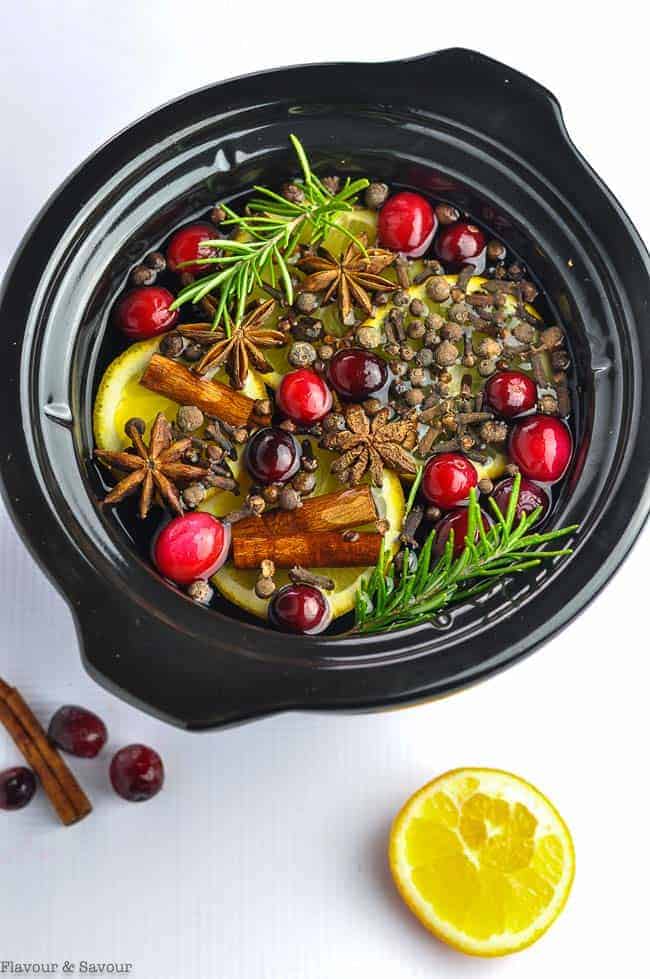 As I write this, I have this simmering holiday potpourri in my slow cooker. My kitchen is filled with the warm, earthy scents of cinnamon, cloves, allspice, and oranges. It smells like Christmas!
I decided to package this slow cooker simmering spice mix as gifts after I received a comment on my Instagram photo of my potpourri mix. One of my followers told me she had decided to make little boxes of this as gifts for her friends. I thought it was such a great idea, so I've included little printable "Scents of the Season" gift tags that you can print and attach to your packages, too.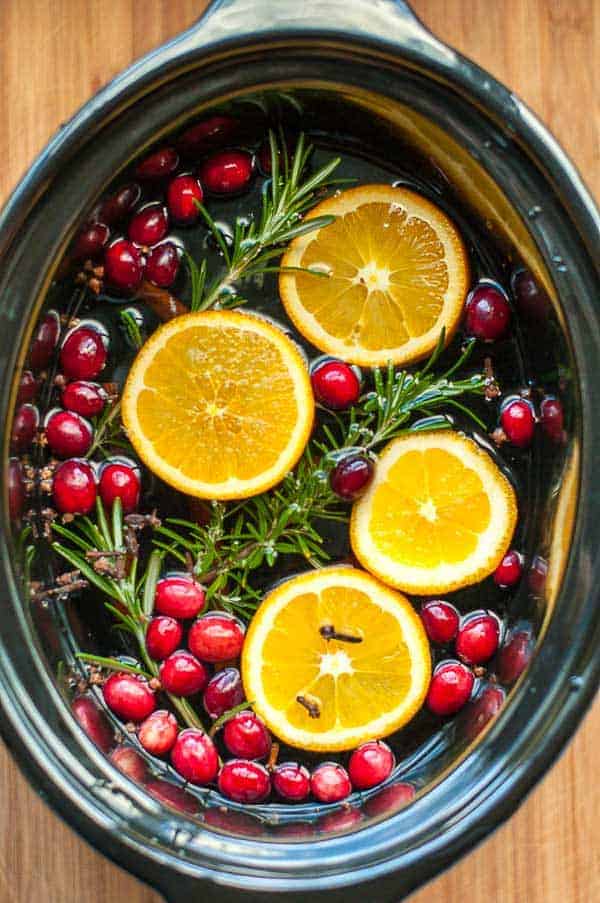 Favourite scents bring back happy memories!
Do you have a favourite smell?
Recently, my brothers and I were recalling our childhood memories of Grandma's freshly baked buns. Tuesdays were always Raisin Bun Day at Grandma's. Her kitchen was filled with warmth from the oven, butter melting on buns and one-of-a-kind grandmotherly love.
Over the years, I've searched for her recipe in family memento boxes, but I have yet to find it.
Our sense of smell evokes memories and brings back pictures as clear and sharp as if they were yesterday. Grandma's freshly baked buns, evergreen boughs, and Black Magic chocolates are all scents that I remember from my childhood Christmases. Our olfactory system is situated in the part of our brain that is important for memory. There are strong neural connections between these two.
I hope you'll get a chance this season to make this DIY holiday potpourri. Bring back some happy memories of past Christmases!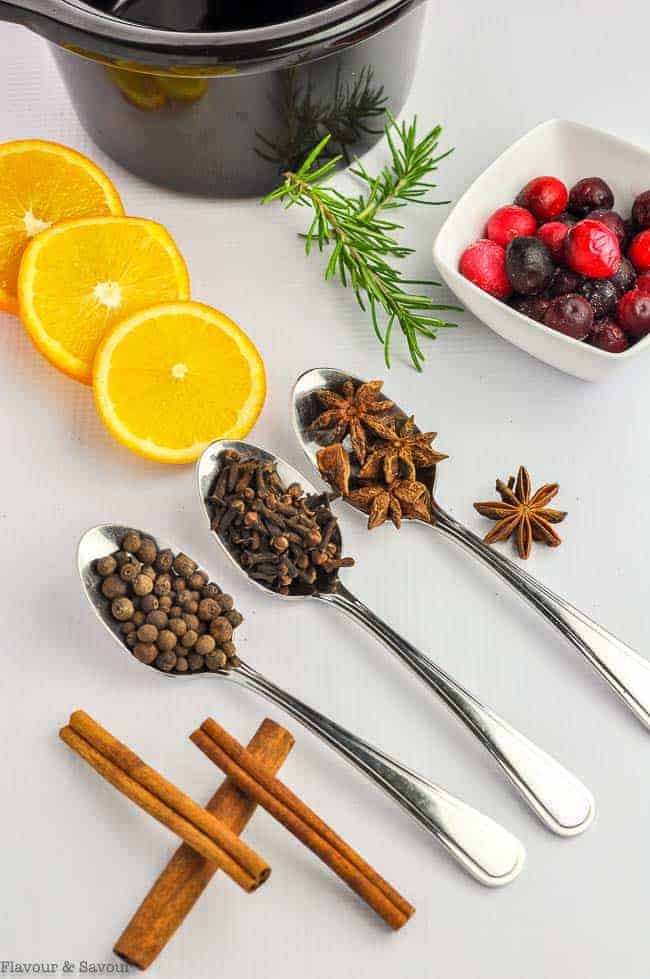 Ingredients for Simmering Holiday Potpourri
You'll only need a handful of ingredients to make this spice mix. You'll be using whole spices, not ground. Ground spices may eventually turn into muck in the bottom of your saucepan or slow cooker.
cinnamon sticks: you can find these in the spice aisle of your local supermarket
whole allspice: its aroma is hard to define, but it smells like a combination of cinnamon, cloves and nutmeg
whole cloves: these give a sweet and spicy aroma. Did you know that the aroma might reduce drowsiness, irritability, or even headaches?
whole star anise: for a pungent aroma that smells a little like licorice
cranberries: fresh or frozen
orange slices: for a fresh clean scent and to add colour to your spice mix. Apple slices will work, too!
You can also add fresh rosemary or even bay leaves to the mix for more scents and colour.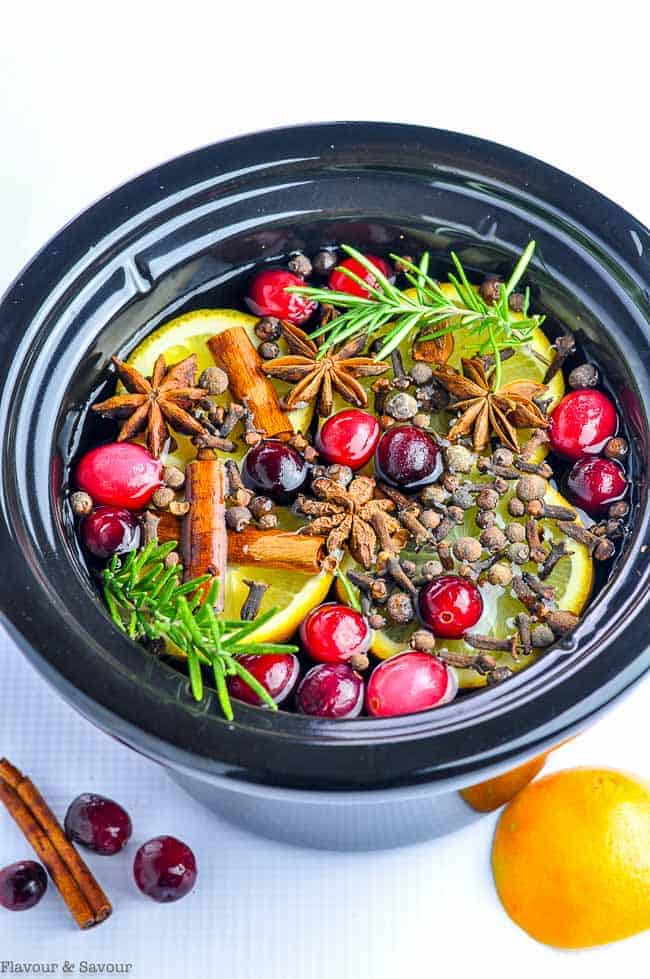 How to Make DIY Simmering Holiday Potpourri
The recipe includes amounts for one package. If you want to make a large quantity, just adjust the amount by using the little slider when you click on the Servings in the recipe card below.
Add 2 to 4 cups of water or apple juice to a saucepan or slow cooker, depending on the size you're using.
Add the spices, cinnamon sticks, orange slices, cranberries and rosemary sprigs to the water.
Gently heat the mixture on the stovetop or in a slow cooker. Keep it on low heat or a simmer setting and check frequently, adding more water as needed.
It won't be long until you'll have filled your home with the scents of the season!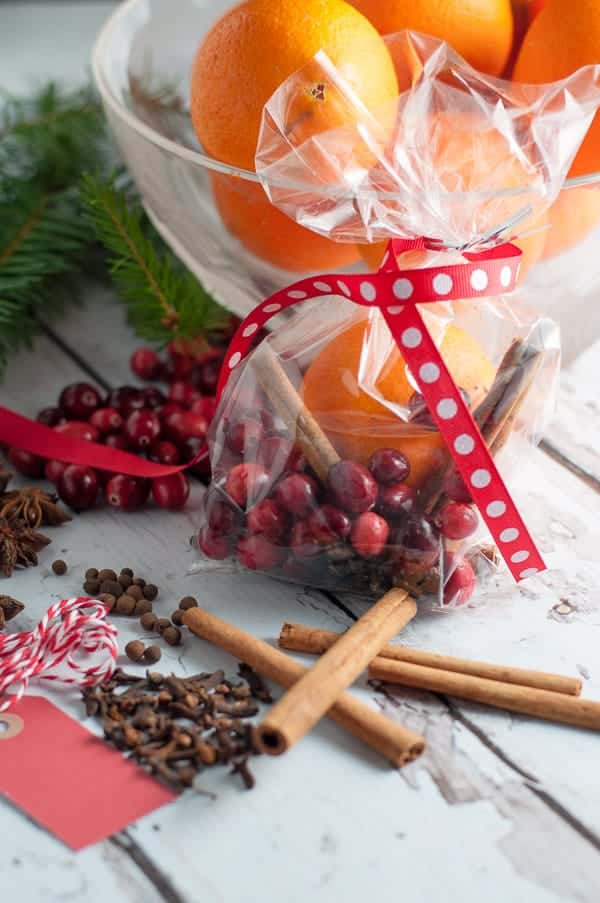 How to Package Potpourri Spice Mix for Gifts
A package or jar of this simmering spice mix would be a welcome hostess gift, teacher gift or neighbour gift. You can prepare it well ahead of time. A win-win!
Package it in a pretty glass jar, a small gift box, or in a clear gift bag and you have a great hostess gift.
To make a dried mix package, don't include the cranberries or fresh orange slices. You can add extra ground cinnamon, cloves and allspice to the mix too. The ground spices will release their scent faster (but they will eventually form sludge at the bottom of the saucepan or crockpot.
If you want to include the cranberries and orange in your gift bag, keep the package refrigerated until gift-giving time. Don't include the ground spices, as they will stick to the orange and the cranberries.
Then all the recipient has to do is add a few cranberries and some slices of fresh orange to the dried mix.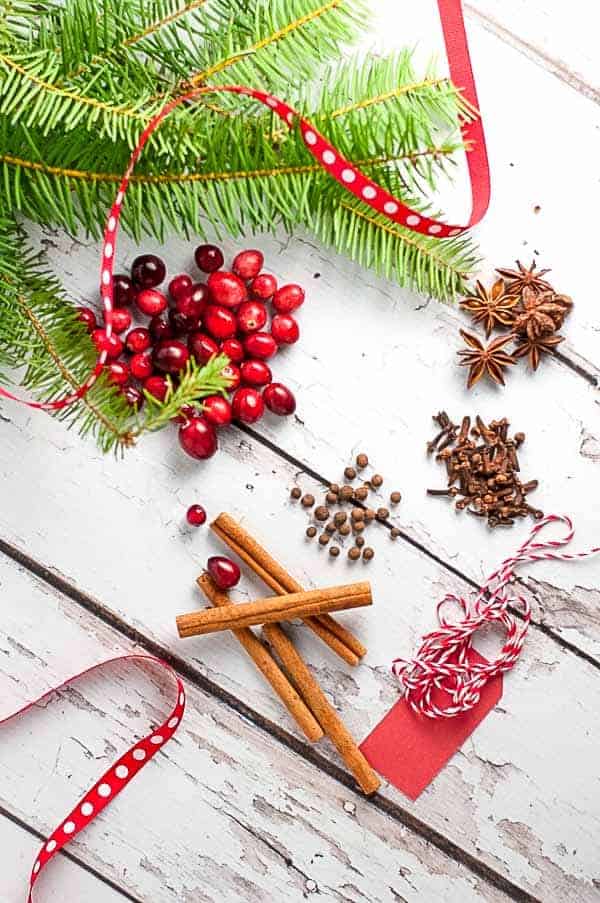 How to Dry Orange Slices
You can also dry orange slices in the oven or in a dehydrator if you want to add them to the package. Cut oranges into slices ⅓ of an inch thick. Space out on a rack placed over a baking sheet. Heat in the oven at 250°F for 1.5 to 2 hours, watching carefully to make sure they don't burn. When dry, remove and let cool completely.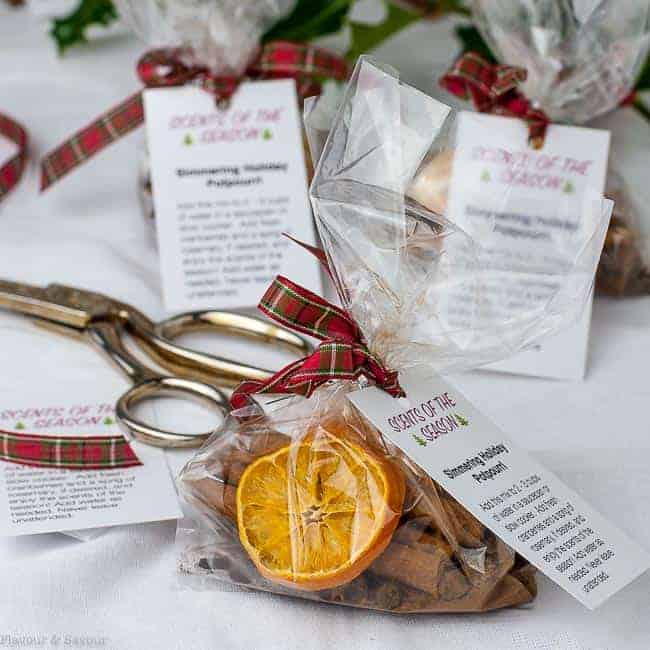 Find the instructions and free downloadable, printable gift tags below the recipe card.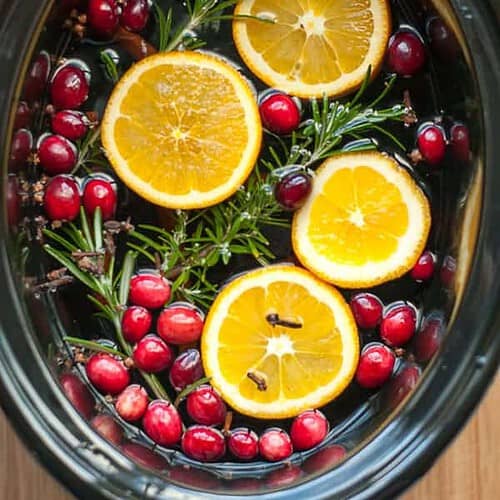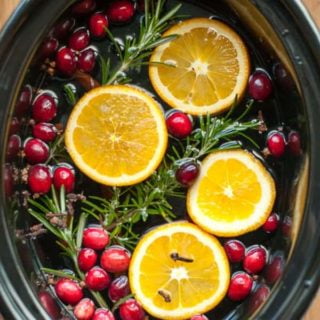 Make Your Own Holiday Simmering Potpourri Gift
Make your home smell like Christmas with simmering holiday potpourri in a slow cooker or on a stovetop. Package for gift-giving and add one of the printable gift tags provided.
Print
Pin
Rate
Ingredients
4

large

cinnamon sticks

broken (to release scent)

1

tablespoon

whole cloves

1

tablespoon

whole allspice berries

1

tablespoon

star anise (optional)

but it has a slight licorice scent

½

cup

fresh cranberries

1

medium

whole orange

rosemary or evergreen sprigs

optional

a clear bag

or a 250 (1 cup) Mason jar, or a recycled jam jar.

festive ribbon and a tag
Instructions
To make a dried mix package, don't include the cranberries or fresh orange slices. You can add extra ground cinnamon, cloves and allspice to the mix too. The ground spices will release their scent faster.

If including the cranberries and orange, keep refrigerated until gift-giving time. Don't include the ground spices, as they will stick to the orange and the cranberries.

Add the dried mix, fresh cranberries and sliced orange to 2 - 3 cups water (or apple juice) in a saucepan or slow cooker. Simmer over low heat.

Never leave unattended and add water as needed. This mix will last for several days.
Click here for your free Scents of the Season Gift tag
Looking for other gift ideas from your kitchen?
Warm Turmeric Cinnamon Milk Spice Mix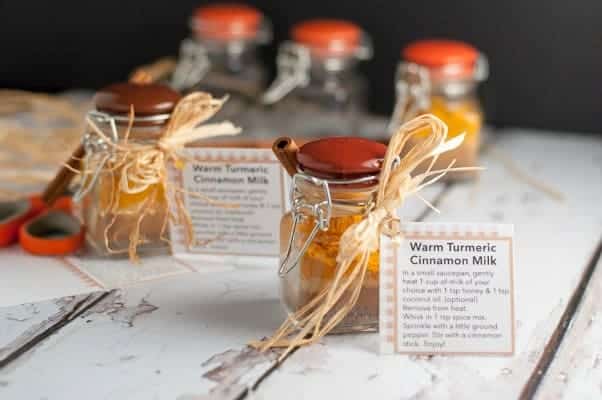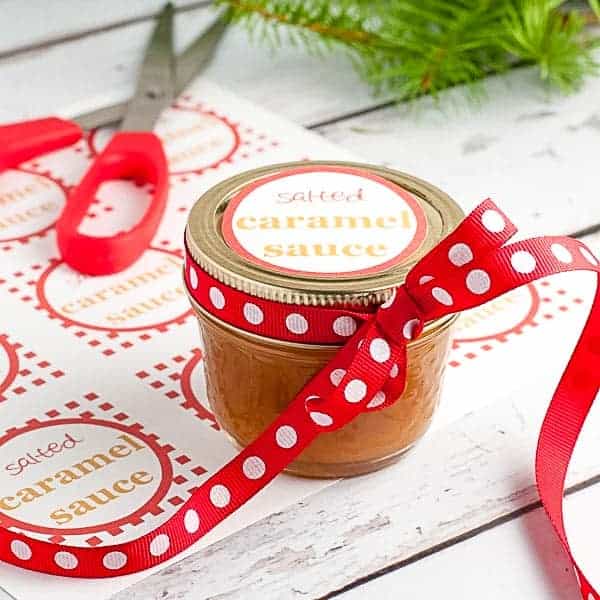 This post has been updated with new photos and information.
SAVE THIS TO ONE OF YOUR PINTEREST BOARDS
and
connect with me on Pinterest
! I'm always finding new tasty recipes to pin. Subscribe to my weekly newsletter and never miss a recipe!
This post may contain affiliate links. If you click on any of the affiliate links and make a purchase within a certain time frame, I'll receive a small commission. The commission is paid by the third party, not by you. I am a participant in the Amazon Services LLC Associates Program. It's an affiliate advertising program designed to provide a means for me to earn fees by linking to Amazon.com and affiliated sites.