A quick and easy Mexican recipe for authentic chunky guacamole with nine variations to take it up a notch! Start with this classic guacamole recipe, then experiment with some of the creative flavour variations in this post.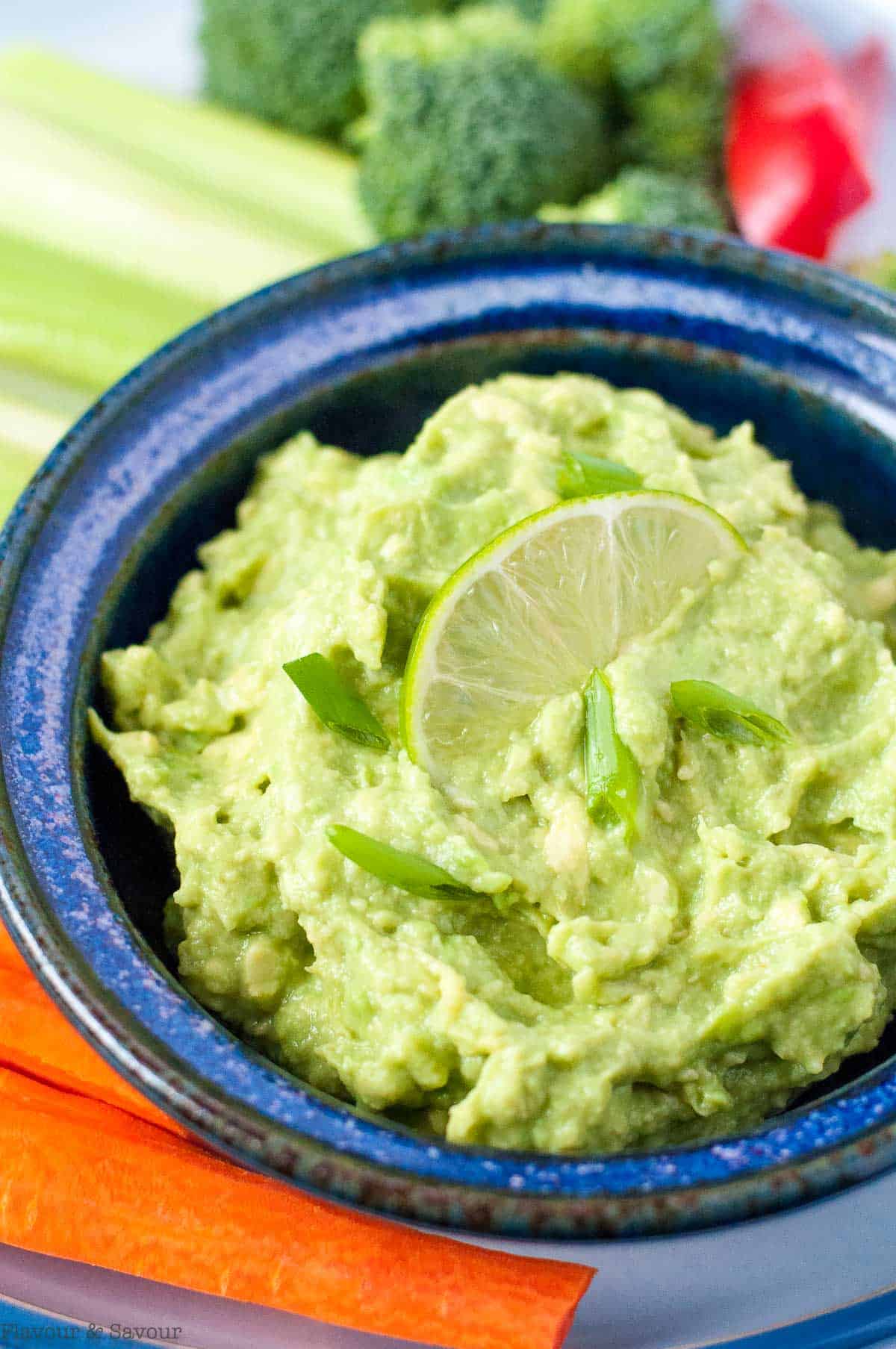 Here's a recipe for classic quick chunky guacamole that takes only 5 minutes and 3 utensils!
Do you have dishes you make all the time for which you don't need a recipe? Some dishes just become second nature to us, and we never have to consult a cookbook. We add, and stir, and taste, and correct it with a little of this or a bit of that until it's just right.
Guacamole is one of those dishes for which I never use a recipe, but I was asked to share it here, so here's my recipe for traditional Quick Chunky Guacamole!
Start with this classic recipe, then experiment with some of the 9 variations I've listed below.

🛒 Ingredients
Here's your shopping list!
avocados: You'll need 2. They should be fully ripe, but still a little firm.
lime: one, just for the juice. Freshly squeezed juice is always best!
garlic: one clove
onion: you only need ¼ cup, so a small one will do.
cilantro: again, you only need ¼ cup, so a small handful will be enough. (And if you don't like it, you can leave it out!)
salt: to taste, and to bring out the flavours of the other ingredients
cherry tomatoes: 6, cut in half. These are optional. I make it both ways, with or without tomatoes!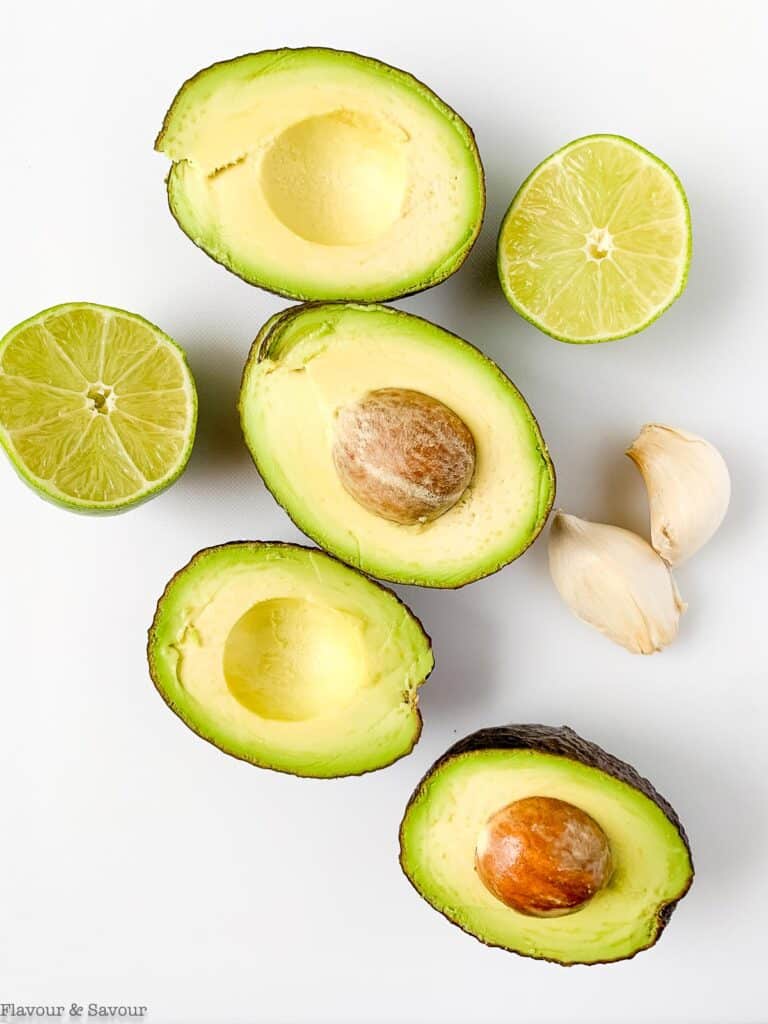 🥄 Instructions
Guacamole is very simple to make and needs no special equipment other than a knife, a fork, a bowl and some hungry, appreciative family members or guests.
Slice the avocados, remove and discard the pit. Then use a paring knife to slice the fruit lengthwise and then crosswise. Scoop out the flesh and mash with a fork until chunky.
Add the lime juice and toss to prevent browning, then fold in the remaining ingredients.
Taste as you go! Correct the seasoning by adding a little more lime juice or salt, or even an extra clove of garlic. Remember that the flavours will become stronger as its sits, so don't go overboard.
Let the guacamole sit (tightly covered) for an hour at room temperature to allow the flavours to blend. Pressing a piece of plastic wrap on top will keep out the air which causes the avocado to turn brown.
Serve with tortilla chips and pico de gallo, or with nachos, tacos, or as a dip for fresh vegetables.
Super simple to make, and easy to clean up afterwards!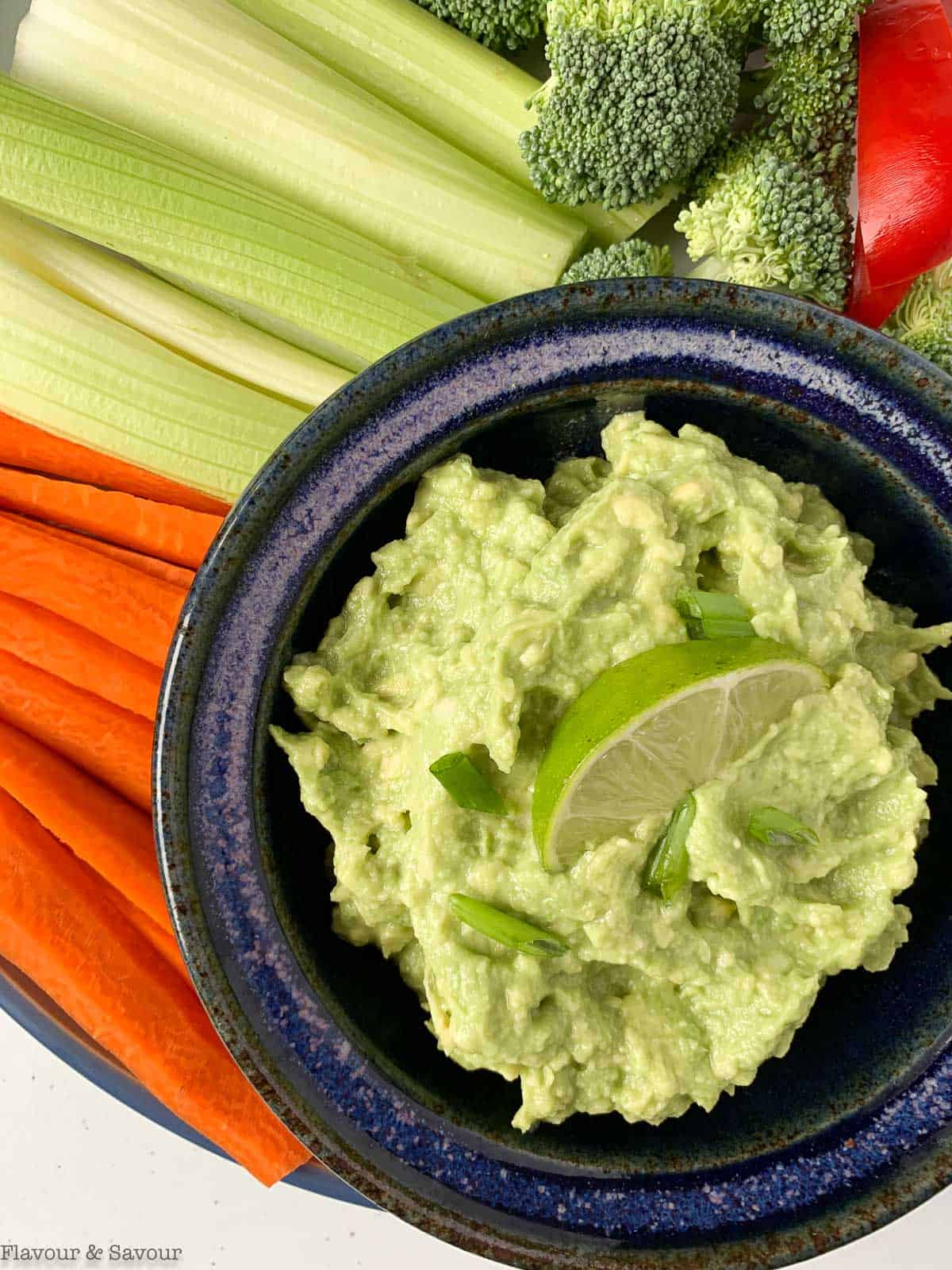 🔁 9 Variations on Classic Guacamole Dip
Now let's have some fun with this basic recipe and kick it up a notch! Here are a few of our favourite add-ins.
jalapeño guacamole: finely minced, about ½ a medium one, depending on how much heat you like.
bacon lovers guacamole: a slice or two of cooked crumbled bacon gives guac a delicious smoky boost.
tequila guac: add a tablespoon to give it an authentic Mexican flavour.
mango-pomegranate guacamole: add ½ a mango, finely diced and a small handful of pomegranate arils. A sweet and salty flavour combo!
red onion guacamole: swap red onion for the white onion for an extra kick.
roasted garlic guacamole: mellow the flavour of raw garlic by roasting it in the oven, then mash it together with the other ingredients.
tomatillo guacamole : add a couple of finely chopped tomatillos as I did in these Shrimp Tacos with Tomatillo Guacamole and Cilantro Lime Slaw
strawberry-mango guacamole: cut fresh strawberries and mango into small cubes, mash one of the avocados and cut the other into small cubes to make a chunkier guac.
Avocado Feta Dip with Basil: put a Mediterranean twist on traditional guac!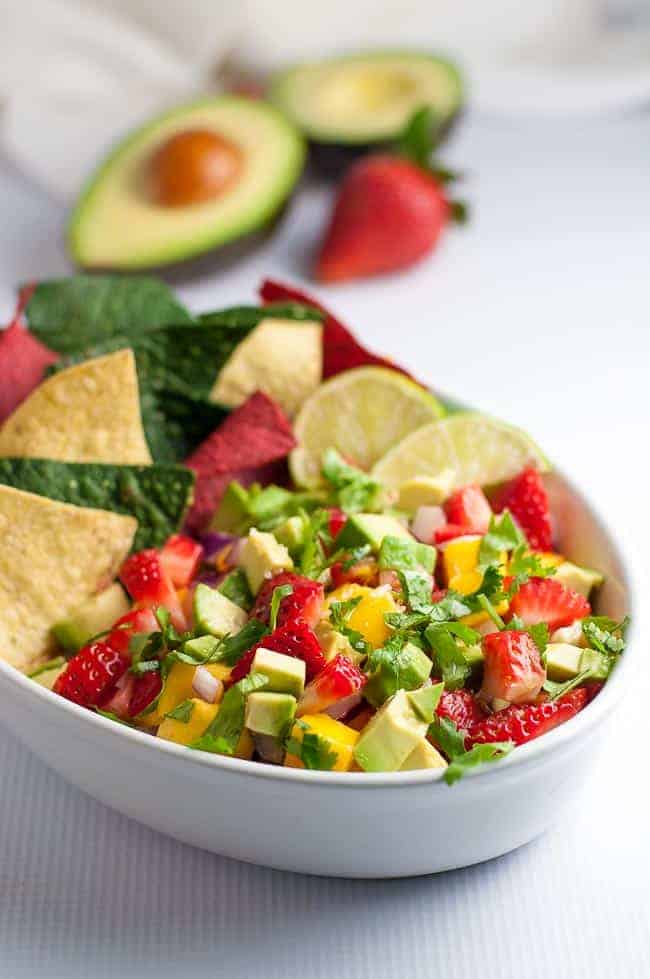 👍🏼 Top Tip
Avocados discolour quickly, and guacamole will lose its appeal once it does. Just like apples, avocado flesh turns brown when it is exposed to air. It's easy to prevent this discolouration though.
The lime juice you squeeze into the guacamole when you make it will help prevent darkening. If you're not planning to serve it right away, squeeze a little extra lime juice on the surface and press plastic wrap on top.
How long will guacamole last?

If you follow the tips above, your guacamole will last in the fridge for 3 to 4 days. The flavours will intensify as it sits.
🍽 Serving ideas
While we most often think of guacamole in terms of guac and chips served with a big bowl of fresh salsa, I also like it in a lot of different ways: Try it
as a sandwich spread
as a dip for fresh veggies
in tacos
mixed with hard-boiled eggs as a replacement for mayonnaise in egg salad sandwiches
with my favourite Pico de Gallo (Fresh Salsa) recipe
When you make this easy guacamole recipe, please leave a comment and a rating below. I love hearing when you've made one of my recipes, or adapted one. Thanks in advance!
Subscribe to my weekly newsletter and have new recipes delivered straight to you inbox.
📖 Recipe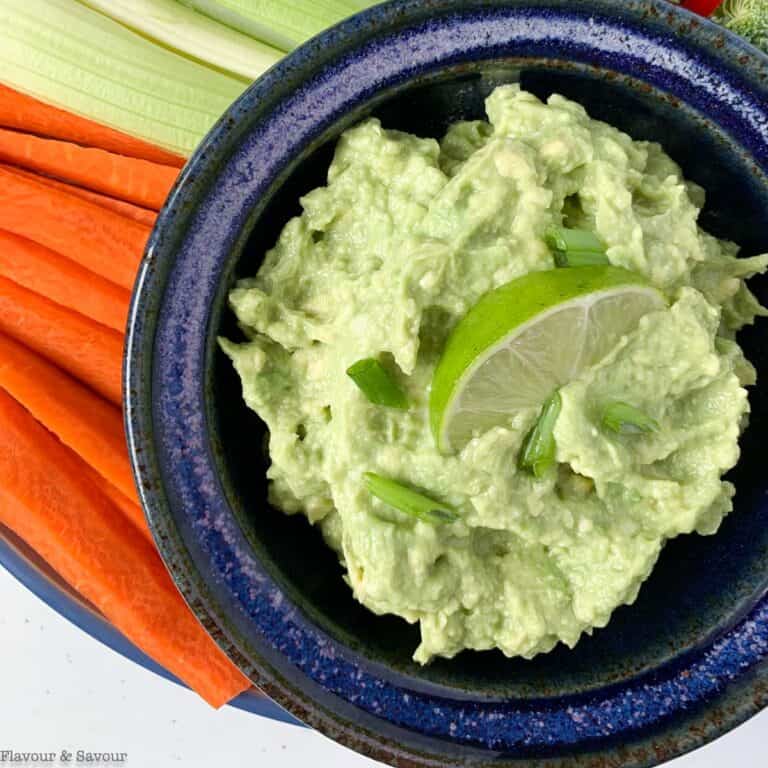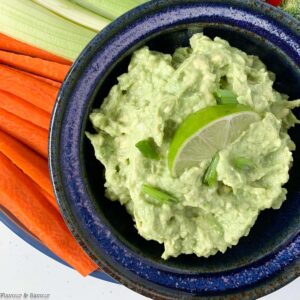 Quick Chunky Guacamole
This recipe for chunky guacamole takes only 5 minutes to make. Serve with tortilla chips, as a dip for fresh vegetables, as a sandwich spread or with tacos.
Print
Pin
Rate
Servings:
8
¼ cup servings
Ingredients
2

large

ripe avocados

1

medium

lime,

juice of

1

clove

garlic,

minced

¼

cup

white onion,

finely chopped

¼

cup

cilantro leaves,

finely chopped

6

cherry tomatoes

halved (optional)

sea salt

to taste
Instructions
Slice avocados in half, scoop out the flesh and remove and discard the pit. Place in a medium bowl, mash with a fork and toss with lime juice.

Stir in the remaining ingredients, leaving it as chunky or as smooth as you like.

Sprinkle with a little sea salt or add a bit more lime juice if needed.

Cover tightly and let sit at room temperature to allow flavours to blend before serving. Pressing plastic wrap firmly on top of the guacamole will help to prevent it from browning.
Nutrition
Calories:
86
kcal
|
Carbohydrates:
5
g
|
Protein:
1
g
|
Fat:
7
g
|
Saturated Fat:
1
g
|
Sodium:
5
mg
|
Potassium:
278
mg
|
Fiber:
3
g
|
Vitamin A:
170
IU
|
Vitamin C:
9.7
mg
|
Calcium:
7
mg
|
Iron:
0.4
mg
This post was originally published in 2018. I've added new photos and extra information. The recipe remains the same.