A showstopper Tropical Fruit Nut and Cheese platter filled with exotic fruit, assorted cheeses and mixed nuts. Helpful instructions for the best way to cut mango, persimmon, kiwi, dragon fruit and oranges to create a beautiful grazing board.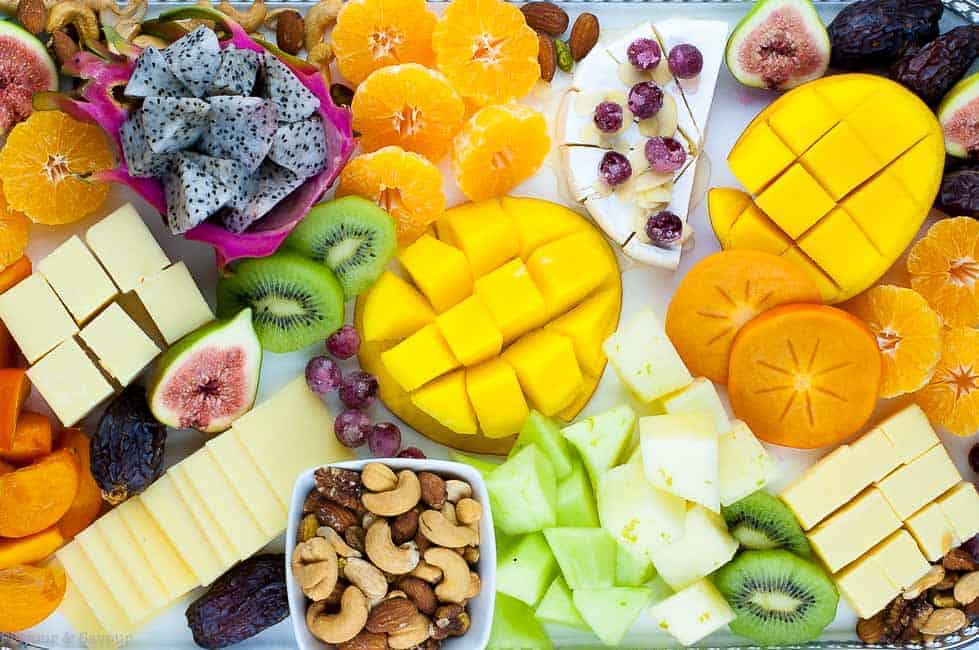 This Tropical Fruit Nut and Cheese Platter will keep your friends or family happy and help to start your night off on a fun, healthy note! This appetizer platter is full of exotic fruits, delicious cheeses and mixed nuts. (And it's naturally gluten free!)
A grazing board is great for entertaining
If you're planning on serving a traditional platter of veggies and dip or a cheese tray at your next get-together, why not switch it up and put together a fruit, nut and cheese platter instead? It's may be a welcome change, or even a conversation piece.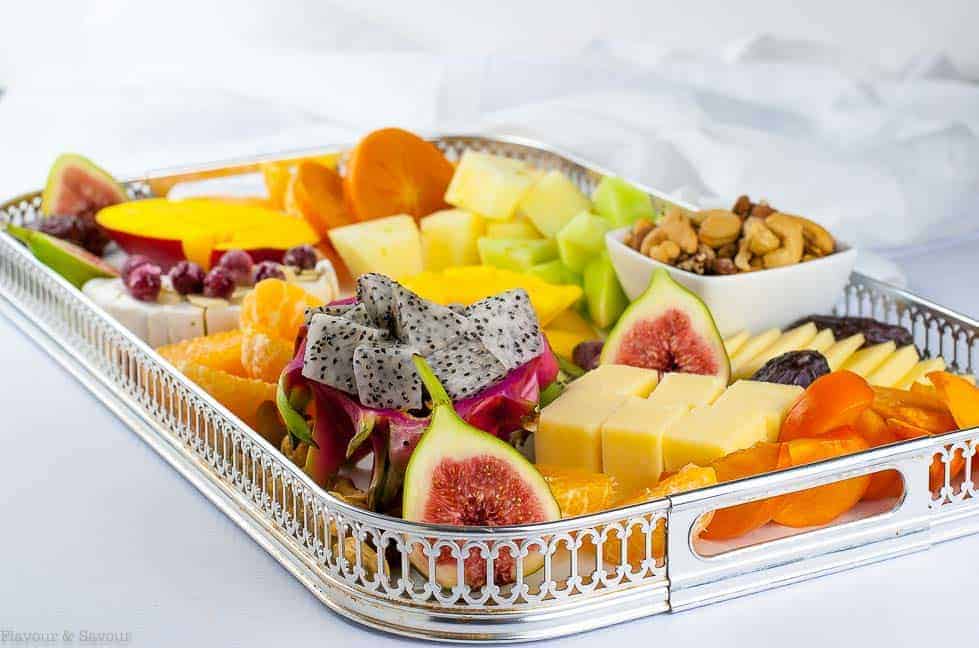 fruit: Choose the best quality fruit you can find for a grazing board, as it will also have the most flavour. You might want to buy it a few days before you plan to serve it, as some fruits (like mango, for example) sometimes need time to ripen. I chose dragon fruit, persimmon, mango, fresh figs, honeydew melon, Santa melon, clementines, sugared cranberries and Medjool dates. Avoid fruit that will discolour when exposed to the air, like apples and pears.
cheese: I added four different types of cheese: Brie, Raclette, Gruyère, and Cheddar. Choose your favourite cheese to add to this grazing board. Cutting or cubing the cheese makes it easy for your friends to help themselves.
nuts: Add a bowl of your favourite mixed nuts, as well.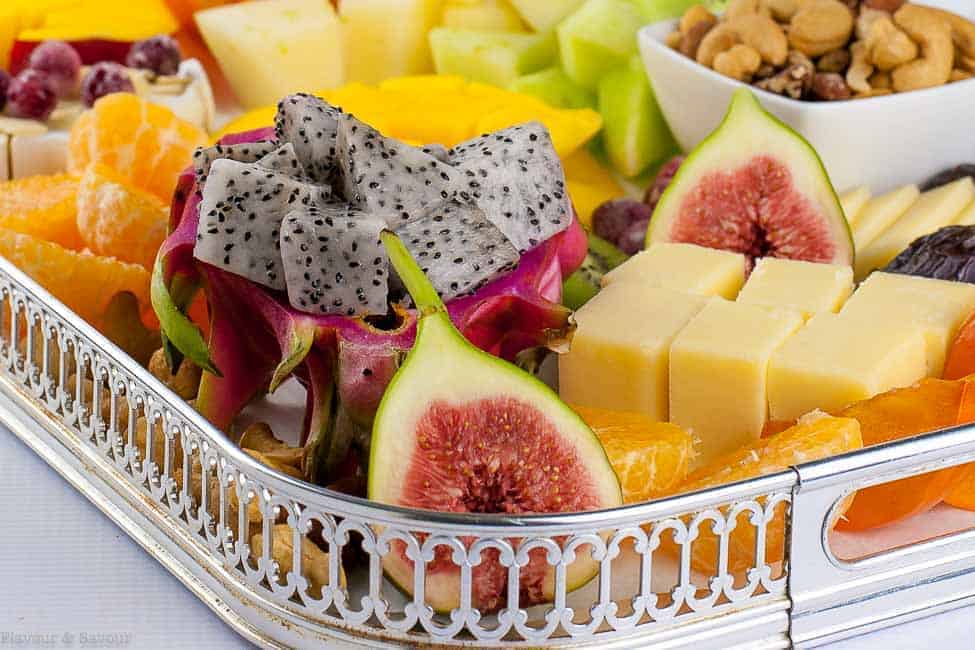 How to cut tropical fruit
How you cut tropical fruit can make it more (or less) appetizing.
For example, slicing a persimmon shows off the star shape inside.
Peeling and cutting clementines in half makes them look almost like flowers and is much more attractive than sectioning them.
Black and white speckled Dragon fruit is spectacular, but the bright pink skin is even more beautiful, so it's fun to make a bowl out of the fruit and serve the flesh in it. Cut the fruit in half lengthwise, scoop out the flesh by loosening the edges with a paring knife, then bend back the skin with your fingers, and the flesh will come out easily. Slice and cube and pop it back in the shell.
To cut a mango, examine it to find the slight bump in the skin that indicates which way the seed is aligned. Slice down on each side to remove the seed. Slice the flesh lengthwise and crosswise, run a knife around the edge and bend the fruit "inside out" so the cubes pop up.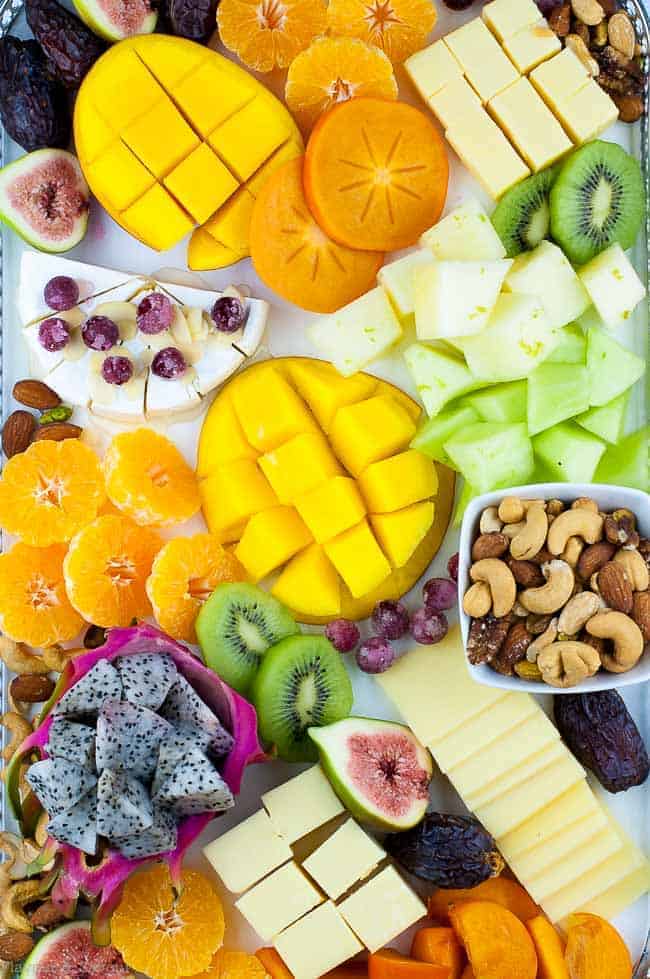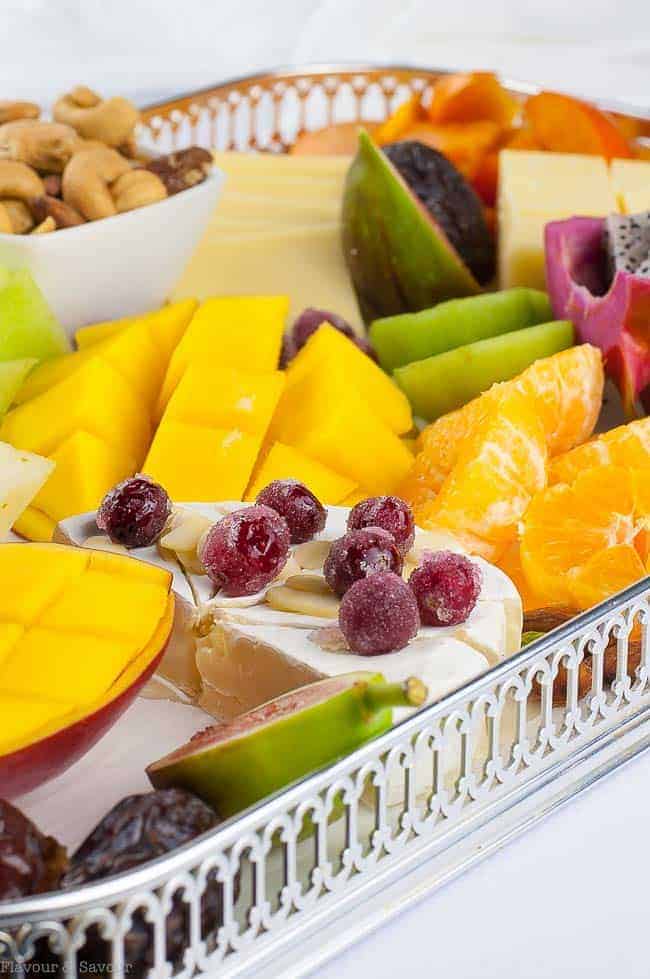 Ready to create? I hope you can use this as a guide to inspire your own grazing board. For more appetizer and dessert board ideas, check out the following posts
📖 Recipe
This post has been updated with new information to make it more helpful.