This caramelized onion, apple and cheese crostini is just a grown-up grilled cheese sandwich!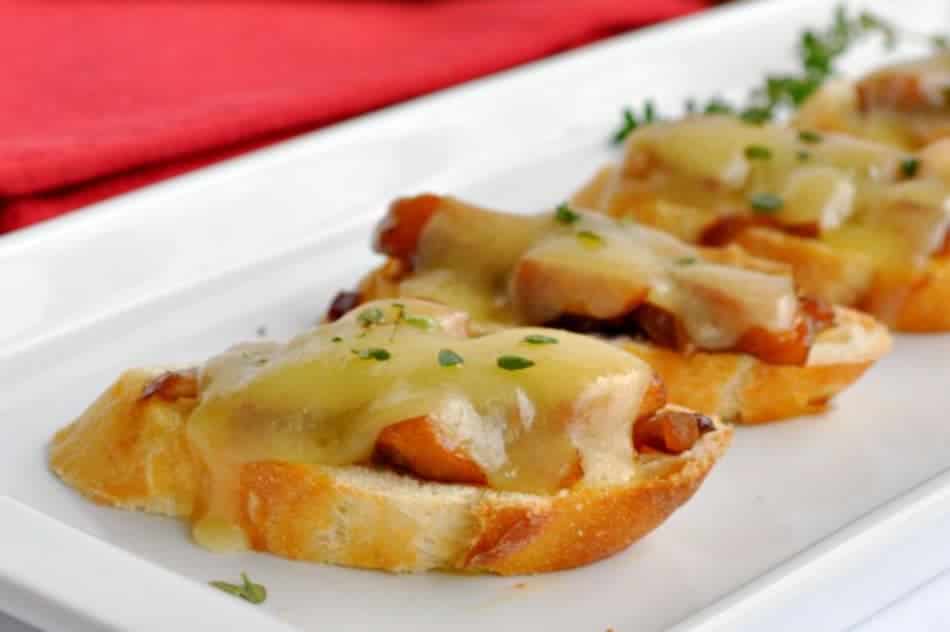 My husband, Denis, (with one n, he'll remind you) is always appreciative of anything I cook. Anything. He never complains, even when I serve a Pinterest Epic Fail. He consistently thanks me when I make him something to eat.
Yesterday, I decided to throw together a quick lunch for him. "Throw" is the operative word here. I threw a slice of frozen bread (yup, you read that right) in a frying pan, put a slice of cheddar on top, popped another frozen bread slice on top, squished it all down with a flipper until the cheese melted, and I passed it to him on a plate with a few lonely cherry tomatoes.
You'd think a food blogger could have done a little better than that. For someone who spends an inordinate amount of time in the kitchen, couldn't I have come up with something a little more interesting or adventurous? But still, he thanked me and told me it was good. xoxo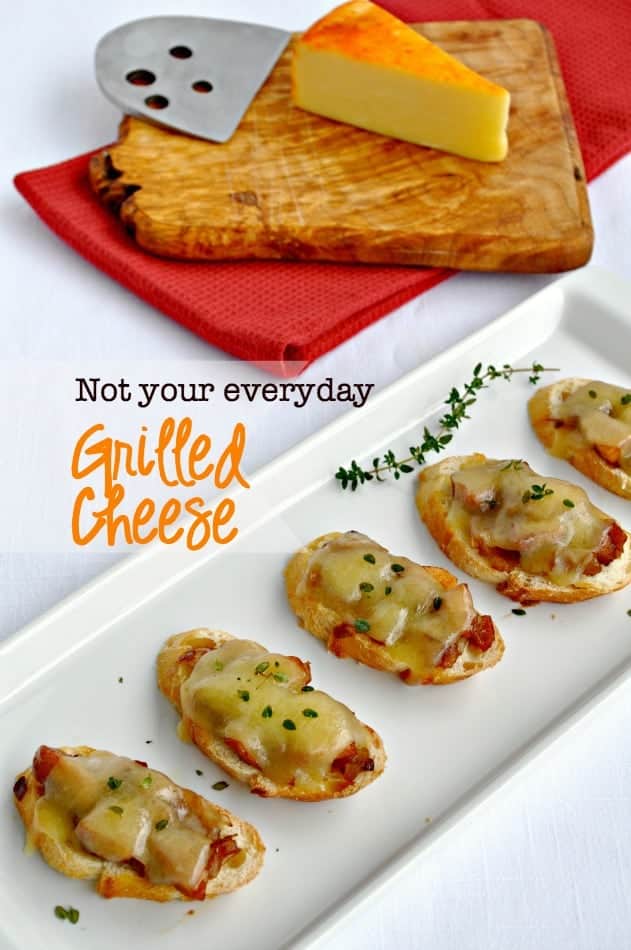 So today I made him a more upscale grilled cheese sandwich. This Caramelized Onion, Apple and Cheese Crostini is full of caramelized flavour and ooey-gooey cheesy goodness. It has that salty and sweet contrast that I crave. This Crostini recipe is one of my favourite appetizers to make, as the components can all be made in advance and quickly assembled just before serving. Not only that, but it works equally well served on a baguette slice or a gluten-free cracker. Hope you like it, too!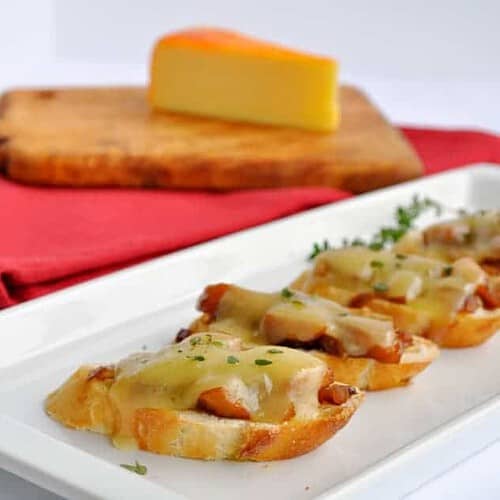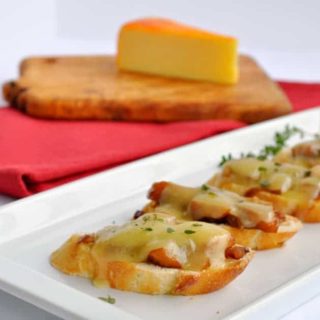 Apple, Onion and Cheddar Crostini
This Caramelized Onion, Apple and Cheese Crostini is full of flavour and ooey-gooey cheese. It's an easy make-ahead appetizer that everyone loves.
Print
Pin
Rate
Ingredients
2

onions

finely diced

4

tbsp

oil, divided*

pinch of salt

pinch of sugar

1

tbsp

balsamic vinegar

4

apples,

peeled, cored and thinly sliced

¼ - ⅓

cup

brown sugar

or coconut palm sugar, depending on the sweetness of your apples

1-2

tsp

cinnamon

thinly sliced cheese of your choice.

Make it dairy-free by using Manchego or Pecorino or goat cheese

baguette sliced diagonally in ½ inch slices or gluten-free crackers
Instructions
Caramelize the onions. Over low to medium heat, heat the oil and add the onions and a pinch of salt. Cook slowly, stirring occasionally. Once tender and translucent, add a pinch of sugar and a tablespoon of balsamic vinegar to start the caramelization process. Continue to cook, stirring occasionally to prevent sticking, until the onions are a deep golden colour. Depending on the type of onion you use (as they all caramelize at different rates based on their natural sugar content) this may take up to 40 minutes.

Meanwhile, peel and core the apples. Slice very thinly and cut into small pieces so they won't fall off the crostini. Toss with brown sugar and cinnamon. Heat oil in a skillet. When hot, add the apples and stir. Cook just until apples are tender. Remove from heat.

Heat oven to 350F. Lay the sliced baguette or cracker on a baking sheet. Top with a small spoonful of the caramelized onions, a spoonful of the caramelized apples, and top with a thin slice of cheese. Bake for approximately 5 minutes or until cheese has melted.

Serve warm, garnished with a sprinkle of fresh thyme leaves.
Notes
*use 2 tbsp oil for the onions and 2 tbsp for the apples.
The onions and apples can both be caramelized a day or two before and stored in airtight containers in the refrigerator. The crostini can then be quickly assembled just before serving.
I used Smoked Applewood Cheddar Cheese or make it dairy-free by using Manchego or Pecorino or goat cheese.
Tried this recipe?
Share a photo on INSTAGRAM and tag it #flavourandsavour! I love seeing what you've made.