Welcome cherry season with these two-bite Roasted Cherry Goat Cheese Crostini!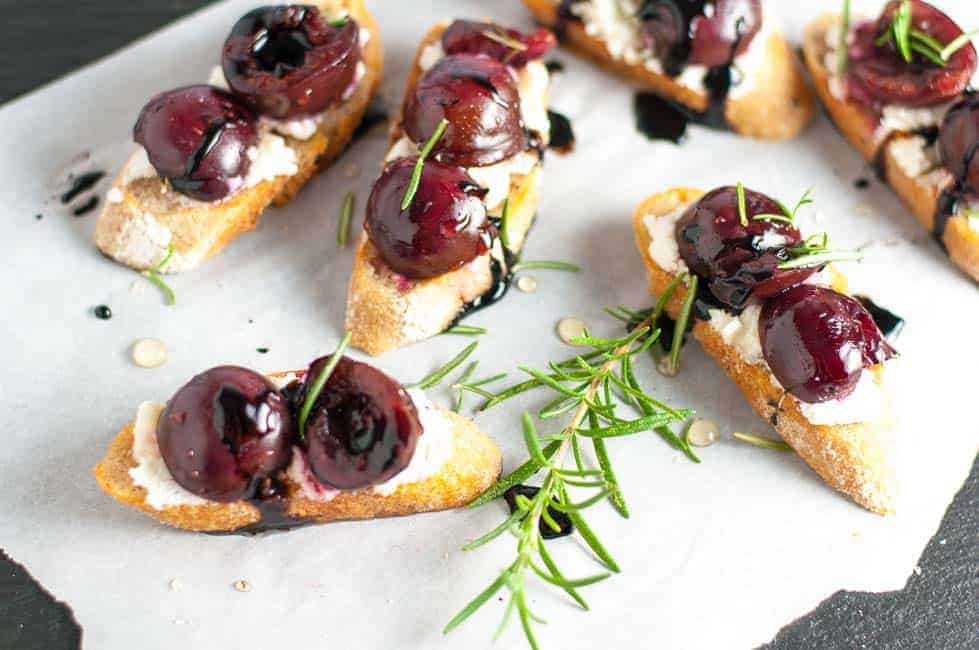 Cherries are plentiful this year and the farm down the road is open for picking! Cherry season is such a short one, so I just had to get some while they're available. It's so hard to stop eating them once you start! I managed to save a few to pop on the top of these crispy goat cheese crostini appetizers.  So glad I did!
Crostini appetizers are always popular when I serve them. You can pack a lot of interesting flavour combos on top of one small slice of baguette! If you love creating crostini as much as I do, check out this post on 5 Tips for Making Crostini which outlines common mistakes and how to avoid them.
These Roasted Cherry and Goat Cheese Crostini rate right up there with my other favourites. We gave them a 10 out of 10. They're sweet, and yet they're savoury. They're crispy, but creamy. Tiny toasts, smeared with salty goat cheese, topped with rosemary roasted cherries and drizzled with honey and balsamic glaze made an appy to remember, or "one for the blog" as we say.
As you know, I avoid gluten in my diet, and gluten-free baguettes are now available, often in the freezer section. My local bakery sells products made with ancient grains and I've found that spelt flour agrees with me. I used a spelt baguette in this recipe, but any baguette will be successful.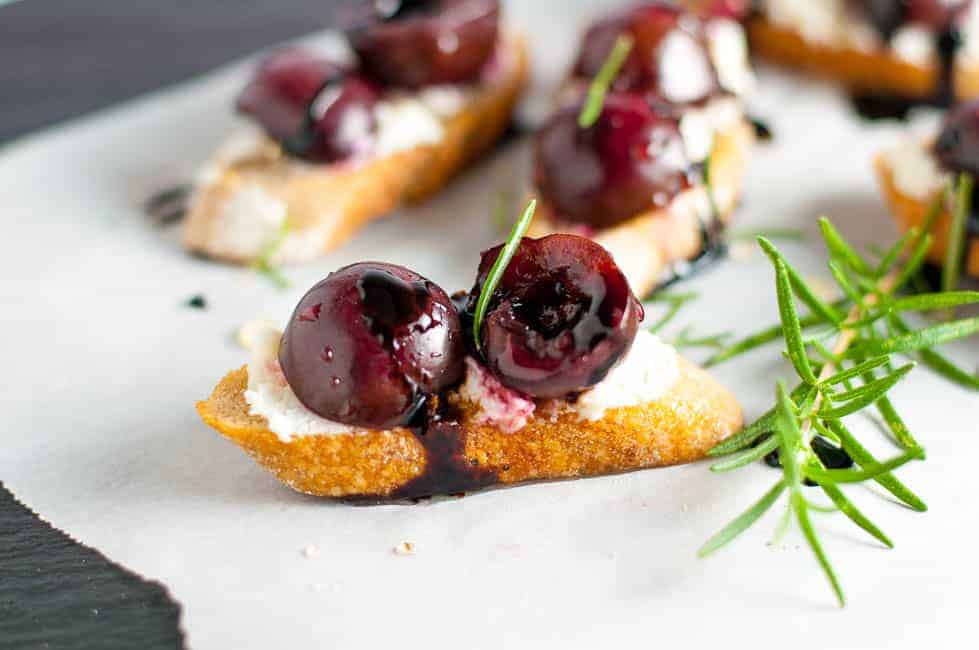 So toast,
smear,
roast,
drizzle
and devour these little gems before they're gone for another year!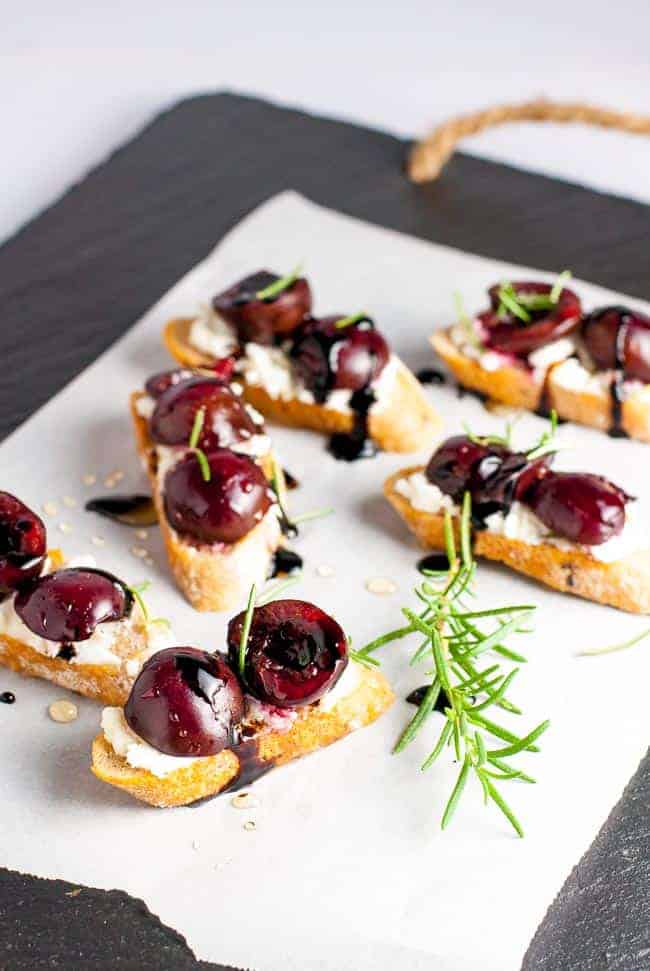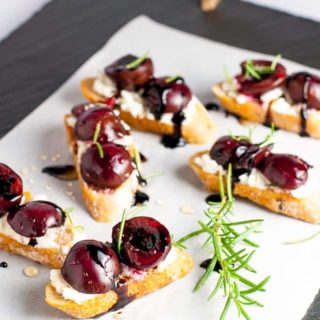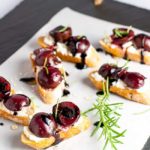 Roasted Cherry Goat Cheese Crostini
Enjoy cherry season with Roasted Cherry Goat Cheese Crostini with Honey and Balsamic Drizzle. They're tiny toasts topped with creamy goat cheese and sweet cherries.
Print Recipe
Ingredients
12

slices

baguette,

1/2 inch thick

extra-virgin olive oil

12

fresh cherries,

pitted and halved

1

sprig fresh rosemary

1/2

cup

soft goat cheese

coarse sea salt

honey and balsamic glaze for drizzling
Instructions
Slice the baguette into 1/2 inch slices.

Brush lightly with extra-virgin olive oil. Bake at 375°F for 7 – 8 minutes, turning over halfway through until golden brown. The crostini should be slightly crispy on top but the inside should be tender.

Spread cherries on a parchment-paper lined baking sheet, Drizzle with a little olive oil and sprinkle with chopped fresh rosemary. Roast in the oven for 5 - 7 minutes while you're toasting the baguette.

Spread each baguette slice with goat cheese, top with two roasted cherry halves, drizzle with honey and balsamic glaze and sprinkle with coarse sea salt and fresh rosemary. Serve and enjoy!
Kitchen items I used to make and serve these Roasted Cherry Goat Cheese Crostini
This post contains affiliate links. If you click on any of the affiliate links and make a purchase within a certain time frame, I'll receive a small commission. The commission is paid by the third party, not by you. I am a participant in the Amazon Services LLC Associates Program, an affiliate advertising program designed to provide a means for me to earn fees by linking to Amazon.com and affiliated sites.
Like this recipe? Please pin it or share it! Subscribe to my weekly newsletter and never miss a recipe.