Bananas Flambé is a spectacular flaming dessert made with caramelized bananas and Caribbean rum served over ice cream and drizzled with almond liqueur. This delicious banana dessert takes less than 10 minutes to make! If you've never made a flaming dessert before, this recipe will teach you how.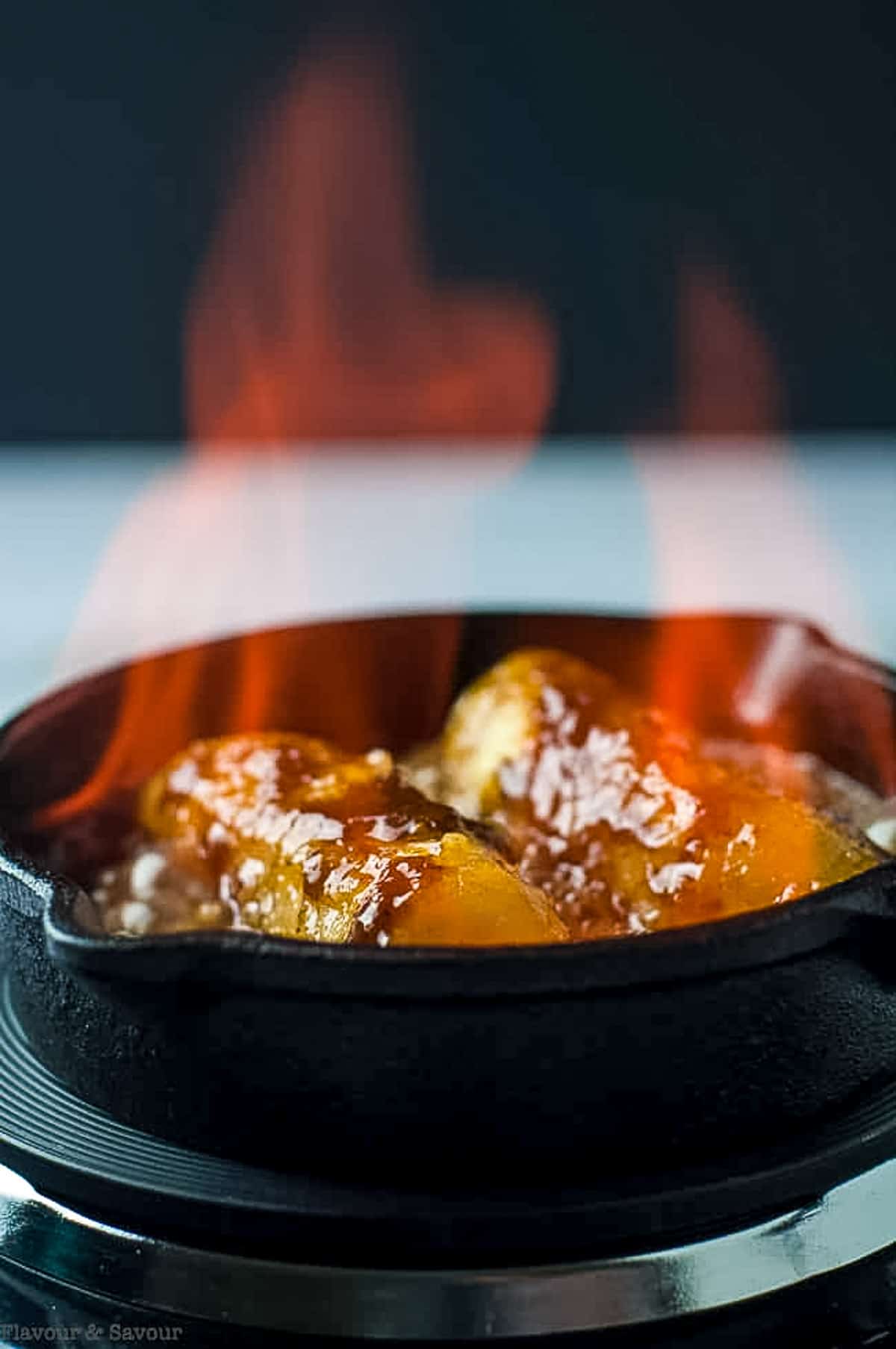 Jump to:
❤️Why you'll love this recipe
It's impressive! If you've always wanted to make a flaming dessert, but weren't sure how to go about it, this recipe for Caribbean Rum Bananas Flambé is for you! Rum and sugar-glazed bananas set alight while the lights are low make an impressive presentation.
It's easy! While it sounds fancy, this restaurant-worthy dish is very easy to make at home. It makes a spectacular dessert for a special occasion like New Year's Eve, a birthday or simply a romantic dinner for two.
Takes only 10 minutes or less! You simply slice bananas, cook them briefly in butter, brown sugar and cinnamon, add a touch of rum, ignite it and watch the flames dance while they caramelize the bananas. Topped with ice cream and a drizzle of almond liqueur, this is a dessert to remember!
Make Bananas Foster instead! If you're wary about purposely creating flames in your dining room, make Bananas Foster instead. You'll have all the same amazing flavours without having to light the rum.
🌴Bananas Flambé Caribbean Style
I'll never eat Bananas Flambé without thinking about the tiny island of Petite Martinique!
While out for dinner on a vacation on a tiny Caribbean island, it seemed appropriate to order something typical of the area. And what could be more typical than bananas and rum on an island with a French name?
We had just finished a wonderful home-style cooked dinner in a palm-thatched gazebo, in a restaurant right near the beach when the subject of dessert arose. Would I like ice cream, Caribbean spice cake or Bananas Flambé? A no-brainer for me. I quickly decided that flaming bananas were the perfect dessert for this romantic night!
I watched the server leave the kitchen and cross the garden all the way to our table with a flaming dish in her hand. It continued to blaze long after she left it in front of me. After I finally blew out the flame and took a spoonful, I stopped short. This was the strongest-tasting rum I could imagine . . . and where was that caramelized sugar sweetness?
A few minutes later, she came hurrying back, apologizing profusely and offering a replacement dessert. Apparently, her chef husband had accidentally added salt instead of sugar!
So here's my version of Bananas Flambé: Caribbean Rum Bananas Flambé with Amaretto, made with regular-proof rum!
🛒 Ingredients
bananas: for bananas flambé you'll need bananas that are ripe and golden, but still firm so they keep their shape once cooked.
butter
brown sugar
lemon juice, fresh squeezed is best
amber rum (I used Havana rum)
Amaretto liqueur or other almond liqueur
👍🏼 Tips for making Bananas Flambé
Have everything you need laying out ahead of time, as this dessert requires attention and cooks very quickly.
Assemble all ingredients, including the measured rum in a small container (like a shot glass), and the ice cream and serving dishes.
Have a barbecue lighter or long fireplace match ready.
It's also a good idea to have a box of baking soda ready to extinguish a flame that gets a little too high!
🔪 Instructions
Start by heating your skillet over LOW - MEDIUM heat.
High heat will burn the sugar and result in hard little caramelized bits. Melt the butter first, then add the sugar and stir until well combined.
Some recipes instruct you to add the sugar first. I have had no success with that method.
Next add a squeeze of lemon juice and a teaspoon of cinnamon. Stir.
Add the bananas and cook on one side for 1 minute.
Using tongs, carefully turn the pieces over and cook on the other side for a minute or less. The butter-sugar mixture will be boiling. Take care not to splash.
Now remove the skillet from the heat and very carefully pour in the measured rum from a small glass, NOT from the bottle as the flame may travel from the rum in the pan up into the bottle and explode.)
Immediately touch it with the flame from a match or long barbecue lighter. Don't wait too long, or the alcohol will be absorbed by the liquid and it won't ignite. It's actually the vapours that are highly flammable.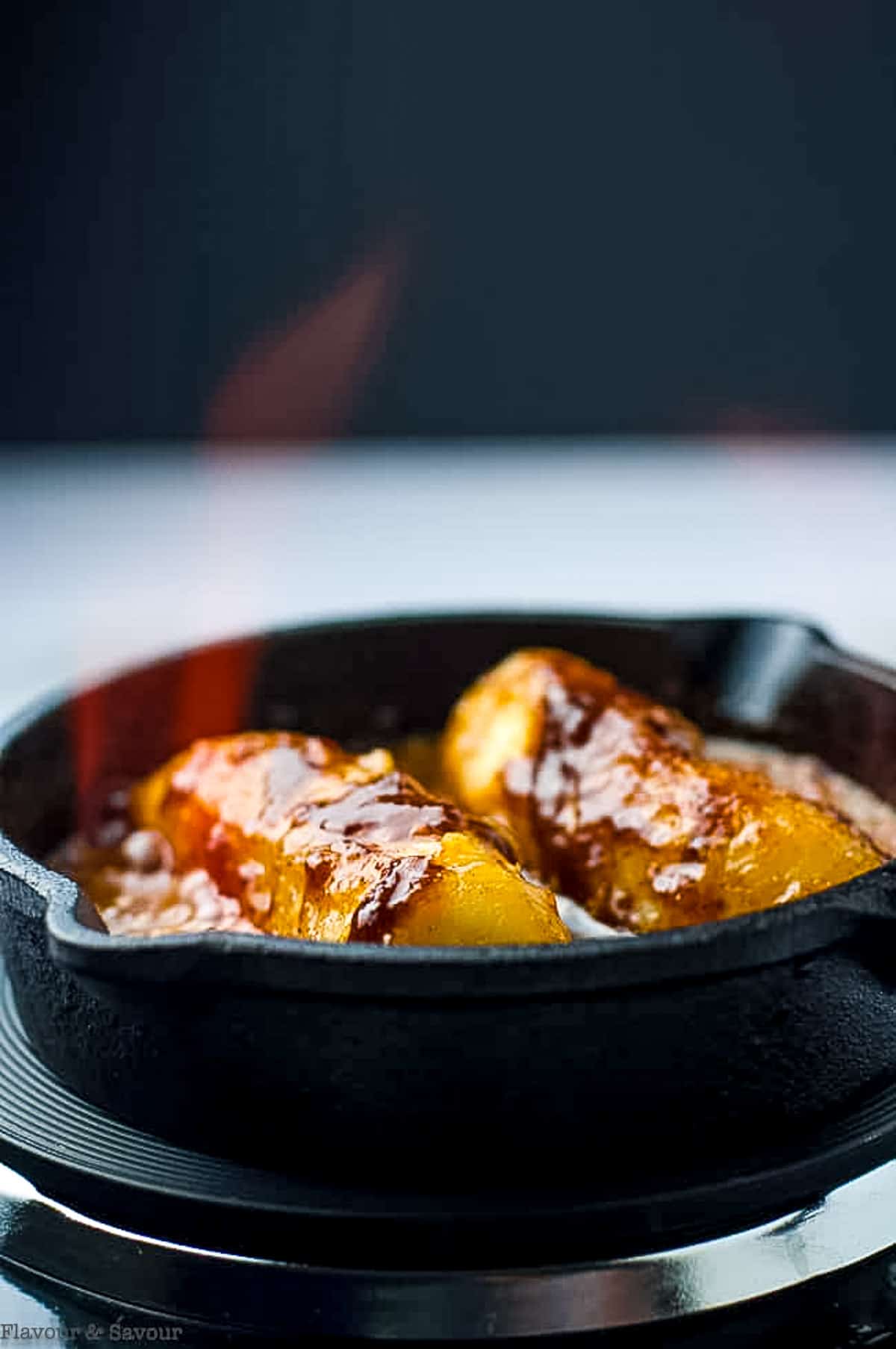 And finally, divide bananas into serving dishes either over or under quality vanilla ice cream (regular or dairy-free) or Greek yogurt and pour the liquid from the skillet over top.
Drizzle with a little Amaretto liqueur and serve to appreciative friends!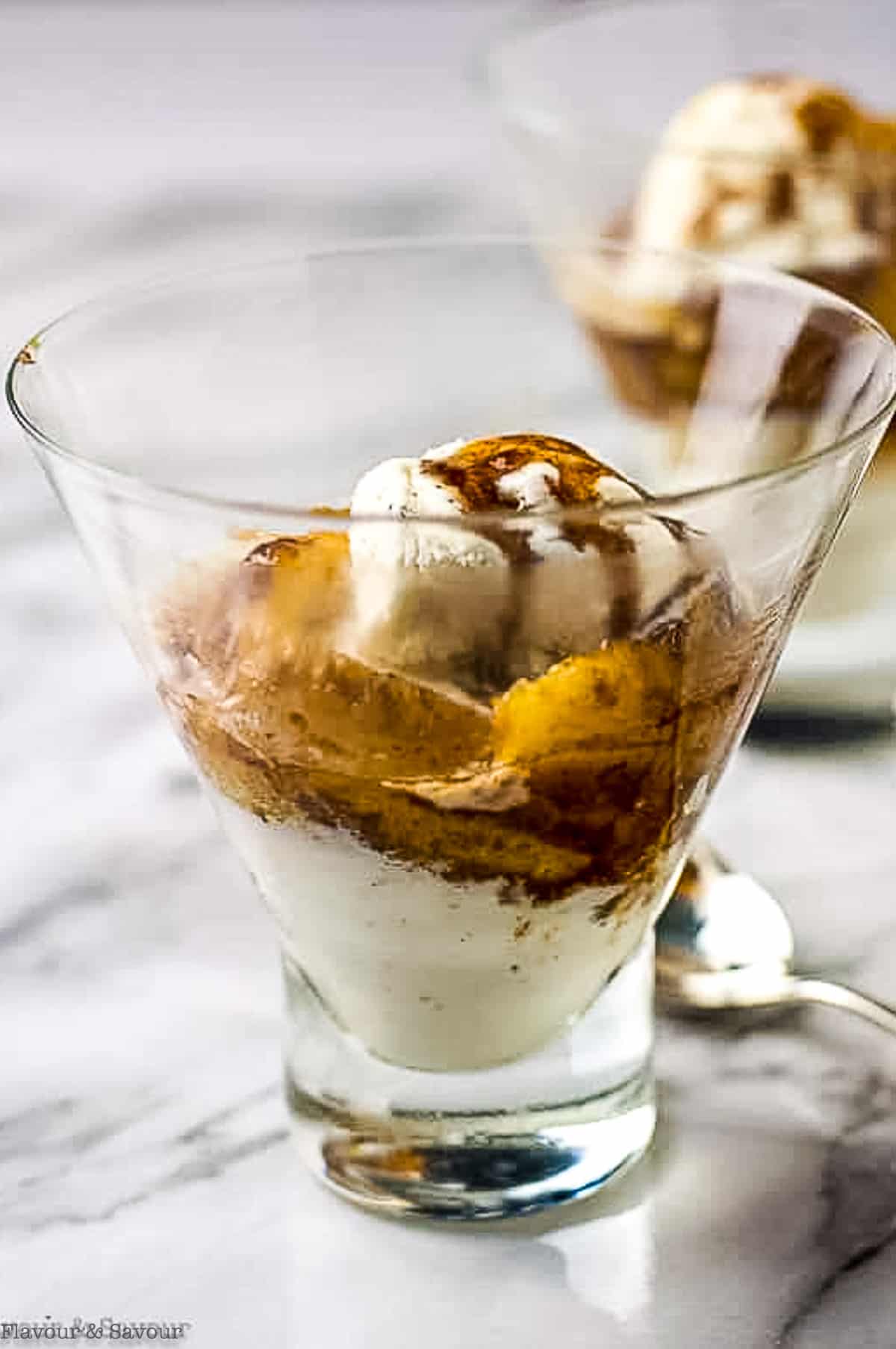 ❓If you're wondering
What's the difference between recipes for Bananas Flambé and Bananas Foster?

Bananas Flambé or flaming bananas are just that: bananas caramelized in brown sugar, cinnamon and butter, sizzled with amber run and set alight so the alcohol burns off a little.

Some recipes make no distinction between the two names. Others describe Bananas Foster as simply bananas glazed with brown sugar, cinnamon, butter and rum, without lighting the rum. Bananas Foster without flambé!

Whatever you want to call this banana dessert, it's absolutely delicious!


⏰ Can I make this ahead of time?
You can assemble all ingredients ahead of time, but this flaming dessert is best made just before you plan to serve it.
Store any (highly unlikely) leftover caramelized bananas in the fridge for up to 3 days.
🗒 More delicious dessert recipes
When you make these Caribbean Rum Bananas Flambé please leave a comment below. I'd love to hear how they turned out for you! Thanks in advance.
Subscribe to my weekly newsletter and have new recipes delivered straight to your inbox.
📖 Recipe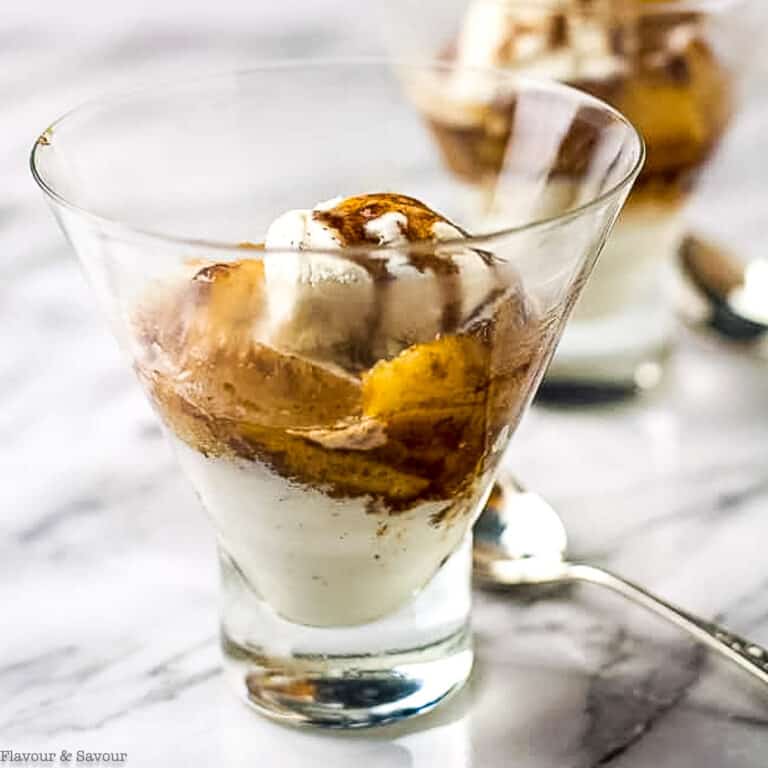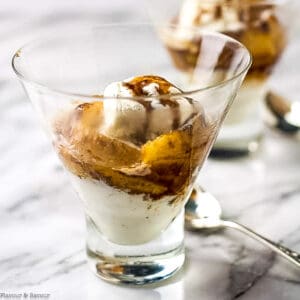 Caribbean Bananas Flambé with Amaretto
A simple but spectacular flaming dessert, Caribbean Rum Bananas Flambé with Amaretto is easy to make. Follow these tips to serve it safely with style!
Print
Pin
Rate
Share by Text
Ingredients
2

medium

bananas, ripe but firm,

peeled and cut in half or quarters

2

tablespoons

butter

2

tablespoons

brown sugar

squeeze

lemon juice

½ to 1

teaspoon

cinnamon

1

ounce

amber rum

(I use Havana rum)

1

tablespoon

Amaretto liqueur

or other almond liqueur
Instructions
Assemble all ingredients, as this recipe cooks quickly. Peel bananas, and cut in half or in quarters.

You'll be dealing with a flame, so take precautions in case something doesn't go as planned! If you have long hair, tie it back. Have a lid for your skillet or a box of baking soda ready by the stove to extinguish a flame if you need to.

Over LOW to MEDIUM heat, melt butter. Add sugar, a squeeze of lemon juice and cinnamon. Stir to combine.

When smooth and beginning to bubble, add bananas. Cook on one side for 1 minute, then turn carefully with tongs and cook on the other side for 1 minute.

Remove the pan from the heat. Carefully pour in the measured rum. (NOT from the bottle, as the flame may travel from the rum in the pan up into the bottle and explode). Immediately light the rum with a flame from a fireplace match or long barbecue lighter. If it doesn't light, return it to the heat for a moment.

Allow the flame to burn down, then divide the bananas into serving dishes, top with ice cream or yogurt and drizzle with the liquid from the pan and a little Amaretto. Serve!
Nutrition
Calories:
308
kcal
|
Carbohydrates:
42
g
|
Protein:
1
g
|
Fat:
12
g
|
Saturated Fat:
7
g
|
Polyunsaturated Fat:
1
g
|
Monounsaturated Fat:
3
g
|
Trans Fat:
1
g
|
Cholesterol:
30
mg
|
Sodium:
105
mg
|
Potassium:
446
mg
|
Fiber:
3
g
|
Sugar:
29
g
|
Vitamin A:
427
IU
|
Vitamin C:
10
mg
|
Calcium:
24
mg
|
Iron:
1
mg
This recipe was originally published in 2018. It has been updated with extra information. The recipe remains the same.