Brunch lovers! This gluten-free clafoutis is made with berries and cherries! This rustic French classic makes an easy gluten-free breakfast or dessert! It's deliciously made with milk, cream, eggs, gluten-free flour and your choice of berries.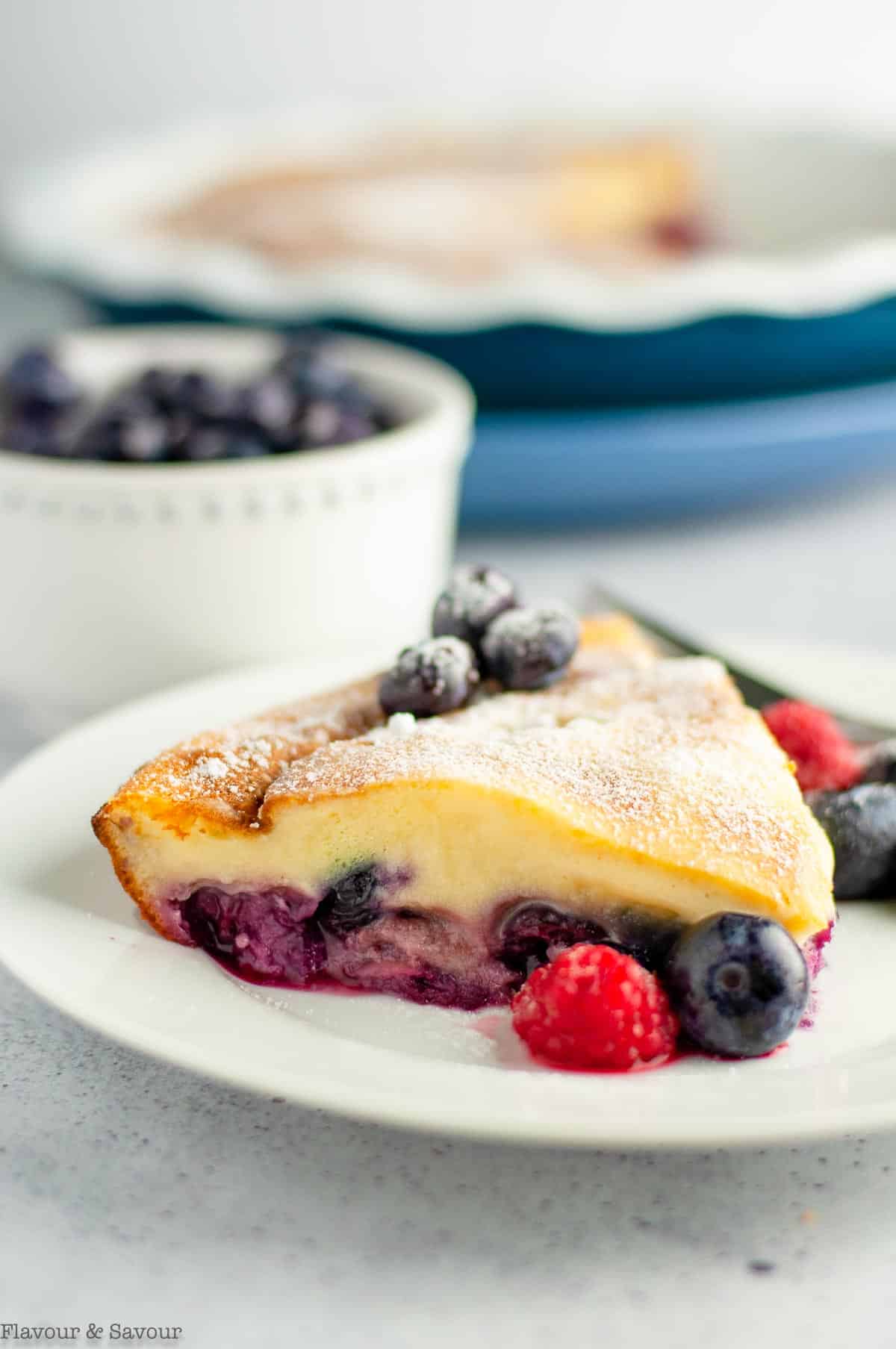 Clafoutis is a traditional French country recipe for a baked custard tart filled with fruit. It sounds impressive, but if you can make pancakes or waffles, you can make this Cherry Berry Gluten-free Clafoutis.
Is it breakfast or is it dessert? You decide.
My recipe is sugar-free, so it definitely qualifies for a breakfast or brunch dish. But I'd happily eat it for dessert any day, too.
❤️ Why you'll love this recipe
Delicious! Imagine it--warm, straight from the oven with a dusting of powdered sugar (or 0-calorie sweetener) with a piping hot cup of coffee or tea.
It's a no-fuss, quick and easy dish that you can make in a skillet or a baking dish, your choice.
You decide: dessert, brunch . . . or both? Whichever you choose, this recipe makes a very easy gluten-free dessert or breakfast!
🛒 Ingredients
Here's what you'll need to make a clafoutis with frozen cherries and berries.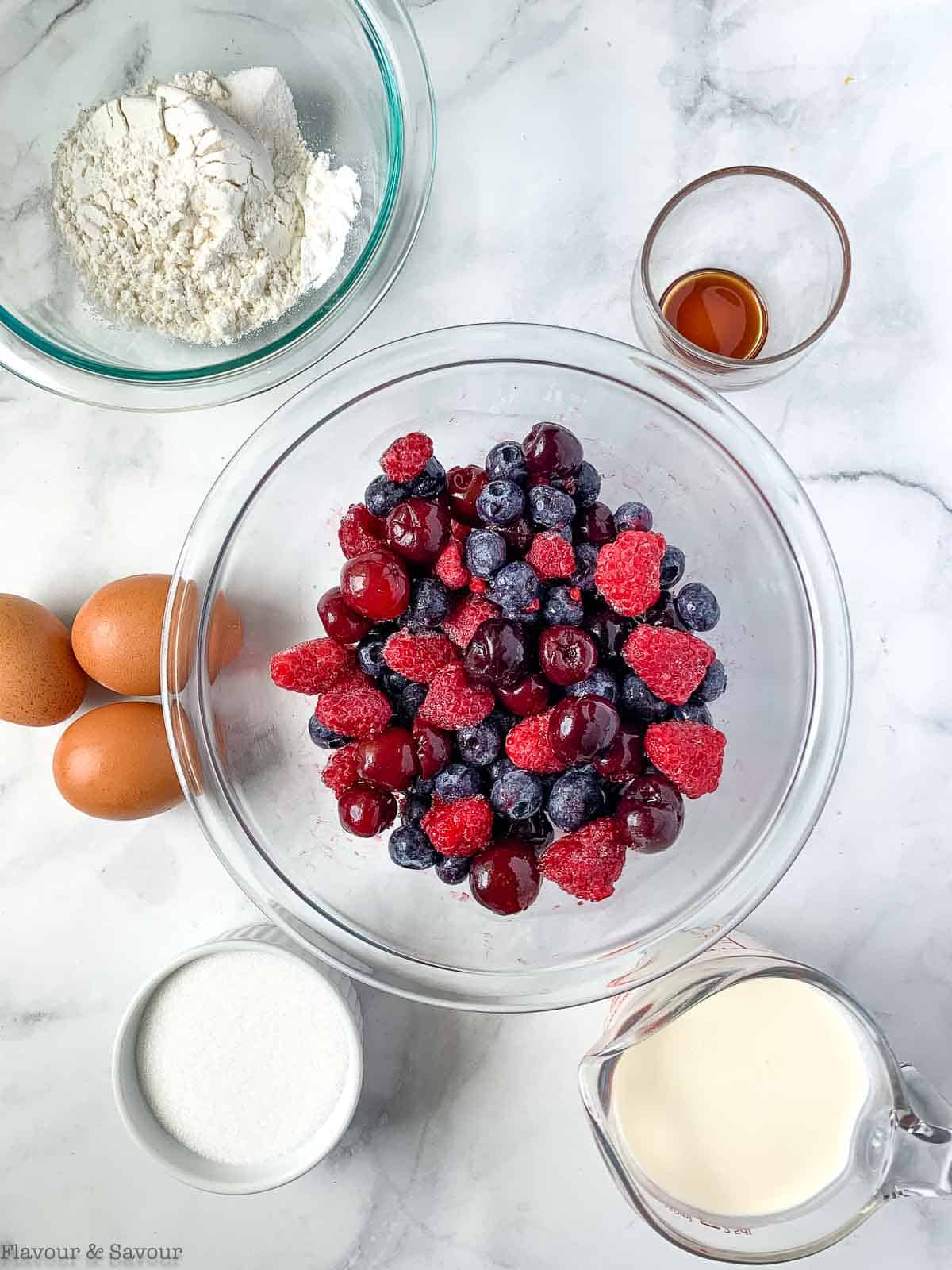 cherries and berries: I used 1 cup each of frozen (thawed) cherries, blueberries and raspberries. Fresh fruit would be perfect, too.
cream and milk: use half cream and half milk, or whatever proportions you like. Cream will make a richer custard filling.
sweetener: sugar, or 0-calorie sweetener. I used Lacanto Monkfruit sweetener with erythritol.
eggs: 3 large eggs.
vanilla extract: or try almond extract for a change
gluten-free flour blend with xanthan gum
baking powder, salt
🔪Instructions
First, prepare a 10-inch cast-iron skillet, baking dish, or cake pan by greasing it with butter and dusting it with gluten-free flour. A cast-iron skillet helps to keep the clafoutis warm after it comes out of the oven.
Next, spread the fresh or thawed berries and cherries on the bottom of an oven-proof skillet or baking dish.

Mix the remaining ingredients together in a blender. If you're mixing the batter by hand, combine the dry ingredients in one bowl, and the wet in another, then stir well to combine.

Finally, pour the filling on top of the berries and cherries

Bake! It will puff up and turn slightly golden around the edges and look dreamy. And then . . . it will fall shortly after it comes out of the oven. No worries. It will taste divine.
Frequently Asked Questions about Clafoutis
What's the best fruit to use to make a clafoutis?

Use whatever fruit is in season, or even add in a few chocolate pieces. In the summer, you'll love this Gluten-Free Blueberry Peach Clafoutis. In the fall, a clafoutis made with apples and pears makes a delicious, cozy breakfast!

It's traditional to use whole unpitted cherries in this classic French country dish. I used pitted cherries and halved them as they were large.
How can I tell when a clafoutis is done?
You'll know when a clafoutis is done when it's golden brown on top and a toothpick inserted in the center comes out clean. It will wobble a little, but it should not be runny in the center.
If you overcook it, the eggs may cause the clafoutis to become rubbery.
How do you pronounce "clafoutis?"
The "s" on the end is silent and the "i" is pronounced as an "e."
Cla-foo-teee.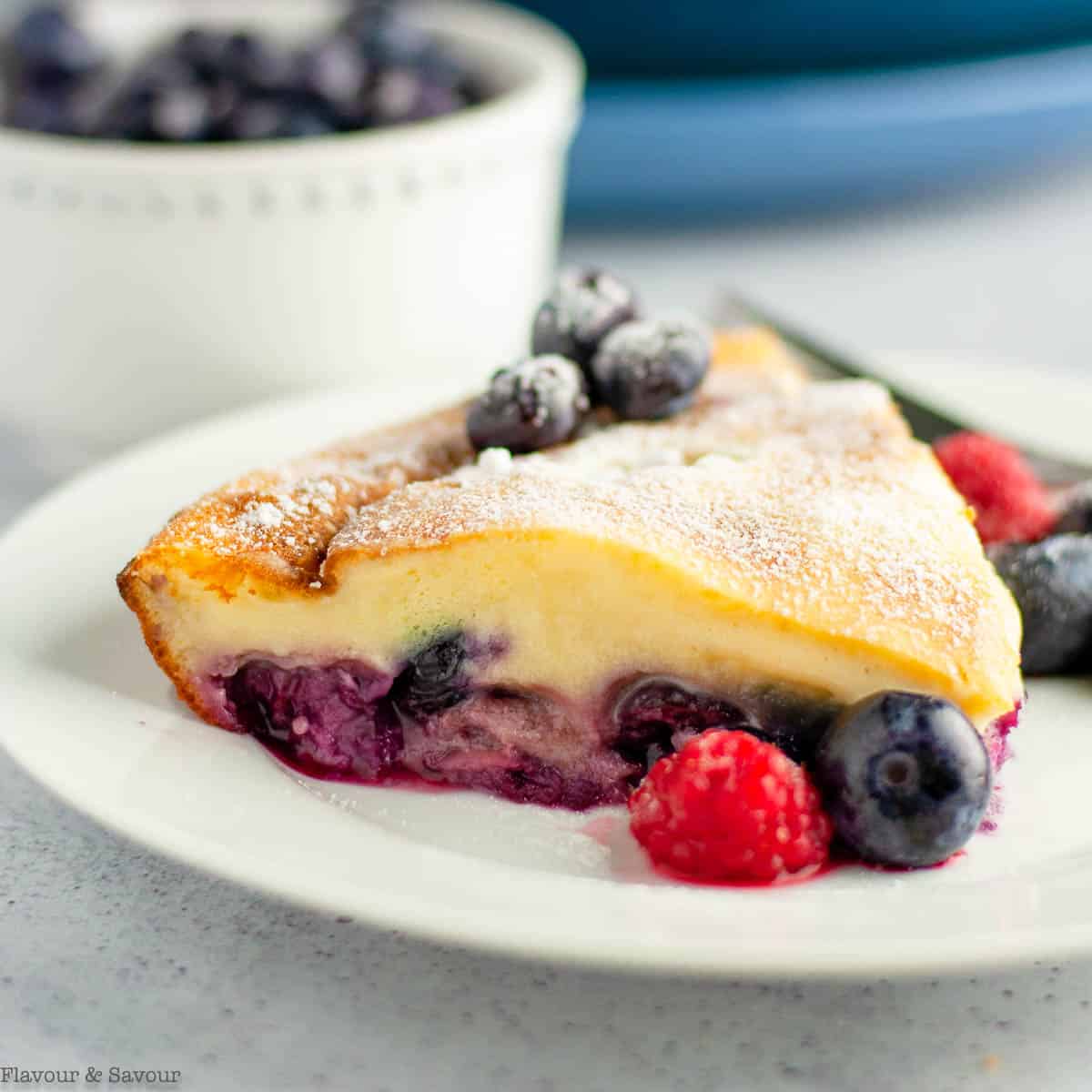 Can I make a clafoutis ahead of time?
It's best to eat clafoutis soon after you remove it from the oven while it's still warm. However, it's also delicious cold!
You can store leftover slices of clafoutis in the fridge and warm them in the microwave for about 20 - 25 seconds. You can also reheat clafoutis in the oven at 350°F. for about 10 - 12 minutes.
More breakfast recipes with baked fruit
Looking for more baked fruit dishes for breakfast? Try these healthy breakfast recipes, too. All are gluten-free!
More gluten-free breakfast recipes
📖 Recipe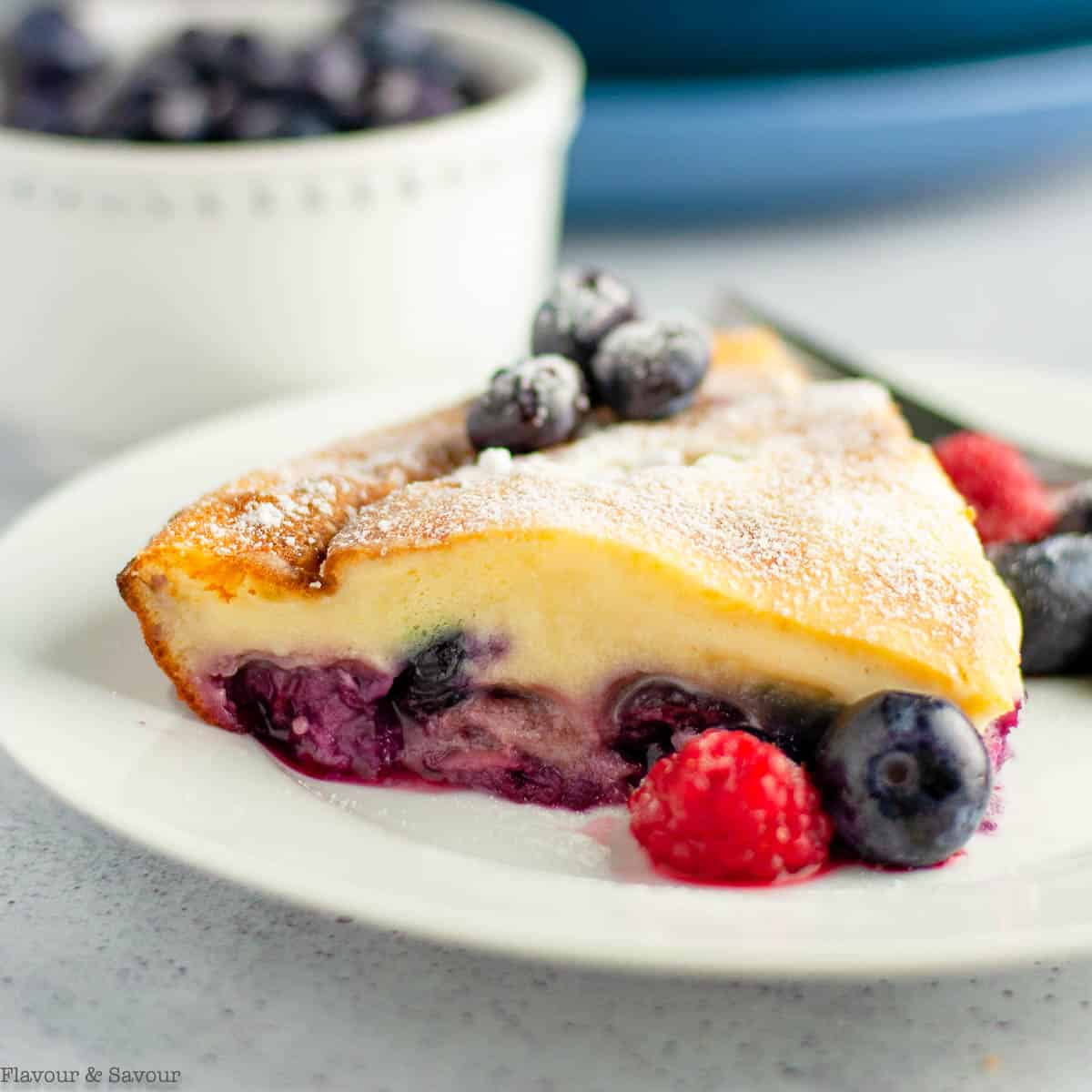 Cherry Berry Gluten-Free Clafoutis
A traditional rustic French recipe for a fruit-filled baked custard-based tart, now made gluten-free with sugar-free options! A quick and easy gluten-free dessert that's also delicious for brunch.
Print
Pin
Rate
Ingredients
1

teaspoon

butter

to grease the skillet or cake pan

gluten-free flour,

to dust the skillet

1

cup

cherries,

pitted and halved if large

1

cup

blueberries

1

cup

raspberries

½

cup

heavy cream

½

cup

milk

½

cup

0-calorie sweetener, or sugar

3

large

eggs

1

tablespoon

pure vanilla extract

½

cup

gluten-free flour blend,

with xanthan gum

½

teaspoon

baking powder

½

teaspoon

salt

1

tablespoon

powdered sugar,

for garnish

extra berries and cherries,

for garnish
Instructions
Preheat oven to 375 F. Coat a skillet with or a 10-inch cake pan with butter, then dust with gluten-free flour.

If using thawed berries, gently toss with 2 teaspoons cornstarch. Arrange fruit on bottom of skillet.

Whisk together cream, milk, sweetener, eggs and vanilla in a mixing bowl until smooth.

In a separate bowl, combine gluten-free flour, baking powder and salt. Whisk the dry ingredients into the cream mixture until combined and no lumps remain. Alternatively, put both wet and dry ingredients in a high-speed blender and process until well combined.

Pour the mixture over the berries and cherries in the skillet. Place in the middle of the oven and bake for 35 minutes until golden and puffy. A toothpick inserted in the center (not in a cherry) should come out clean. It may be wobbly in the center, but not runny.

Cool on a wire rack for a few minutes. The top will fall slightly and settle. Dust with powdered sugar, if desired.

Serve warm with extra berries. If serving for breakfast, drizzle with maple syrup. If serving for dessert, consider whipped cream or ice cream.
Nutrition
Calories:
201
kcal
|
Carbohydrates:
19
g
|
Protein:
5
g
|
Fat:
11
g
|
Saturated Fat:
5
g
|
Cholesterol:
134
mg
|
Sodium:
275
mg
|
Potassium:
196
mg
|
Fiber:
3
g
|
Sugar:
8
g
|
Vitamin A:
495
IU
|
Vitamin C:
9.2
mg
|
Calcium:
86
mg
|
Iron:
1.2
mg