Welcome Spring with this fresh and healthy Strawberry Kale Salad tossed with Poppy Seed Dressing.
Jump to Recipe          Print Recipe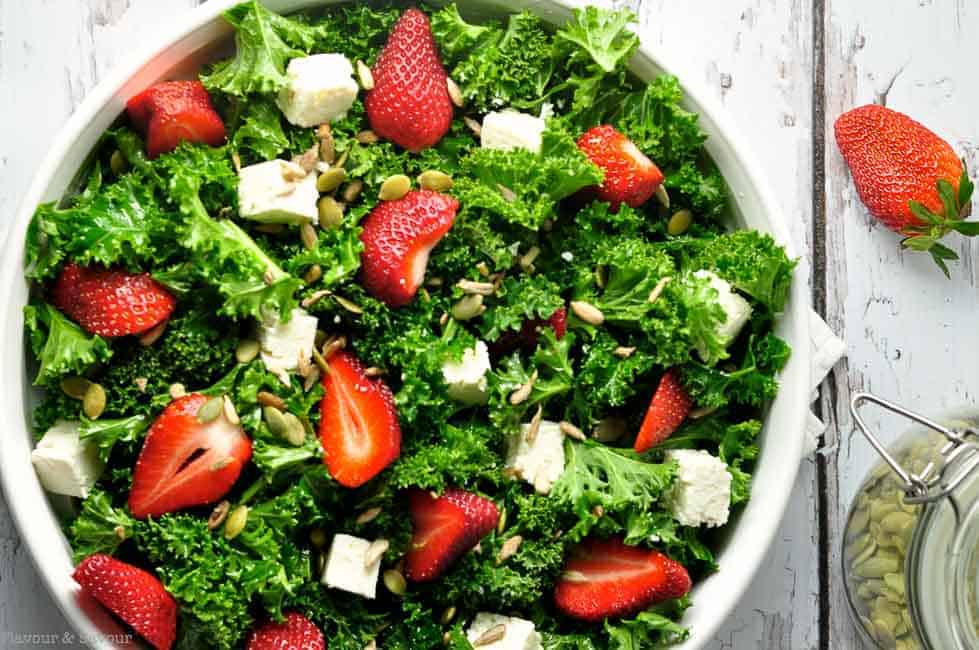 It's Spring here in the Northern Hemisphere! What better way to celebrate than with a bright and colourful, healthy cleansing dish like this Strawberry Kale Salad? Kale--that green goddess that all the foodie experts swore was just a trend. We all know just how good it is for us and we humble salad lovers know that kale is not a flash-in-the-pan. It's here to stay.
Tender little leaves of baby kale and sweet strawberries are tossed together with a cheerful poppy seed dressing in this simple salad. Add a little salty feta cheese for contrast, some pumpkin seeds for protein and crunch and you'll have the makings of a beautifully balanced side or lunchtime salad.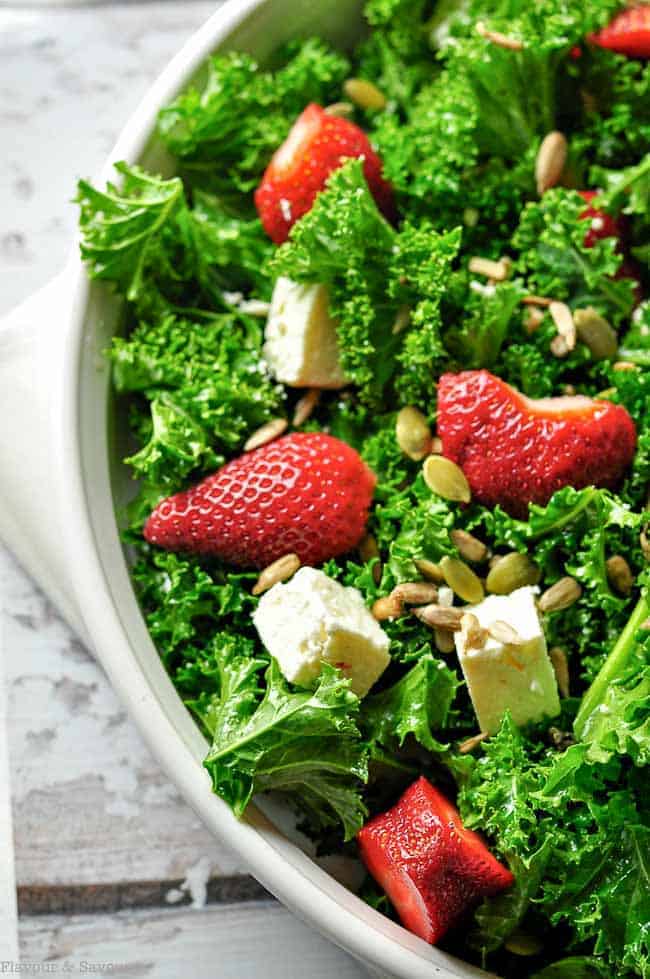 Cleansing and refreshing are the buzz words of these first few days and weeks of spring. It's time to clean up and refresh my garden as well as my diet. For those of us in slightly warmer areas in the North, it's that time when we can get back into our gardens and plant early spring crops. Yesterday I pulled up the kale plants that survived the winter (all two weeks of it here this year) to make room for new plants. I harvested the tiny new shoots on the old plants, and this salad was the result. I decided it's also time to spring clean my kitchen, but  I was a tad less enthusiastic about that job.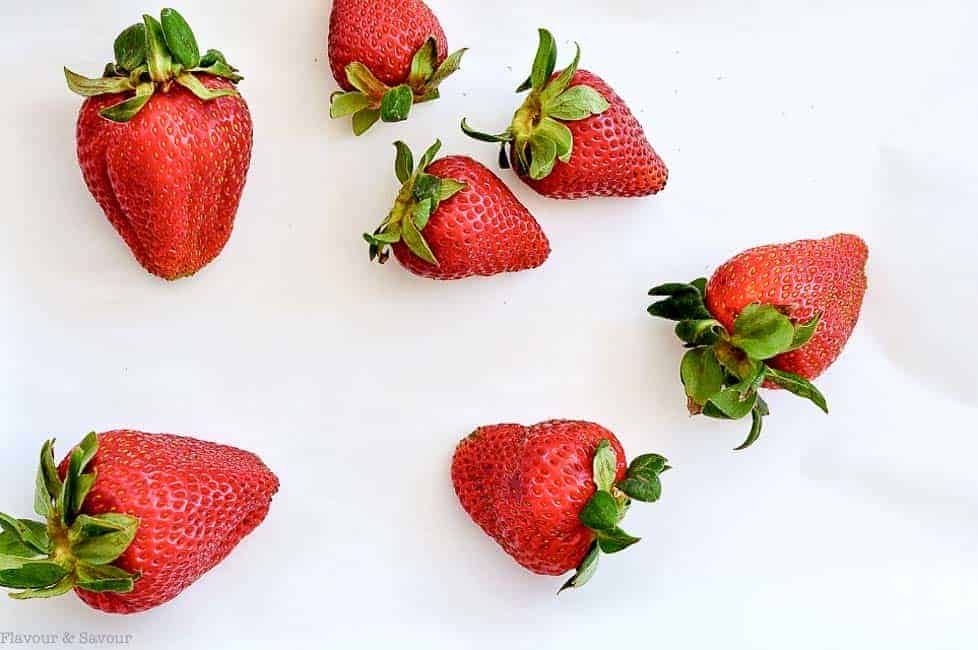 It's a big one. Sometimes Denis comes into the kitchen, takes one look around at the bomb that apparently just went off and shakes his head. I swear I am the sloppiest cook on the planet. When I'm done, my white cabinets are splattered, the island is mounded with utensils and appliances, the sink is piled high with dirty pans and bowls and the floor--OMG the floor. I'm usually in the middle of making 2 or 3 different dishes at the same time so there is absolutely no apparent order in my madness. Except to me.
Denis, on the other hand, is Mr. Organized. His world just works better when things are orderly. Don't get me wrong, I wouldn't label him OCD, but he is definitely a happier man when everything is in its place. I benefit from his neat freak traits in a big way. HE DOES THE DISHES! AND PUTS THINGS AWAY WHERE THEY BELONG! How great is that?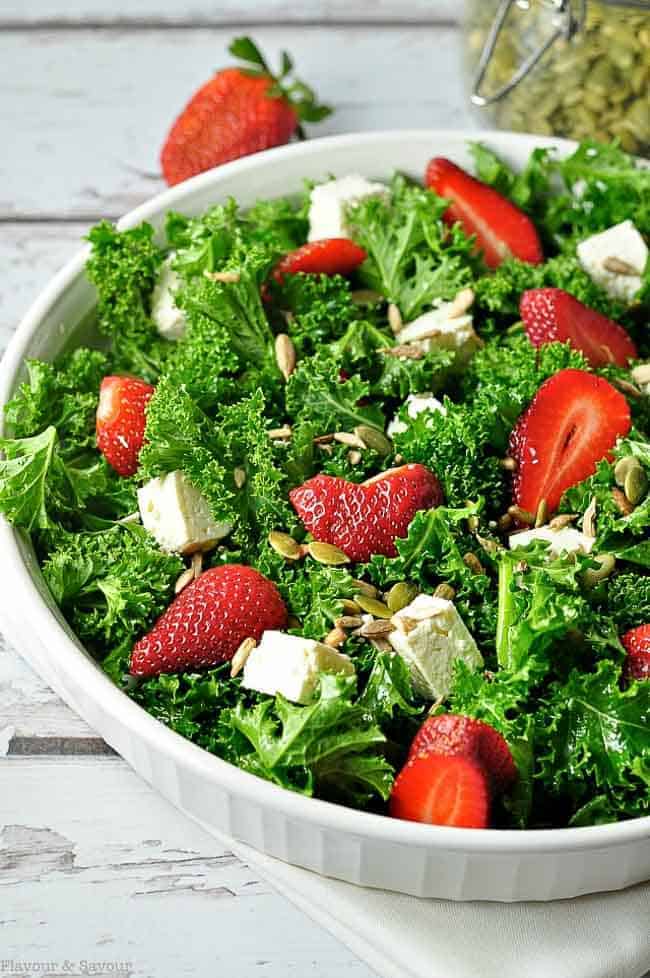 So anyway, back to this Strawberry Kale Salad with Poppy Seed Dressing. You should make it. This one is too easy for words and can be whipped up in no time flat. Celebrate spring and all things green and clean!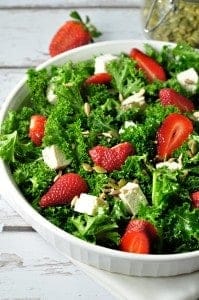 Strawberry Kale Salad with Poppy Seed Dressing
Tender baby kale, fresh strawberries, feta cheese and pumpkin seeds are tossed with a cheerful poppy seed dressing in this recipe for Strawberry Kale Salad.
Print
Pin
Rate
Ingredients
4

cups

baby kale leaves,

torn or chopped into bite-sized pieces

1-2

tsp

olive oil

12

fresh organic strawberries,

sliced

1

cup

feta cheese,

cubed

1

avocado,

sliced or cubed

1/4

cup

raw pumpkin seeds

or other nuts or seeds of your choice
Dressing
2

tbsp

olive oil

2

tbsp

fresh lemon juice

1

tsp

honey

1/2

tsp

poppy seeds

1/8

tsp

sea salt

1/8

tsp

freshly ground black pepper
Instructions
Combine the dressing ingredients in a small glass jar and set aside to allow flavours to blend.

Put torn kale leaves in a bowl and drizzle with a teaspoon or two of olive oil. Massage the oil gently into the leaves to tenderize them.

Toss all ingredients with the dressing just before serving.
Tried this recipe?
Share a photo on INSTAGRAM and tag it #flavourandsavour! I love seeing what you've made.