Looking for a change from cooked Brussels sprouts? Try this raw shaved or shredded Brussels Sprout salad instead! Sweetened with apples and cranberries and tossed with a maple-balsamic vinaigrette, it's a perfect side dish for a fall or winter meal. Naturally gluten-free!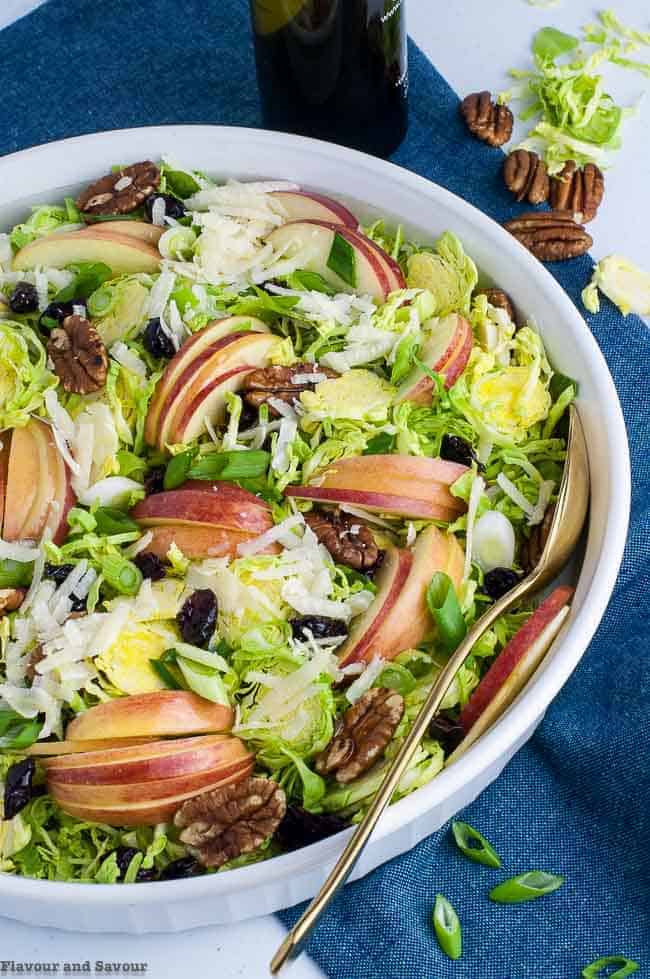 This Shredded or Shaved Brussels Sprout Salad with cranberries, apples and pecans is a favourite in our home during the winter months. It runs a close second to our favourite holiday wreath salad, this Pomegranate Mandarin Salad with Avocado and Feta.
With fresh produce readily available in the summer, salads are easy to create. In the winter, we have to be a little more creative, finding the best ways to use fruits and veggies that are available in the winter months. You'll find lots of healthy ideas in this collection of 15 Best Winter Salad Recipes.
This shredded Brussels Sprout Salad with Cranberries and Pecans has sweetness from apples and cranberries, saltiness from the cheese, and crunchiness from pecans. It's tossed with a Maple Balsamic Dressing that you will not want to miss!
It's a fresh alternative to the traditional way of serving sprouts. It makes a beautiful but simple winter salad, full of Vitamin C!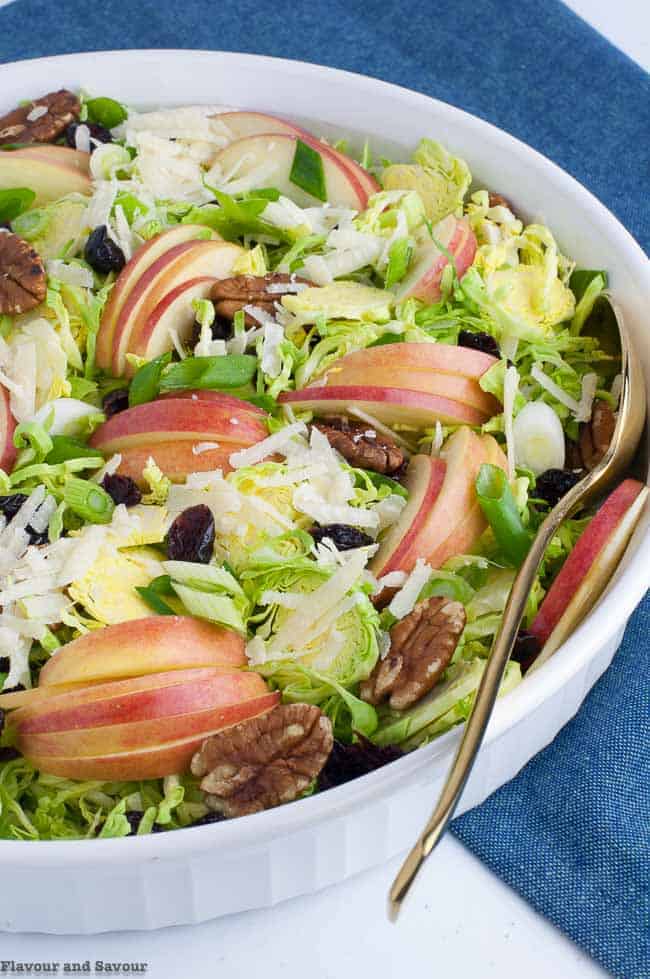 If you haven't tried raw shredded Brussels sprouts, here's a perfect way to do so! Head to your farmer's market, pick up some freshly harvested sprouts and make this raw salad. PS: don't skip the Maple Balsamic Dressing!!
🛒 Ingredients
toasted pecans
thinly sliced or grated apples (choose a firm variety, like a sweet Fuji or tart Granny Smith)
green onions, thinly sliced for extra flavour
dried cranberries for that sweet and salty contrast
strong-flavoured cheese like Pecorino or Parmigiano Reggiano
and Brussels sprouts!
You'll find full recipe measurements and detailed instructions in the recipe card below.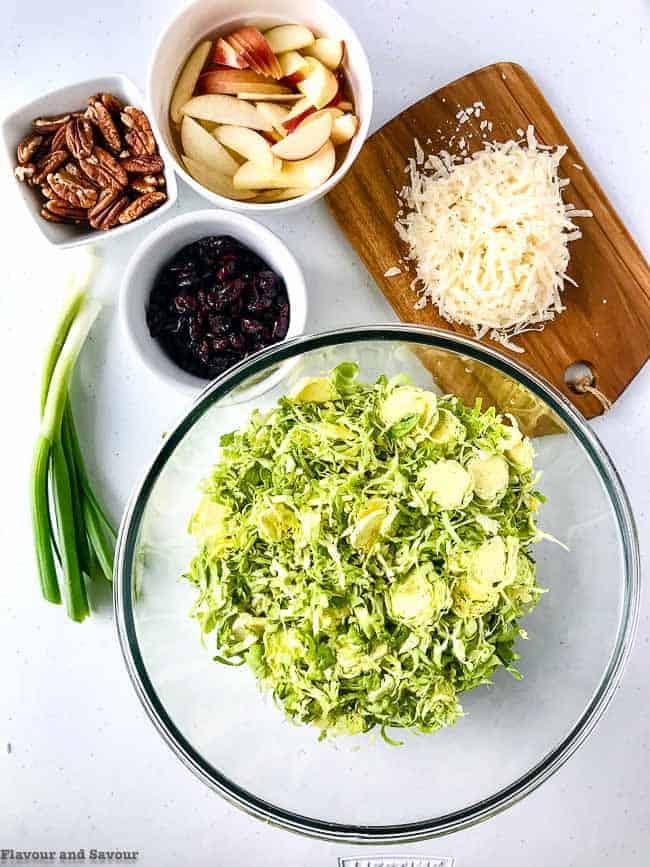 Childhood memories of the smell of boiled or steamed Brussels sprouts prompted me to seek other ways to prepare this nutritious vegetable! I grew up believing that the only way to eat Brussels sprouts was to boil them to death until the stench filled the kitchen.
Thankfully, my mother usually only cooked Brussels sprouts for holiday dinners, so my suffering was just occasional.
Raw shredded Brussels sprouts are delicious!
It wasn't until I was grown up and began cooking for myself that I discovered there are many delicious ways to serve sprouts. Those who have never tried them raw may be surprised to see them served this way. Often the most confirmed sprout-haters become converts when trying them in a salad.
You might also like this Fresh and Crisp Kohlrabi Winter Salad. It uses raw Brussels Sprouts leaves instead of lettuce.
🔪 Instructions
This Shredded Brussels Sprout Salad is
sweet
salty
crunchy
healthy
and a fresh change from traditionally cooked sprouts!
You'll start by whisking the maple-balsamic vinaigrette ingredients together, then set this aside to allow the flavours to blend while you prepare the rest of the salad.
Toast the pecans in the oven, then chop them.
Next, trim the sprouts and shred them as described below. Slice the apples, grate the cheese, then assemble the salad either in a bowl or a large platter.
Toss the shaved Brussels sprouts with the remaining ingredients and a maple-balsamic vinaigrette and you have an ideal salad for a fall or winter day. Perfect for a potluck party, too!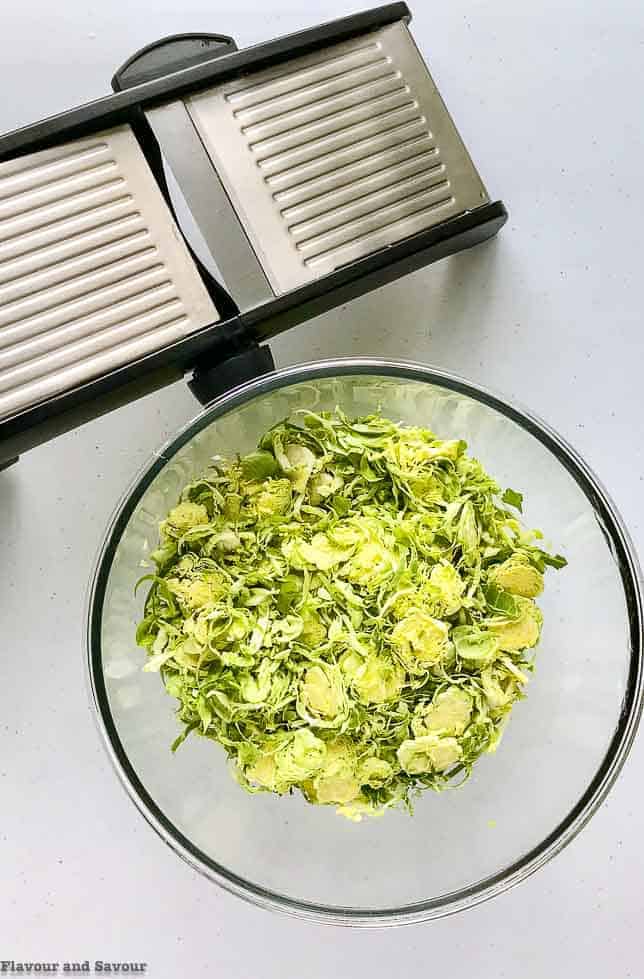 How to shred Brussels sprouts
Shredding Brussels sprouts makes this salad almost like a slaw, but the sprouts stay fresh and crunchy. There are several ways you can shave sprouts.
Use a mandoline slicer, but take extra care as sprouts are small and the blade is very sharp! You must use cut resistant gloves if you're going to use a mandoline slicer. They're just too small to hold without protection.
The slicing disc on your food processor will quickly transform these little cabbage-like veggies to a mound of feather-light fronds, although sometimes mine leave a few larger pieces that I have to slice by hand.
Use a regular grater.
Slice with a sharp knife, then separate the round slices into ribbons.
🔁 Possible Additions or Substitutions
Feel free to substitute any of the following to your salad!
crisp-cooked and crumbled nitrate-free bacon
blue cheese instead of Parmesan or Pecorino
walnuts instead of pecans
raisins instead of dried cranberries
How long will this Brussels sprout salad keep?
You can make this salad up to 3 days in advance. Like most salads, it's best on the day it was made, but if you cover it tightly and refrigerate it you can enjoy it for lunches the following day or two.
It makes a totally satisfying side dish or healthy lunch!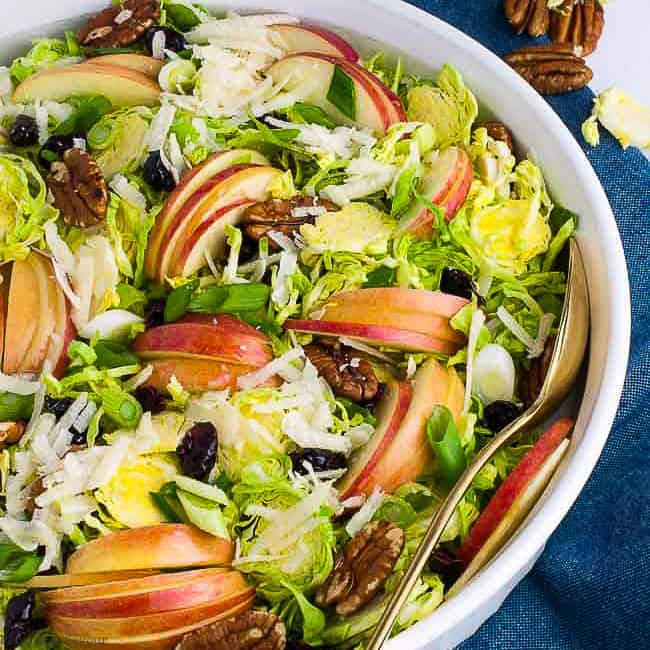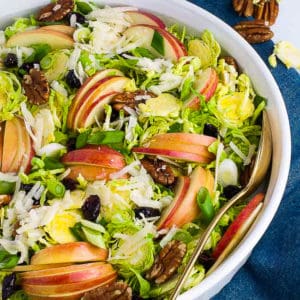 Shaved Brussels Sprout Salad with Cranberries and Pecans
Sweetened with apples and cranberries, this shredded Brussels Sprout Salad is a perfect side dish for a fall or winter meal.
Print
Pin
Rate
Ingredients
6

cups

Brussels sprouts,

shredded (see note above for how to shred)

2

large

apples,

cored and grated or very thinly sliced

2

tsp

lemon juice,

freshly squeezed

3

green onions,

sliced thinly

¾

cup

dried cranberries,

unsweetened or sweetened

¾

cup

pecans,

toasted and chopped

¾

cup

grated Pecorino or Parmesan,

or other hard sharp cheese, coarsely grated
Maple Balsamic Vinaigrette
1

small

shallot,

finely diced

1

tbsp

balsamic vinegar

2

tbsp

pure maple syrup

1

tsp

Dijon mustard

¼

cup

olive oil

extra virgin

sea salt and peppe,r

to taste
Instructions
Heat oven to 400°F. Lay the pecans on a baking sheet and toast in oven for 6 - 8 minutes or until fragrant and lightly browned. Remove from oven and let cool before chopping.

Trim the sprouts to remove any bits of rough stem or discoloured leaves.

Shred the Brussels sprouts, using a mandoline (be careful!) or the slicing disc on a food processor, grate coarsely, or use a sharp knife to slice.

Thinly slice or grate apple into a small bowl and toss with the lemon juice to prevent browning.

Grate the cheese and combine all salad ingredients, arranging the apple slice in clusters if you wish.

Whisk the vinaigrette ingredients together and toss the salad.
Nutrition
Calories:
279
kcal
|
Carbohydrates:
29
g
|
Protein:
7
g
|
Fat:
17
g
|
Saturated Fat:
3
g
|
Cholesterol:
10
mg
|
Sodium:
139
mg
|
Potassium:
405
mg
|
Fiber:
6
g
|
Sugar:
19
g
|
Vitamin A:
612
IU
|
Vitamin C:
60
mg
|
Calcium:
147
mg
|
Iron:
2
mg
Nutrition Facts
Shaved Brussels Sprout Salad with Cranberries and Pecans
Amount Per Serving
Calories 279
Calories from Fat 153
% Daily Value*
Fat 17g26%
Cholesterol 10mg3%
Sodium 139mg6%
Potassium 405mg12%
Carbohydrates 29g10%
Protein 7g14%
Vitamin A 612IU12%
Vitamin C 60mg73%
Calcium 147mg15%
Iron 2mg11%
* Percent Daily Values are based on a 2000 calorie diet.
SAVE THIS TO ONE OF YOUR PINTEREST BOARDS
and
connect with me on Pinterest
! I'm always finding new tasty recipes to pin. Subscribe to my weekly newsletter and never miss a recipe!