Rich autumn flavours and rustic warm colours make this roasted Butternut Squash Salad a favourite choice for a healthy fall salad! Caramelized bites of squash, sweet cranberries, feta cheese crumbles and crunchy pecans top a bed of baby spinach or tenderized kale.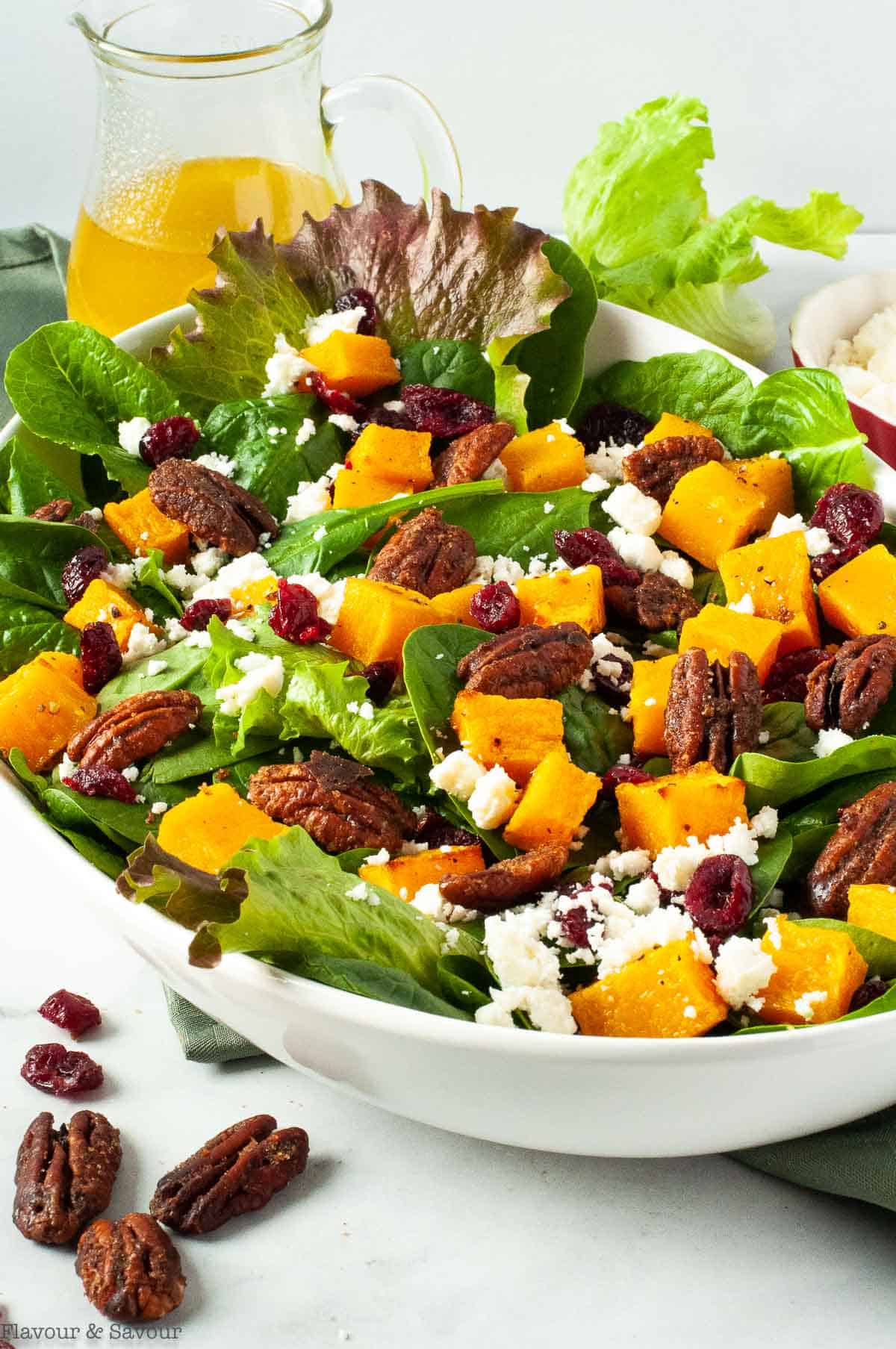 One of the best parts of this roasted Butternut Squash Salad with Cranberries may be the smallest.
No--it's not the little pieces of tenderized kale. It's not the feta crumbles. It's not even the sweet little cranberries.
What is it? It's those crispy edges on the tiny cubes of oven-roasted butternut squash!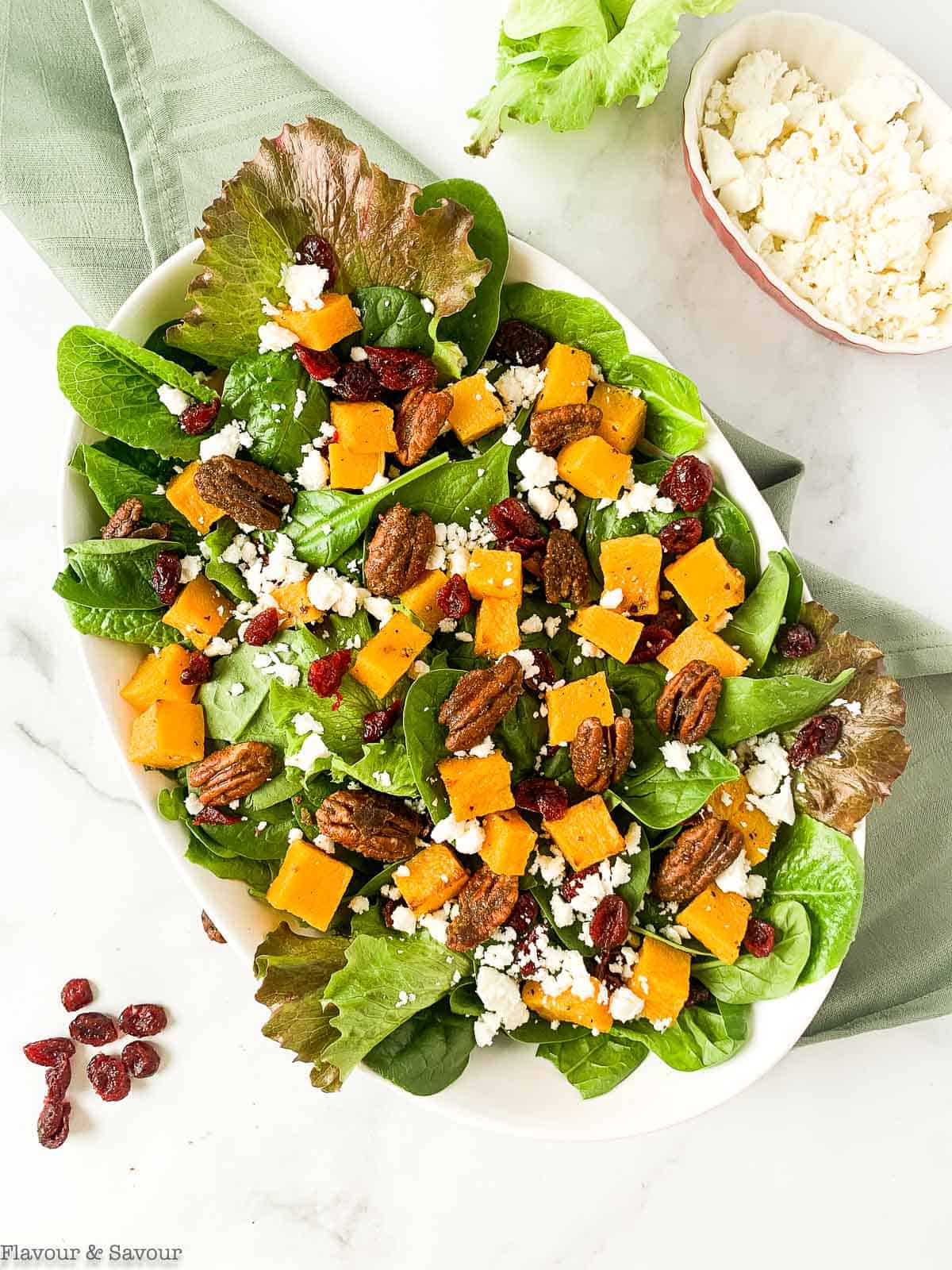 But there's more! Tucked in among all that deliciousness is your choice of Caramel Spiced Pecans or Low-Carb Roasted Pumpkin Spice Pecans. These sweet and crunchy nuts add the final special touches to this fall salad.
Best homemade dressing! And tossing it all together and then drizzling it with my favourite Honey-Lemon Dijon Dressing enhances the hearty flavour of this comforting Butternut Squash Salad even more.
We're basking in the warmth of a sunny fall day here on the West Coast and we're toasting the beginning of a new season with a glass of Cranberry Apple Cider Sangria and this wholesome Butternut Squash Salad with cranberries, salty feta and sweet pecans!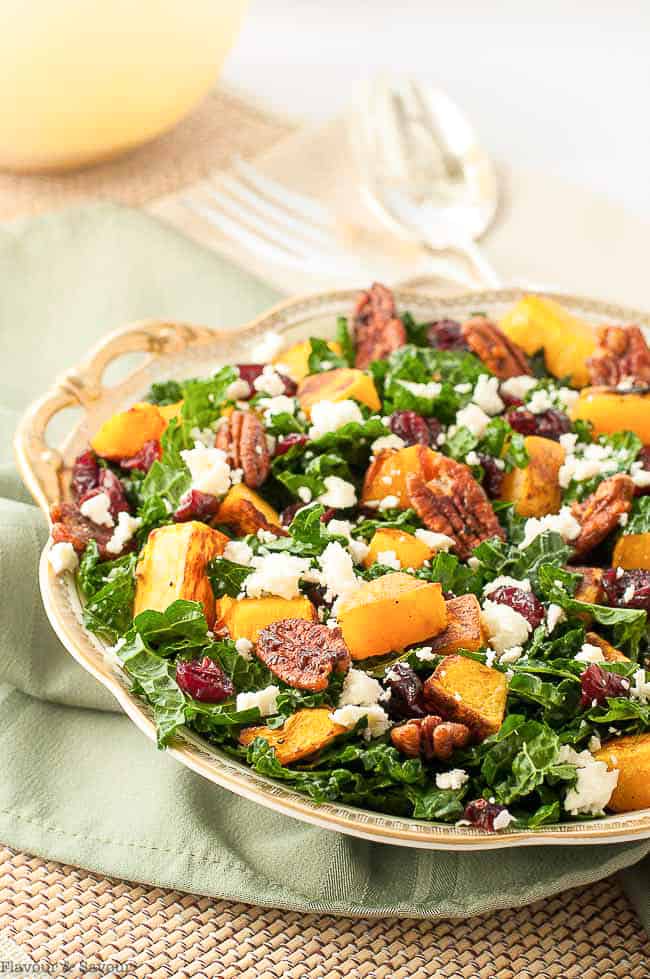 🛒 Ingredients
Here's what you'll need to make this healthy fall salad. Make it for dinner, or for a packable lunch. It's also great as a potluck offering as it stays fresh!
Butternut squash: you'll need 2 cups, cubed
greens: your choice: Baby spinach, mixed greens, or kale: Lacinato kale, (also known as Dinosaur or Tuscan Kale) is my favourite variety for salads. See below for how to tenderize the kale. You'll need one bunch.
cranberries: dried, sweetened
feta cheese: crumbled, for that salty flavour
pecans: try my Caramel Spiced Pecans or Low-Carb Roasted Pumpkin Spice Pecans with this salad. Delicious!
Honey-Dijon Dressing: olive oil, white wine vinegar, lemon juice, shallots, honey, Dijon mustard. An easy dressing to whisk together!
🔪 Instructions
Here's an overview of what you'll do to make this spinach or kale salad with butternut squash. Complete instructions are in the recipe card below.
First, whisk the dressing ingredients, then set aside to allow flavours to blend while you make the salad.
Next, cut the squash, season, and then roast in the oven (or in your air fryer.)
Meanwhile, wash and dry your greens, or prepare the kale, massaging it to tenderize it.
Arrange the spinach, greens, or kale in a serving bowl, top with roasted squash, cranberries, feta, and spiced pecans.
Drizzle or toss with Honey-Lemon Dijon dressing and serve.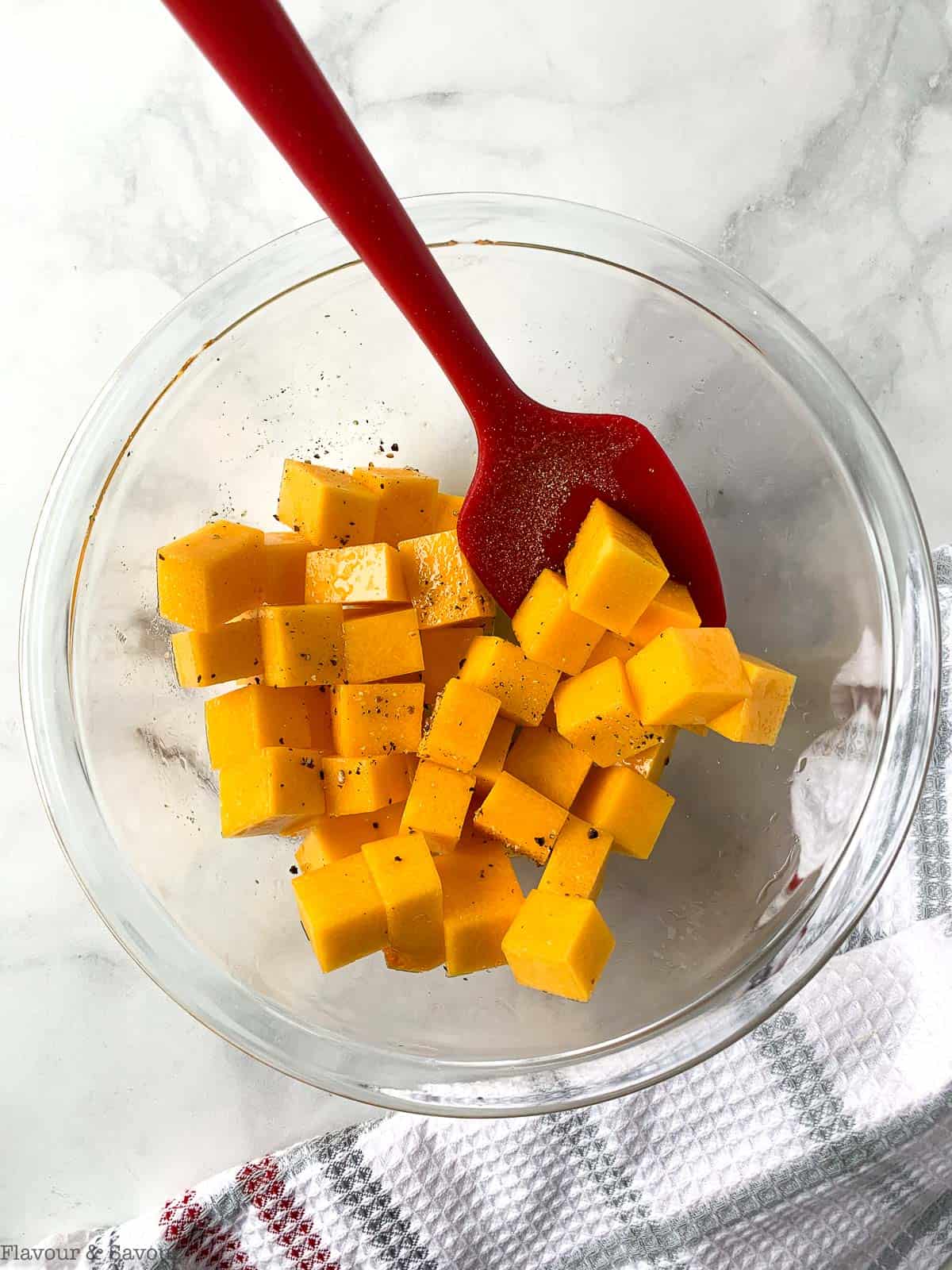 👍🏼 How to cut Butternut squash
The first thing you'll want to do is remove thin slices from both the top (stem end) and the base of your squash. Removing these parts gives you a firm base to stand your butternut upright to make it easier to peel. Peel it in long strips from one end to the other using a vegetable peeler.
Next, cut through the "neck" of the squash, the point where it widens. (This one in the photo didn't have a noticeable neck.) Slice the neck in half from top to bottom, the slice into half-moons about ¾ inch thick.
Remove the seeds from the squash with a spoon, and slice this part into rounds in the same way.
To make cubes, slice the half-moons into strips about ¾ inch wide and then crosswise into cubes. Obviously, you won't have perfect cubes, as the squash is round!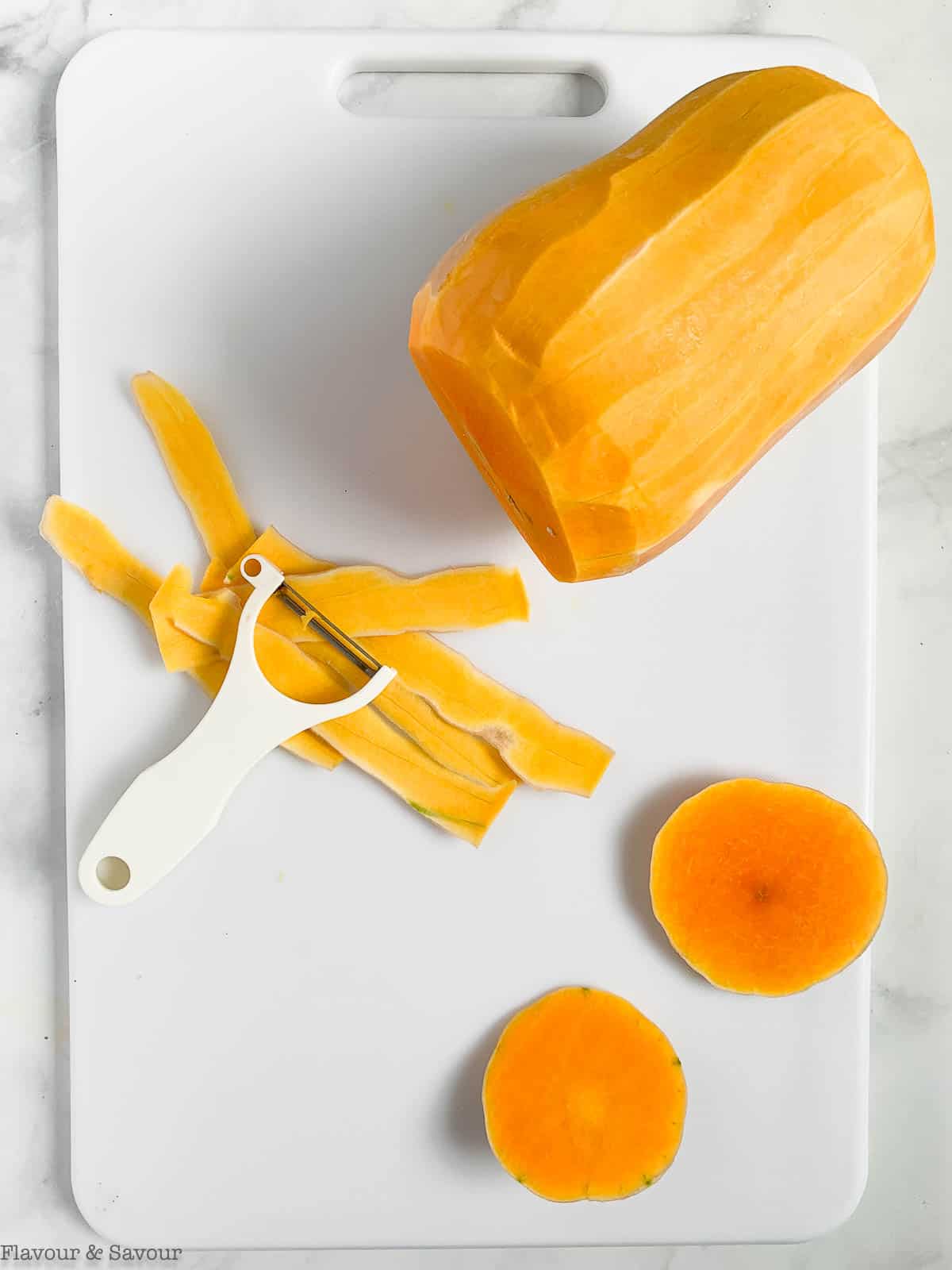 ❓Frequently asked questions
Is the butternut squash served hot or cold in this salad?

Your choice! It's good both ways. Make the salad and top it with roasted butternut squash fresh from the oven.

It's also delicious cold, if you prefer. Chill leftovers and enjoy it cold in your lunch the following day. Or you can store the squash separately and reheat it in the oven or in your air fryer before adding it to your leftover salad.
How do I tenderize kale?

Do you avoid kale salads because kale is tough to chew? Even Lacinato Kale (sometimes called Tuscan Kale, Italian Kale or Dinosaur Kale) can be chewy, but it's easy to improve its texture.

First, remove the center stem, either with a sharp knife or by stripping the leaves from the stem.
Next, chop the leaves into small pieces or ribbons.
Transfer to a bowl, and drizzle with a teaspoon or two of olive oil and a sprinkle of salt.
Work the olive oil into the leaves by gently rubbing them between your fingers.

Massaging kale in this way helps to break down the tough fibers and makes it tender and easy to chew and digest.
Kale is a superfood!
Read more about kale in this article about the healthy benefits of kale.
🔁 Possible variations
use a base of baby spinach, romaine, or mixed greens instead of kale
substitute goat cheese for the feta
keep it vegan by omitting the cheese
Storage instructions
Refrigerate leftovers promptly, as bacteria can start to form in room-temperature food after a couple of hours.
This salad will last several days in the fridge. Keep it tightly covered in an airtight container and enjoy it for lunch or as a side for dinner!
🗒 More healthy fall and winter salads
🌟 Did you make this recipe?
When you make this butternut squash salad, please leave a comment and a rating below. I love hearing when you've made one of my recipes. Thanks in advance! Subscribe to my newsletter and have new recipes delivered straight to your inbox once a week.
📖 Recipe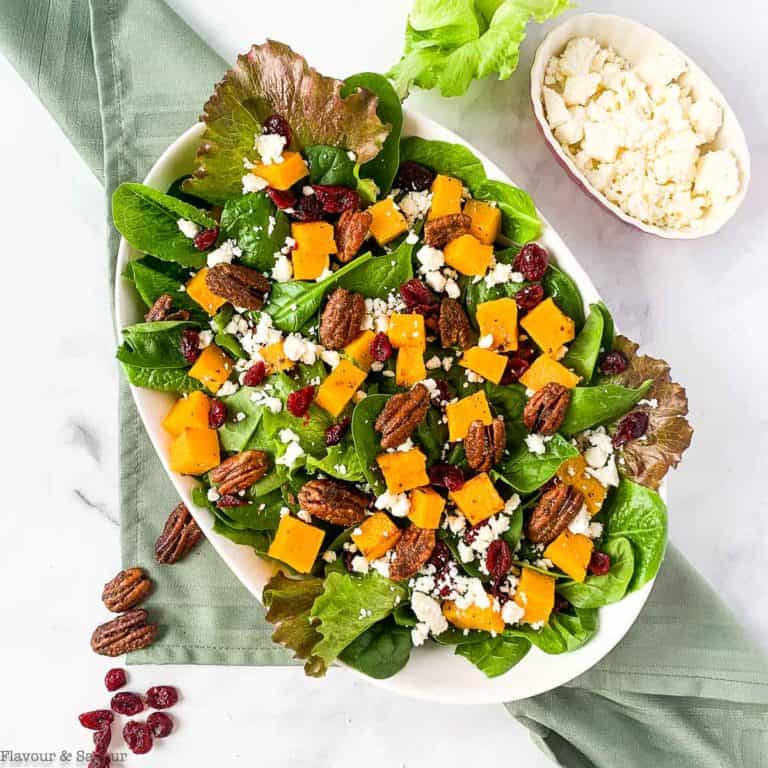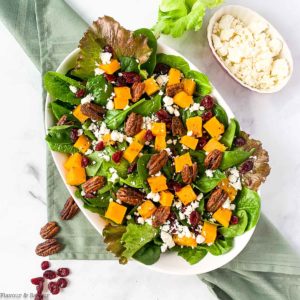 Butternut Squash Salad with Cranberries and Feta
Rich autumn flavours and rustic warm colours make this Roasted Butternut Squash Salad with Cranberries a favourite choice for fall or winter!
Print
Pin
Rate
Ingredients
2

cups

Butternut squash,

cubed

4

teaspoon

olive oil

extra virgin, divided

¼

tsp each

salt and pepper

1

bunch

Lacinato (Tuscan) kale

or 6 cups baby spinach or mixed greens

½

cup

dried cranberries

½

cup

feta cheese,

crumbled

½

cup

Caramel Spiced Pecans

or Pumpkin Spice Pecans
Honey-Lemon Dijon Dressing
½

cup

olive oil,

extra virgin

3

tablespoon

lemon juice,

freshly squeezed

2

tablespoon

white wine vinegar,

or Champagne vinegar

1

small

shallot,

finely minced

1

teaspoon

Dijon mustard

1

teaspoon

honey

½

tsp each

salt and pepper
Instructions
Whisk the dressing ingredients first, then set aside to allow flavours to blend while you make the salad.

Cut Butternut squash into small bite-sized cubes. Place in a medium bowl and toss with 2 teaspoon of the olive oil and salt and pepper until well-coated. Heat a baking sheet in the oven, brush or spray lightly with oil, then arrange squash cubes so they are spaced apart. Roast for 15 minutes or more, turning half way through, or until squash is beginning to brown, and is fork-tender. Remove from oven.

Meanwhile, remove inner ribs from kale leaves and finely chop. Transfer to a bowl and massage with the remaining 2 teaspoon olive oil.

Arrange in a serving bowl, top with roasted squash, cranberries, feta and caramel spiced pecans. Drizzle or toss with Honey-Lemon Dijon dressing and serve.
Notes
This salad is equally good with warm butternut squash, or with cold!
It will serve two as a meal salad, or four as a side salad.
This recipe will make more dressing than you will need for this salad. Save for another day. Calorie count does not include dressing.
Nutrition
Calories:
538
kcal
|
Carbohydrates:
52
g
|
Protein:
12
g
|
Fat:
36
g
|
Saturated Fat:
9
g
|
Cholesterol:
33
mg
|
Sodium:
689
mg
|
Potassium:
937
mg
|
Fiber:
7
g
|
Sugar:
25
g
|
Vitamin A:
21534
IU
|
Vitamin C:
107
mg
|
Calcium:
367
mg
|
Iron:
3
mg