Restaurant-worthy keto-friendly Air Fryer Shishito Peppers are easy to make at home. This post includes what temperature to use and how long to roast the peppers. Also known as Padron peppers, these make a great appetizer with Lemon Aioli Dip.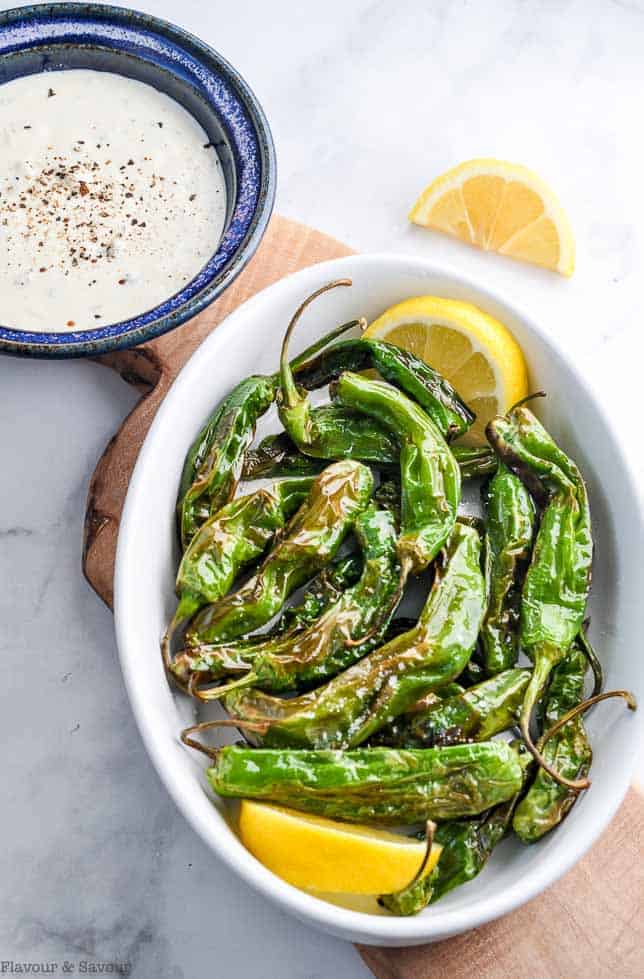 Welcoming today with Air Fryer Shishito Peppers! Here's a fun appetizer you can make in your air fryer.
You've likely seen Shishito Peppers listed on menus at your favourite eateries. They've taken over appetizer menus by storm in the last year or two. They're just that good! Shishitos are often served with a dipping sauce, like this lemon aioli.
They're fun to eat, because 1 in 10 might be a hot one and you'll never know which one! Not only that, they're keto and vegan-friendly for those following special diets.
Jump to:
🛒 Ingredients
You'll find complete instructions and ingredient amounts in the recipe card below.
shishito peppers (also known as Padron peppers) 6 to 8 per person. Don't remove the stem. You'll need to use it as a little handle to pick up the peppers to eat them.
1 teaspoon of oil with a high smoke point, like avocado oil
lemon: fresh. You'll need a little for squeezing fresh juice on the peppers once they're cooked. You'll also need 2 tablespoons of freshly squeezed lemon juice for the lemon aioli.
vegan mayonnaise (or mayonnaise of your choice)
garlic
parsley
salt and pepper
🔪 How to cook Shishito Peppers in an Air Fryer
I've cooked shishito peppers in a cast iron pan many times lately. It is one of my favourite appetizers.
But now that I have an air fryer, I have one more incredibly easy way to make these peppers. An air fryer
uses less oil
cooks the shishitos in less time
is easy to clean up
For more helpful tips on getting the most out of your air fryer, see 5 Air Fryer Tips for Beginners.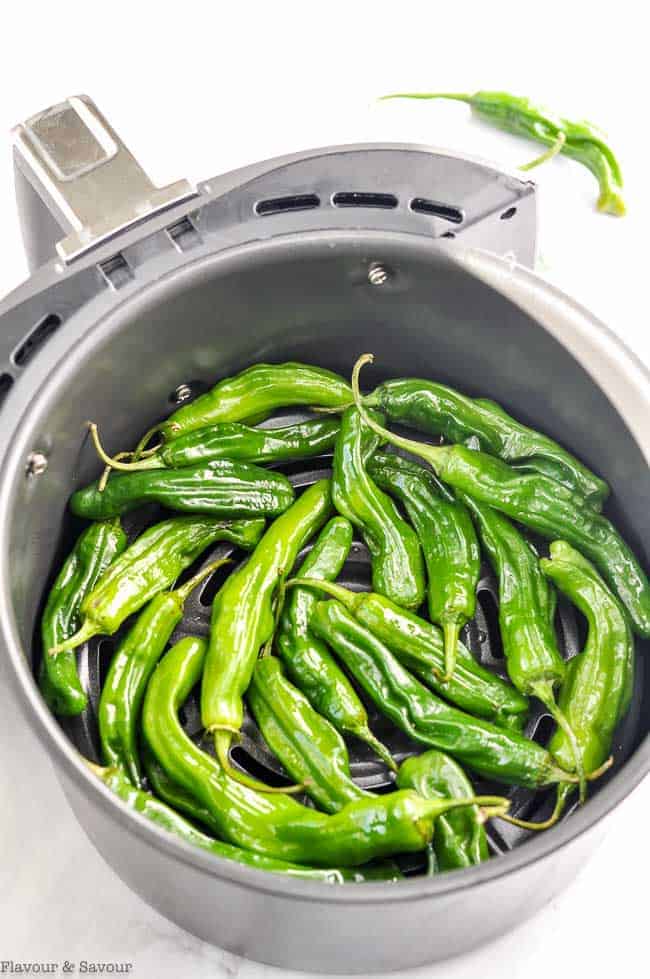 To make this fun appetizer of blistered shishito peppers, first toss the peppers with 1 teaspoon of oil. Preheat the air fryer to 390°F. for 3 minutes, then add the peppers in a single layer.
Check at 4 minutes. They should be softened and lightly blistered. If they're not quite done, give the pan a good shake and return to the air fryer for a minute or two longer.
Common Questions
How do you pronounce shishito?
Easy. Think of shish kabob, then Shish - ee - toe.
What are shishito peppers?
They're small green peppers, a little longer than a jalapeño, but wrinkly. You'll find them called Japanese Shishito Peppers or Padron Peppers on some menus. Even though they're a chili pepper, they're mild-tasting, much milder than a jalapeño. However, a label on the bag warns that 1 in 10 can be extra spicy, so beware! Take your chances!

It makes eating these little peppers exciting! Who will get the hot one?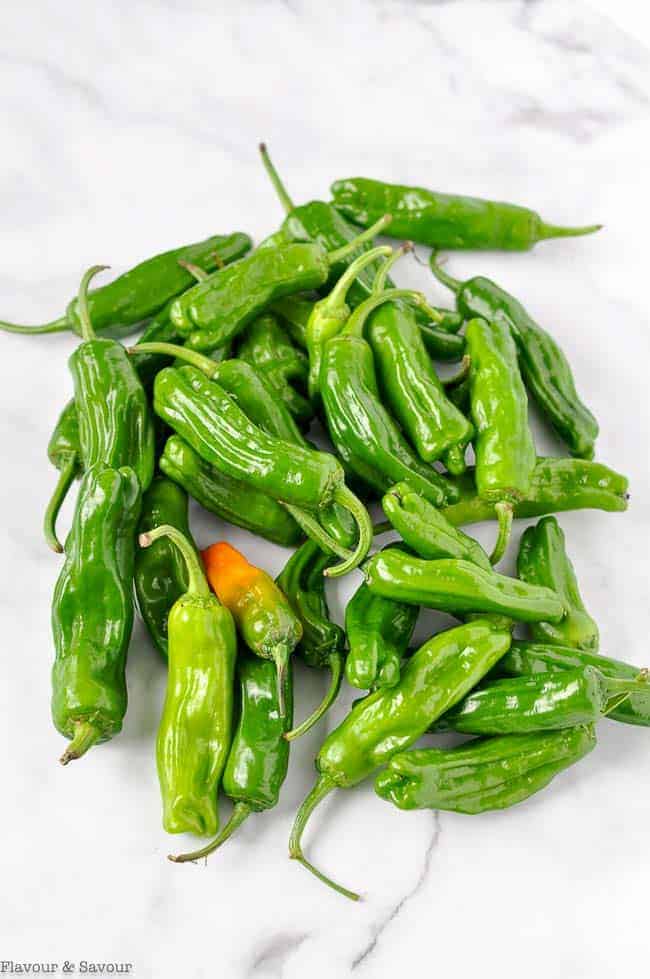 Where can I buy shishitos?
I sometimes have a hard time finding them in local grocery stores, as they get snapped up quickly, but Costco carries them when in season. You'll also find them at Whole Foods or in your farmers' market.
They're available year-round in some areas, but in North America, they are usually harvested in late summer or early fall.
Padron peppers from Spain are very similar, and the two are interchangeable in this recipe. You may find, however, that more than 1 in 10 will be hot ones. Even more exciting 🙂
What should I look for when choosing shishito peppers?
Look for peppers that are bright green, about 2 - 5 inches long, unblemished and firm. They will keep well for a few days in the fridge.
How do I eat shishito peppers?
Pick them up by the stem, and pop them in your mouth (except the stem.) Or dunk them first in a sauce for shishitos or Miso Aioli Dip, then devour.
🍽 Serving Suggestions
Remove to a serving dish, squeeze a little lemon juice on top and sprinkle with a little sea salt. This Lemon Aioli Dip (recipe below) is an amazing dipping sauce for shishito peppers.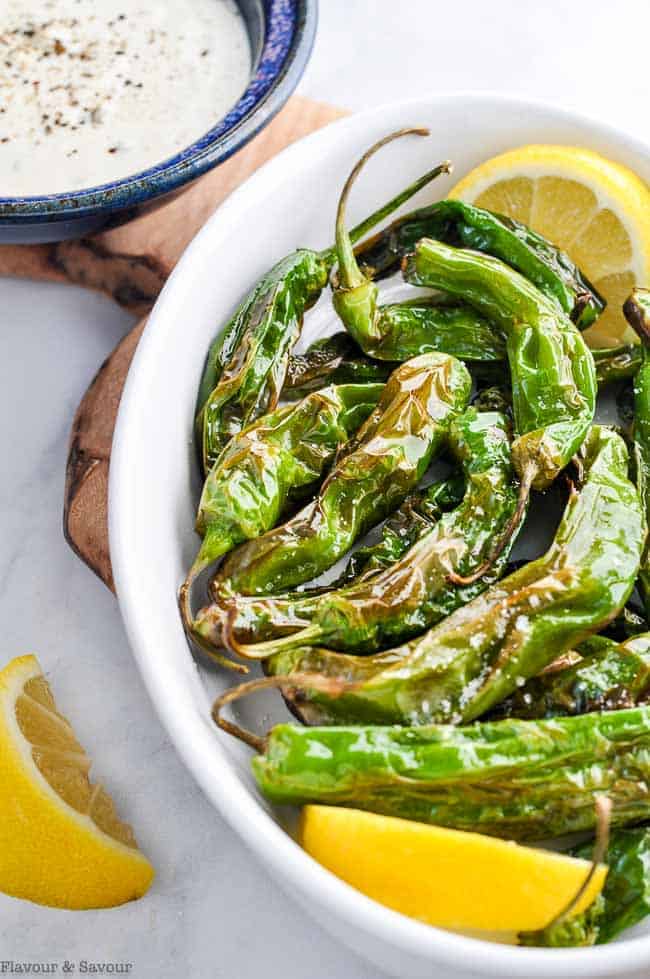 Time to eat! Pick up a pepper by its stem, dip in Lemon Aioli or your favourite dip and pop it (except the stem) in your mouth!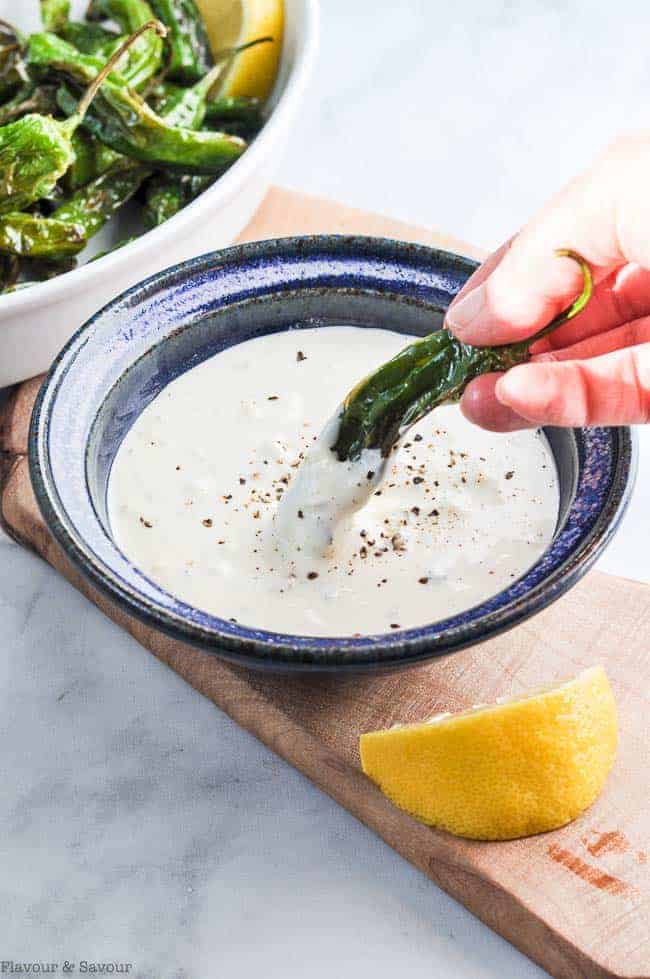 Enjoy! If you love these air-fried shishito peppers, please rate them 5 stars and leave a comment below so others can benefit!
For more tasty, gluten-free air fryer recipes, check out Should You Buy an Air Fryer? It includes 10 favourite air fryer recipes you might like.
🗒 More Appetizer Recipes
📖 Recipe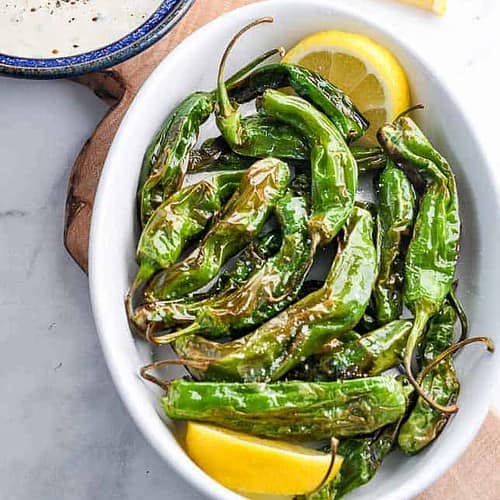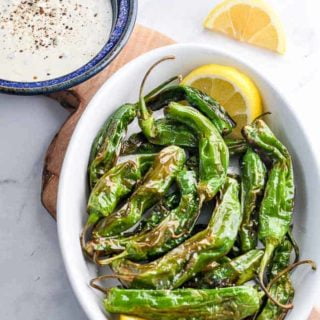 Air Fryer Shishito Peppers with Lemon Aioli
An appetizer that everyone loves! Air Fryer Blistered Shishito Peppers make a fun appetizer to serve with Lemon Aioli Dip.
Print
Rate
Equipment
Ingredients
½

lb

shishito peppers

1

teaspoon

avocado oil

or other oil with a high smoke point
Lemon Aioli
½

cup

vegan mayonnaise,

or your favourite mayo

2

tablespoon

lemon juice,

freshly squeezed

1

clove

garlic,

finely minced

1

tablespoon

fresh parsley,

finely chopped

¼

tsp each

sea salt and pepper
Instructions
Combine all ingredients for the Lemon Aioli in a small bowl. Set aside to allow flavours to blend.

Preheat the air fryer to 390°F. for 3 minutes.

Toss shishito peppers with oil, then add to the basket of the air fryer in a single layer.

Fry for 4 minutes. Push pause and check for doneness. Peppers should be slightly softened and lightly blistered. If not done, cook for another minute or two.

Remove to a serving dish, squeeze a little fresh lemon juice over all and sprinkle with sea salt. Serve with Lemon Aioli.
Notes
The time it takes to roast peppers will vary depending on the type and size of air fryer you have. Always start with a shorter time than expected, check and add more time if needed.
Nutrition
Calories:
220
kcal
|
Carbohydrates:
5
g
|
Protein:
1
g
|
Fat:
22
g
|
Saturated Fat:
3
g
|
Cholesterol:
12
mg
|
Sodium:
367
mg
|
Fiber:
2
g
|
Sugar:
3
g
|
Vitamin A:
102
IU
|
Vitamin C:
11
mg
|
Iron:
1
mg