This Avocado, Grilled Peach and Chipotle Shrimp Salad combines grilled sweet peaches, creamy avocado, spicy shrimp and smoky bacon, all on a bed of garden fresh greens. Topped with a peach dressing, this is summertime dining at its best! Paleo, Whole30.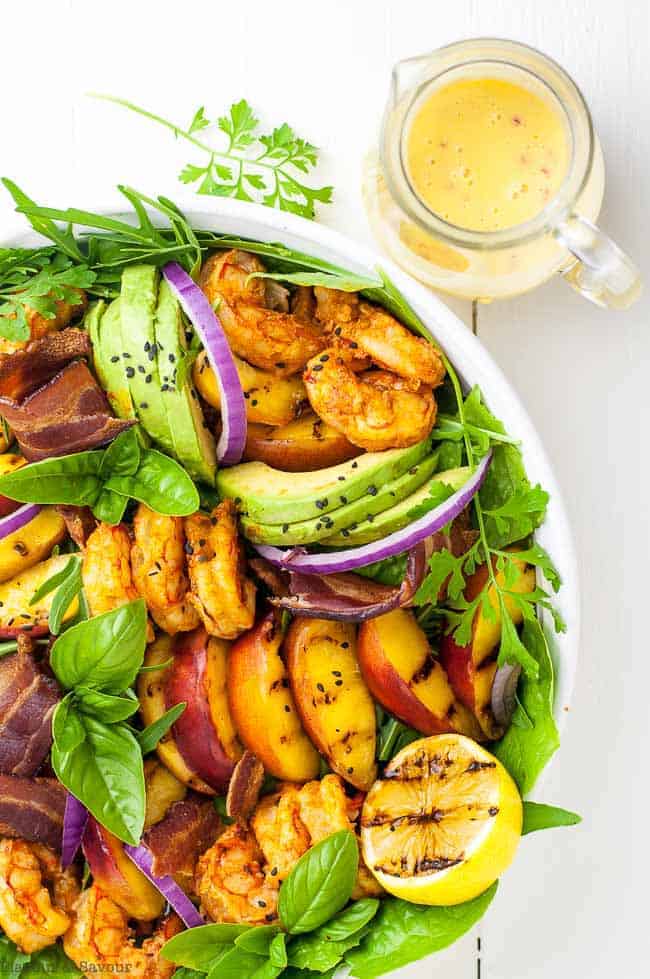 A summertime dinner salad with bold flavours! I don't always get this excited about recipes I post here, but this Grilled Peach and Chipotle Shrimp Salad (and this Strawberry Cucumber Salad) are two that I really want to tell you about. Since we loved them, I'm guessing and hoping that you'll like them just as much.
If you're having friends over for dinner anytime soon, bookmark this one or Pin it for later. You'll won't want to forget about it!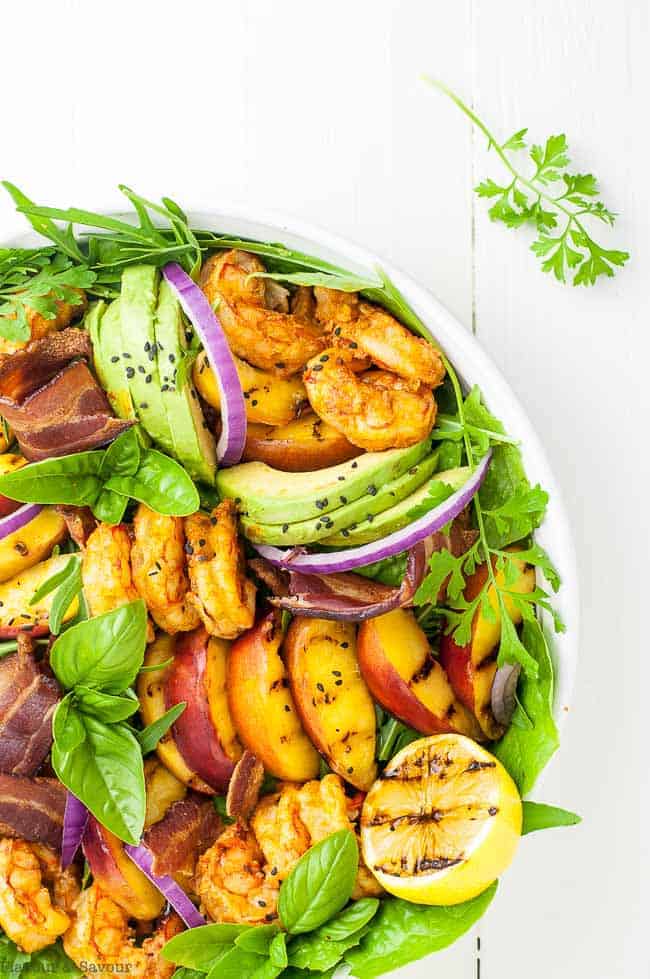 So let me tell you about it.
Ingredients
This summer salad makes a meal. It's full of spicy shrimp, grilled peaches, sliced avocado and smoky bacon, all on a bed of fresh garden greens. Top it with some fresh herbs and a creamy peach dressing and it's all you could ever wish for in a salad.
Grilled shrimp is a quick and easy way to add protein to a salad and it's so good when seasoned with a little heat from smoky chipotle peppers.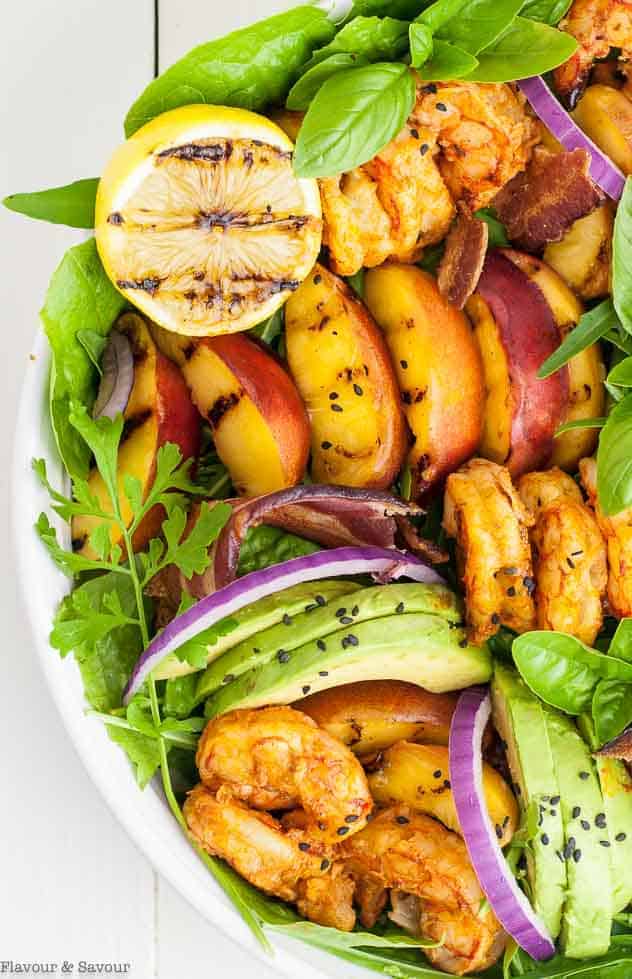 Instructions
This recipe for Avocado, Grilled Peach and Chipotle Shrimp Salad takes a few steps, but luckily, none are time-consuming.
First cook the bacon and set it aside.
How to cook bacon in the oven without making a mess
Heat oven to 400°F.
Line a rimmed baking sheet with parchment paper.
Place a cooling rack on top of the paper.
Lay bacon strips on the rack.
Bake for 10 minutes, then use tongs to turn strips over and continue baking until they've reached the desired crispness.
Remove from oven, drain on paper towel. Discard parchment paper.
Next, heat your grill and prepare the peaches and shrimp. Combine the marinade ingredients and toss with the shrimp. Thread the shrimp on to pre-soaked wooden skewers and grill for 2 minutes each side, or until no longer pink.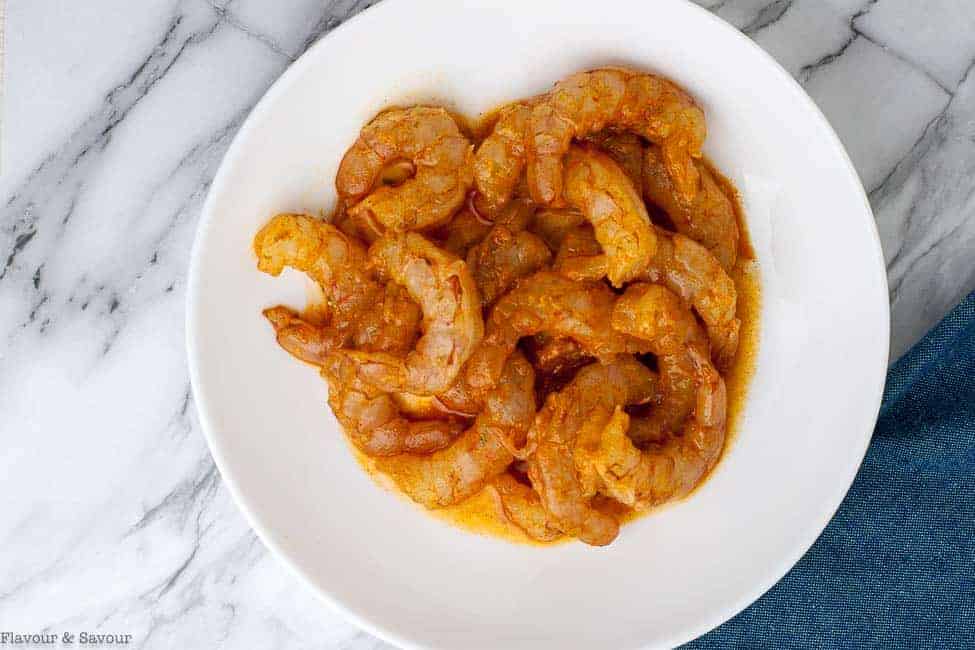 Helpful Tip
Grilling peaches intensifies their flavour by caramelizing their natural sugars. A short time on a hot grill gives them a wonderful smoky flavour. One tip to remember when grilling peaches is to select ones that are not overripe. They should be slightly firm to the touch so they keep their shape once heated.
How to grill peaches that keep their shape
Choose ripe but firm fruit.
Heat the grill to high and oil the grates.
Cut peaches in half, remove the pit, then cut slices about ½ inch thick. Brush them with a little olive oil to prevent them from sticking to the grill.
Use tongs to place them on the grill, then let them cook until they develop char marks. Turn and grill on the other side for a minute or two, then remove. Don't overcook.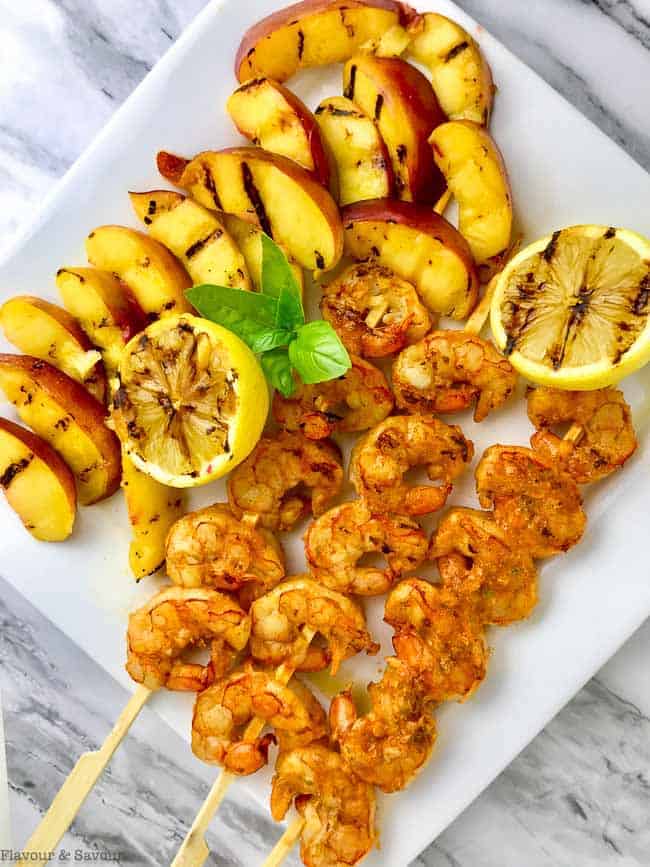 Assemble a generous bed of fresh greens (I used romaine and arugula), then arrange sliced grilled peaches and shrimp, sliced avocado, crumbled bacon and a few slices of red onion. Garnish with fresh herbs and a sprinkle of black sesame seeds. Finally, drizzle with peach dressing just before serving.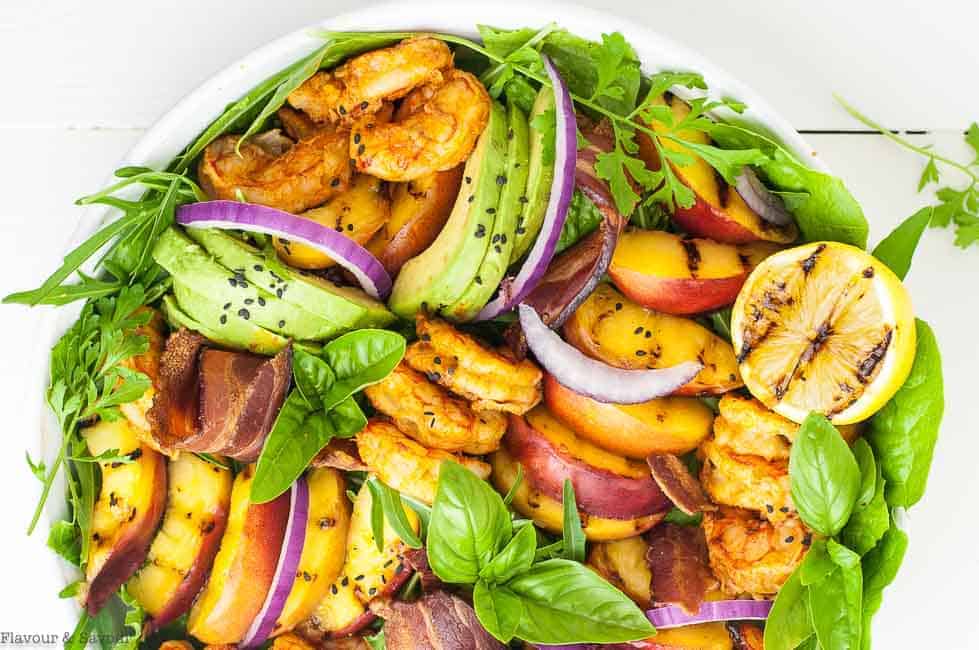 So pretty! So good! Enjoy.
More savoury peach recipes
Sweet peaches and smoky chipotle are two flavours that go well together. Have you made this Chipotle Peach Glazed Chicken yet? If not, it makes a great meal not only for summer, but for any time of the year.
And if you're like me and you love those flavours together, you'll probably love these Chipotle Peach Shrimp Tostadas with Mango Salsa.
And if you have friends that are not fans of shrimp, they'll probably love this Chipotle Chicken Cobb Salad with Peaches and Avocado. Delish!
Avocado, Grilled Peach and Chipotle Shrimp Salad with Bacon
This Avocado, Grilled Peach and Chipotle Shrimp Salad combines grilled sweet peaches, creamy avocado, spicy shrimp and smoky bacon, all on a bed of garden fresh greens. Topped with a peach dressing, this makes a complete dinner salad.
Print
Pin
Rate
Jump to Video
Ingredients
16

large

shrimp or prawns,

peeled and deveined

1

small

avocado,

peeled and thinly sliced

2

medium

peaches,

sliced

2

slices

thick-cut bacon,

cooked (hormone-free, nitrate-free)

4

cups

fresh mixed greens,

1

slice

red onion,

basil, cress or parsley,

for garnish

black sesame seeds,

for garnish
Sweet Peach Dressing
½

ripe

peach

¼

cup

olive oil

2

tbsp

lemon juice or champagne vinegar

2

tsp

honey,

optional if peach is very ripe and sweet
Shrimp Marinade
2

tbsp

olive oil,

extra virgin

1

tsp

lemon zest,

finely grated

1

tsp

lime zest,

finely grated

juice of half a lemon

½

tsp

ground chipotle pepper

¼

tsp

salt
Instructions
Sweet Peach Dressing
Blend all ingredients in a mini food processor or blender until smooth.
Salad
Soak wooden skewers in water.

Cook bacon, drain and set aside.

Meanwhile, wash and arrange fresh greens (like romaine, arugula, or other lettuce) in a large serving platter or shallow bowl.

Toss peeled shrimp with chipotle marinade. Thread shrimp on soaked skewers and grill for 2 to 3 minutes per side or until no longer pink inside. Remove.

Slice peaches, remove pit. Grill on indoor or outdoor grill just until grill marks form. Turn and grill other side. Peach slices should still be firm.

Arrange peaches, avocado, shrimp and crumbled bacon with fresh greens. Garnish with red onion slices, fresh basil or cress or parsley and sprinkle with black sesame seeds. Drizzle with Sweet Peach Dressing and serve immediately.
Notes
You will not need all the dressing, so save it for another green salad. The calorie count includes all the dressing, so the count is a little high.
Nutrition
Calories:
523
kcal
|
Carbohydrates:
30
g
|
Protein:
7
g
|
Fat:
45
g
|
Saturated Fat:
8
g
|
Cholesterol:
15
mg
|
Sodium:
476
mg
|
Potassium:
954
mg
|
Fiber:
9
g
|
Sugar:
17
g
|
Vitamin A:
1745
IU
|
Vitamin C:
43.2
mg
|
Calcium:
31
mg
|
Iron:
1.5
mg
Tried this recipe?
Share a photo on INSTAGRAM and tag it #flavourandsavour! I love seeing what you've made.
SAVE THIS TO ONE OF YOUR PINTEREST BOARDS
and
connect with me on Pinterest
! I'm always finding new tasty recipes to pin. Subscribe to my weekly newsletter and never miss a recipe!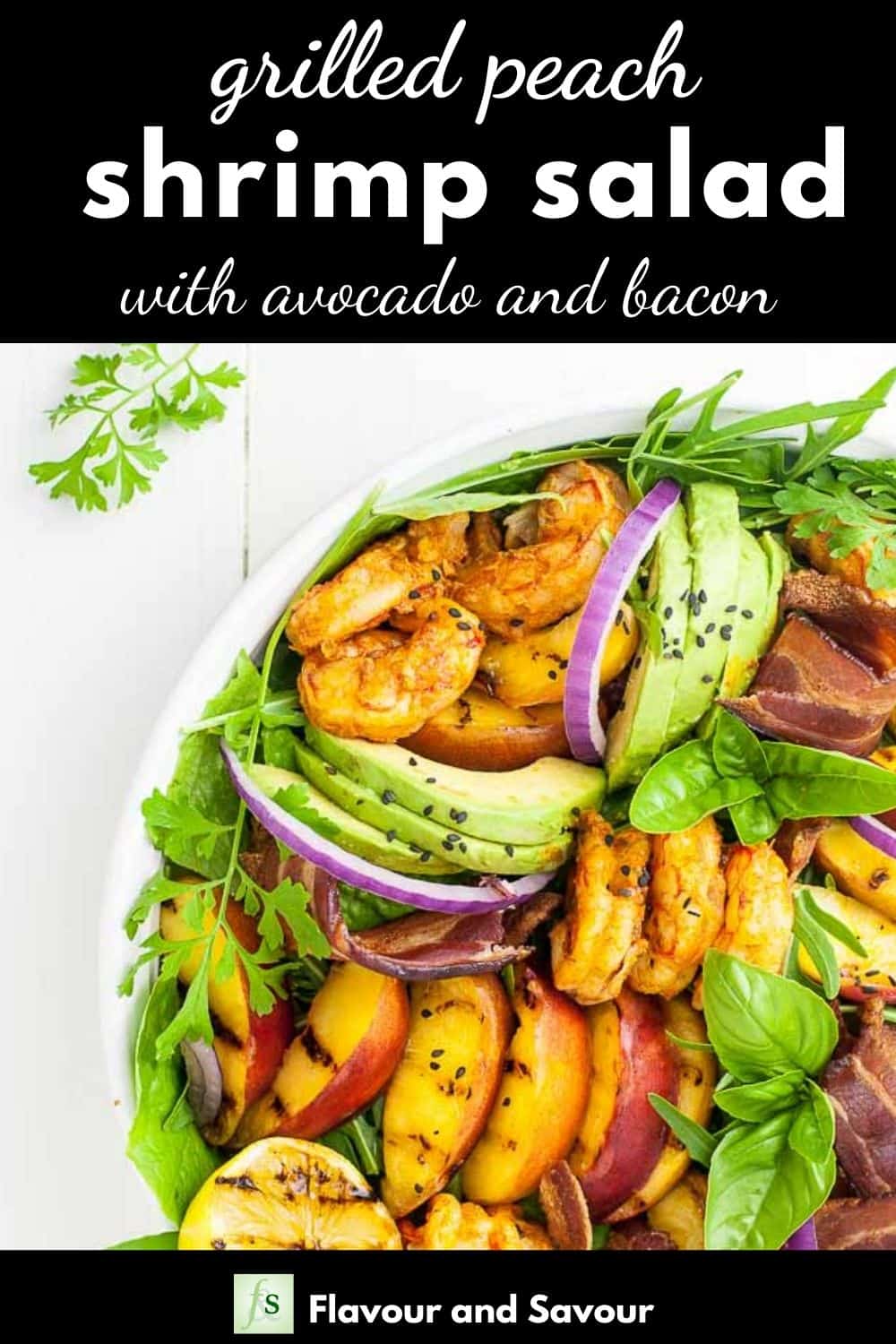 This post may contain affiliate links. If you click on any of the affiliate links and make a purchase within a certain time frame, I'll receive a small commission. The third party pays the commission, not you. I am a participant in the Amazon Services LLC Associates Program. It's an affiliate advertising program designed to provide a means for me to earn fees by linking toAmazon.com and affiliated sites.