Heat up the grill and relax with this easy meal of Chipotle Chicken Burgers with Fresh Peach Salsa. Great for lazy summer days or for busy week nights!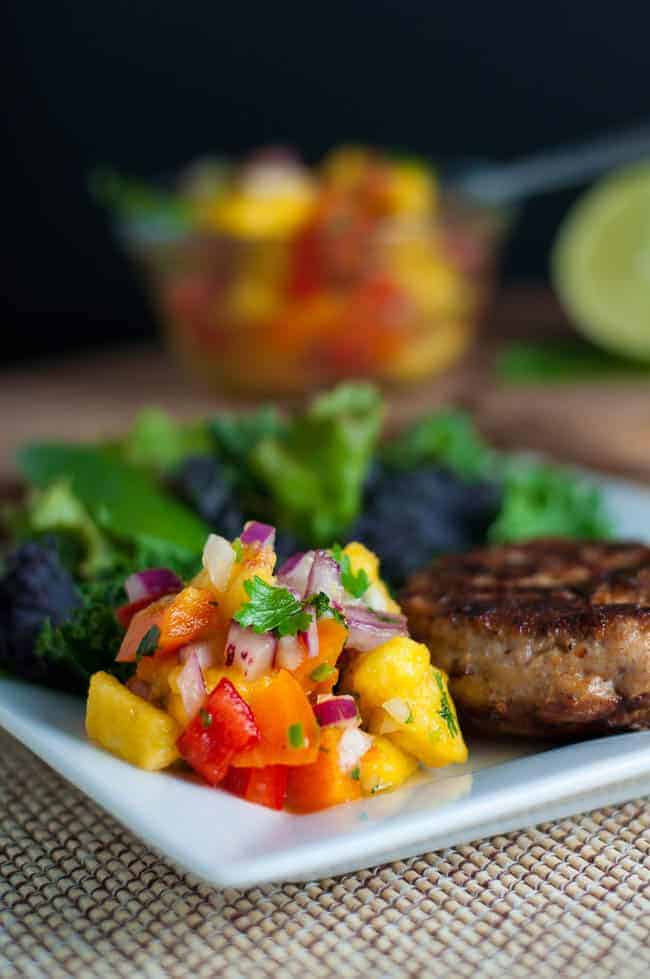 After making these healthy Open-Face Thai Chicken Burgers and finding that a burger is just as satisfying without a bun, I decided to experiment a little with flavours and made these Chipotle Chicken Burgers with Fresh Peach Salsa.
Even the word "chipotle" conjures up images of hot, smoky and spicy food.  You can easily control the heat in these burgers by increasing or decreasing the amount of chipotle peppers you add, or by only using the adobo sauce. Make them mild, medium or spicy hot!
Chipotle peppers are smoked jalapeños. I often find I only need part of a small can of chipotle peppers in adobo sauce, so I store the remainder in a small glass jar in the fridge for another day. They last for a few weeks or more.
Heat and Sweet! These burgers are delicious with Peach Salsa!
Form the mixture into large patties for dinner, small ones for kids or for lunches, or even into meatballs to tuck inside a wrap. Top with a dollop of fresh peach salsa. This fresh salsa is colourful, it's sweet with a little heat, and it perfectly complements the spicy chipotle flavour of the burgers. Best of all, it's quick to prepare.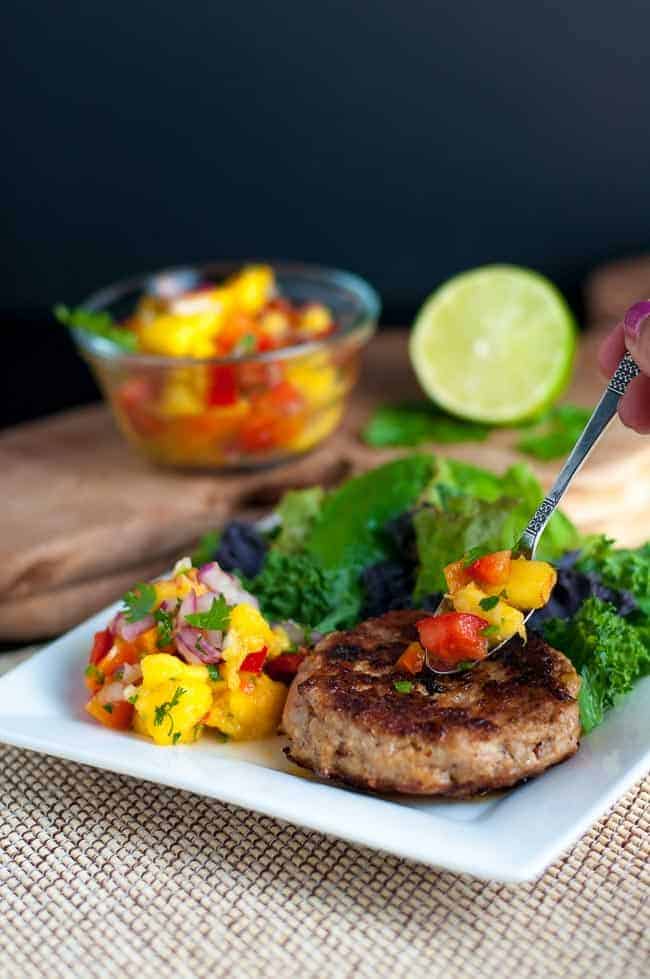 Isn't it funny how old habits stick with you? For many years, the last few weeks of August was a time for frantic preparation. When I was young, the first week of September signalled a return to school or to university. In later years,  I was busy getting my kids ready for back-to-school time, and for many years, as a teacher myself, I was preparing classroom activities.
And on top of it all, I was filling my freezer with make-ahead meals and grab-and-go lunch time snacks.
Now that I'm no longer teaching and my kids are grown, I don't need to do that any more. September is just like any other month. But for some crazy reason, I still do it! I feel this sense of urgency that the first of September is just around the corner and that I need to be prepared for it.  I find having a well-stocked freezer full of quick-to-make dinners suits my new lifestyle, which seems just as busy as when my children were young and I was working full-time outside the home.
Can I freeze these Chipotle Chicken Burgers?
Absolutely! Mix up the ingredients for the burgers, form into patties, freeze on a baking sheet, then stack between layers of parchment paper.  They'll be ready for one of those hectic nights when you're arriving home late and everyone's hungry. Dinner problem solved!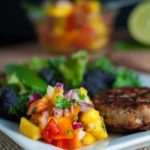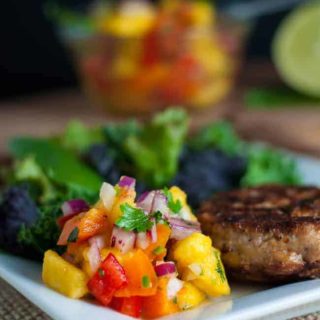 Chipotle Chicken Burgers with Fresh Peach Salsa
Heat up the grill and relax with this easy meal of Chipotle Chicken Burgers with Fresh Peach Salsa. Great for lazy summer days or for busy week nights!
Calories per serving
:
184
kcal
Ingredients
2 1/2

pounds

fresh ground chicken

(1.2 kg)

3

oz

canned chipotle peppers in adobo sauce,

finely diced with liquid

2

cloves

garlic,

minced

2

tablespoons

onion,

finely minced

1

tablespoon

cilantro,

finely minced

sea salt and pepper
Instructions
Combine all ingredients in a large bowl until well mixed.

Form into patties (about 1/3 cup each)

Fry or grill in well-greased pan or grill until no longer pink inside and a meat thermometer inserted sideways indicates an internal temperature of at least 165°F. (about 8-10 minutes per side)

Serve with a large spoonful of Fresh Peach Salsa.
Nutrition Facts
Chipotle Chicken Burgers with Fresh Peach Salsa
Amount Per Serving (1 burger)
Calories 184
Calories from Fat 90
% Daily Value*
Total Fat 10g 15%
Cholesterol 108mg 36%
Sodium 233mg 10%
Potassium 675mg 19%
Protein 22g 44%
* Percent Daily Values are based on a 2000 calorie diet.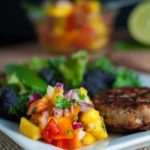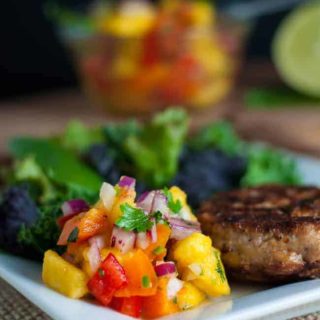 Fresh Peach Salsa
This fresh peach salsa is also good made with nectarines. It's great served with chicken or turkey burgers or with salmon or halibut.
Ingredients
4

cups

chopped peeled peaches

about 4 large peaches

1/4

cup

finely chopped red onion

1/2

cup

each red and yellow bell pepper

finely chopped

1

Tablespoon

finely minced jalapeño pepper

1/4

cup

chopped cilantro

1

clove

garlic

minced

1

Tablespoon

rice vinegar

1

Tablespoon

lime juice

1

teaspoon

honey
Instructions
Combine all ingredients in a medium bowl. Cover and refrigerate for 30 minutes before serving.
I use this glass herb keeper to keep my herbs fresh. So often I find that a recipe will call for a small amount of cilantro, and yet it is usually sold in bunches. This herb keeper has paid for itself several times over. No more slimy cilantro to throw out!

These Chipotle Chicken Burgers are also great served with Pineapple Jicama Salad.
More Open-Faced Burger ideas:
Open-Faced Harissa Chicken Burgers with Yogurt Sauce
Healthy Open Face Thai Chicken Burgers 
Crispy Baked Zucchini Patties with Lemon Tahini Dip
This post contains affiliate links. If you click on any of the affiliate links and make a purchase within a certain time frame, I'll receive a small commission. The commission is paid by the third party, not by you. Flavour & Savour is a participant in the Amazon Services LLC Associates Program, an affiliate advertising program designed to provide a means for sites to earn advertising fees by advertising and linking to amazon.com.
SAVE THIS TO ONE OF YOUR PINTEREST BOARDS and
connect with me on Pinterest
! I'm always finding new tasty recipes to pin. Subscribe to my weekly newsletter and never miss a recipe!