Get the best tips in this complete guide to cooking shrimp safely and perfectly! Use them in salads, as appetizers, with pasta, in tacos and more, or serve with a dipping sauce like this Smoky Spicy Mayo Dip. This post is a complete guide for how to cook shrimp, how to buy them, how to peel them, and how to defrost and store shrimp and prawns safely.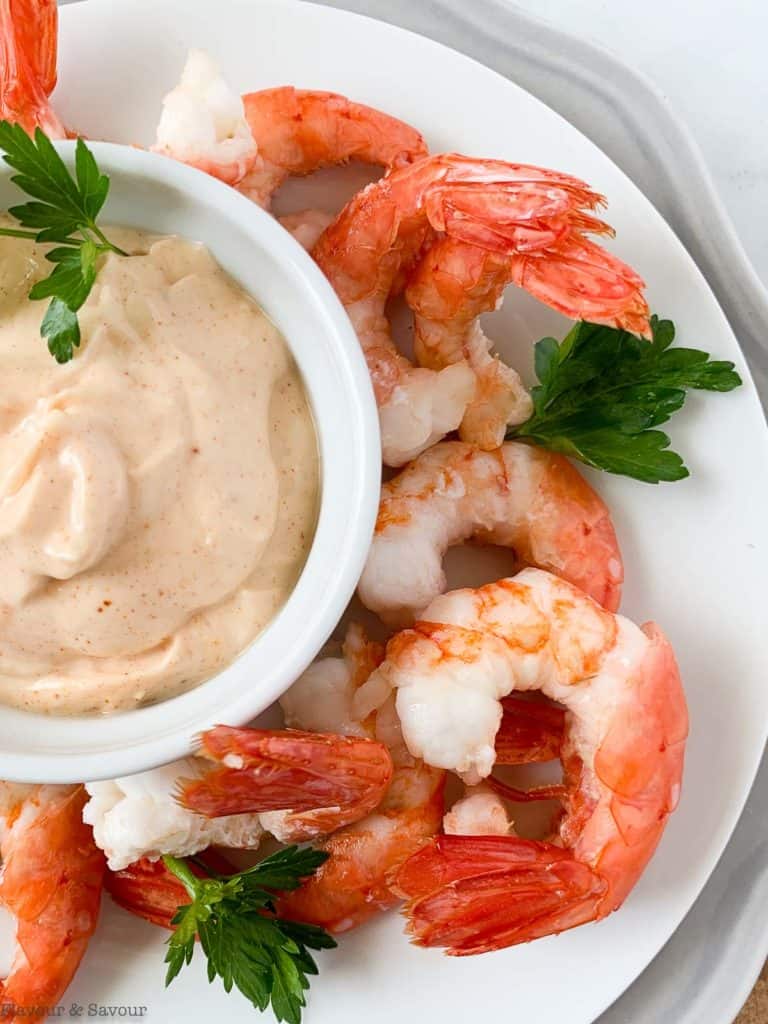 You'll also find my 20 best recipes for pan-frying, boiling, stir-frying, grilling, or air-frying shrimp. Have them turn out perfectly every time!
Fresh shrimp, fresh prawns: whatever you choose to call them, they're delicious shellfish! Shrimp are incredibly versatile. Food blogs are teeming with recipes for shrimp appetizers, shrimp main dishes and shrimp salads.
We live on Vancouver Island on the West Coast of Canada and are lucky enough to have a boat and harvest our own spot prawns or side-stripe shrimp. We set prawn traps, have a picnic or a hike while we wait for them to fill, then bring them home to freeze.
Sometimes we're lucky and catch our limit, other times we might come home with only a dozen or so. No guarantees! As Denis says, "That's why they call it fishing, not shopping."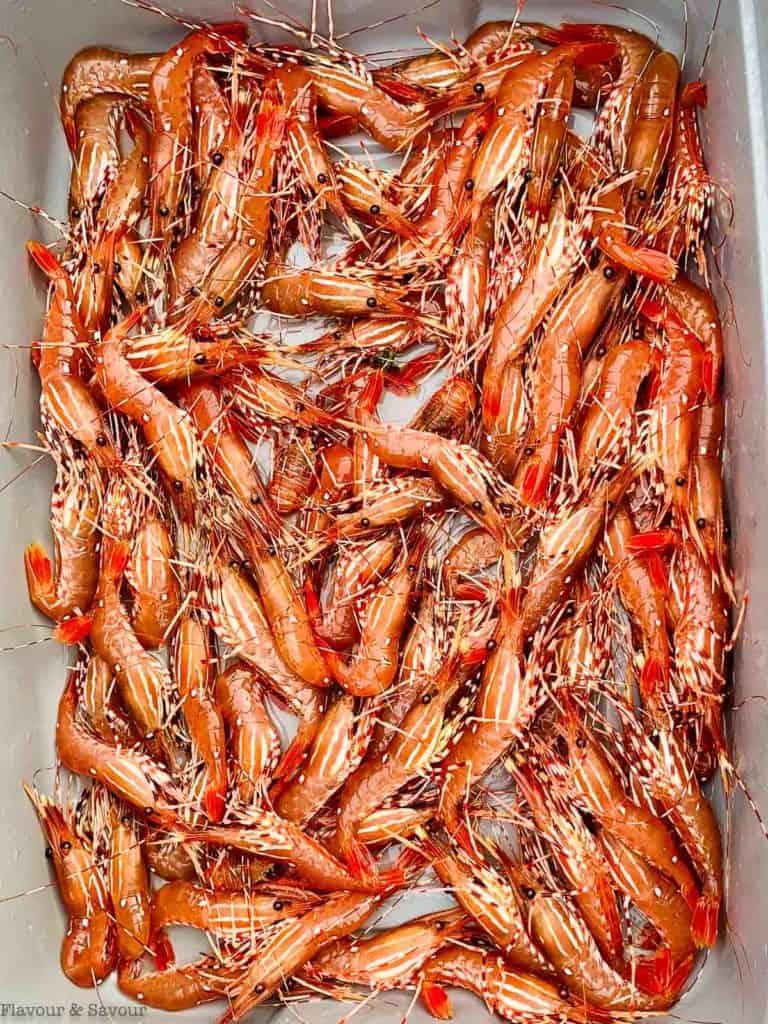 Jump to:
Should I buy fresh or frozen shrimp or prawns?
Most raw shrimp you'll find in the fresh seafood section has been previously frozen and thawed, so they must be used quickly as they are highly perishable. While it's convenient to buy them this way, it's much more expensive. You won't know how long they've been thawed, so it's safer to buy frozen. Look for frozen shrimp in the shell as they will have a much better flavour and texture.
What size shrimp should I buy?
Shrimp are labeled according to size. These labels can be confusing, so it's better to look for the count number on the bag. You may find a label that says 21/25 meaning you'll get between 21 and 25 shrimp in a one-pound bag. Medium shrimp are often sold in a bag with between 17 and 21 per pound.
If you're planning to grill shrimp, skewer them, or wrap them in bacon, you'll want to buy the biggest ones. Look for a label that says U/15, indicating that there are less than 15 shrimp in a one-pound bag (and therefore they're larger.)
A serving of shrimp is usually roughly ½ pound per person.
Avoid buying pre-cooked shrimp. They have been cooked and then frozen. Once you bring them home, you'll have to cook them or warm them up, running the risk of overcooking. Raw shrimp cooks so quickly that there's no advantage to buying them pre-cooked.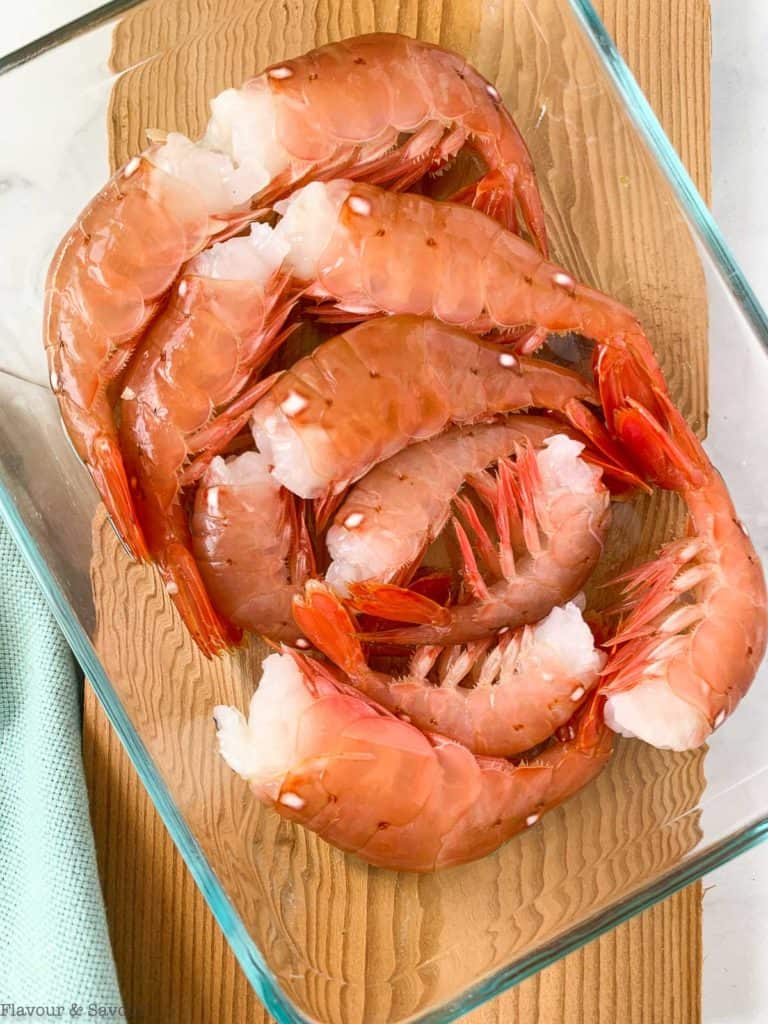 What is the safest way to defrost shrimp or prawns?
The safest way to thaw shrimp is to defrost them just before you plan to cook them. Remove them from the package and put them in a colander under cool running water for about 5 minutes. It's not safe to thaw shrimp with warm water or to leave them to thaw at room temperature.
How to peel prawns or shrimp
If you have bought prawns with their shells on or with their heads on, the easiest way to remove them is when they are partially frozen. Even when we have freshly caught prawns, I still freeze them first.
Trying to remove the shell (or exoskeleton) from a fresh prawn can be awkward and messy. When they're partially thawed, peeling them is a breeze.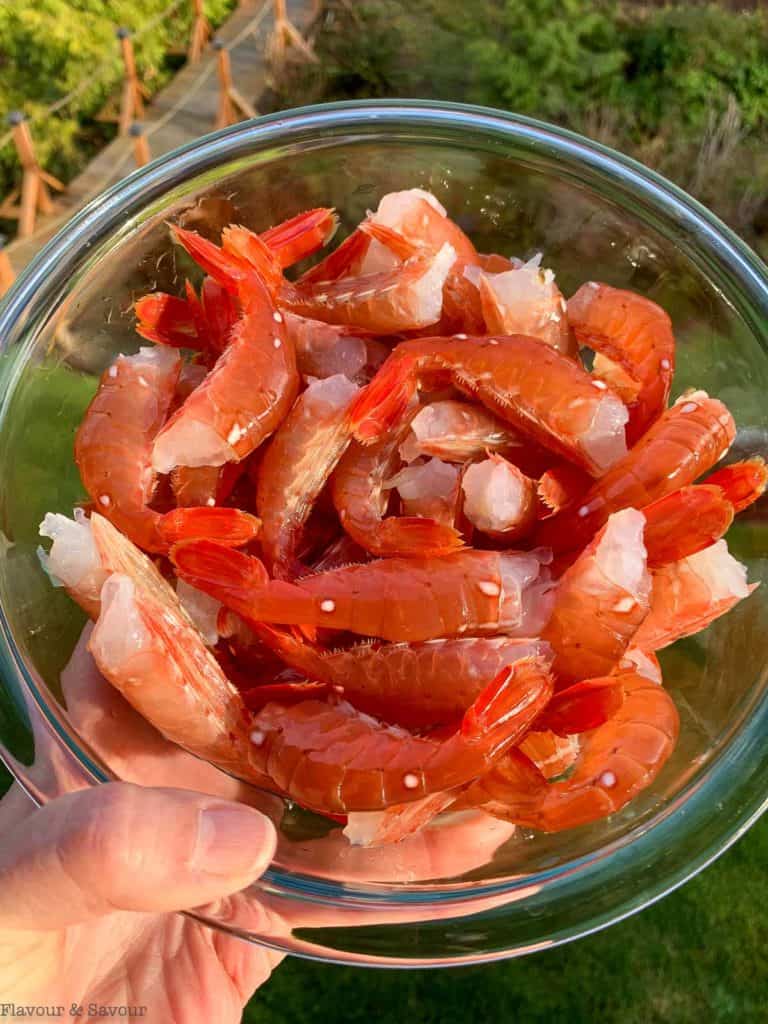 Simple pinch the area at the base of the head and twist to remove it. Holding the prawn in one hand, rip the legs off. Run the side of your thumb under the top three shell segments, then pinch and tear to remove them. Next, pinch at the base of the remaining three tail segments and gently squeeze. The body will pop out.
For many recipes, like Paella, for example, you'll want to leave the shells on. The shells add extra flavour and they'll look spectacular in your dish. For other recipes, you may want to only leave the tails on. They make a perfect handle if you're serving the shrimp with a dipping sauce.
Remove the intestinal tract
Both shrimp and spot prawns have an intestinal tract that you'll want to remove before serving. Spot prawns have a very small digestive tract that can easily be removed by either gently lifting it out with your fingers or with a toothpick.
If you're using large imported shrimp, this intestine may have already been removed. If not, you may see a dark digestive tract along their back. You can pull this out in the same way if you've shelled the shrimp.
If you want to keep the shells intact, you might need to use a small sharp knife or a pair of kitchen scissors to cut through the shell from head to tail, then remove the tract with the knife or scissor. Give the shrimp a quick rinse to remove any sand that remains.
What do I do with the shells?
The shells have lots of flavour, so you can save them to make your own fish stock to use in seafood chowder.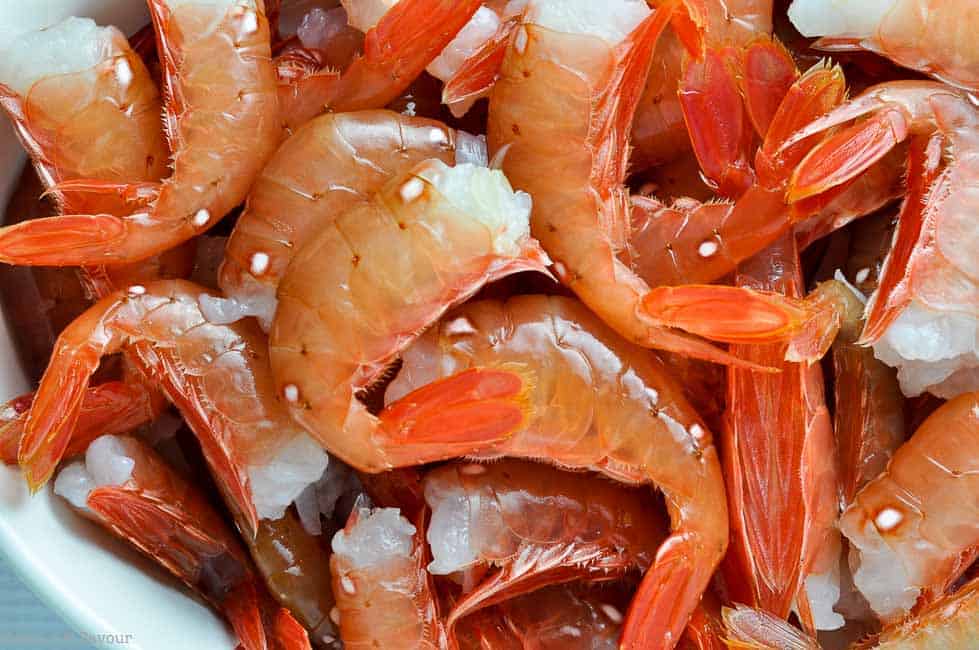 If you want to discard them, I suggest freezing them first. I know that may sound odd, but unless you have daily trash pick-up, you'll want these out of your house. They will start to smell within a few hours. Even one tiny leg accidentally left in your sink trap will stink up your kitchen. As we only have garbage pick-up once every two weeks, I store discarded shells in a bag in the freezer until the day our trash is picked up.
How to marinate shrimp
Spot prawns have so much natural sweetness that they rarely need to be marinated. Imported shrimp can sometimes have mild taste, so adding a marinade enhances their natural flavour.
If you're using an acid-based marinade, like lemon or lime juice, for example, keep your marinating time to under thirty minutes. Any longer and you run the risk of having the acid break down the meat and become mushy. Leave them in the fridge to marinate safely.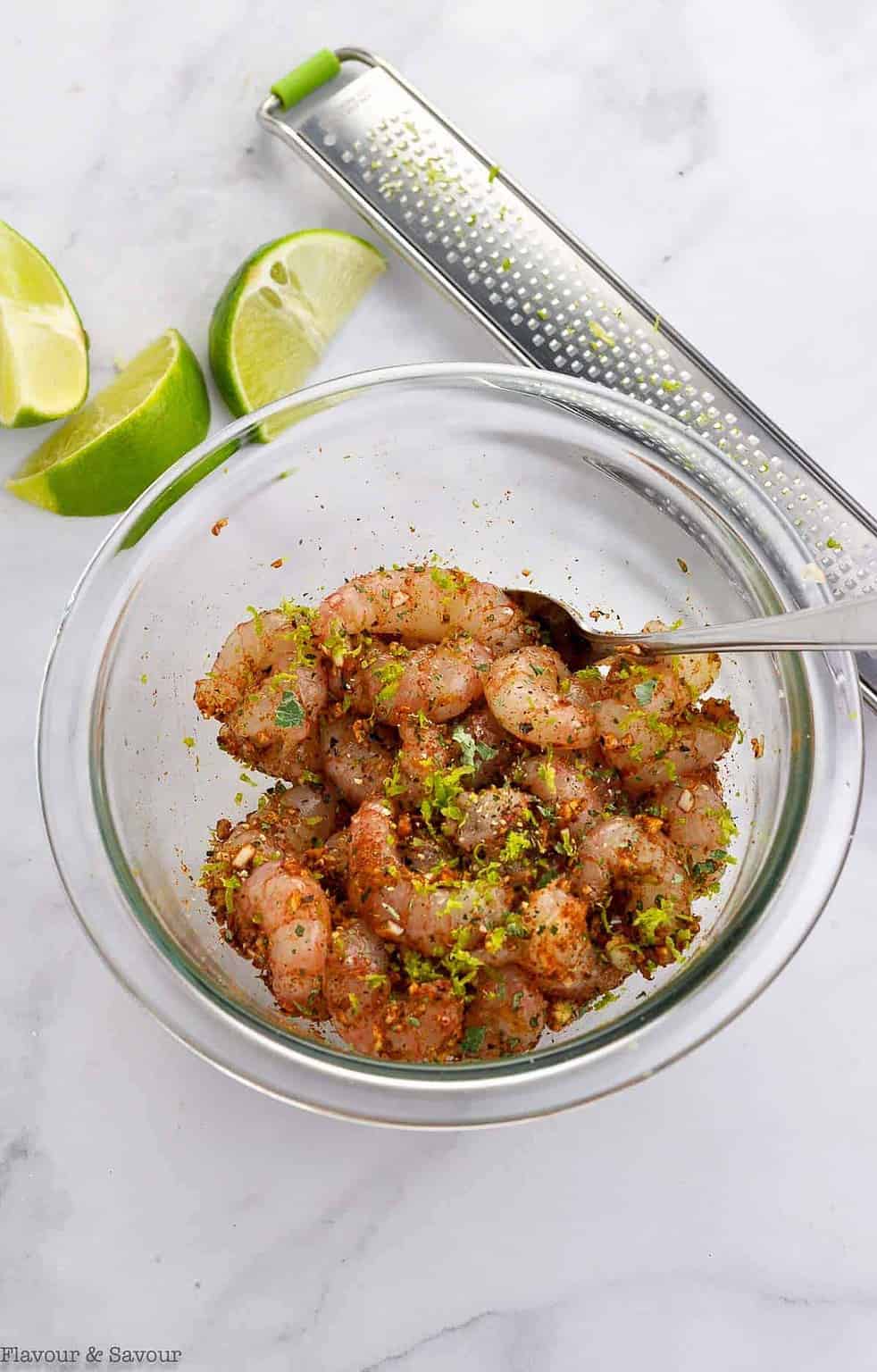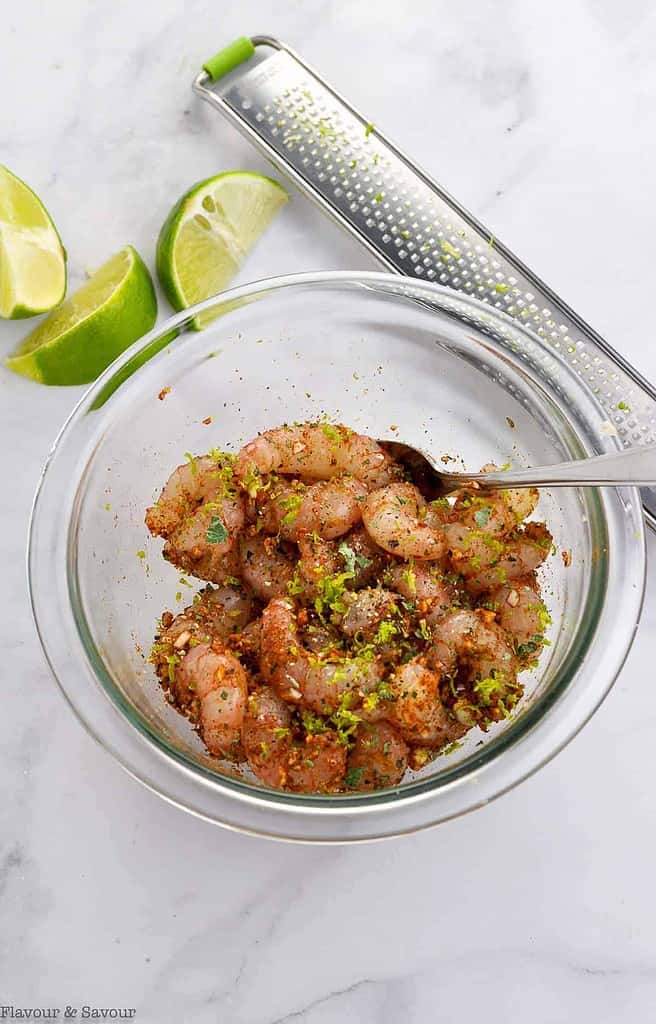 If you're using an oil-based marinade like herb and garlic, you can leave them up to an hour. Again, keep them refrigerated.
How to cook shrimp or prawns
Prawns and shrimp cook very quickly, no matter which method you use: boiling, pan-frying, grilling or air frying. You'll know they're done when they lose their translucence and curl into a C-shape. They're safe to eat when they've turned completely opaque with a pink colour and bright-red tails.
If you've skewered them, you won't be able to rely on the curl, so watch for their colour to turn.
It's easy to overcook shrimp and the result is horribly disappointing. Shrimp become tough and rubbery when cooked too long, so watch carefully.
Boiling shrimp
Bring a saucepan of water to the boil, and add the prawns. Once the water returns to the boil, cook for 2 - 3 minutes, then remove promptly, rinse to cool them and use them in your favourite recipes.
Boiled prawns have a delicate flavour and make a perfect addition to this Prawn Mango Avocado Salad with Lemon-Lime Dressing.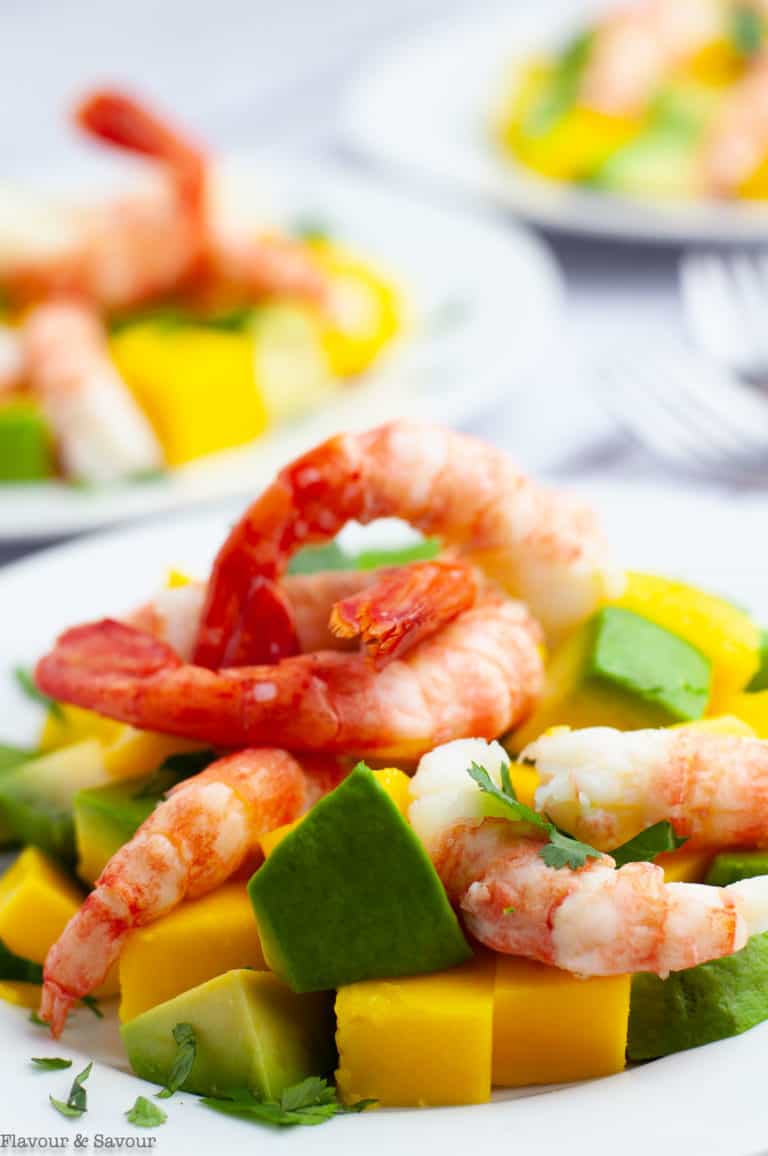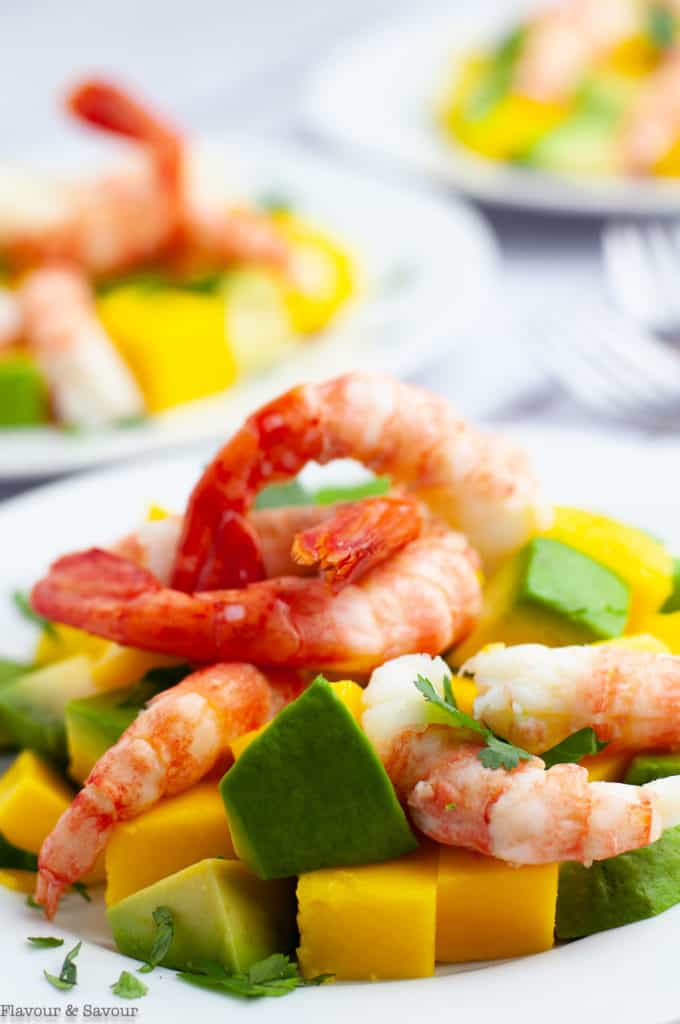 Pan-frying
Toss or rub the prawns with a seasoning mix. I usually use a combination of sea salt, paprika, red pepper flakes, and dried oregano. Heat butter or oil in a skillet over medium heat. When hot, add the prawns. They should sizzle right away. Cook for 2 - 3 minutes per side, flipping only once. Remove from the pan and transfer to your serving dish or add to a bowl of pasta or rice.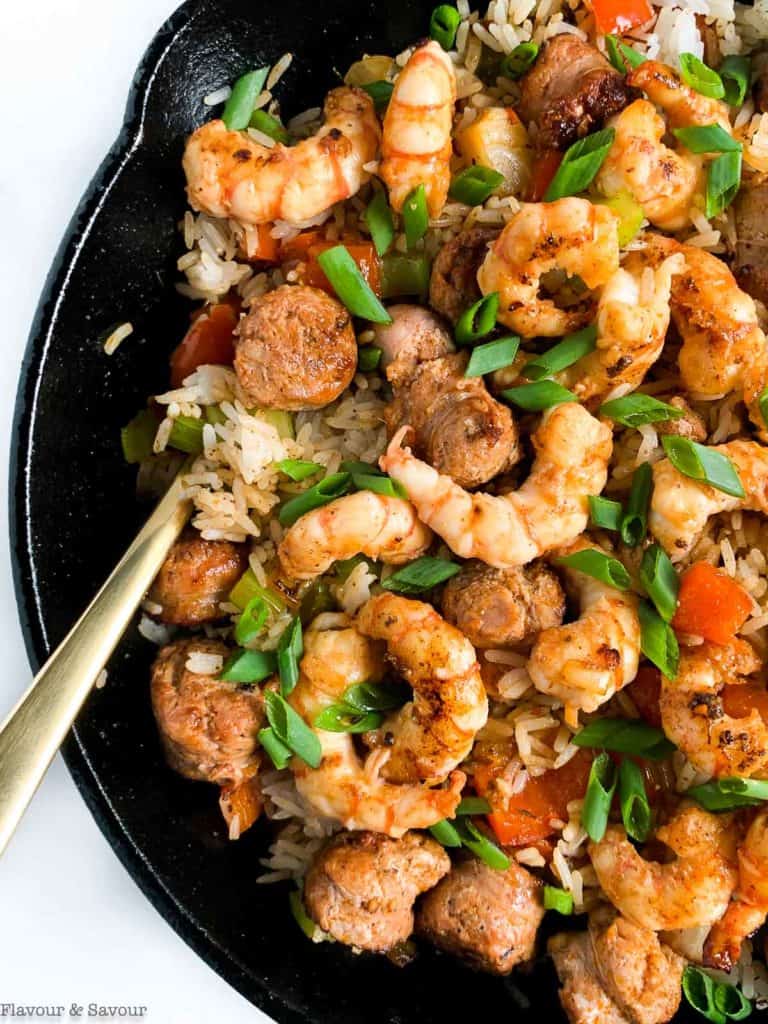 Stir-frying
Stir-fries make a quick, healthy meal and shrimp or prawns are an ideal protein to add to a stir-fry. Heat your skillet or wok, cook the shrimp first, then remove and keep warm while you stir-fry the rest of the vegetables. Try this Lemon Garlic Shrimp and Snow Pea Stir Fry for a quick, nutritious meal ready in under 30 minutes.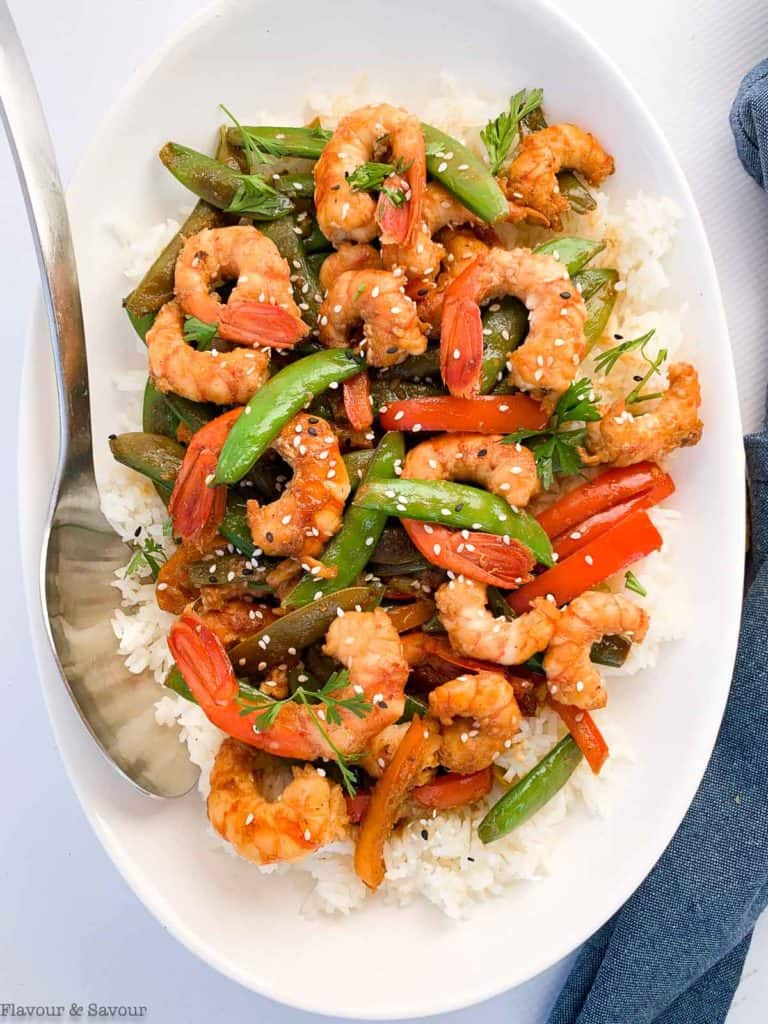 Grilling
Skewering shrimp or prawns is the best way to grill them, to prevent them from falling through the grate. If you're using wooden or bamboo skewers, remember to soak them in water for at least thirty minutes before skewering to prevent flare-ups.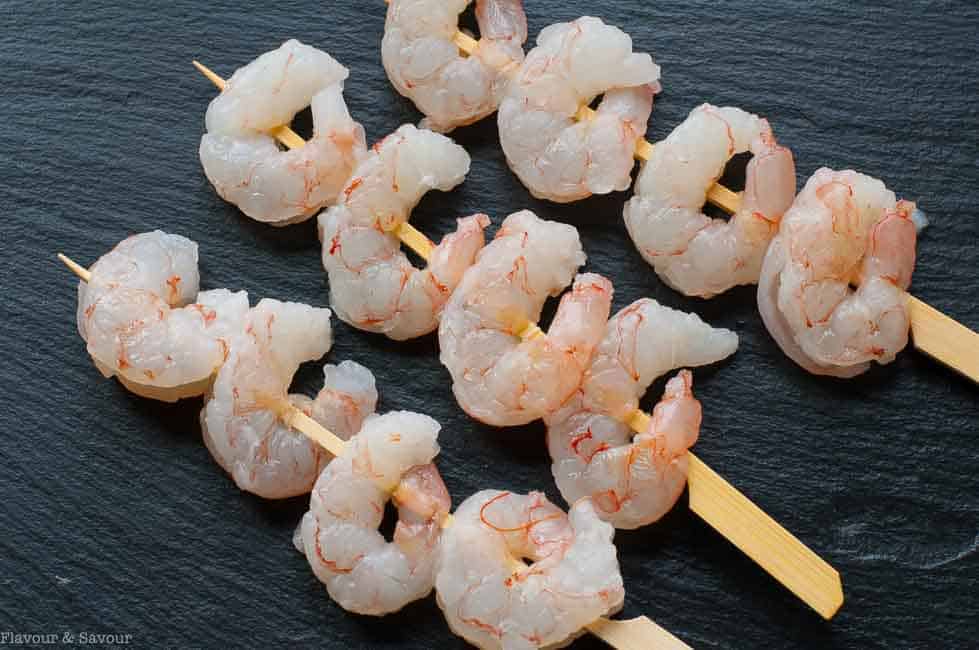 You can marinate them beforehand in a simple marinade of olive oil, lemon, garlic and herbs, or brush them with a sauce, or simply brush them with a little oil or butter and serve with a flavourful dipping sauce. Once again, they only need 2 - 3 minutes per side, depending on their size. You'll know they're done when they turn pink and lose their translucence.
If you don't want to use your outdoor grill, an indoor grill pan works beautifully too. You can also put them under the broiler to cook.
Use full-sized skewers to make these Grilled Chimichurri Shrimp Skewers or use small skewers to make these appetizer-sized Grilled Cajun Prawn Kabobs with Pineapple.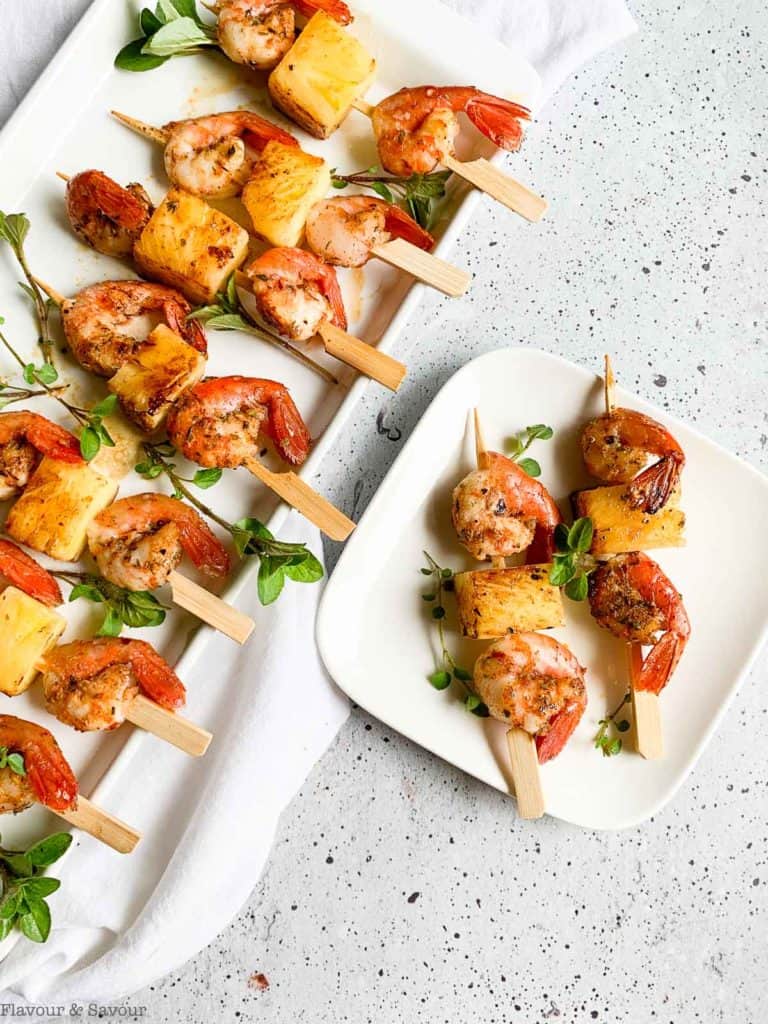 Air Frying
Shrimp and prawns cook very quickly in an air fryer. After cleaning, you can cook them from frozen, bread them to serve with a dip, or toss them with oil and a seasoning mix. These Air Fryer Lemon Garlic Shrimp are ready to use in your favourite recipes in five minutes!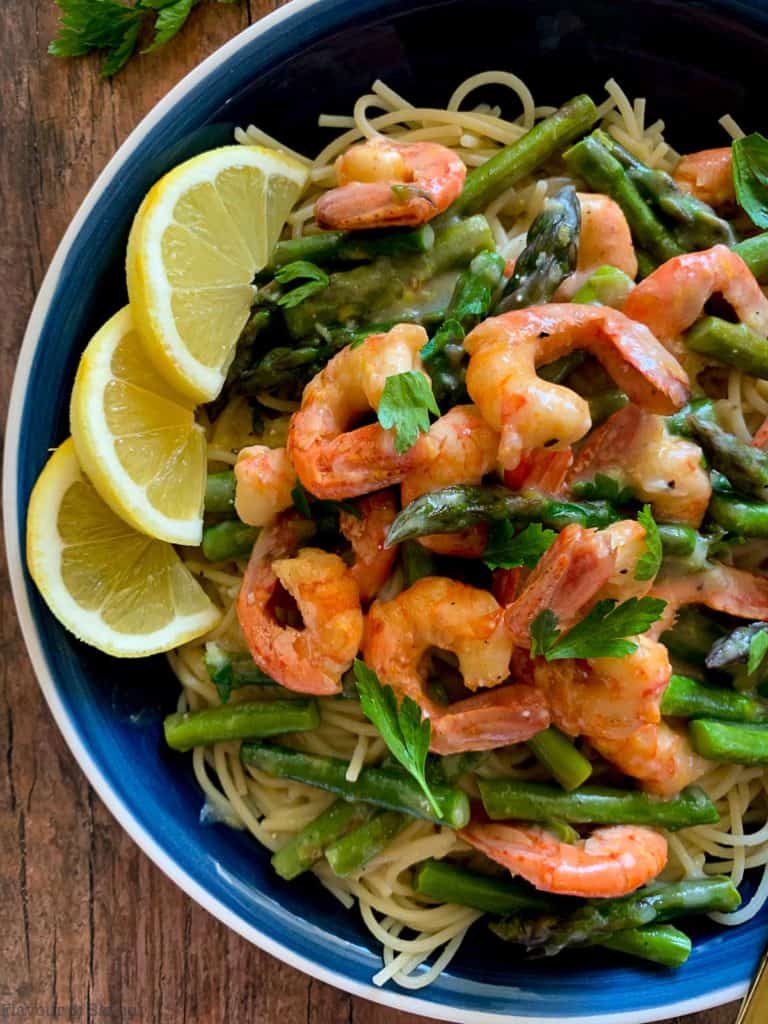 20 Best Prawn and Shrimp Recipes
Appetizer Recipes
Main Dish Shrimp Recipes
Shrimp Salad Recipes
Enjoy! If you have questions or if you've found this post helpful, please leave me a comment and a rating in the section below.
📖 Recipe Card