This recipe for ruby red Cranberry Glazed Chili Chicken Wings has only 3 ingredients! They're sweet with a bit of a kick.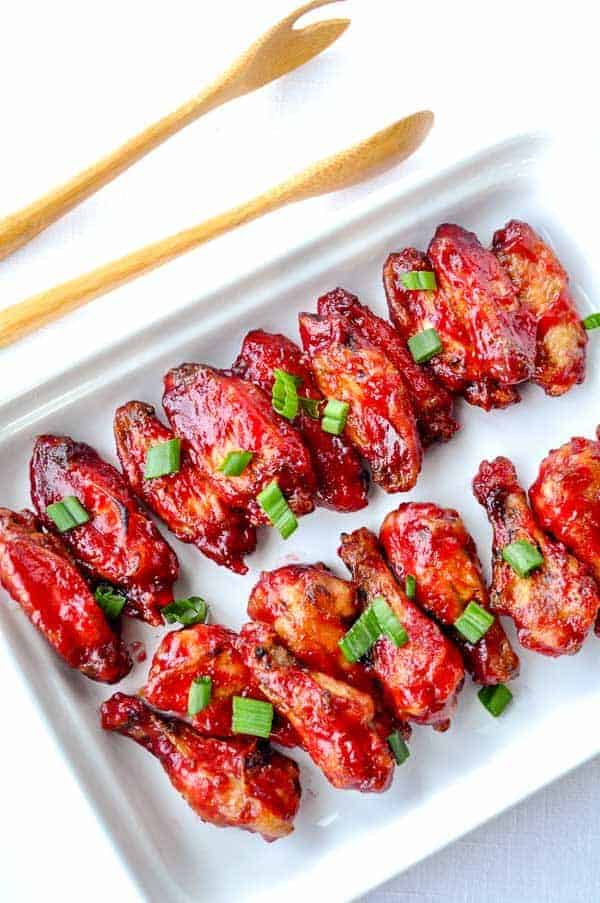 These Cranberry Glazed Chili Chicken Wings are decked out in holiday colours. They're sweet with a bit of a kick–just the way I like chicken wings. Best of all, they're easy to whip up at the last minute.
This gorgeous ruby red glaze has only three ingredients:  cranberries, Asian chili sauce and green onions (scallions). Broil the wings while you simmer the sauce, strain it to remove the cranberry pulp, reduce the sauce to a glaze, brush on the wings and broil for a few more minutes. That's it. Easy, homemade, and a festive colour as well!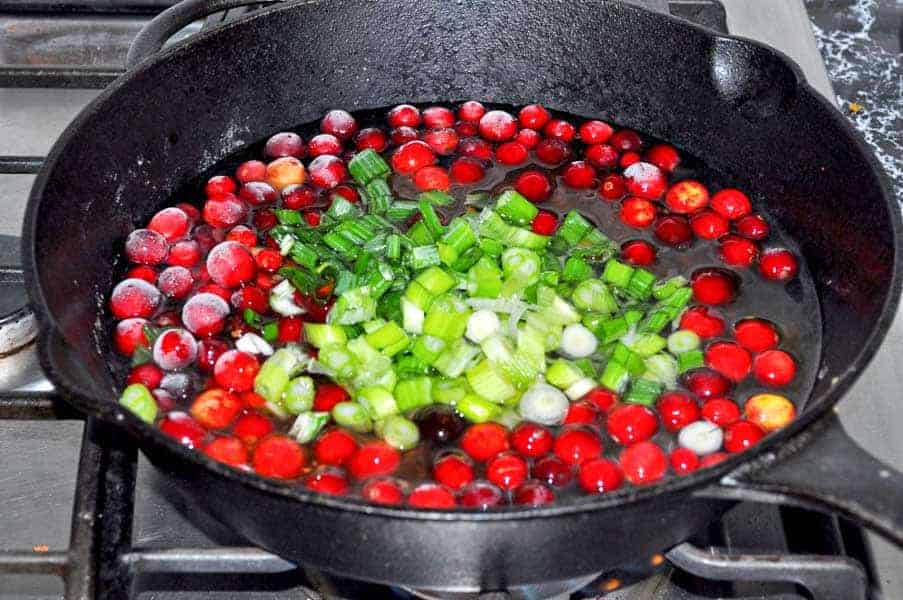 It's hard to think about Christmas when I'm lounging around this pool or playing on this beach in the hot sun. But when K-Mart in Kona is playing "Frosty the Snowman" it's a definite reminder that holiday party season is on the horizon! Party time means appy time, and these Cranberry Glazed Chili Chicken Wings will be on the menu for my next holiday party, for sure.
I love having people over for dinner. It's one of my absolute favourite ways to spend an evening. Good friends or family. Easy conversation. Appies. Wine.  First course. More wine. And so on, right through to dessert, which, in my opinion, should always be the crowning glory to a meal.
As much as I love dinner partying, I have a love-hate relationship with menu planning. I agonize over it. Every. Single. Time. A regional meal–Greek? Italian? Middle Eastern? Maybe Thai. How about Asian-fusion? Do they like seafood? Should it be super casual or should I go all out?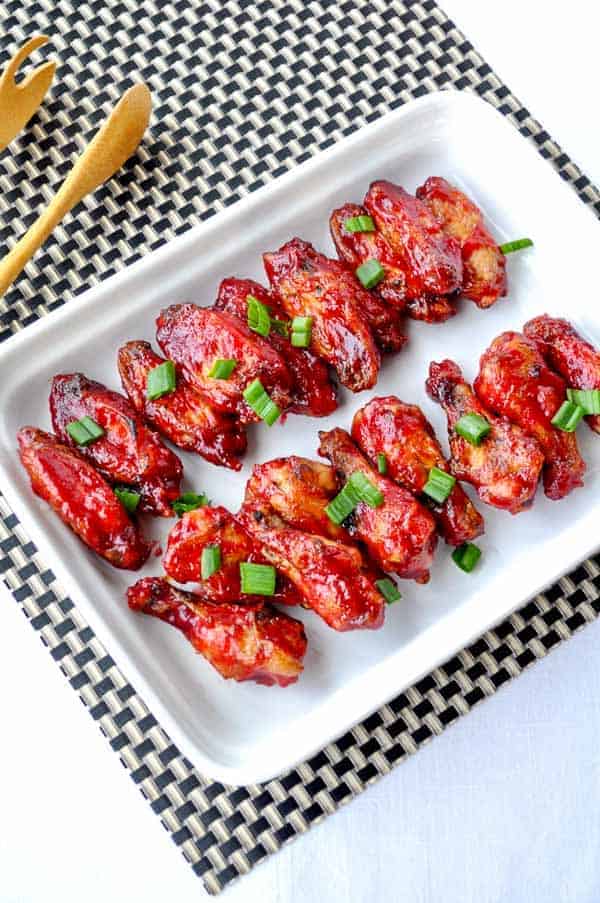 And then I start looking. I scroll through my own recipes on this blog looking for inspiration. I head over to Pinterest and pin like crazy. I google. I pin some more. I always seem to put off making a final decision until I'm down to the wire, time wise.
I've since devised Three Steps to Easy Menu Planning  that, hopefully,  I'll remember next time I'm trying to make decisions.
One. Keep it simple. A simple menu, simple dishes, simple wholesome flavours. I'm here to enjoy my company, not to win a cooking competition.
Two. Cook what I know. Use tried and true dishes that I've made before.
Three. Plan and prep ahead. Choose dishes that I can make ahead of time or at least make components of in advance.
I hope you get a chance to try these Cranberry Glazed Chili Chicken Wings at your next get-together!
Cranberry Glazed Chili Chicken Wings
Simmer sweet chili sauce, tart cranberries and mellow onions to make these glazed chicken wings for your next party.
Cuisine:
Canadian, American, Tex-Mex
Calories per serving
:
101
kcal
Ingredients
4

lbs

chicken wings,

split

2

tbsp

oil

salt and pepper

16

oz

fresh or frozen (and thawed) cranberries

1

cup

sweet chili sauce

1 1/2

cups

water

6

green onions

scallions, chopped
Instructions
Preheat the broiler. Toss the split chicken wings in the oil and sprinkle with salt and pepper.

Broil about 4 inches from the heat until crispy and brown (about 10 -12 min.) Remove from oven and flip the wings over. Broil the other side for about 8 min.

While wings are broiling, put the cranberries into a food processor and pulse until finely chopped.

In a large skillet, combine the cranberries, chili sauce, 1 1/2 cups of water and 5 of the onions. Bring to a boil, then reduce the heat and simmer until the sauce has thickened.

Remove from heat and strain the sauce through a sieve into a medium bowl, pressing to release as much liquid as possible. Return the liquid to the skillet and simmer until the sauce has reduced and become a thick and shiny glaze.

Toss the wings in the glaze. Return to a foil-lined baking sheet and broil once again, just for about 3 minutes, watching carefully to avoid burning.

Garnish with the remaining chopped green onions and serve.