15 of my best Winter salad recipes! These fresh and healthy Winter salad recipe ideas use seasonal fruits and vegetables, like citrus fruits, apples, pears, roasted butternut squash or sweet potatoes!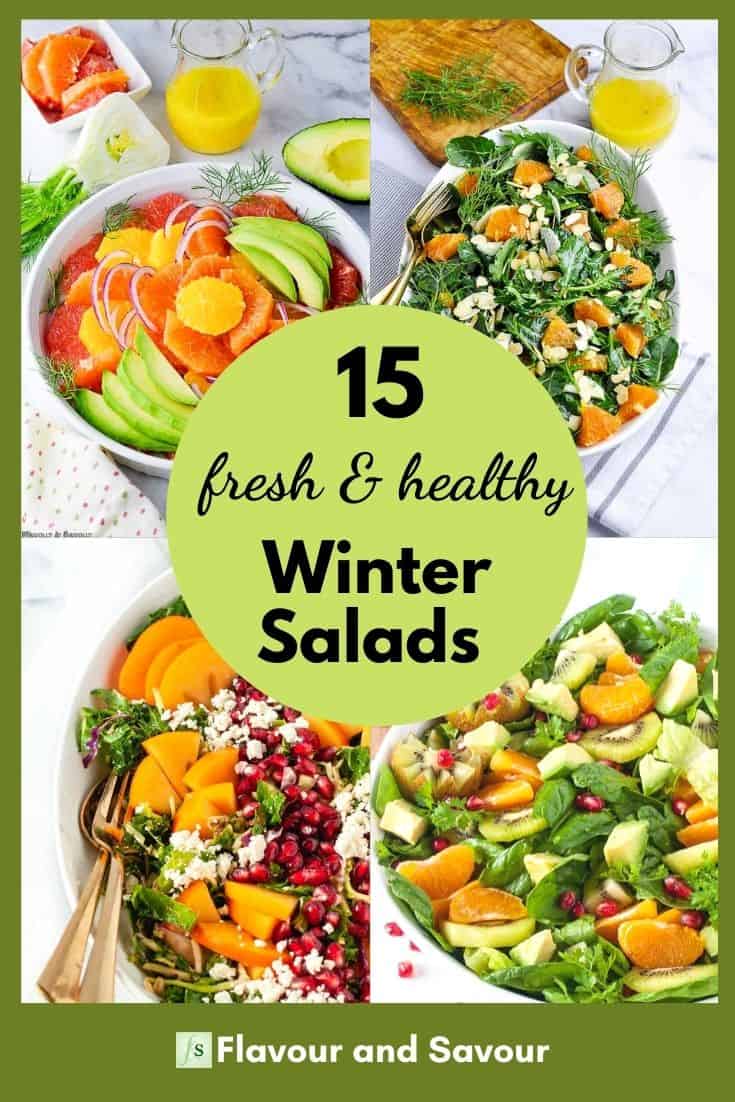 Salads are not only for summer! I searched through my recipes for winter salad ideas and selected my 15 best winter salad recipes to share with you here, all in one convenient post. These are all healthy salads we love and make on repeat throughout the winter months.
Winter weather can keep us indoors and make us more susceptible to catching colds and 'flu. It's easy to slip into the habit of eating more comfort foods, but adding a fresh healthy salad to our table can brighten up any meal.
Consider adding foods rich in Vitamin C like oranges, grapefruit, kiwi, berries, or pomegranate to your bowl of greens. Try a variety of leafy greens like spinach, kale, cabbage or arugula. Organic salad mixes with healthy greens are readily available now and make salads far more exciting than simply relying on romaine.
Keep your salads varied and interesting. For example, try using vegetables such as broccoli, cauliflower, kohlrabi, carrots, Brussels sprouts, roasted squash or sweet potatoes.
Plan ahead. Make an extra salad for dinner and pack it for lunch. Many of these winter salad recipes use ingredients that will hold up beautifully for lunch. Just pack your dressing separately in a container and add it at lunchtime.
To make it easier for you to find what you're looking for, I've sorted these winter salad recipes into three categories:
Salads with Citrus Fruits
Salads with Apples, Pears or Persimmons
Salads with Veggies
Click on the green button under each photo to take you to the recipe.
First up:
Salads with Citrus Fruit
Salads with Apples, Pears or Persimmons
Winter Salads with Veggies
Which of these healthy winter salads will you make first?
Try some of my favourite salad dressing recipes, too! You'll find 8 salad dressing ideas in this post:
How to Make Homemade Salad Dressing
Enjoy!