When you make this Creamy Gluten-Free Pumpkin Cheesecake, it just may become a new family tradition for Thanksgiving, Hallowe'en and fall dinners! Made with a gluten-free ginger snap crust, this is a creamy low-sugar dessert.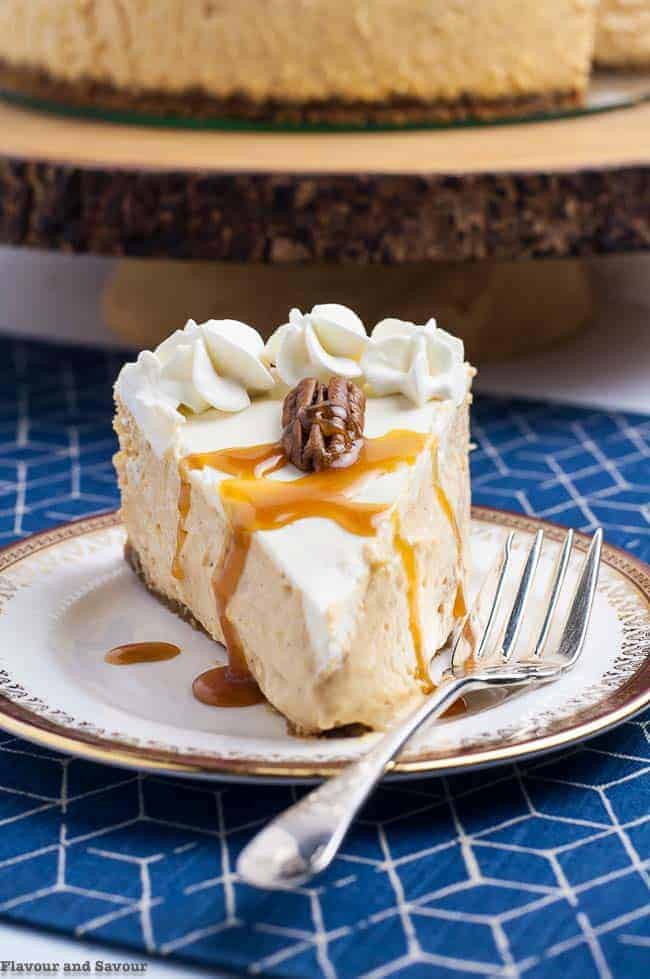 If you're on a gluten-free diet, you should still get to enjoy one of life's greatest pleasures: Pumpkin Cheesecake! I adapted the recipe I've been using for years and made this lower carb Gluten-Free Pumpkin Cheesecake for our last family dinner. No one could believe that it was made with a zero-calorie sweetener!
This recipe makes a delicately flavoured, smooth and creamy low-sugar pumpkin cheesecake. The pumpkin flavour does not overpower and it's a silky, melt-in-your-mouth experience that makes you glad it's Fall! Wondering how to tell when a cheesecake is done? Read on.
My hubby is on a sugar-free diet as he deals with some health issues, so lately I've been trying different zero-calorie granulated sweeteners. My favourite? Monkfruit Sweetener with Erythritol. I've also used Swerve, but sometimes it has a slight cooling sensation as an aftertaste, so while both work well, and both were recommended by a naturopath, I prefer the Monkfruit. It looks like sugar and it acts like sugar in recipes. I've used it to make several batches of muffins, like this Mini Gluten-Free Pumpkin Loaf or Muffin recipe.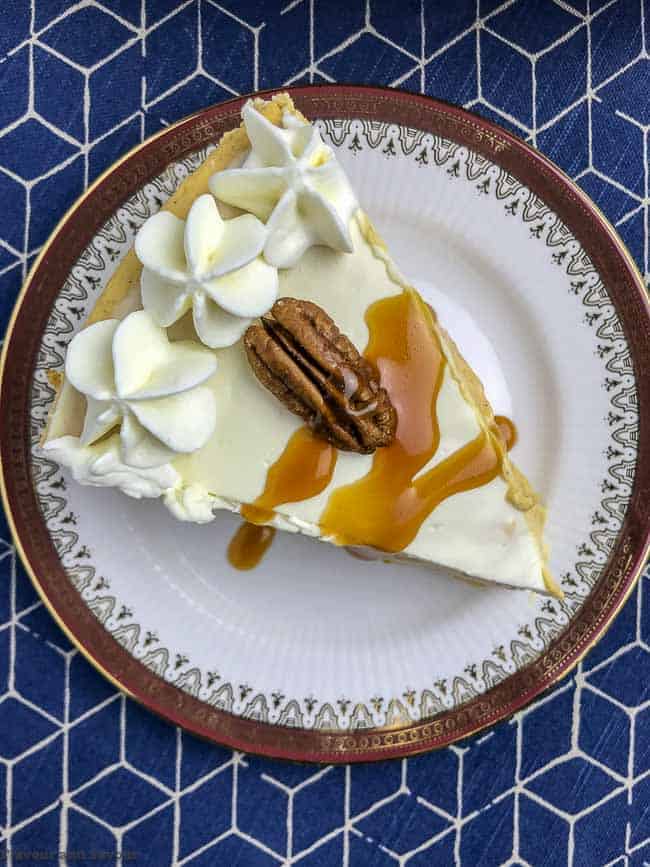 This pumpkin cheesecake recipe is not entirely sugar-free. I used store-bought gluten-free ginger snaps to make the crust, and I offered homemade salted caramel sauce to those around the table who weren't avoiding sugar. However, it satisfied everyone's need to enjoy a family tradition!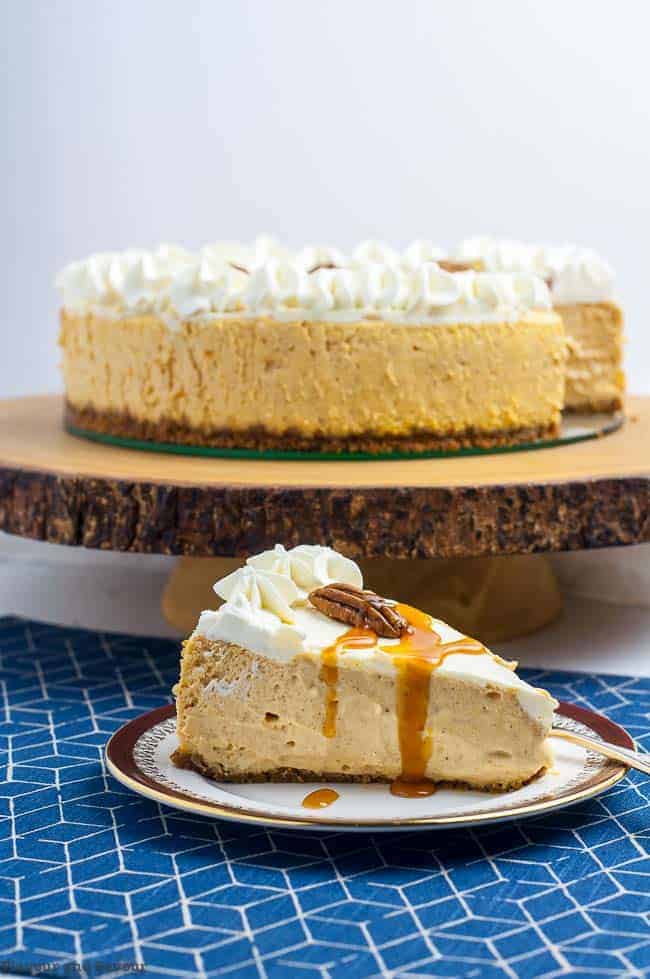 If making a gluten-free pumpkin cheesecake seems difficult or daunting, have a look at my suggestions below. It's a simple recipe, but there are a few tips to guarantee success.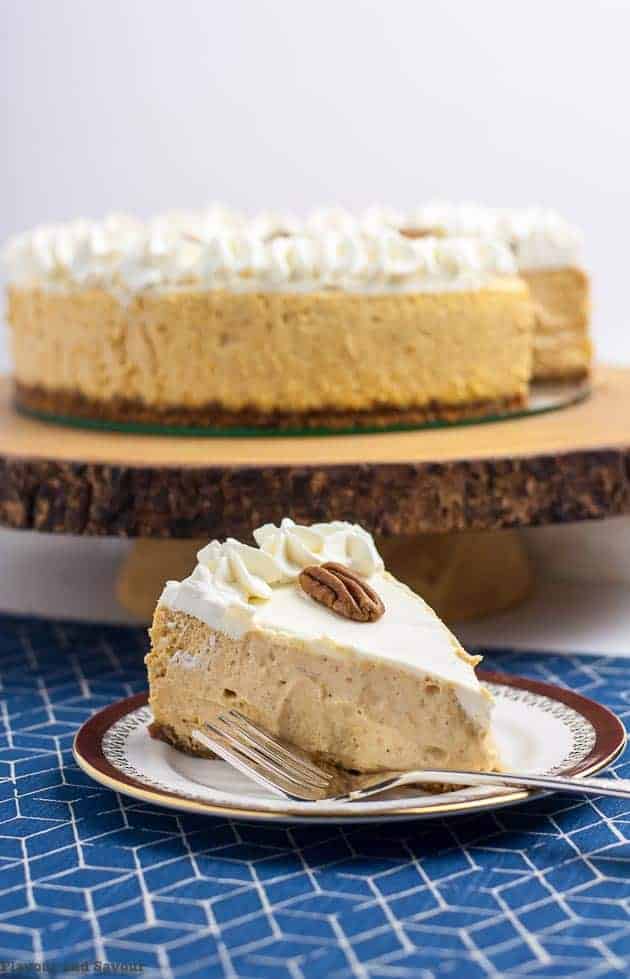 Helpful tips to make this Gluten-Free Pumpkin Cheesecake
Start by preparing the crust. Crush gluten-free gingersnaps in a food processor or with a rolling pin, combine with melted butter, press into a springform pan and bake in the oven.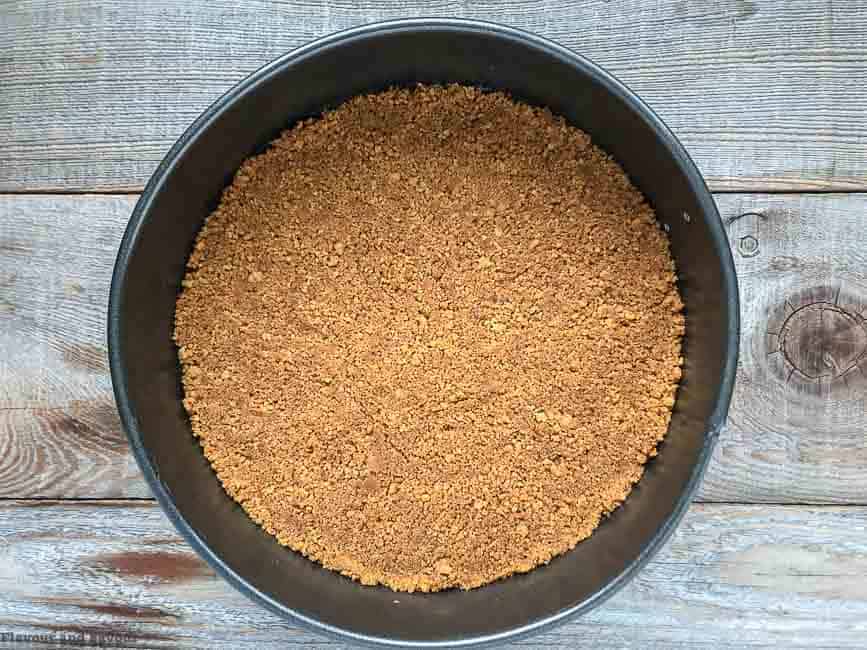 Next, combine the cheesecake ingredients, using an electric mixer.
Once the crust has cooled slightly, pour the filling into the crust, spreading it to the edges.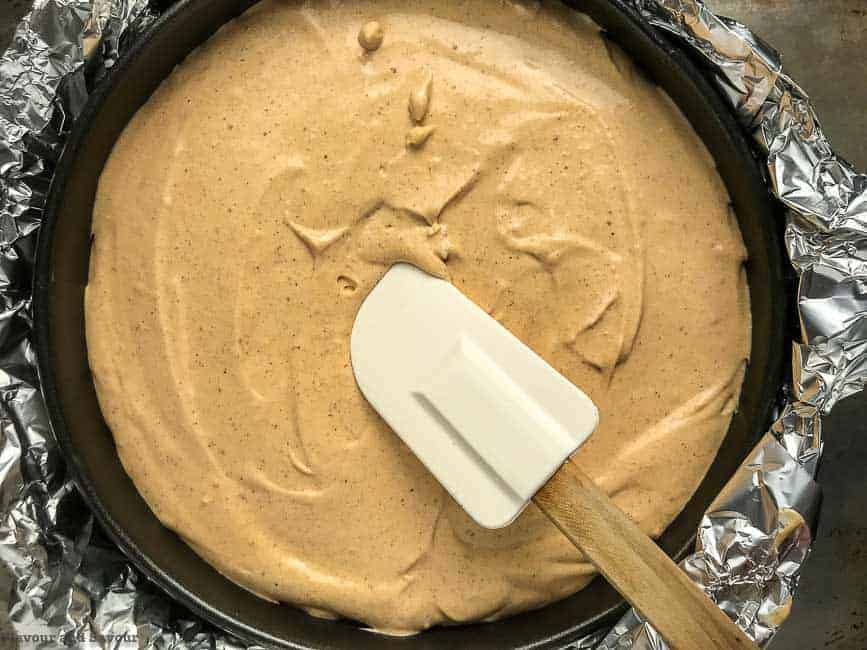 Next, prepare a water bath to bake the cake.
How do I make a water bath for a cheesecake?
Wrap the springform pan in a double layer of foil, completely covering the bottom and extending up to the top edge of the pan. Set the pan in a roasting pan, put it in the oven, then pour boiling water into the roasting pan up to a depth of an inch or halfway up the sides of the pan. It's a simple step that will help make a perfect cheesecake.
How can you tell when a cheesecake is done?
This is the question that may seem to make baking a cheesecake difficult. How do you know when a cheesecake is fully baked? If you take it out of the oven too soon, it may be too soft and you may have wasted a lot of ingredients. If you leave it too long, you risk having a dry, over-baked cheesecake. Cheesecakes are different from regular cakes. You can't insert a toothpick and see if it comes out clean. In fact, you should never insert a toothpick or a knife into your cheesecake. Baking time will vary if your oven temperature fluctuates, so it's best to use your eyes as a guide.
Use these clues to check if your cheesecake is done:
Is the cheesecake firm around the edges of the pan? No? Leave it a little longer.
Is it firm around the edges but does it still jiggle in the center? The middle two inches of the cheesecake should have a perfect little wobble when you gently shake it. If so, it's done! The center will firm up as the cake cools.
If cracks are developing in the top, it may be overbaked. Since your goal is to have a creamy cheesecake, take it out quick!
A trick that works for me is to turn off the oven, crack the door open and leave the cheesecake to rest for up to an hour. Cool completely, cover and refrigerate. When chilled, it's time to add some topping.
Garnish the cheesecake however you like! I piped whipped cream around the edges and arranged a few pecan halves on top. I offered homemade salted caramel sauce for drizzling too. Cranberries would also be delicious.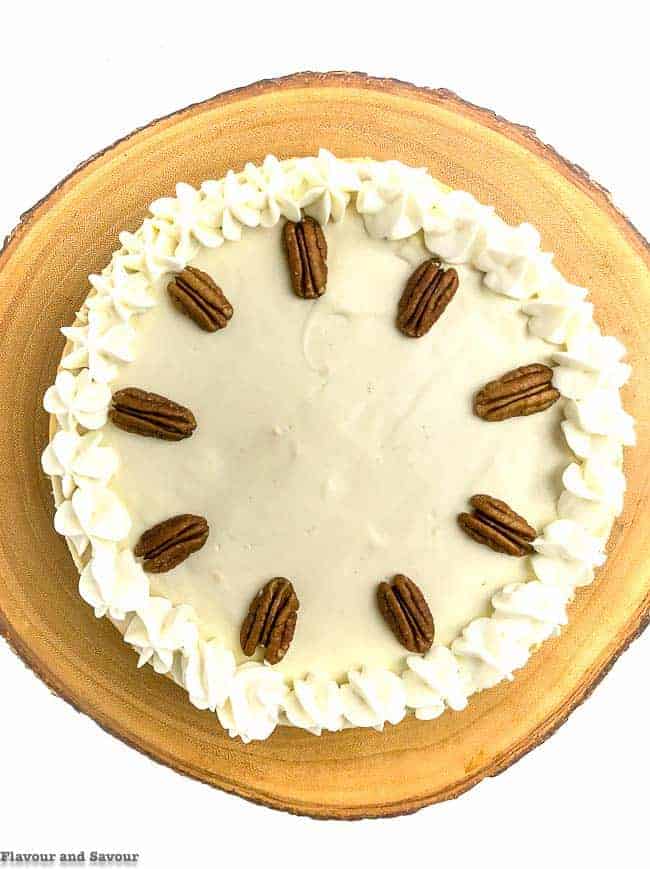 What are you waiting for? I hope this creamy delicious Gluten-Free Pumpkin Cheesecake becomes a new family favourite in your home, too.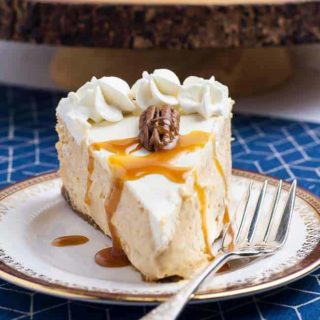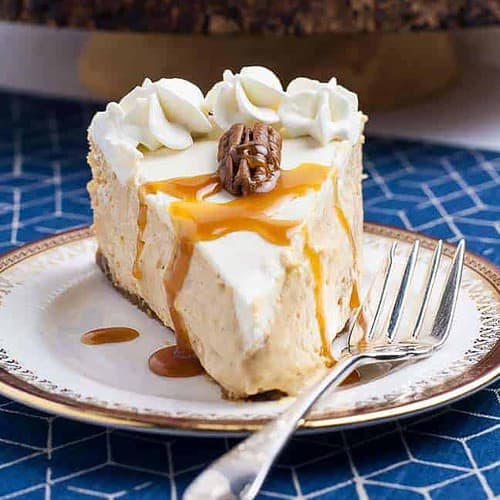 Creamy Gluten-Free Pumpkin Cheesecake
When you make this Creamy Gluten-Free Pumpkin Cheesecake, it just may become a new family tradition for Thanksgiving, Hallowe'en and fall dinners! Made with a gluten-free ginger snap crust, this is a creamy low-sugar dessert.

Print
Pin
Rate
Ingredients
Instructions
Crust
Pre-heat oven to 325°F. Combine gluten-free gingersnap crumbs, Monkfruit sweetener (or Swerve) or other granulated sweetener, and butter. Line bottom of a 9-inch springform pan with a circle of parchment paper. Press crumbs on to bottom of pan. Bake for 8 minutes. Cool on wire rack.
Cheesecake
Beat cream cheese, sweetener, cinnamon, nutmeg and salt until combined. Mix in pumpkin. Beat in eggs and egg whites until well blended. Add cornstarch and vanilla and beat until blended. Pour cheesecake mixture over crust.

Smooth to the edges of the pan with a spatula or angled cake spatula.

To avoid cracks in the top of the cheesecake, bake it in a water bath as follows: wrap the bottom and sides of the springform pan with two sheets of aluminum foil to prevent water from seeping in. Place wrapped pan in a roasting pan. Place in oven and pour boiling water into the pan an inch deep.

Bake at 325°F. for 50 - 60 minutes or until outer edge of cheesecake are set and two-inch center area is slightly wobbly when gently shaken.

Remove from oven to wire rack and cool for 5 min. Combine sour cream, 2 tablespoons zero-calorie sweetener, and 1/2 teaspoon vanilla. Spread over top of cheesecake and return to oven. Bake for 3-5 minutes until sour cream mixture is set. Turn oven off, open door slightly and let cheesecake sit in oven for an hour.

Remove cheesecake to cooling rack. Run a metal spatula around the rim of the pan to gently loosen cake and prevent cracks from forming.Let cool completely.
Garnish
Remove side of springform pan. Decorate by piping whipped cream around perimeter of cake and adding whole pecans. If desired, drizzle with caramel sauce when serving (optional).
Notes
This pumpkin cheesecake can also be made with regular granulated sugar.
Nutrition
Calories:
353
kcal
|
Carbohydrates:
15
g
|
Protein:
6
g
|
Fat:
29
g
|
Saturated Fat:
16
g
|
Cholesterol:
117
mg
|
Sodium:
353
mg
|
Potassium:
211
mg
|
Fiber:
1
g
|
Sugar:
5
g
|
Vitamin A:
4265
IU
|
Vitamin C:
1
mg
|
Calcium:
104
mg
|
Iron:
1.5
mg
Tried this recipe?
Share a photo on INSTAGRAM and tag it #flavourandsavour! I love seeing what you've made.
Nutrition Facts
Creamy Gluten-Free Pumpkin Cheesecake
Amount Per Serving
Calories 353
Calories from Fat 261
% Daily Value*
Fat 29g45%
Cholesterol 117mg39%
Sodium 353mg15%
Potassium 211mg6%
Carbohydrates 15g5%
Protein 6g12%
Vitamin A 4265IU85%
Vitamin C 1mg1%
Calcium 104mg10%
Iron 1.5mg8%
* Percent Daily Values are based on a 2000 calorie diet.
Love pumpkin desserts? You might also like this Paleo Pumpkin Pecan Caramel Coffee Cake ,and if you don't want to bake a whole cheesecake but are craving the flavour, try this easy Creamy Greek Yogurt Pumpkin Cheesecake Mousse.
SAVE THIS TO ONE OF YOUR PINTEREST BOARDS
and
connect with me on Pinterest
! I'm always finding new tasty recipes to pin. Subscribe to my weekly newsletter and never miss a recipe!