This creamy Ricotta Coffee Mousse is an easy-to-make dessert with rich flavours of coffee and sweet cream. Add chocolate shavings to get the flavour of a coffee mocha mousse! Gluten-free and keto-friendly.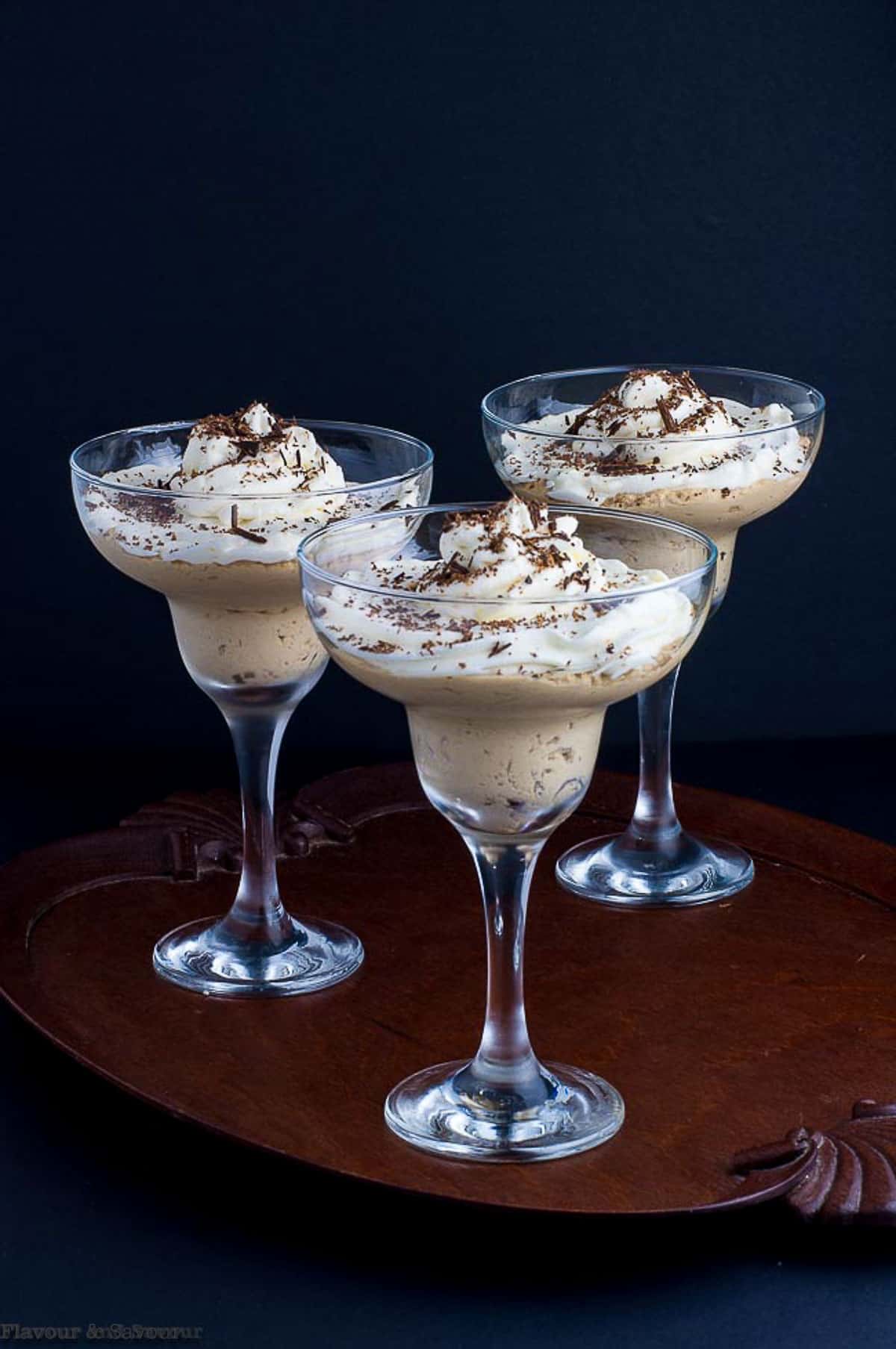 If you love your morning latte, you'll love this ricotta coffee mousse for dessert! It's rich and creamy with that sweet and bitter contrast we love in our gourmet coffee drinks.
Best of all, this is an easy make-ahead dessert that can be prepared the day before you need it.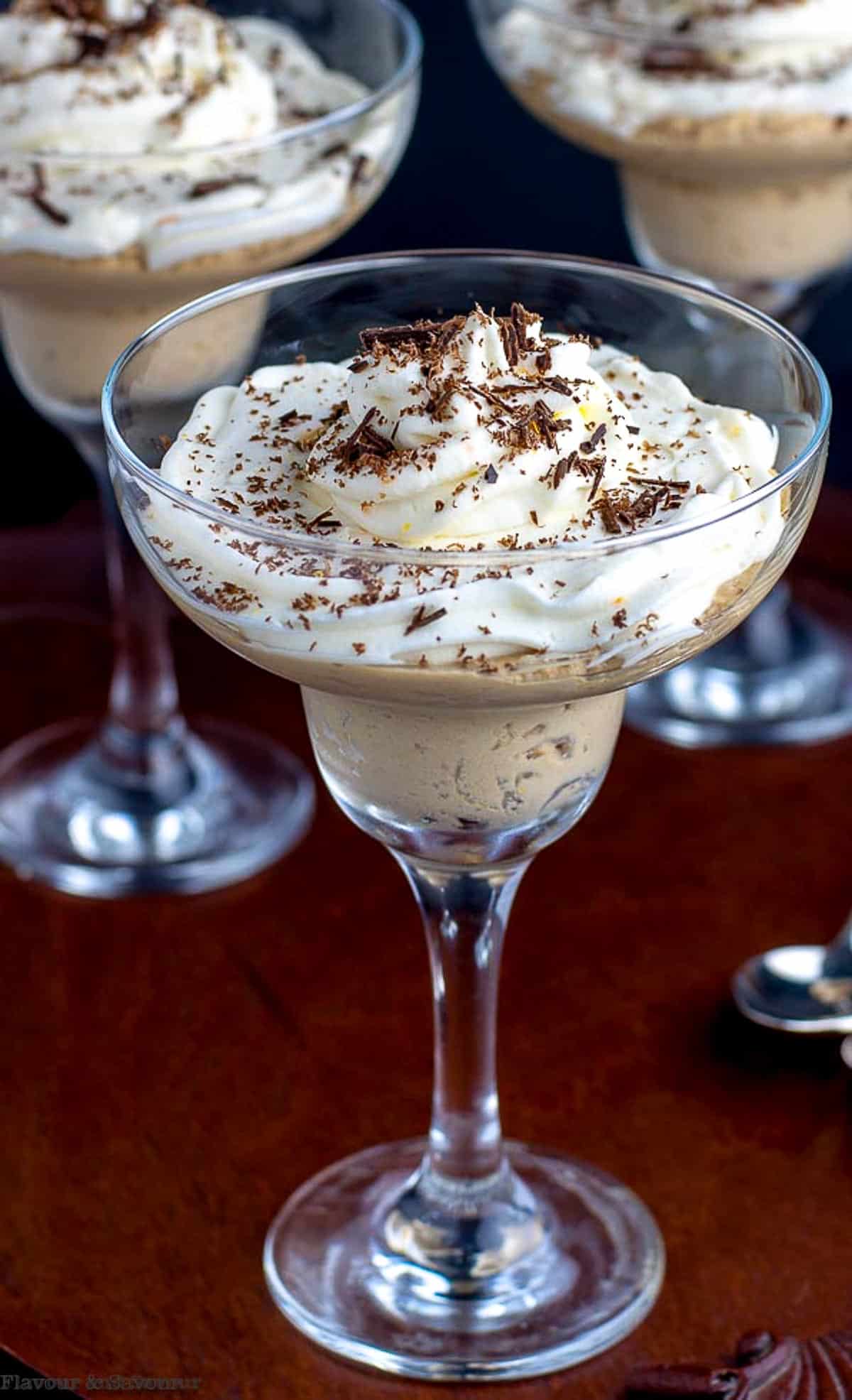 ❤️ Why you'll love this recipe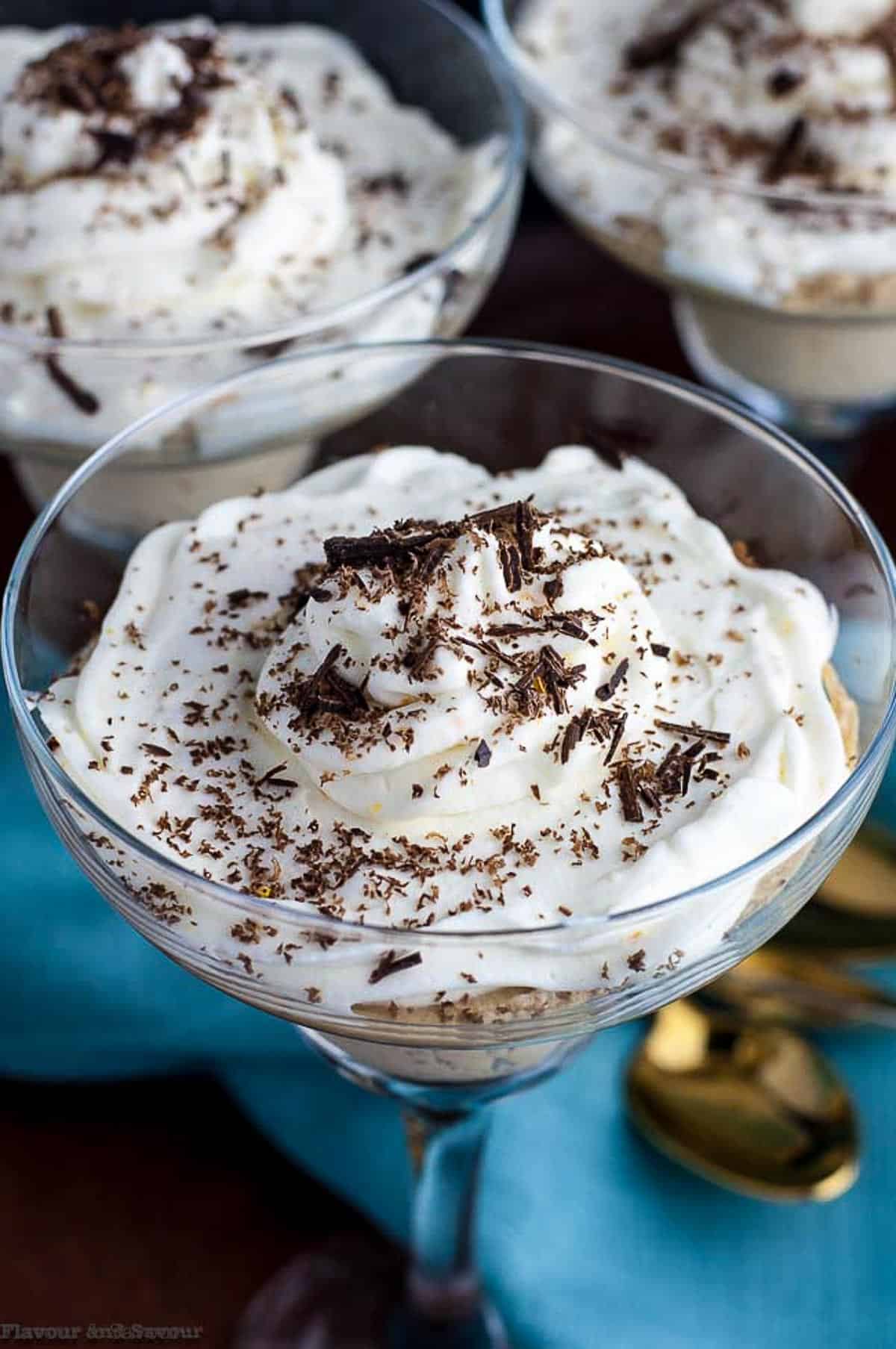 🛒 Ingredients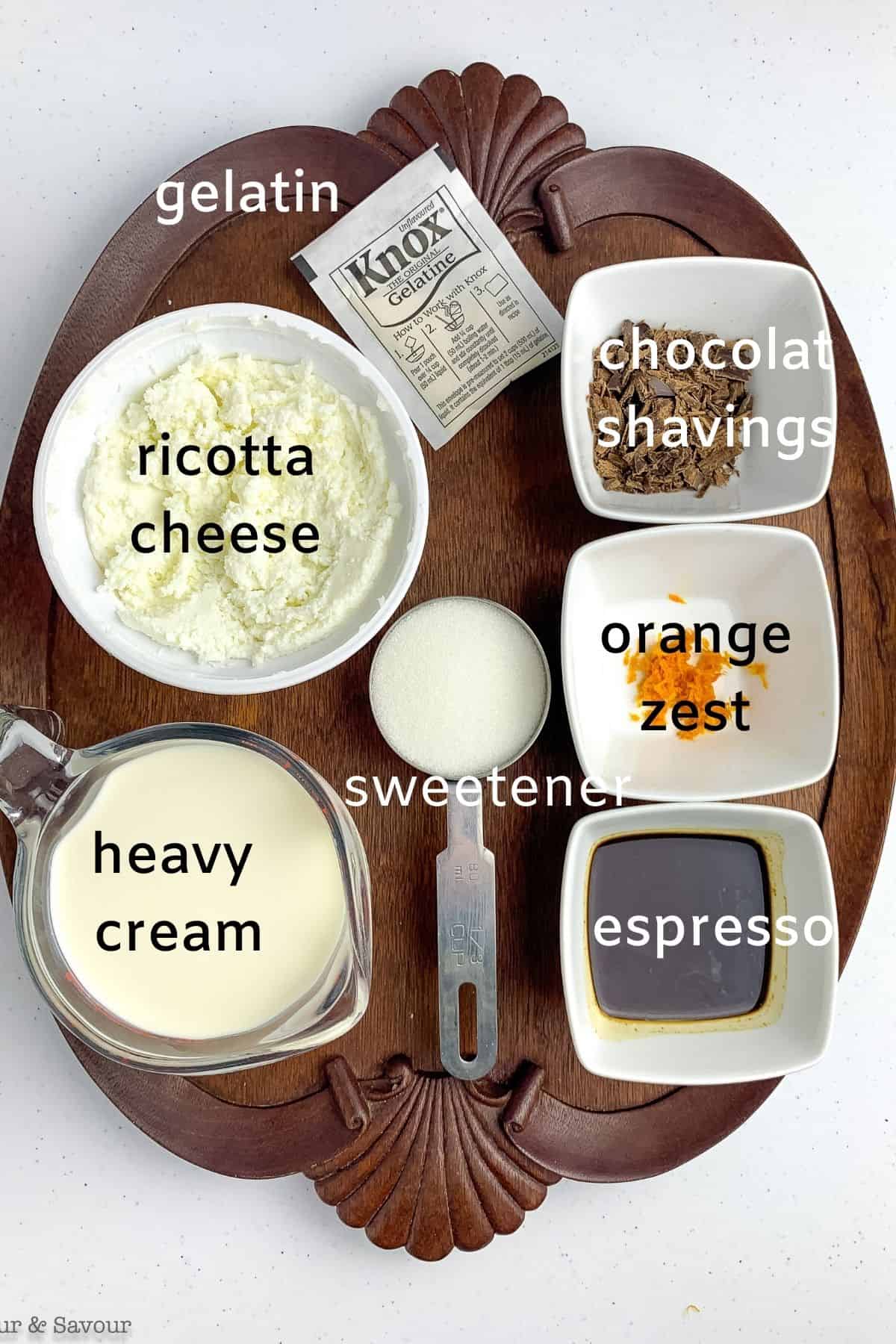 🥄 Equipment
a blender
an electric mixer
2 large bowls
2 very small bowls
measuring cups and spoons
spatula
microplane or fine grater
piping bag with a star tip
sundae glasses or other dessert glasses (I used Margarita glasses)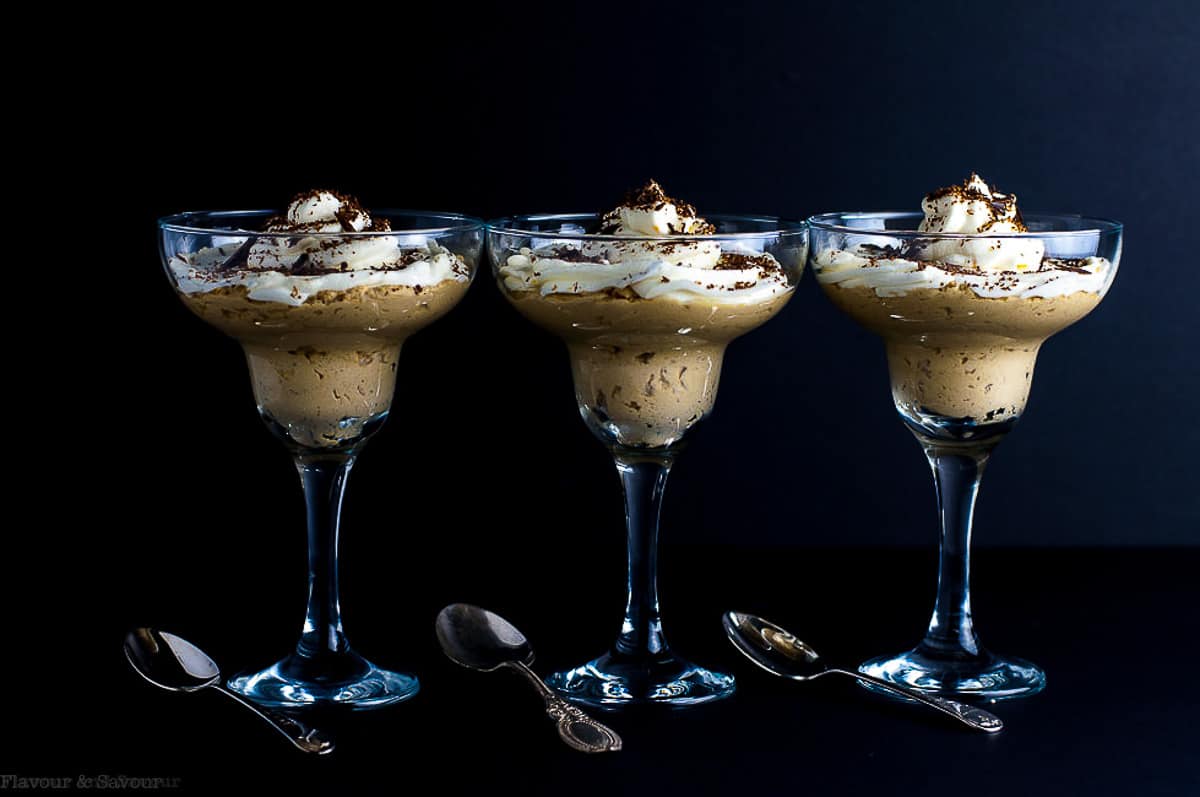 🔪 Instructions
First, blend the ricotta cheese until very smooth to remove its grainy texture.
Next, whip the cream with sweetener, then set aside while you prepare the espresso mixture and the gelatin.
Combine the powdered instant espresso with water to dissolve.
Next, whisk the gelatin in boiling water, stirring quickly and consistently until it is completely dissolved and no lumps remain.
Stir the espresso mixture into the ricotta, then add the gelatin mixture and finally fold in the whipped cream. Pour into dessert glasses and chill.
Meanwhile, whip the cream for the topping. For a smoother texture, use powdered 0-calorie sweetener or powdered sugar. If desired, add 1 teaspoon of dissolved gelatin to help the cream hold its shape.
Gently fold in finely grated orange zest. Don't leave out this ingredient! It adds amazing flavour.
Pipe whipped cream on top of each filled dessert glass. Garnish with finely grated chocolate or chocolate curls.
Refrigerate until serving time.
⏰ Make ahead!
This coffee mousse can be made a full day before you plan to serve it! Keep it refrigerated.
Store any leftover mousse in the fridge. It will stay fresh for a few days.
👍🏼 Expert Tip: How to make whipped cream hold its shape

If you want to pipe whipped cream so it looks like buttercream frosting, add 1 teaspoon of gelatin dissolved in 1 tablespoon of boiling water to the bowl as you are whipping it. It will make it a little more firm and will hold its shape when you pipe it.
Enjoy every last delicious spoonful!
When you make this coffee mousse, please leave a comment and a rating below. Thanks in advance! Subscribe to my weekly newsletter and have new recipes delivered straight to your inbox.
📖 Recipe